A rich and delicious sweet creamy keto hot chocolate recipe served with soft sugar-free marshmallows.
You only need 5 simple ingredients and 5 minutes to make the best sugar-free hot chocolate drink. You can even make it dairy free too.
A keto hot chocolate is a perfect way to stop your chocolate cravings or sugar cravings.
Get your FREE keto Thanksgiving and keto Christmas meal plans with over 70 of the best keto holiday recipes, your whole family will love.
Are you ready to create the ultimate 12-month blueprint for reaching your health & weight loss goals this coming year?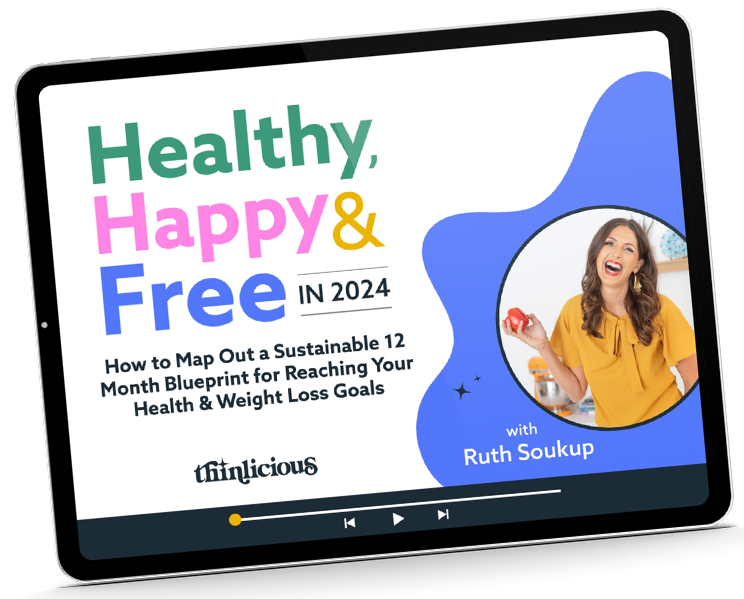 Our free on-demand video training will walk you through how to make 2024 THE year you set health goals…and keep them.
You can enjoy this hot cocoa at home or take it with you in a travel mug as you look at the holiday lights. It's the perfect comforting cozy drink on a cold winter day.
There are 5 delicious topping suggestions and 10 rich hot chocolate variations so you can make your own homemade keto hot chocolate recipe exactly how you like it.
Is hot cocoa keto?
Hot chocolate is part of Mayan and Aztec culture that has made it all around the world. It was originally served unsweetened with chili powder, but today, it has become a sweet comforting drink with more sugar than a fizzy drink.
Hot chocolate is perfect for cold nights and holidays, but not on a low-carb diet, sugar-free diet, diabetic diet, or keto diet.
What is in a hot chocolate?
Traditionally, hot cocoa is made with sugar, cocoa powder, and milk and is often served with sweetened whipped cream, caramel, or chocolate sauce. The hot chocolate mix is then decorated with marshmallows and wafer biscuits.
To make a keto hot chocolate we swap sugar for a keto sweetener, we swap milk for unsweetened almond milk (with a splash or heavy cream), and only use unsweetened cocoa powder then served with delicious soft sugar-free marshmallows.
How much sugar is in a Starbucks hot chocolate?
Not only is this homemade Starbucks copycat hot chocolate sugar-free, but it's also cheaper than your local coffee shop hot chocolate.
Starbucks hot chocolate (16 fl oz): 39g net carbs 37g sugars), 14g protein, 16g fat, 370 calories.
If you order Venti, you will consume at least 46g of sugar, and maybe more if you order extra pumps of chocolate sauce and chocolate drizzle (plus a cake).
Keto hot chocolate (per serving): 2.7g net carbs (1.8g sugar), 3.2g protein, 19.7g fat, and 198 calories.
Ingredients you need
There are many ways to make hot chocolate. For this recipe, I wanted something that was rich and creamy, but not overly thick. To achieve that I decided to use heavy whipping cream and unsweetened almond milk instead of water or milk.
See the recipe card below for exact quantities and full recipe instructions. If you can't find the ingredients at your local grocery stores, you can find them all in my Amazon shop.
cocoa powder – always choose unsweetened cocoa powder. Most drinking chocolates contain added sugar.
granulated sweetener – the most popular keto-friendly sweeteners are erythritol, monk fruit sweetener, allulose, and xylitol. Avoid pure stevia powder or liquid stevia as it can be too easy to over-sweeten your hot cocoa and the stevia will make it taste bitter. If you do want to use stevia, add a little bit at a time.
heavy cream – heavy whipping cream or double cream without sugar.
unsweetened almond milk – always check nutrition labels for added sugars and thickeners.
vanilla extract – or vanilla essence.
How to make keto hot chocolate (on the stove)
Once you see how easy it is to make amazing keto hot chocolate you will never want packaged hot chocolate mix again.
Start by mixing cocoa powder, sweetener, and cream together in a large sauce over medium heat. This will make a thick chocolate paste.
Next, mix in unsweetened almond milk and vanilla extract. Whisk to remove any lumps of cocoa powder. Let the hot chocolate simmer until it is warm or your desired temperature.
Ladle the sugar-free hot chocolate into the serving cups or travel mug.
Top with a sugar-free marshmallow or two and enjoy!
EXPERT COOKING TIP: Only heat hot chocolate over medium heat the whole time to keep the hot chocolate from scalding.
5 keto hot chocolate toppings
You can make your keto-friendly hot chocolate extra special with all these topping ideas.
Serve each one in a tall heatproof glass jar, Mason jar, or hot chocolate glass.
Whipped cream – quickly whip some heavy cream with some sweetener (and even some vanilla extract) to taste like a Starbucks copycat hot chocolate.
Homemade sugar-free marshmallows – you can make your own homemade sugar-free marshmallows that are fluffy and light. I cut the marshmallows into smaller cubes than normal. This was the perfect size for my mugs.
Buy sugar-less marshmallows – if you don't want to make your own marshmallows at home, you can buy some sugar-free or keto marshmallows too.
Sugar-free chocolate chips – sprinkle some sugar-free chocolate chips over your whipped cream. The melted chocolate will make the best hot chocolate ever.
Sugar-free chocolate syrup – pour over some delicious sweet sugar-free chocolate sauce, sugar-free caramel sauce, or sugar-free mocha sauce.
10 hot chocolate variations
There are so many types of tasty hot chocolate. This keto hot chocolate recipe is the perfect base recipe. Below are a few ideas to help you take your hot chocolate to the next level.
You'll need to recalculate the nutrition values, calories, and carb count.
Spiced hot chocolate – mix in ground cinnamon, ground nutmeg, or ground ginger. You can even add a pinch of chili powder for a real kick.
Extra chocolate flavor – melt sugar-free chocolate chips into your hot chocolate, make chocolate whipped cream instead of vanilla, then drizzle the keto chocolate sauce all over the top. Add some dark chocolate shavings for decoration.
Peppermint hot chocolate – add a squirt of peppermint extract to your cocoa mix and sprinkle white chocolate chips over the top of your whipped cream.
Mocha drink – if you love to drink coffee, add a shot of espresso, espresso powder, or instant coffee, and serve with mocha sauce.
Peppermint mocha – add some peppermint extract and coffee to your hot cocoa mix.
High-protein hot chocolate – add a scoop of unflavored collagen powder for an extra thick and creamy hot chocolate.
Dairy-free hot chocolate – to make a dairy-free option, you can use any low-sugar nut milk, oat milk, or coconut milk. Swap heavy cream for coconut cream.
Coconut hot chocolate – another dairy-free version that is absolutely delicious, is coconut hot chocolate. Use full-fat coconut milk and coconut cream. Serve with whipped coconut cream instead of whipped cream. Sprinkle some shredded coconut threads over the top and a chocolate sauce drizzle.
EXPERT RECIPE TIP: Add some coconut milk powder to your chocolate sauce before drizzling. It really tastes delicious.
Iced keto hot chocolate – if you wonder how to enjoy iced hot chocolate, simply keep any leftover hot cocoa and pour over ice cubes. Serve with cold whipped cream and sugar-free chocolate syrup drizzled inside the glass.
Salted caramel hot chocolate – drizzle some salted caramel sauce inside your serving glass before pouring your low-carb hot chocolate on top. Serve with more whipped cream and extra salted caramel sauce over the toppings.
Substitutions
Some ingredients are more difficult to find in some locations than others. Below are a few substitutions you can use when making keto hot chocolate.
Heavy Cream – Use a can of full-fat coconut cream instead.
Almond Milk – substitute with regular milk or hot water.
The substations above will change the consistency of your cup of hot chocolate, but it will still be tasty.
See this Creamy Homemade Keto Eggnog recipe for more warm drinks.
Equipment you need
All you need to make keto hot chocolate is a stove, a small saucepan, measuring spoons/cups, and a whisk.
You could also make this keto hot chocolate over a campfire as long as you use a fire-safe pan to heat it in.
Storing and reheating instructions
Leftover keto hot chocolate can be stored in the refrigerator in a covered cup, jar, or airtight container, for 2-3 days. Sugar-free marshmallows should be stored separately from hot chocolate.
To reheat the hot chocolate simply warm it up in the microwave for a minute, or on the stove top for a few minutes until it is almost bubbling.
FAQ
Is cocoa powder allowed on keto?
Yes! Unsweetened cocoa powder is low in carbs with no sugar added so it is allowed on keto. It is a great way to make something chocolatey while having control of your sweet tooth.
Which coconut flour powder is best?
You have to choose a cocoa powder that you like the taste of. Raw cacao powder, Ghirardelli cocoa powder, natural cocoa powder, and budget cacao powder from the grocery store all taste completely different. But some will like the flavor of one over the other. It's not to say one is better than the other. And price does not guarantee a nice taste.
What is keto whipped cream?
This is heavy whipping cream that has been whipped with some added keto sweetener.
Can I use a can of whipped cream?
Always check the ingredients label for any added sugar. It should only contain heavy cream and no sugars.
Is sugar-free hot chocolate mix OK in the keto diet?
Check to see which sweeteners they use. Some brands use the sugar alcohol maltitol which makes your blood sugar rise. So while it can be labeled as a sugar-free hot chocolate mix, it is not a keto hot choc mix.
How hot should hot chocolate be?
You need to handle hot drinks with care, especially around children or those who cannot distinguish heat. Hot cocoa is best served warm, but not extra hot.
What hot drinks can I have on keto?
You can enjoy keto coffee, bulletproof coffee, keto hot chocolate, warm bone broth, unsweetened herbal teas, and no-sugar fruit teas.
How can I make a slow-cooker keto hot chocolate?
Using the slow cooker to make hot chocolate is a fabulous idea, especially when entertaining a crowd and you want to keep your hot chocolate warm for a long time. Turn your slow cooker to HIGH and mix the cocoa powder, sweetener, and heavy cream to a paste as per the recipe card. Slowly add the almond milk while whisking until all the lumps of cocoa are removed. Keep the hot chocolate on WARM or LOW heat for up to 6 hours. Do not keep any leftover hot chocolate as the warm milk should be thrown away.
How can I make hot chocolate creamier?
The easiest way to make keto hot chocolate creamier or thicker is to add a scoop of unflavored collagen powder. This will be the best keto hot chocolate you have ever tasted, and the high-protein will keep you fuller too (no more afternoon sugar crashes).
More keto chocolate recipes
If you want to enjoy a slice of cake with your keto hot cocoa drink, each of these delicious chocolate keto recipes is full of chocolate flavor but is sugar-free, and gluten-free, and each of the healthy recipes is family-friendly too.
Flourless chocolate heaven cake – the best sugar-free, gluten-free, nut-free, and flourless chocolate cake for your keto diet.
Keto double chocolate mug cake – a quick and easy 1-minute single-serve dessert that's low-carb and served with sugar-free chocolate chips. You can even pour a little of your hot drink over the top to melt the chocolate chips.
Baked keto New York cheesecake – a rich baked cheesecake filling with vanilla extract and served with a keto chocolate ganache.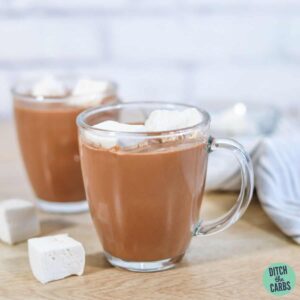 Keto Hot Chocolate Recipe (with Sugar-Free Marshmallows)
A rich and delicious sweet creamy keto hot chocolate drink served with soft sugar-free marshmallows. You only need 5 ingredients and 5 minutes to make the best sugar-free hot chocolate recipe.
Print
Pin
Rate
Want to lose weight and get healthy for life—without dieting, drugs, or making yourself miserable?
We can help! Tell me how!
Equipment
Measuring cups and spoons

Saucepan

Whisk
Ingredients
¾

cup

heavy whipping cream

2½

cups

almond milk unsweetened

4

tbsp

cocoa powder (unsweetened)

3

tbsp

granulated sweetener of choice

or more, to your taste

1

tsp

vanilla extract
Toppings
8

sugar-free marshamllows

optional
Instructions
Whisk the cocoa powder, sweetener, and cream together in a saucepan over medium heat.

Next, mix in the almond milk and vanilla. Continue to stir until warmed through.

Remove from heat and pour into mugs. Top with a sugar-free marshmallow if desired.
Notes
A serving size is 6oz/177ml/2/3 cup
Marshmallows should be added to warm chocolate not hot if you want it to float. The marshmallow will melt in hot chocolate.
Nutrition
Serving:
1
serve ( serves 4)
Calories:
197.9
kcal
Carbohydrates:
5.1
g
Protein:
3.2
g
Fat:
19.7
g
Sodium:
228.5
mg
Potassium:
123.4
mg
Fiber:
2.4
g
Sugar:
1.8
g
Vitamin A:
693.2
IU
Vitamin C:
0.3
mg
Calcium:
235.9
mg
Iron:
0.8
mg
Get our FREE guide to finally fix your metabolism!
Losing weight & getting healthy is never easy, but lately you might feel like it's suddenly become impossible.
Our Flip the Switch guide will help you clearly understand what's been going on, as well as exactly what you can do to get your metabolism working again so that you can look and feel your best—it's easier and more simple than you think!