Start your day with a quick and easy keto green smoothie. All made in the blender in less than 1 minute – GENIUS! And only 4g net carbs per serve.
Discover the SECRET ingredient that makes even the pickiest eater enjoy a healthy green smothie.
The Secret Ingredient
We all want quick, easy, healthy breakfast ideas right? And we all want breakfast to be nutritious, filling, and of course yummy. And who else here wants to disguise the taste of kale? Yes, me too. Well after much trial and error, I have the secret weapon against bitter kale – mint!!!!
The mint adds a lovely subtle flavour that helps disguise the kale, and if it doesn't pack enough mint flavour for you, you can add some peppermint essence to give it a real kick.
Ready to lose weight and get healthy for life without dieting, drugs or making yourself miserable?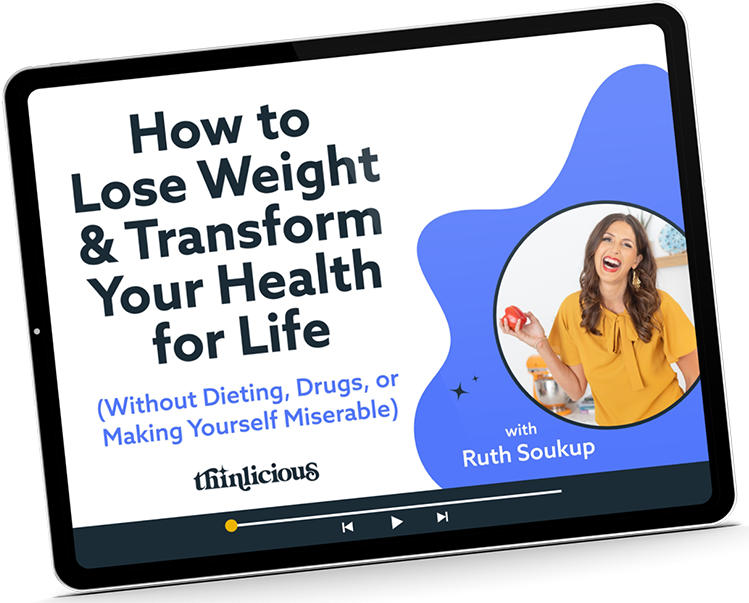 Our free on demand video training will help you understand why it's been so hard and what do to about it.
So why does this green smoothie keep you full until lunch? Healthy fats – that's the secret because healthy fats such as coconut cream keep you fuller for longer.
Are Fruit Smoothies Healthy?
If you think drinking a fruit-based smoothie each morning is a great way to start your day – think again. So many of them are absolutely jam-packed with sugar – yes they may be natural sugars, but they are sugar nonetheless.
Just watch this little clip (and look at the fun infographic below), I hope you may never order a fruit smoothie ever again.
How Much Sugar Is In A "Healthy Diet"
The trick to eating a healthy, low-sugar, and low-carb diet is to know what you are eating already. For many, this infographic comparing sugar values in "health foods" is a real eye-opener.
How much sugar do eat every day without realising it? Just look at the values for fat-free frozen yoghurt. Healthy? Spoiler alert – think again. Look at the full sugar infographic.
The trick to healthy smoothies is to add low-sugar fruits and add plenty of healthy fats and greens instead. Just look at what goes into my keto green smoothie. Packed with nutrition but without the sugar that will give you a slump around 10 am.
Ingredients
If you're not sure what to add to your smoothies, why not try these ingredients.
Non-starchy green veggies –
avocado
kale
swiss chard
silverbeet
cucumber
celery
baby spinach
Zesty Flavourings & Texture –
cocoa powder
ginger
lime juice
nut butter
chia seeds
mint leaves
cinnamon
walnuts
almonds
Low-Sugar Fruits –
raspberries
strawberries
blackberries
Milks/liquids/healthy fats
coconut cream
almond milk
unsweetened yoghurt
This healthy green smoothie recipe is so simple, your kids can make it in the morning before school. They don't even need to wash the blender, leave it out for the next member of the family to throw their green smoothie ingredients in, and blitz away.
Best Blenders To Make Smoothies
You can use either a stick blender, a smoothie maker, or a food processor to make breakfast smoothies.
More Keto Smoothie Recipes
If you want easy low-carb and keto breakfast recipes, a quick and easy healthy smoothie such as chocolate peanut butter smoothie, chocolate green smoothie, and keto berry smoothie (dairy-free) are the perfect way to start your day. They are all family-friendly and even picky eaters will love them.
Get our FREE guide to finally fix your metabolism!
Losing weight & getting healthy is never easy, but lately you might feel like it's suddenly become impossible.
Our Flip the Switch guide will help you clearly understand what's been going on, as well as exactly what you can do to get your metabolism working again so that you can look and feel your best—it's easier and more simple than you think!