If you are a lover of salted chocolate treats, you'll fall in love with my salted keto peanut butter cups for sure.
Made with 5 simple ingredients and only 2.8g net carbs per keto chocolate.
Having quick and easy sugar-free chocolate recipes on hand is an easy way to give up sugar cravings and chocolate cravings.
Are peanut butter cups keto?
No, peanut butter cups are not keto and are filled with added sugar and are high in carbs.
Ready to lose weight and get healthy for life without dieting, drugs or making yourself miserable?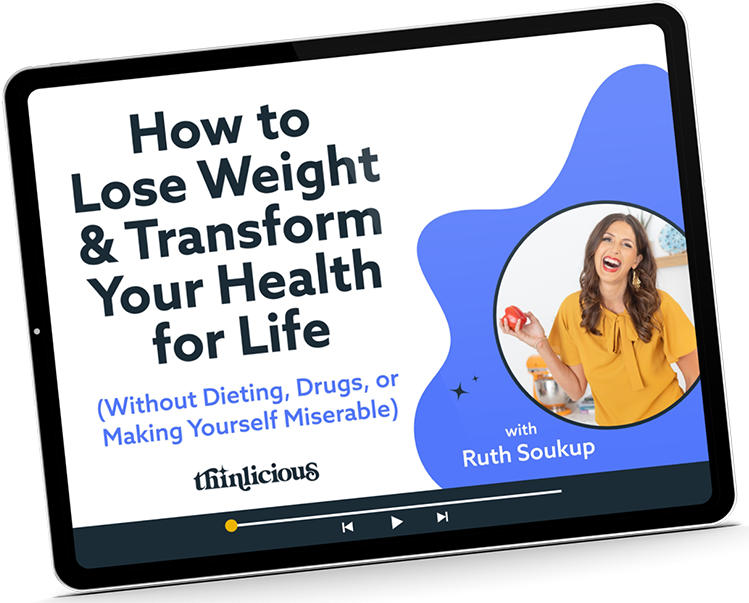 Our free on demand video training will help you understand why it's been so hard and what do to about it.
If you love Reece's peanut butter cups, you may want to give them up once you discover the nutrition labels show each Reece's cup contains 11g sugar and 12g carbs.
This recipe for keto salted peanut butter cups, however, only has 1.6g sugar and 2.8g net carbs. And the best bit? The salt gives them that extra punch of chocolate flavor.
Ingredients
This easy recipe for salted peanut butter cups is only made with 5 simple ingredients, that you may already have in your cupboard already.
Sweetener – use your favorite powdered sweetener to replace sugar that is normally found in regular chocolate peanut butter cups. Sweeteners such as erythritol, monk fruit, stevia, or allulose all work well in this keto chocolate recipe.
Butter – use salted butter or unsalted butter, the choice is yours. Adjust the amount of salt you add to the sugar-free peanut butter mixture before pouring it into your mini cupcake cases.
Peanut butter – always read the nutrition label to ensure there is no added sugar in the peanut butter or added sweetener such as maltitol (which will raise your blood sugar).
Sugar-free chocolate chips – always read the ingredients label to make sure approved sweeteners have been used and avoid all maltitol (which is not keto).
Vanilla extract – or vanilla essence makes the peanut butter taste like Reece's peanut butter cups.
All quantities, ingredients, and instructions are in the recipe card below.
Variations
Chocolate – you may either use 90% chocolate or sugar-free chocolate chips. The calculations in this recipe for the nutritional panel were made using Lindt 90%.
Peanut butter – instead of peanut butter, you can use your favorite nut butter such as almond butter.
Butter – to make dairy-free peanut butter cups, you can use coconut oil instead of butter, however, the creamy buttery flavor will be missing so you may need to add extra sweetener and vanilla extract.
How to make homemade peanut butter cups
STEP 1: Make the sugar-free chocolate layer.
Gently melt the chocolate, powdered sweetener, and butter together in a saucepan or in the microwave. Mix.
Pour half the melted sugar-free chocolate mixture into lined mini muffin/cupcake cases. Place in the fridge to set.
STEP 2: Make the sugar-free peanut butter layer.
Mix the melted butter and peanut butter together until it is smooth and creamy. Add the powdered sweetener and vanilla.
Place a spoon of the peanut butter mixture onto the chocolate-lined cupcake cases.
STEP 3: Pour the final sugar-free chocolate layer.
Top each peanut butter cup with the remaining melted chocolate layer.
Top tip: You don't want the peanut butter layer to be too hot when pouring as it will melt the chocolate layer below and the chocolate that is about to be poured from above.
STEP 4: Cool to set.
Place the sugar-free keto peanut butter cups in the fridge to set then garnish with peanuts and salt.
You may omit adding the melted butter and sweetener to the chocolate layer and simply use 90% chocolate instead.
However, after experimenting many times, I found by adding some butter, allowed the chocolate layer to be a little softer than 90% chocolate so when you bite into it, the chocolate doesn't snap and the peanut butter filling ooze out all over your hands.
The added sweetener is optional, but it gives it that extra sweet taste so these taste exactly like regular Reece's peanut butter cups.
More keto peanut butter recipes
if you love keto chocolate recipes with nuts, these are the most popular easy keto candy recipes using peanut butter, walnuts, or a nut substitute such as tahini.
Get our FREE guide to finally fix your metabolism!
Losing weight & getting healthy is never easy, but lately you might feel like it's suddenly become impossible.
Our Flip the Switch guide will help you clearly understand what's been going on, as well as exactly what you can do to get your metabolism working again so that you can look and feel your best—it's easier and more simple than you think!