</p>
This keto crepes recipe results in crepes that are soft and perfect! With less than 3g net carbs in each one, you can afford to indulge in these sweet treats.
These healthy crepes can be eaten hot or cold and can be made savory or sweet. Keto crepes are an incredibly versatile recipe.
The whole family will love to add their own favourite sweet sugar free filling for a quick dessert or use savoury favorite fillings to make a yummy low carb breakfast, lunch or dinner.
Are you ready to create the ultimate 12-month blueprint for reaching your health & weight loss goals this coming year?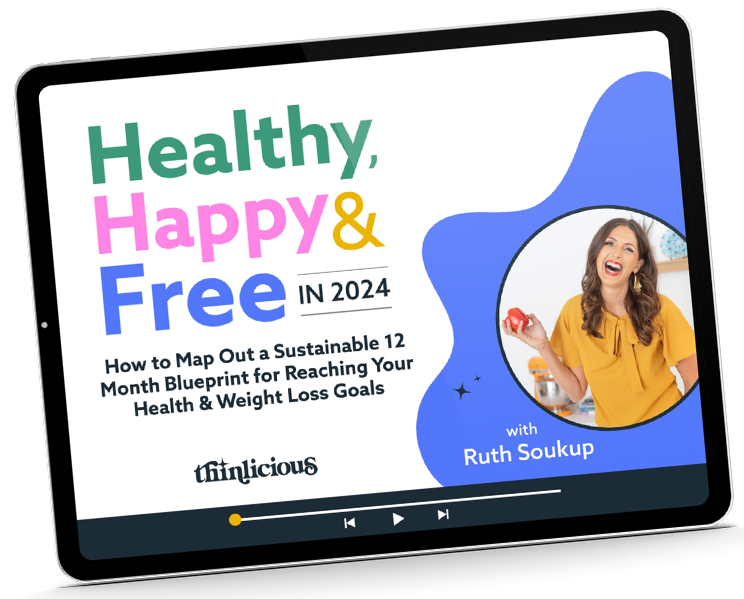 Our free on-demand video training will walk you through how to make 2024 THE year you set health goals…and keep them.
I have made many crepes and wraps but these are the best keto crepes and are incredibly simple to make and incredibly versatile. Keto crepes are a fabulous alternative to high-carb tortillas or wraps.
Update: This post was originally written in 2018 for a Ketodiet cookbook giveaway. This has now closed. The original recipe is from the Ketodiet cookbook written by my friend Martina Slajerova.
Are regular crepes keto?
Traditional crepes are not keto. They contain wheat flour and often high amounts of sugar. But this keto crepe recipe will keep you on track with your keto diet.
If you haven't had a crepe before, you are in for a real treat! These taste like ultra thin pancakes and have such a lovely light texture to them. To me, these are one of the best breakfast foods, lunch, or even snack/dessert.
The best part? Just like traditional crepes, you can serve with savory fillings or sweet. I'll share some of my favorite crepe toppings below! Trust me, there's no going back once you've tried your first crepe.
Keto crepes
Crepes, wraps and tortillas are one of the most versatile and useful low carb recipes for a family. Wraps are such a staple for so many lunches, so these keto crepes are a lovely alternative. They are sturdy yet soft and delicate.
Ingredients
All of the ingredients are in the printable recipe card at the bottom of this post. First, I have some extra tips I want to share – and to answer some common questions about the ingredients and their substitutions.
If you don't have psyllium husk powder, you can use ground chia seeds. Both of these ingredients make the crepes light and fluffy, mimicking stretchy gluten.
I prefer to use coconut cream because it makes the crepes fluffier, but almond milk works well as a great substitute.
I used canned coconut milk cream – not the coconut milk that is sold in the refrigerated section. The canned coconut milk cream is thicker.
You need some sort of fat or oil to fry the crepes on. My fat of choice is ghee. It is basically clarified butter without any lactose in it. It's really easy to digest. You can also use coconut oil for the same effect.
You also need to choose a good quality nonstick skillet or a nonstick frying pan. There is nothing more annoying than when you try to flip your crepe (or pancakes) to cook the second side, that it tears and rips apart. A silicone spatula also helps to flip over the tasty keto crepes.
Can I use almond flour instead of coconut flour?
No, do not use almond flour instead of coconut flour. Coconut flour soaks up a lot more moisture when you bake with it than almond flour does. If you use almond flour, you will have to adjust how much coconut or almond milk you use. But this would be another completely different recipe entirely.
The best recipes use simple ingredients (such as my coconut flour pancakes). Whilst some low-carb ingredients are a little different than you are used to, the taste is sensational and truly decadent.
How to use keto crepes
The best thing about these easy keto crepes is how versatile they are. There are so many uses for them. They are some of my favorite keto-friendly bread replacements.
Use them as a tortilla wrap with chili, cheese, and sour cream, or how about adapting the recipe to a sweet version and making chocolate crepes using my sugar-free chocolate spread?
They are the perfect thing to use to replace bread. From wraps to sandwiches to desserts, the options are endless.
The best keto crepe fillings
My favorite thing of all to do with crepes is fill them with something sweet. Whenever I start craving desserts, I just make these.
There are lots of different low-carb options for crepe fillings. No matter what you choose, just track it and make sure you count the carbs. Each option that I list will have a different amount of carbs.
Sweet crepe filling
If you are in the mood for sweet crepes, you can still have your crepe and eat it too! These are some of the different ways I like to make my favourite low-carb crepes that will satisfy your sweet tooth.
Filling for savory crepes
When it comes to savory crepe toppings and fillings, the sky is the limit! Pair it with a side salad or some roasted veg and you've got a perfect savory meal. Here are a few of my favourite savory ways to enjoy low carb crepes:
Cheese and ham – you can't go wrong with a classic combination like this! I particularly like it the French way using gruyere cheese.
A pinch of salt and a dab of butter keep this filling crepe simple.
Scrambled eggs with fresh herbs makes for a delicious breakfast.
Cooking tips
If you've ever tried to cook crepes before, you'll know that perfect crepes are all about the texture! Here are some tips to help you nail the texture every single time and get those lovely airy crepes!
Separate the eggs and egg whites. This recipe calls for more egg whites than eggs, so make sure to separate out your yolks. You can save your yolks for hollandaise sauce. So the first step is to get a small bowl ready to collect the extra egg yolks.
Combine the ingredients well. The batter will need to be totally homogeneous, so you could even give it a few pulses in a high speed blender or mix well with a stand mixer.
To get a thin crepe, you'll need a hot pan. Heat your pan on high heat and coat it evenly with ghee or coconut oil. Then turn it down to medium heat, or even medium-low heat, and let it sit for a minute.
Crepe batter should be very thin! You may feel like it's too watery, but you do not want it to have a pancake mix texture. If your batter is too thick, add 1 tbsp of water (or more as needed).
Pour a thin layer of batter on the pan. Let the crepe cook on one side, then at the right time, flip it! It may take a few tries to find that sweet spot, but you'll get there.
Grease your skillet each time you make a crepe. The last thing you want is your light, airy low carb crepes to stick to the pan!
To keep the freshly cooked crepes from sticking together, use parchment paper. If you are storing some away for later, keep parchment paper between each one.
Questions
Before we get to the recipe, here are some questions people often ask about these low-carb snacks.
How do you store keto crepes?
You can store them at room temperature in an airtight bag or container and they will stay fresh for about 3 days.
I prefer to store my crepes in the refrigerator in an airtight bag or container. If you refrigerate them, they will stay fresh for a week.
You can also freeze them. If you want to freeze the crepes, flash freeze them in a single layer before you place them in the freezer bag in the freezer.
If you just put a stick of crepes in a freezer bag without freezing them individually first, they will become one solid block of ice.
How many carbs are in a crepe?
Each crepe here – unflavored and cooked according to my recipe – only has 2.9g net carbs in each one.
When you add fillings, it will increase how many carbs it has.
Can I add sweetener to make these crepes sweet?
Yes, you certainly can add a sugar-free sweetener (sugar substitute) to make the crepes taste sweeter. A liquid sweetener will dissolve in the batter and won't alter the texture. My favorite is monk fruit liquid sweetener.
I'd add just a few drops at first, taste it, and then add more sweetener if they aren't sweet enough.
More family versatile recipes you may like: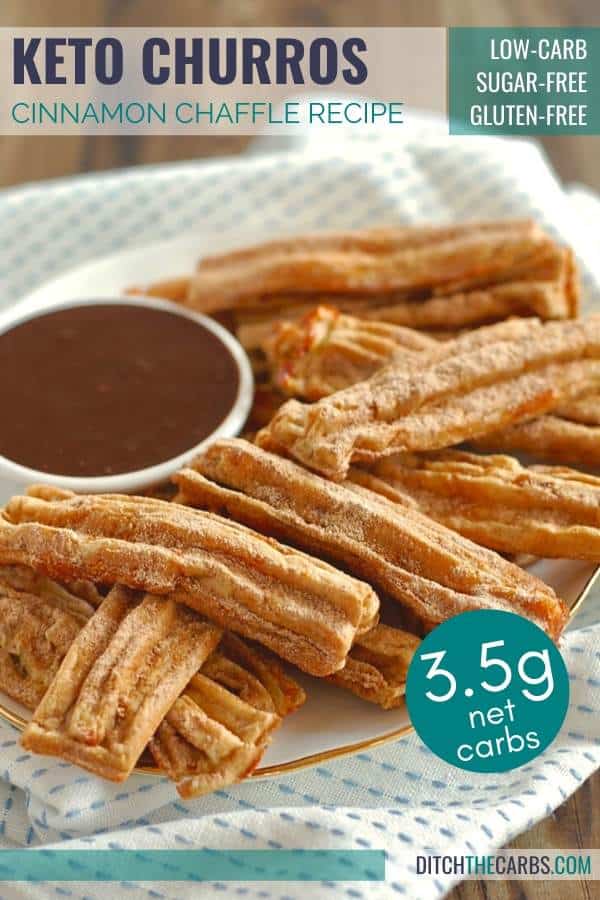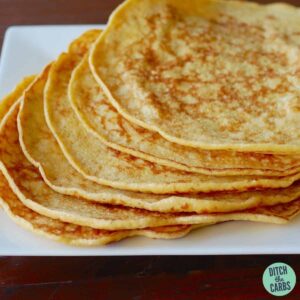 Coconut Flour Keto Crepes Recipe
Keto crepes can be made sweet or savoury. Imagine these with sugar-free chocolate spread over them? Ah-mazing!!! Or add cheese, ham and avocado for lunch.
Print
Pin
Rate
Want to lose weight and get healthy for life—without dieting, drugs, or making yourself miserable?
We can help! Tell me how!
Equipment
Measuring cups and spoons

Mixing bowls

Frying pan
Ingredients
2

egg yolks

8

egg whites

2

tbsp

coconut flour

1

tbsp

psyllium husk

(or ground chia seeds)

90

ml

coconut milk

cream or almond milk

1/2

tsp

baking soda

1

tsp

cream of tartar

2

tbsp

coconut oil

or ghee

2

tsp

garlic powder

omit if making a sweet keto crepe and add sweetener to taste instead

+/- salt and pepper
Instructions
Separate the egg whites and from the egg yolks. You will only need 2 egg yolks and 8 egg whites, as the crepes hold better together when more egg whites are used. Reserve the remaining egg yolks for another recipe.

Place the whole eggs and egg whites, coconut flour, psyllium husk or chia seeds, coconut milk, baking soda and cream of tartar in a bowl and mix well.

Add the garlic powder (or sweetener if making sweet keto crepes) and whisk well.

Allow the batter to sit for 5-10 minutes so the coconut flour and psyllium have time to swell and absorb the moisture. Whisk again.

Heat a nonstick pan evenly with the ghee or coconut oil. Move the pan while pouring in the batter to ensure the batter covers the bottom of the pan in a thin layer. The batter should be runny so it will spread easily. If it is too thick, you may add 1 tablespoon of water to the mixture.

Make the crepes one by one, greasing the pan in between to ensure the keto crepes don't stick.

Depending on the size, you can make 2 large or 4 medium crepes per serving.

Once cool, store in an airtight container in the fridge for up to 5 days.
Nutrition
Serving:
1
keto crepe
Calories:
239
kcal
Carbohydrates:
5.5
g
Protein:
10.2
g
Fat:
19.4
g
Fiber:
2.6
g
Get our FREE guide to finally fix your metabolism!
Losing weight & getting healthy is never easy, but lately you might feel like it's suddenly become impossible.
Our Flip the Switch guide will help you clearly understand what's been going on, as well as exactly what you can do to get your metabolism working again so that you can look and feel your best—it's easier and more simple than you think!