This delicious sugar-free keto caramel sauce only requires 4 ingredients and 0.3g NET Carbs per serving.
Enjoy this homemade caramel sauce in your coffee, over keto ice cream, on cheesecake, or even drizzled over low-carb oatmeal.
The best part is you can make a jar of keto caramel sauce in under 20 minutes and enjoy it for weeks!
A good caramel sauce is a versatile treat for any dessert. It can be used in so many ways. I tried several keto caramel recipes, and this was by far the best one I have ever tried.
Are you ready to create the ultimate 12-month blueprint for reaching your health & weight loss goals this coming year?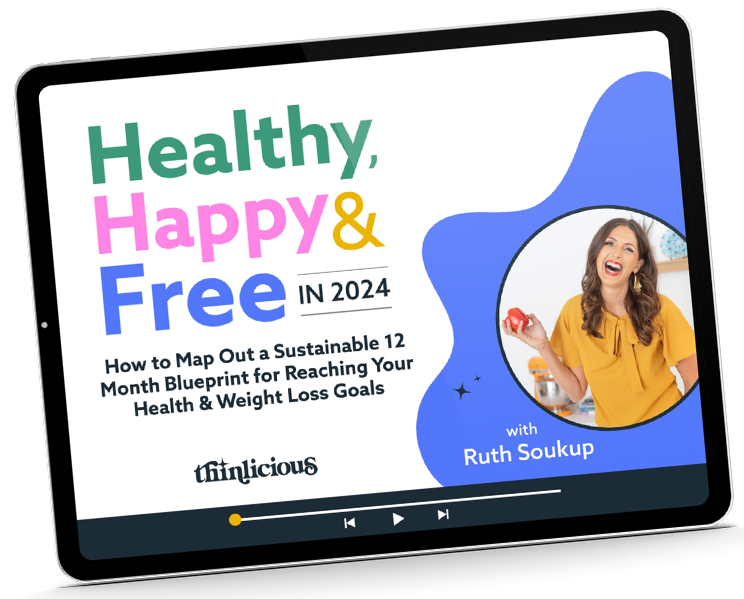 Our free on-demand video training will walk you through how to make 2024 THE year you set health goals…and keep them.
I love that this caramel doesn't become hard in the refrigerator. It will continue to thicken as it cools, but it is still easy to scoop out a spoonful to add to desserts.
This was inspired by my Easy Keto Caramel Squares on this site and would be amazing drizzled over a slice of The Best Keto Cheesecake.
Ingredients
To make this tasty keto caramel sauce, you need just a few ingredients. You will be amazed that you can get such a flavorful caramel sauce using just four ingredients.
butter: unsalted butter works best, but in a pinch salted butter works also.
heavy cream: heavy whipping cream is the exact same thing, so grab whichever you have available.
brown sweetener: allulose works best, but you can use other brown sweeteners or sugar alternatives if that's what you have on hand.
vanilla extract: don't skimp on quality for this recipe. A good vanilla extract gives this a much better caramel taste.
See recipe card for quantities.
Instructions
While making the perfect keto caramel sauce is an easy process, it does take between 15-20 minutes of active stirring time.
I recommend pulling up a chair and using this time to listen to your favorite podcast or scroll through your feed. The time will pass in a breeze, and you can check off your arm workout for the day!
To start, melt the butter in a saucepan over medium heat. Once the butter is melted, add the sweetener.
Stir the sweetener into the butter allowing it to come to a simmer. Continue to stir until all the sweetener is dissolved.
Slowly mix in the heavy cream. The caramel sauce will bubble up; just keep mixing. At this point, your caramel will be very light.
Continue to stir and cook the caramel sauce until the color deepens and the sauce thickens. Remove the sauce from the heat and mix in the vanilla extract.
It takes between 15-20 minutes for the sugar-free keto caramel sauce to thicken once the cream is added. You will need to continuously stir the caramel the entire time to ensure it doesn't scald or burn.
After the caramel cools, you can transfer it to a jar with a lid for storage.
Hint: If you overcook your caramel and it separates, use an emersion blender to bring the caramel back together as it cools.
Substitutions
Want to make this sugar free caramel syrup but need to substitute an ingredient or two? Below you find our substitution recommendations for each ingredient.
Allulose – any brown sugar-free sweetener will do. I like using allulose because the sugar alcohols don't crystalize like stevia or monk fruit might when it cools. However, if it does crystalize, just warm the caramel up in the microwave for 15-30 seconds, and the crystals will disappear.
Heavy Cream – use half-and-half cream and a tsp of xanthan gum to thicken the caramel if heavy cream isn't available to you.
Butter – a highly saturated oil is needed to make caramel. Coconut oil is a good keto-friendly alternative to butter when making caramel.
Vanilla – the vanilla can be left out or substituted for a different extract flavor. Almond, maple, or butter extract would be fantastic alternatives.
Keep in mind that any changes you make to the ingredients are going to change the flavor and texture of the caramel just a bit. Your caramel might not be as creamy if you choose to use coconut oil or half-and-half instead of heavy cream and butter.
Variations
There are many flavor variations you can try with this sugar-free keto caramel sauce. Check out the list of suggested variations below to add a tasty twist to your caramel sauce.
Cinnamon Caramel– Mix in a 1/4 tsp ground cinnamon for a festive warm caramel flavor.
Chocolate Caramel – use cocoa powder to make your caramel chocolatey.
Spicy Caramel – add a pinch of crushed red peppers while cooking the caramel for a hint of spice. Don't knock it till you try it.
Orange Caramel – mix in some orange zest for fresh citrus flavor.
Salted Caramel – mix sea salt into the caramel. Start with a pinch and add more until you reach the saltiness you are looking for.
See these Copycat Keto Starbucks Recipes on my website to drizzle this caramel over your latte! Just a tiny bit goes a long way so this caramel will last you quite a while.
Equipment
A mixing spoon, saucepan, stove, and measuring spoons are all the equipment you need to make this sugar-free keto caramel sauce.
How to store sugar free caramel sauce
When it comes to storing keto caramel sauce, it is best to store it in an airtight container in the refrigerator.
I recommend using a glass jar with and lid to store your caramel sauce in. You can also use a plastic food storage container, but I find glass is easiest to wash after.
Caramel stored in the refrigerator will stay good for up to two months.
If the sauce becomes too thick after being stored in the fridge, you can simply reheat it over low heat to thin it out again. You can also microwave it without the lid for 15-30 seconds.
Top tip
Once your sugar-free keto caramel sauce starts to thicken and coat the spoon you will want to keep a close eye on the caramel and remove it from the heat immediately once it starts coating the back of the spoon.
The caramel can quickly go from just right to overcooked and split. If it does split mix it with an emersion blender as it cools and it should go back together.
FAQ
Does sugar-free keto caramel sauce have carbs?
This sugar-free keto caramel sauce has very few carbs in it. This keto caramel sauce recipe only has 0.3g net carbs per serving.
Does Stevia caramelize like sugar?
You can use Stevia to make the sugar-free keto caramel sauce, but it does not caramelize exactly as sugar does. It will dissolve with the butter, but it sometimes crystallizes in the caramel as it cools.

However, reheating the caramel briefly before using it will get rid of the crystals.
What sugar substitutes will kick you out of ketosis?
Honey, maple, agave, Maltodextrin, etc will all kick you out of ketosis if you use them as sugar substitutes.

Because of this, we recommend using Allulose when making sugar-free keto caramel sauce. You can learn more in this Ultimate Low-Carb Guide to Sweeteners.
I hope you enjoy this recipe—give it a try and you'll agree: this is the best keto caramel sauce out there!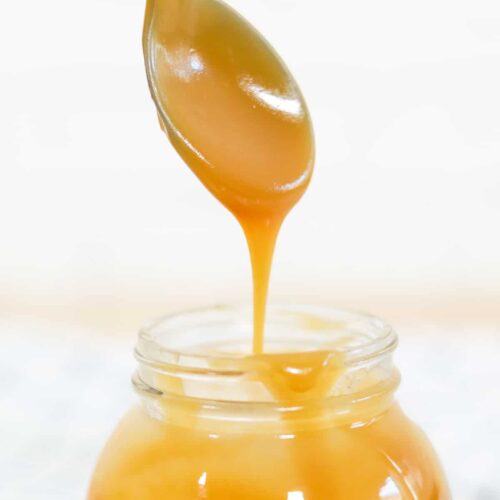 Sugar-Free Keto Caramel Sauce
This delicious sugar-free keto caramel sauce only requires 4 ingredients and has only 0.3g NET Carbs per serving. Enjoy this caramel sauce in your coffee, over keto ice cream, on cheesecake, or even drizzled over oatmeal.
Print
Pin
Rate
Want to lose weight and get healthy for life—without dieting, drugs, or making yourself miserable?
We can help! Tell me how!
Equipment
Measuring cups and spoons

Saucepan
Ingredients
⅓

cup

brown sweetener of choice

allulose works best

½

cup

butter

1

cup

heavy whipping cream

1

tsp

vanilla extract
Instructions
Melt the butter in a saucepan over medium heat on the stove. Once the butter is melted add the brown sweetener. Stir until the sweetener completely dissolves and is bubbling.

Slowly pour the heavy cream into the melted butter and sweetener while still stirring. The caramel will bubble for a bit while the cream is being poured in. Continue to stir the caramel on medium heat until it thickens and slides off your utensil, about 15-20 minutes.

Remove the caramel from the heat. Mix in the vanilla until completely incorporated. Let the caramel cool completely then transfer it to a jar for storage. Serve over keto ice cream, cheesecake, or fruit.
Nutrition
Serving:
1
tbsp (makes 24 servings)
Calories:
71.9
kcal
Carbohydrates:
0.3
g
Protein:
0.3
g
Fat:
7.8
g
Sodium:
35
mg
Potassium:
11.4
mg
Sugar:
0.3
g
Vitamin A:
278.9
IU
Vitamin C:
0.1
mg
Calcium:
8.1
mg
Iron:
0.01
mg
Get our FREE guide to finally fix your metabolism!
Losing weight & getting healthy is never easy, but lately you might feel like it's suddenly become impossible.
Our Flip the Switch guide will help you clearly understand what's been going on, as well as exactly what you can do to get your metabolism working again so that you can look and feel your best—it's easier and more simple than you think!