Quick and easy slow cooker low-carb meatloaf wrapped in bacon is the perfect healthy family meal for busy days.
It's juicy, packed with flavor, high-protein, and the perfect healthy slow-cooker comfort meal.
Meatloaf is such a wonderful healthy family dinner that your kids will love.
Slow cooker meatloaf is the perfect healthy family meal for a busy day. You can prepare the meatloaf the night before, keep it in the fridge, then in the morning, turn the slow-cooker on and cook. Your dinner will be ready for when you step in the door and you will avoid a fast food emergency.
Are you ready to create the ultimate 12-month blueprint for reaching your health & weight loss goals this coming year?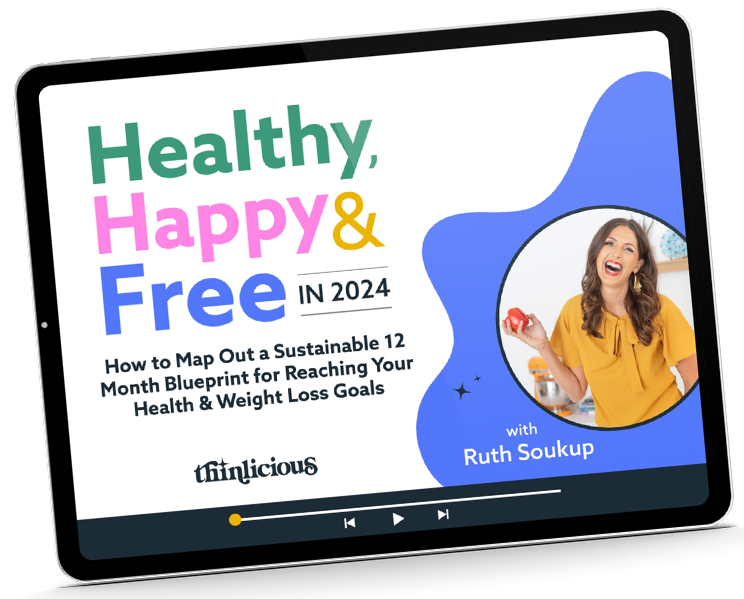 Our free on-demand video training will walk you through how to make 2024 THE year you set health goals…and keep them.
If you love finding new ways to use ground beef, you'll also love mini meatloaves and stuffed meatballs. Both are high-protein recipes that are freezer-safe and perfect for lunchboxes and a quick protein snack.
Ingredients you need
All the quantities and full instructions are in the printable recipe below.
Bacon – streaky bacon works best for this meatloaf recipe.
Ground beef – choose lean beef otherwise too much fat will render out when cooking the meatloaf. You could also use ground pork, ground chicken, sausage, or even ground turkey.
Onion – chopped or diced finely.
Garlic – fresh minced garlic, granulated garlic, or garlic powder.
Spinach or kale – chopped. Hiding more vegetables inside a meatloaf is a wonderful way to help picky eaters but can be omitted.
Bell pepper – chopped. Optional if you wish to reduce carbs further.
Almond meal – or almond flour helps bind the meatloaf together instead of breadcrumbs.
Egg – a medium fresh egg also helps bind the meatloaf.
Worcestershire sauce – optional. Soy sauce or coconut aminos can replace the Worcestershire sauce.
Salt and pepper – season to taste.
Green beans – optional. You could use a lower-carb vegetable instead or omit it completely to reduce carbs even further. The nutritional information does not contain green beans.
What to use instead of breadcrumbs
A traditional meatloaf requires breadcrumbs, which is a high-carb ingredient, so what is a good low-carb keto substitute for breadcrumbs?
Instead of breadcrumbs, you can use almond flour, almond meal, ground pork rinds, crushed nuts, or psyllium husk powder.
Since the meatloaf is wrapped in bacon I didn't put any sauce on it, but if you would like to still use ketchup to the top (or on the side) I recommend using this sugar-free ketchup recipe.
How to wrap meatloaf in bacon
STEP 1: Making the meatloaf is pretty simple. Mix the ingredients together in a large mixing bowl. You will want to chop the bell pepper and spinach into small pieces so that they mix in well with the meatloaf.
I have found that using a food processor is perfect for quickly chopping vegetables into small pieces. If you want to hide more vegetables inside the meatloaf, chop or dice your vegetables finely so they can't be seen. It's an easy way to help picky eaters eat more vegetables.
STEP 2: Next lay flat a long piece of parchment paper, foil, or plastic wrap on your kitchen countertop. Layer the bacon, into a rectangle on the baking paper, making sure each piece overlaps the other. Then place your meatloaf mixture in the middle of the bacon and form it into a meatloaf shape.
Fold the bacon over the meatloaf and tuck the edges of the bacon into the meat to keep them in place.
STEP 3: Once your meatloaf is wrapped in bacon, use the parchment paper to help you carefully flip the meatloaf over into the slow cooker. When the meatloaf is in the slow cooker you may need to reshape it a little to ensure the bacon firmly sticks to the meat.
How to cook meatloaf in the slow-cooker
The slow cooker is the perfect way to cook a tasty savory meatloaf because it stays juicy, moist, and tender. Often cooking meatloaf in the oven will make a dry meatloaf. You can also cook meatloaf in the Instant Pot for a super-fast family dinner.
The cook time of your meatloaf and vegetables is pretty straightforward in the slow cooker. Cook the meatloaf on HIGH for 4-6 hours or on LOW for 7-8 hours.
When the meatloaf is done cooking drain the delicious juices that have built up into a small saucepan. Place it on medium heat to simmer, reduce and thicken. You can even use some xantham gum to thicken the meatloaf gravy. Or you can make mushroom meatloaf gravy.
To crisp the bacon you can remove the lid from your slow cooker insert and place the whole insert under the broiler for a few minutes. Your bacon will become crispy and make your meatloaf even tastier.
How to make meatloaf keto
Your meatloaf will release a lot of delicious juice while it cooks that is perfect for cooking tasty vegetables. To take advantage of this juice I highly recommend cooking a side of low-carb vegetables with your meatloaf.
Which vegetable you choose will depend entirely on your carb limit (or tolerance) you have set yourself. It's often the side dishes that can make or break your low-carb diet or keto diet.
To cater for all levels, simply omit the green beans and choose a lower-carb vegetable such as asparagus. Or omit the vegetables entirely to quickly make this recipe keto carnivore.
Green beans are moderate-carb and will absorb the bacon flavor from the juice. Asparagus is a delicious colourful low-carb vegetable. It's one of those vegetables that taste better the longer they cook and will soften nicely in the slow cooker. So feel free to toss some green beans or asparagus in your slow cooker to make this a whole meal.
How to freeze meatloaf
This slow cooker meatloaf is also the perfect make-ahead freezer meal. To freeze your meatloaf before cooking wrap it with parchment paper and place the entire meatloaf in a freezer bag.
When you are ready to cook the meatloaf either defrost it on the kitchen bench for a few hours. Frozen vegetables will cook just as well in the slow cooker as fresh vegetables. Enjoy!
What to serve with keto meatloaf?
Meatloaf isn't meatloaf without ketchup, but regular ketchup has too much added sugar. You can serve meatloaf with sugar-free ketchup or sugar-free keto BBQ sauce.
The best side dishes replace the traditional mashed potatoes, serve low-carb mashed cauliflower, baked broccoli and cauliflower, or bacon Brussels sprouts.
Meatloaf FAQs
Is traditional meatloaf keto?
No, regular meatloaf is made with breadcrumbs, ground beef (or ground pork), and served with mashed potatoes and ketchup. So the high carbs, a large amount of added sugar are not keto.
What is a low-carb substitute for breadcrumbs in meatloaf?
Instead of breadcrumbs (made with wheat flour), you can use almond meal, almond flour, ground pork rinds, or psyllium husk powder.
How many carbs are in a standard meatloaf?
Depending on the recipe and the restaurant, meatloaf can range from 12g net carbs per serving to 22 g net carbs per serving.
Can you put raw ground beef in a slow cooker?
Yes, the raw meat will cook slowly in the slow-cooker and be juicy and tender. The heating element is usually in the bottom of the slow cooker while many also have a heating element around the sides too.
Can I put frozen meat in a slow cooker?
No, it takes too long for the centre of the frozen meat to defrost and cook to a safe temperature.
Can you put frozen vegetables in a slow cooker?
Yes, frozen vegetables can be cooked in the slow-cooker from frozen. Just be aware it will take extra time for the slow-cooker to heat.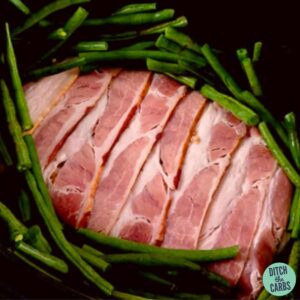 Slow Cooker Low-Carb Meatloaf Wrapped in Bacon
This slow cooker low-carb meatloaf wrapped in bacon is the perfect healthy family meal for busy days.
Print
Pin
Rate
Want to lose weight and get healthy for life—without dieting, drugs, or making yourself miserable?
We can help! Tell me how!
Equipment
Slow cooker

Parchment Paper
Ingredients
500

g

bacon

700

g

ground/minced beef

1

onion

chopped

2

cloves

garlic minced

minced

1

cup

spinach or kale

chopped

1

cup

bell pepper

chopped

50

g

almond meal/flour

1

eggs – medium

1

tsp

Worcestershire sauce

optional

salt and pepper
Side
500

g

green beans

optional
Instructions
In a large bowl mix together all the meatloaf ingredients except the bacon.

Lay a large sheet of parchment paper flat on the counter. Arrange the bacon into a rectangle to ensure that each piece overlaps with the other. Then place your meatloaf mixture in the center of the bacon and form it into a meatloaf shape.

Wrap the edges of the bacon over the meatloaf and tuck the ends into the meat. This keeps the bacon in place. Use the parchment paper to move the meatloaf to the slow cooker and carefully flip it over into the slow cooker.

Add the green beans around the meatloaf then cover and cook. Cook on HIGH for 4-5 hours or LOW for 6-8 hours. When done, drain the liquid and remove the lid. Crisp the bacon by placing the slow cooker insert in the oven under the broiler/grill for a few minutes. Serve and enjoy!
Notes
The nutrition values are for the meatloaf. Green beans (optional) or side vegetables are additional.
Nutrition
Serving:
1
serve (serves 5)
Calories:
864.4
kcal
Carbohydrates:
8.3
g
Protein:
40.7
g
Fat:
73.6
g
Sodium:
787.6
mg
Potassium:
736.6
mg
Fiber:
2.3
g
Sugar:
2.8
g
Vitamin A:
1666.5
IU
Vitamin C:
44.2
mg
Calcium:
73.1
mg
Iron:
4.1
mg
More slow-cooker recipes
Get our FREE guide to finally fix your metabolism!
Losing weight & getting healthy is never easy, but lately you might feel like it's suddenly become impossible.
Our Flip the Switch guide will help you clearly understand what's been going on, as well as exactly what you can do to get your metabolism working again so that you can look and feel your best—it's easier and more simple than you think!