Made from scratch in 10 minutes and needs only a few healthy ingredients.
These low-carb waffles are crispy on the outside and airy on the inside…PLUS you can even make keto waffles sweet or savory.
These quick and easy coconut flour keto waffles are light and fluffy and can be frozen for easy meal prep. They are sugar-free, gluten-free, low-carb, and keto-friendly.
Are you ready to create the ultimate 12-month blueprint for reaching your health & weight loss goals this coming year?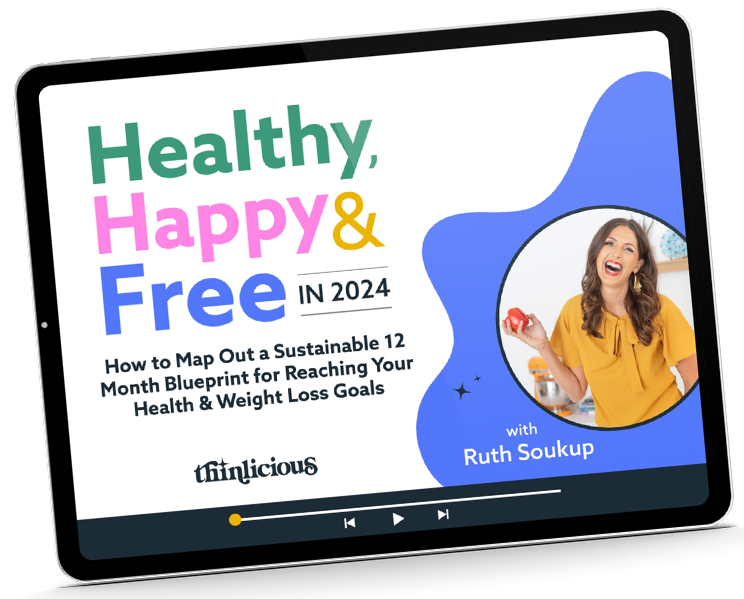 Our free on-demand video training will walk you through how to make 2024 THE year you set health goals…and keep them.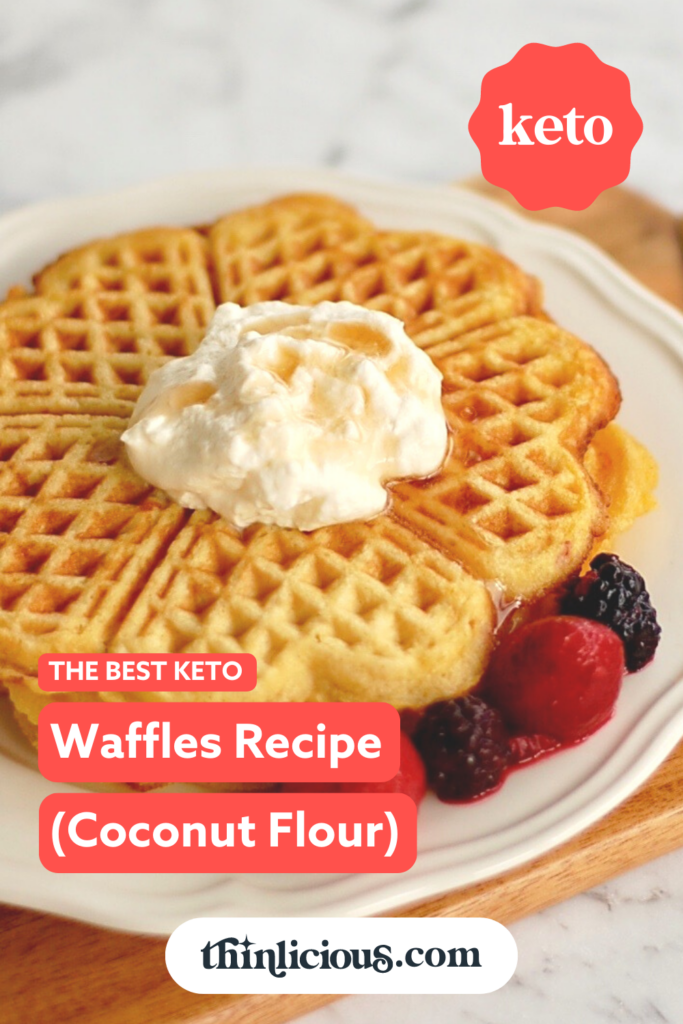 I'll teach you how to use coconut flour (without expensive baking mistakes). And you will learn to make delicious keto waffles vanilla OR chocolate with a quick cooking video.
When eating keto, I highly encourage you to find quick and easy breakfast recipes just like this one. Make some almond flour waffles as part of your meal prep, and freeze them to enjoy for the week ahead.
Are waffles keto?
No, a regular waffle is made with all-purpose flour, white flour, or gluten-free flour. It also has added sugar and is usually served with maple syrup or honey. They are avoided on the low-carb diet and keto diet.
A traditional waffle can have up to 25g net carbs per waffle.
This keto waffles recipe, only has 2.5 grams of net carbs each! With carbs that low you can stack a few together, add melted butter, and a drizzle of sugar-free syrup with no guilt whatsoever.
Why are keto waffles so versatile?
This easy keto waffles recipe is one of those versatile easy keto recipes that:
Can be frozen
Can be used for meal prep
Is naturally gluten-free
Can be made sweet or savory
Is light and fluffy
Made with simple pantry ingredients
It's sugar-free, gluten-free, and nut free.
This easy keto waffles recipe is an easy healthy coconut flour recipe that your kids will love for breakfast or as a lunchbox filler.
Because they're not made with almond flour, these cooked waffles are perfect if your school has a nut-free policy.
Making almond flour waffles is the perfect meal prepping recipe that's keto and convenient.
Whip up a batch of this easy keto waffles recipe and freeze for busy weekday mornings!
Ingredients

for keto waffles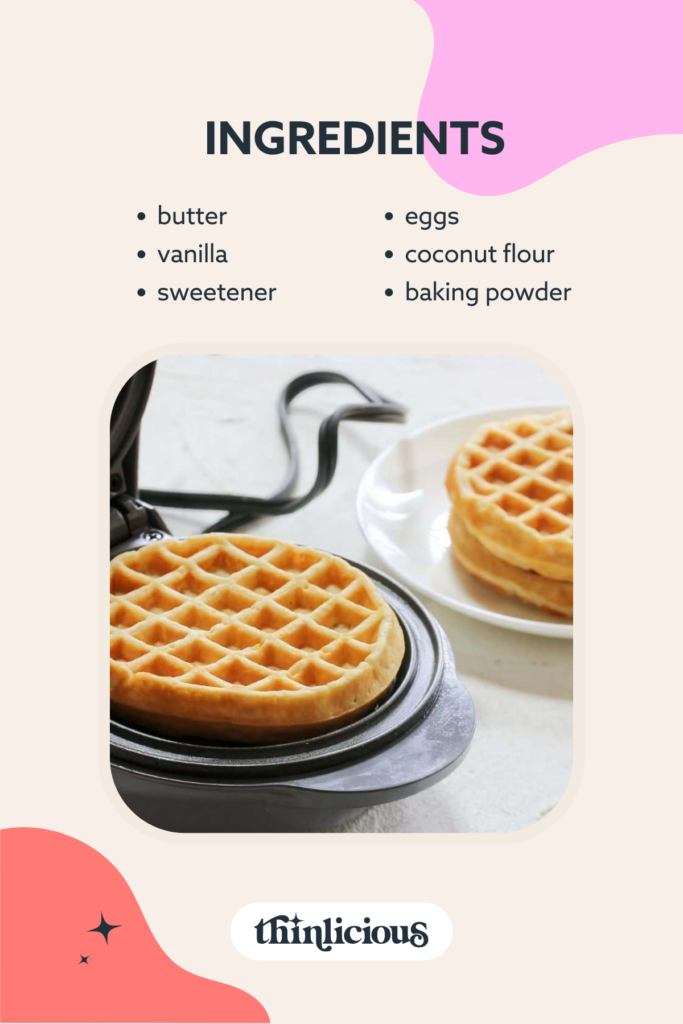 This keto sweet waffle recipe is amazing and it has a simple ingredient list.
All quantities, ingredients, and instructions are in the recipe card below.
Best low-carb flours to use
The most common low-carb flours to use in low-carb waffles are almond flour and coconut flour. Both are low-carb, high-fiber and naturally gluten-free.
These gluten-free waffles are made using coconut flour.
Can you swap all-purpose flour for low-carb flour?
Traditional wheat flour pancake recipes can't be easily swapped to use almond flour or coconut flour. These two low-carb flours behave completely differently. So my suggestion is to always cook a breakfast pancake that has already been developed using these new healthy low-carb flours.
Coconut flour vs almond flour
FDA On Nuts: "The FDA lists coconut as a tree nut but in fact, coconut is a seed of a drupaceous fruit. Most people allergic to tree nuts can safely eat coconut. Coconut allergy is reasonably rare. If you are allergic to tree nuts, talk to your allergist before adding coconut to or eliminating coconut from your diet."
Almond flour recipes tend to be higher in carbs than coconut flour recipes but almond flour recipes tend to be more popular because they are easier to make for beginners.
Can you swap coconut flour for almond flour?
No, you cannot directly swap coconut flour for almond flour. These gluten-free flours behave in completely different ways. Coconut flour is more absorbent and requires a large number of eggs to make the waffle recipe light and fluffy.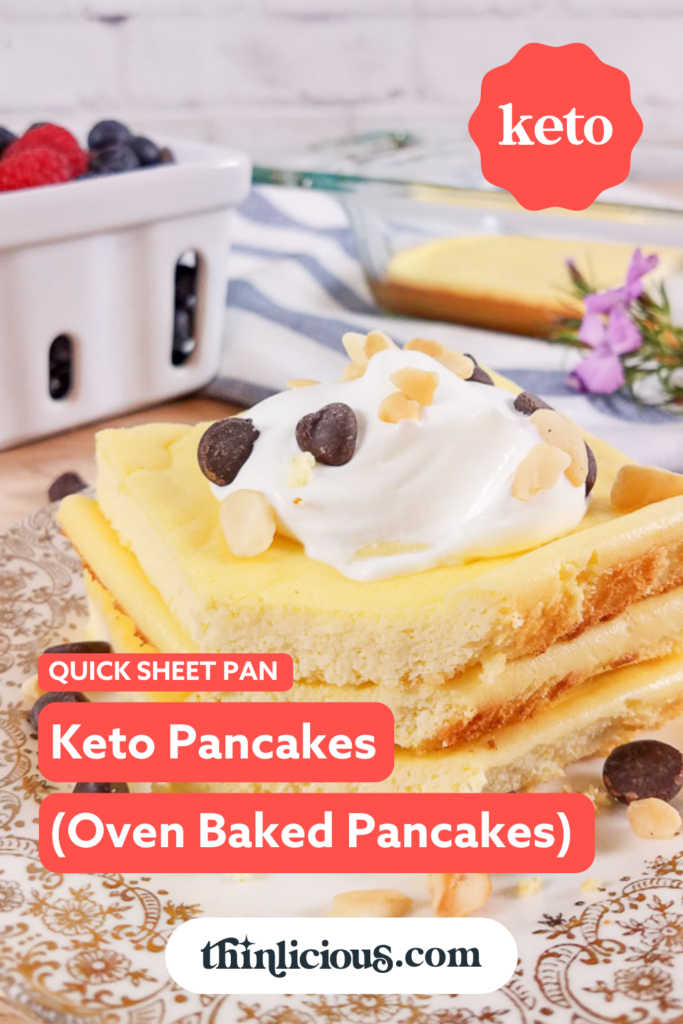 The easiest way to make fluffy keto waffles or fluffy keto pancakes is to use coconut flour or almond flour. Almond flour pancakes are higher in carbs than coconut flour sheet pan pancakes but I provide both so you have a choice on your keto diet.
Best sugar-free sweetener to use
The best keto sweeteners to use is one that taste just like sugar but without the calories, or carbs.
The most popular sweeteners are granulated erythritol, powdered erythritol, monk fruit, allulose (it cooks and bakes with a crunchy toffee crisp just like sugar), and xylitol.
A word of caution if you use stevia drops or stevia powder. Stevia is 400 times sweeter than sugar so it needs to be diluted in liquid or powder so you can measure it accurately. Some brands of stevia are diluted in alcohol or dextrose. So read the ingredients labels very carefully.
How to make keto waffle batter
This keto waffles recipe tastes just like a regular pancake house waffle because I add sweetener, melted butter, and vanilla essence. They're cooked in a waffle maker (or waffle iron) to be the best-cooked keto waffles you'll ever make.
STEP 1: In a medium mixing bowl, add your egg whites and whisk until firm with stiff peaks.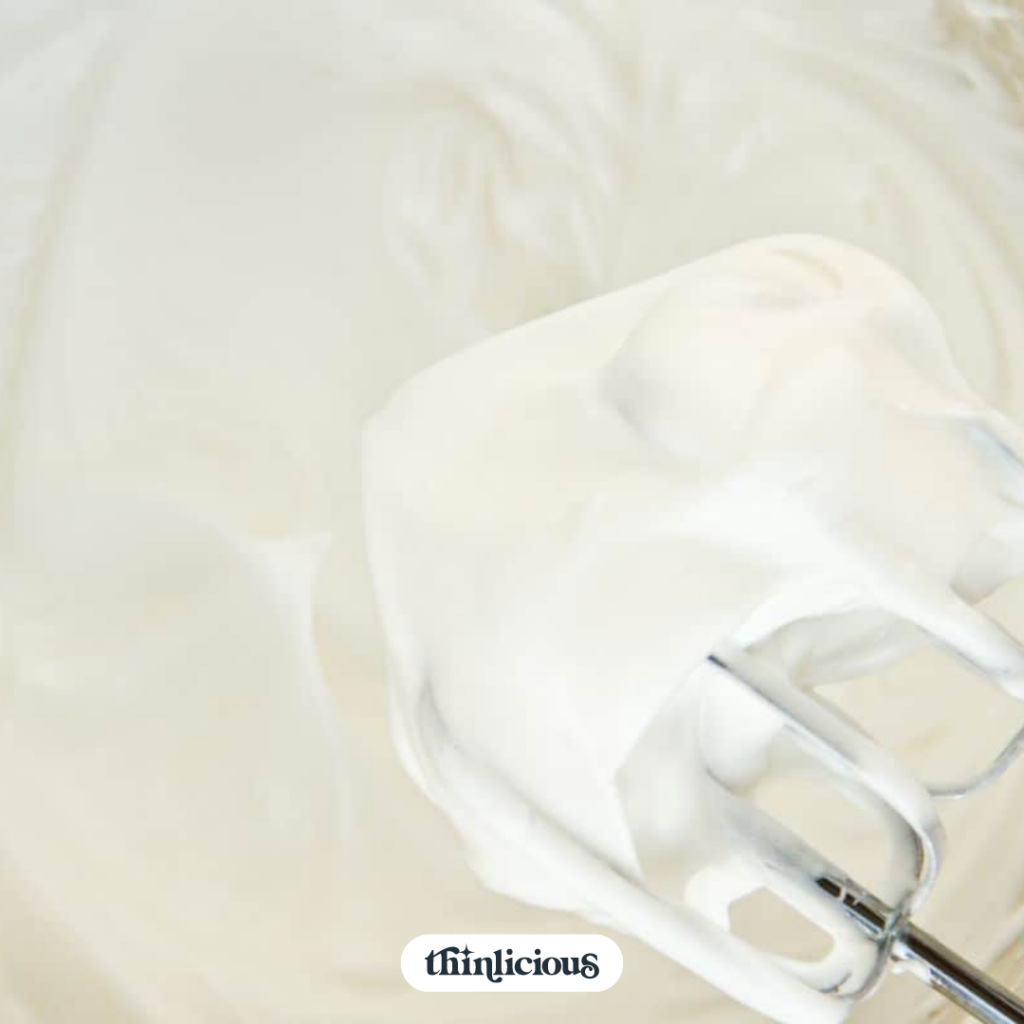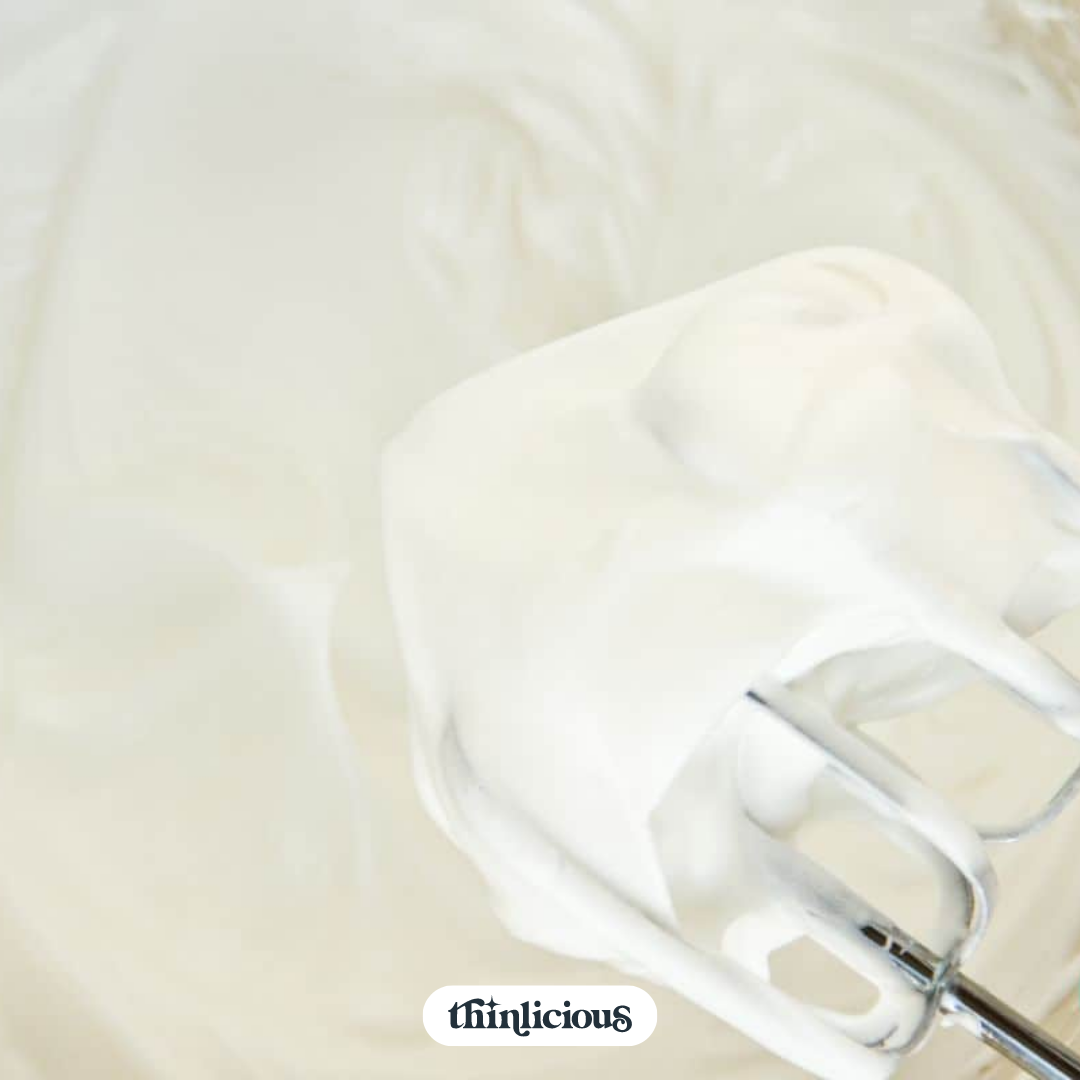 STEP 2: In a larger bowl, mix together the egg yolks, coconut flour, sweetener, and baking powder.
STEP 3: Slowly pour in the butter. Keep mixing to make sure your batter is smooth! Then add in the milk and vanilla extract and mix again.
STEP 4: Now grab your bowl of egg whites and gently fold spoonfuls of it into the yolk batter. Don't overfold or the waffles will not be fluffy.
Finally, add the batter to a prepared waffle maker. Cook until golden brown and serve with your choice of toppings!
Equipment
To mix this together you'll need the standard mixing bowl. But, most importantly, you'll need a waffle maker or waffle iron. You can even use a mini-waffle maker or regular waffle maker or waffle iron.
How to cook keto waffles
Always spray your waffle maker with cooking spray, melted coconut oil, or melted butter to prevent the waffle from sticking.
Pour in enough batter to cover the bottom of your waffle maker. Cook until crispy on the outside and golden brown.
Carefully remove with silicone kitchen tongs or a wooden spatula and repeat until all the batter is used.
How long does it take to cook a waffle? It depends on the size and brand of your waffle iron. Some machines will cook faster than others, and pouring more batter will cook slower than a small serving size.
How to store waffles?
These healthy waffles can be frozen in between sheets of baking paper/parchment, in an airtight container.
Simply remove one or two frozen waffles at a time and pop them in the toaster or toaster oven, cook them in a panini press, or an air fryer, or microwave them. Serve with keto syrup, whipped heavy cream, and low-sugar berries,
Variations and flavors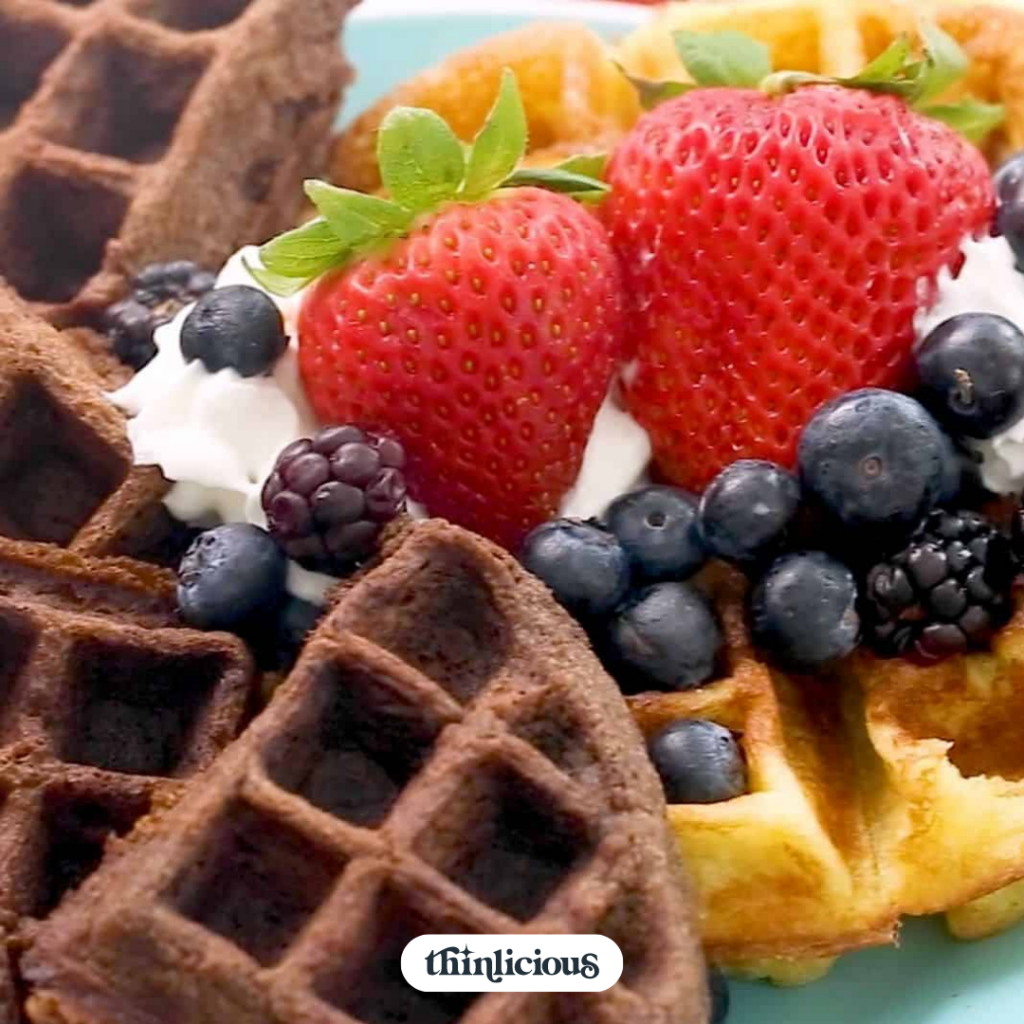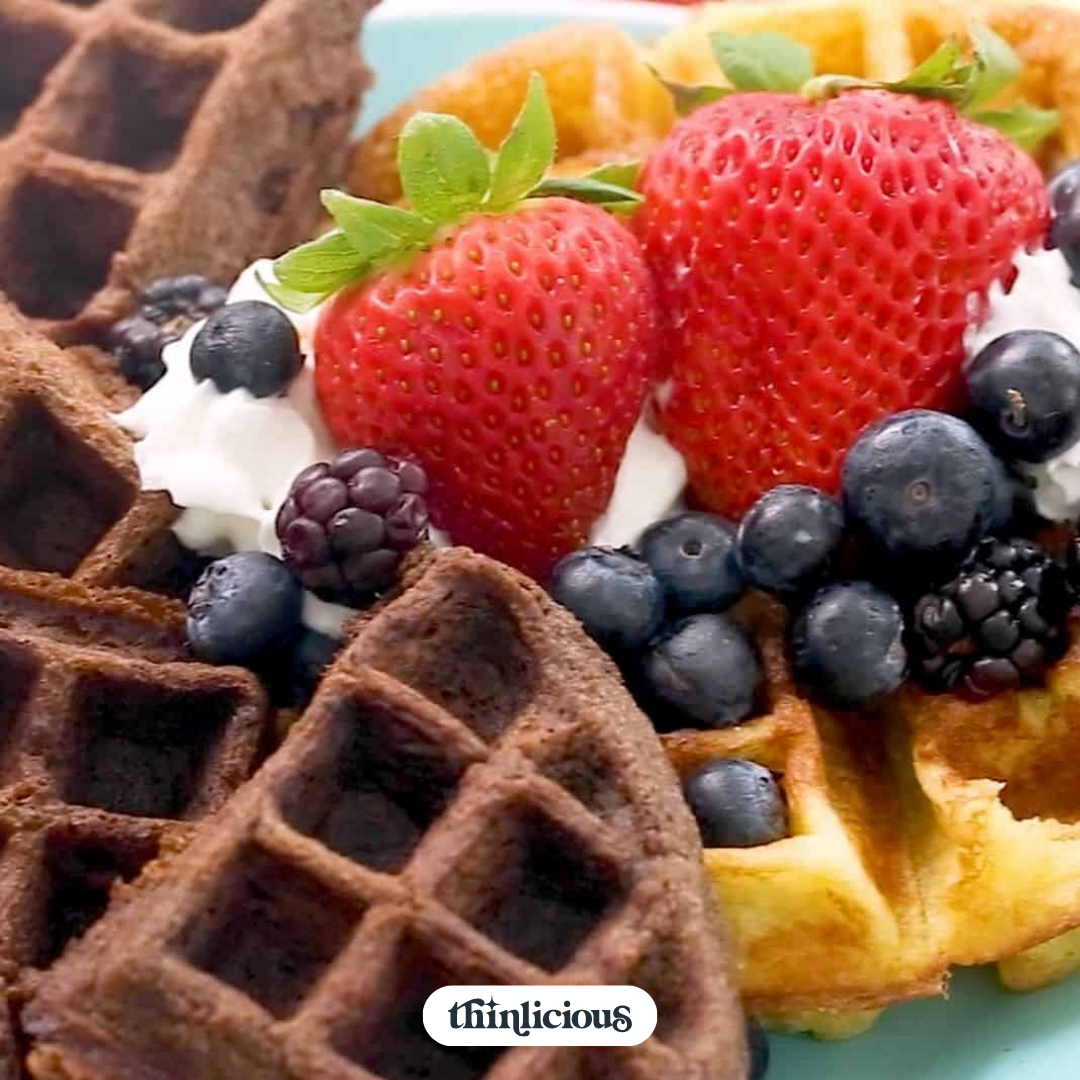 Each low-carb waffle is simply an egg, coconut flour, your favorite sugar replacement, and some butter (plus a few other ingredients to make them rise and tasty).
You can adapt the basic waffle recipe by adding vanilla extract or cocoa powder to make vanilla or chocolate keto waffles.
You can make them sweet (using the recipe card below) or make savory waffles by omitting the keto sweetener and adding a pinch of salt instead.
How to serve waffles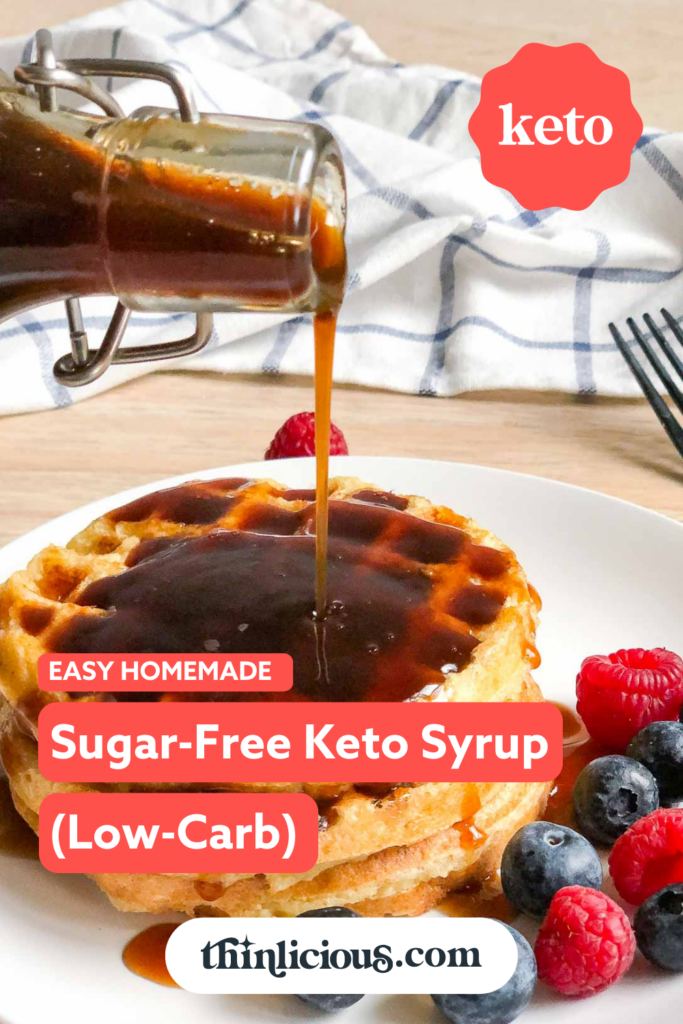 I like to place a scoop of sweetened cream on the top of my pancakes and sprinkle them with sugar-free dark chocolate chips and roasted macadamia nuts. But there are so many other toppings for keto pancakes.
The best part about making these keto waffles is eating them! Here are a few ideas for how to serve this breakfast staple: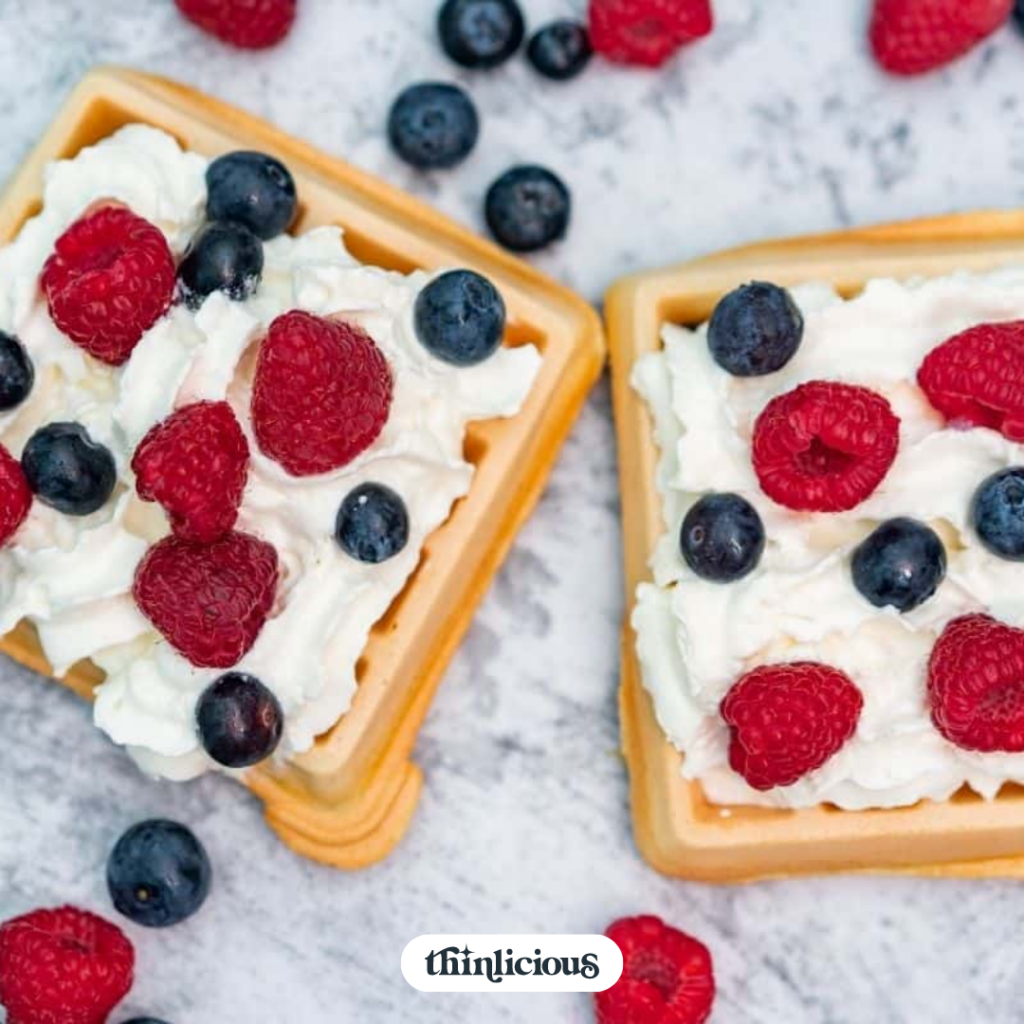 Load them up with whipped cream. Whether you make the vanilla waffles or chocolate, both are fantastic with a spoonful of fresh whipped heavy cream.
Serve with berries. Cut each keto waffle in half, spread each half with cream cheese, and add some berries such as fresh strawberries or fresh blueberries inside.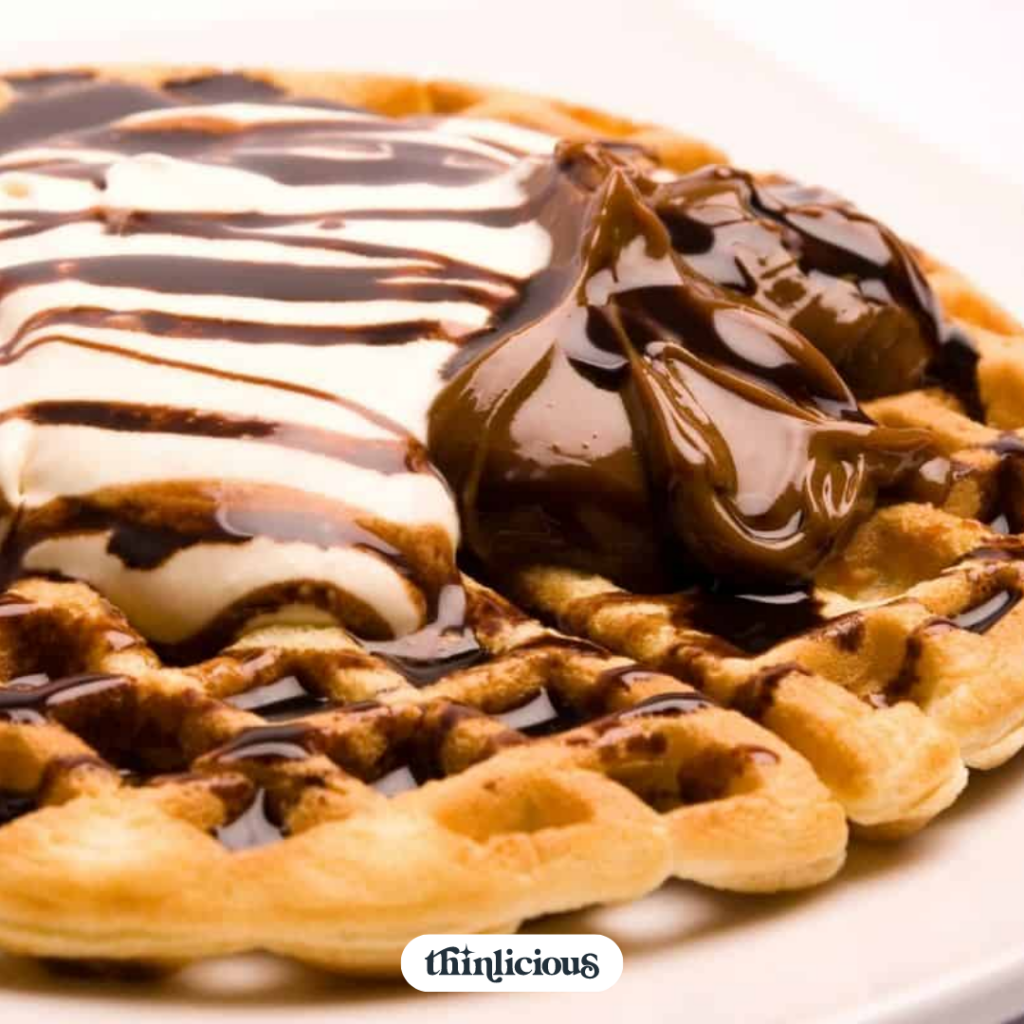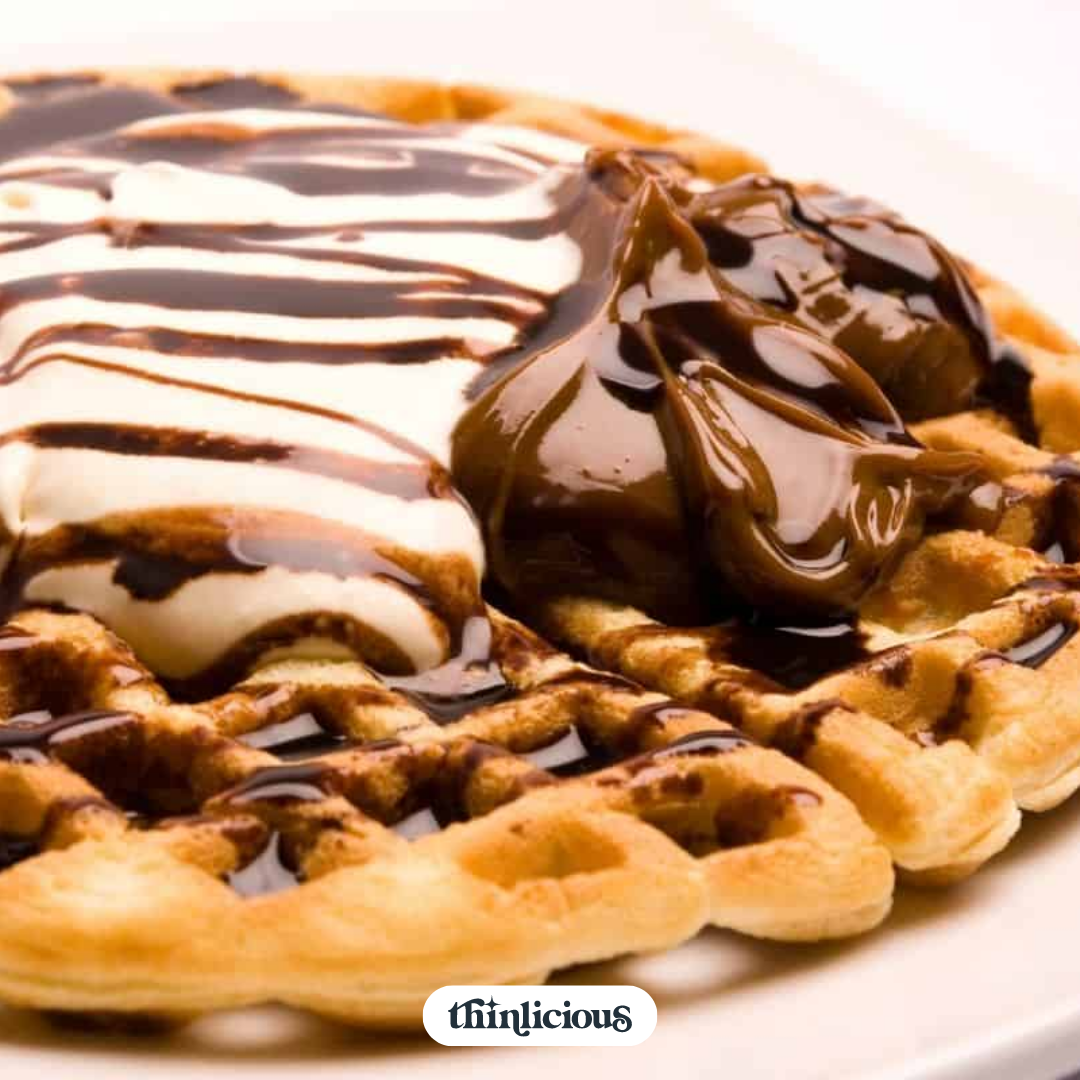 Add nut butter. I love these keto waffles served with sugar-free chocolate spread (keto "Nutella"), almond butter, or peanut butter. Just watch the carb count!
Serve them the classic way. Salted butter and some sugar-free maple syrup work so well here.
Recreate the fast food staple. Using the savory keto waffles as bread to hold a cooked egg and a sausage patty is the perfect breakfast sandwich. Then dip the breakfast sandwich into the sugar-free maple syrup.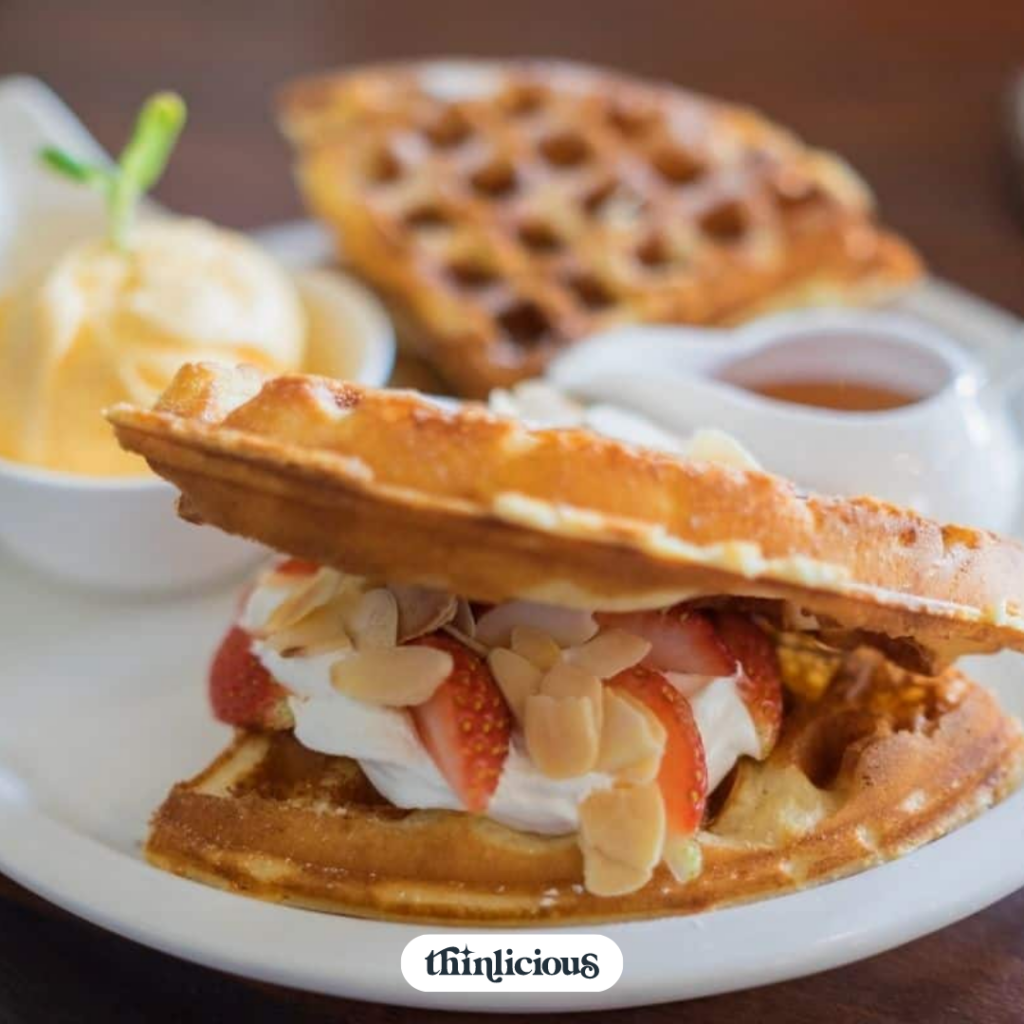 Make an ice cream sandwich. Toast the waffles a bit longer than usual, then fill with low-carb ice cream.
Drop in some choc chips. Grab your favorite keto chocolate chips and drop them into the batter before you add them to the waffle maker.
Experiment with spices. Add some ground cinnamon or ginger if you like different flavors.
Serve them with a cup of coffee or a glass of keto-friendly unsweetened almond milk. Add some fried egg whites on the side and you have a healthy low-carb breakfast.
How many keto waffles can I eat?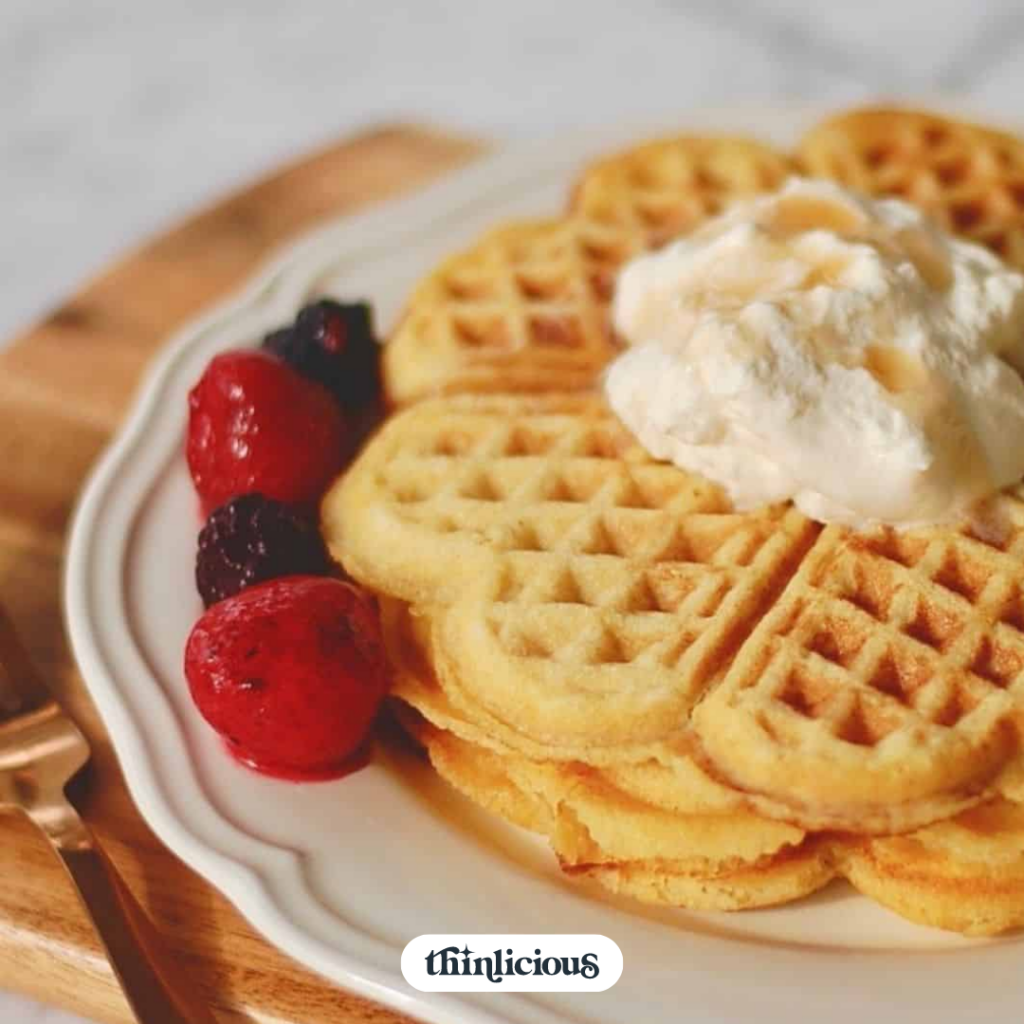 The nutrition panel below shows the nutrition for one waffle. 2.5 g net carbs, 6.8 g protein, 25.6 g fat, 277 calories.
Most readers like to eat two or more waffles for breakfast. It really depends on how many carbs per day you enjoy and what you decide to serve alongside. You can reduce the carbs by only omitting any fresh fruit and only serving with melted butter, keto syrup, or whipped heavy cream.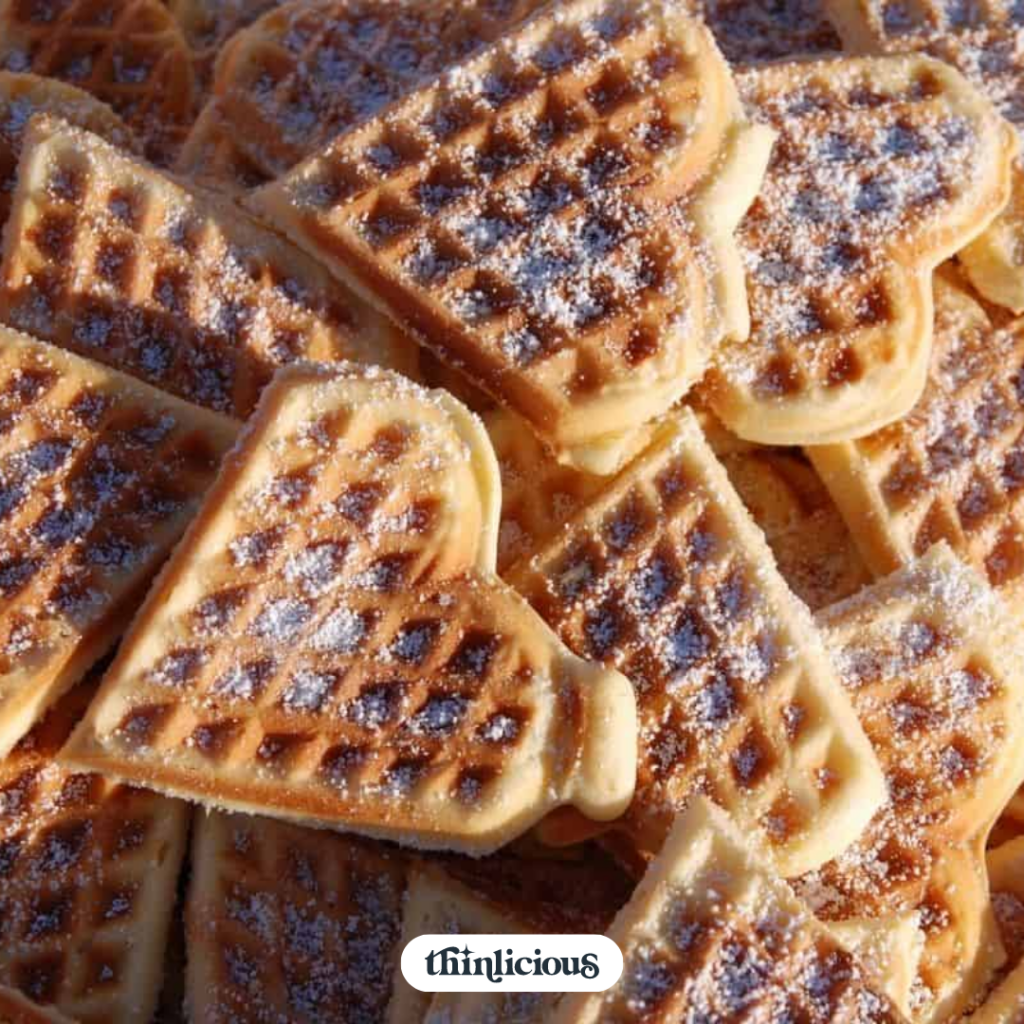 You can also cook half the recipe in a small mini waffle maker or cut each waffle into smaller pieces and dust with powdered sugar-free sweetener.
Award-winning waffles
UPDATE: I just have to share with you today the best comment I received for these keto waffles. I will now be addressed forevermore as the Keto Goddess, please 😂
Every low carb/keto waffle recipe on Pinterest, have all been crap. Today was different. Big time different. Life altering different. Angels singing in my mouth different. Even my husband, who is unimpressed with all things Keto, couldn't stop saying Wow… WOW…. These are legal???

Libby, you have just won the "Best Keto Waffle In The Entire World" award, which is apparently just my undying gratitude. You have changed my life for real, because now I can be excited about weekend breakfasts again. You are a Keto Goddess and I bow to you.

Thank You!
More easy keto breakfasts
If you want quick and easy healthy breakfast keto recipes, without sugar, you can whip up a keto berry smoothie, keto green smoothie, or chocolate peanut butter smoothie.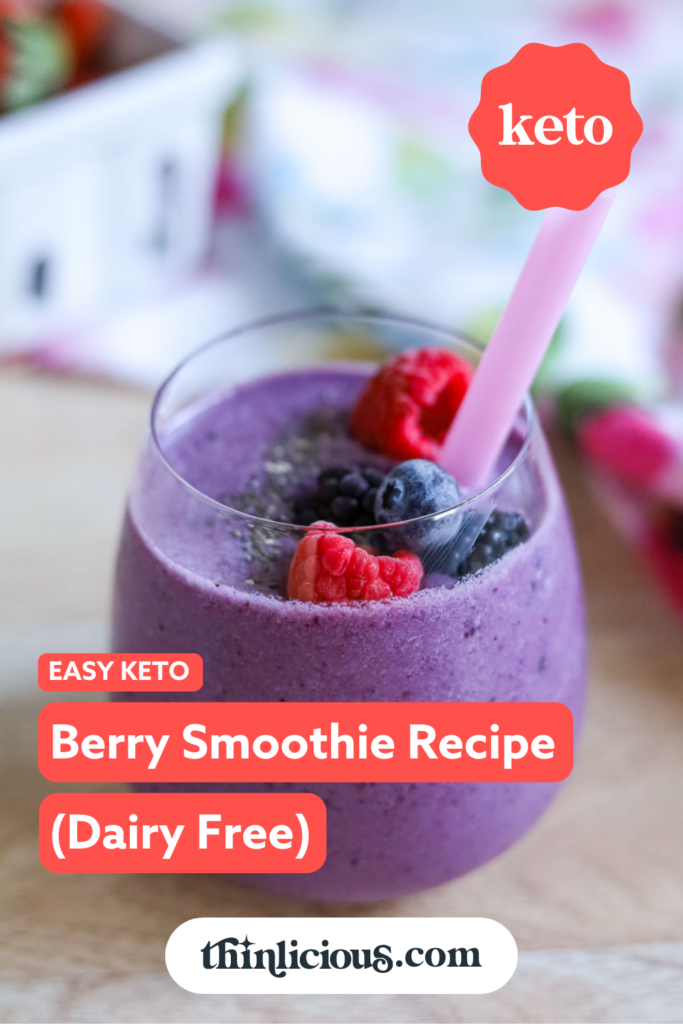 But if you want an easy on-the-go breakfast bar, make my blender grain-free granola bars. Bake a double batch and store them in the freezer.
Only 2.4g net carbs per bar. And they are perfect for a healthy low-carb lunch box too.
FAQs about this keto waffles recipe
Can I eat waffles on the keto diet?
As long as you follow keto recipes, you can definitely eat waffles on a low-carb diet. When you make keto waffles, just use low-carb ingredients and you will be sure to stay in ketosis.
Can I substitute out the coconut flour for almond flour?
Sorry, but definitely not! Almond flour and coconut flour are very different from each other and can not be used interchangeably.

If you dislike coconut flour, I'd suggest trying a different recipe such as these almond flour pancakes.
What else can I make with a waffle maker?
I am quite picky about what tools I allow to take up space in my kitchen. That being said, I absolutely love my waffle maker! I use it for this recipe but also use it often to make chaffles.
How can I make these keto waffles crispy on the outside?
Soggy waffles usually occur when there is too much moisture in the batter. Make sure to carefully measure your ingredients and give your waffle iron a bit of oil to help fry these on.
Do I need a waffle maker?
You can fry the waffle recipe in a frying pan, but then you need to call them keto pancakes. If you don't have much room, use a dash mini waffle maker.
Can I use baking soda instead of baking powder?
No, baking soda is not a 1:1 replacement for baking powder.
How to keep waffles warm
While you are cooking each waffle you can keep the cooked waffles warm in a toaster oven set on low-medium heat, in the oven on a baking tray (baking sheet), or in a slow-cooker set to low.
Which is the best vanilla to use?
Pure vanilla extract has the purest taste but it may be too expensive for most so vanilla extract or vanilla essence both work well.
What is a chaffle made of?
Do not confuse these almond flour waffles with keto chaffles. Chaffles are made with cheese and eggs. There are a lot of different versions of chaffles, some are made with canned coconut milk, and others are made with egg whites.
How many waffles does this make?
This waffles recipe will make 5 regular waffles or 10 small mini-waffles.
Why do my waffles stick to the waffle iron?
You need to spray with cooking oil every time your pour more batter in, otherwise, each waffle will absorb the cooking oil as they bake.
What are Belgian waffles?
These are larger and thicker than American waffles. They can hold more toppings and sauce.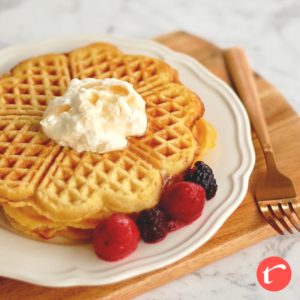 Easy Keto Waffles Recipe (Coconut flour)
How to make the BEST keto waffles ever…absolutely delicious and only 2.5g net carbs. Made from scratch in 10 minutes. Crispy on the outside, soft and fluffy on the inside.
Print
Pin
Rate
Want to lose weight and get healthy for life—without dieting, drugs, or making yourself miserable?
We can help! Tell me how!
Equipment
Large waffle maker

Frying Pan

Mixing Bowls

Stick Blender
Ingredients
5

eggs – medium

separated

4

tbsp

coconut flour

4

tbsp

granulated sweetener of choice

or more, to taste

1

tsp

baking powder

2

tsp

vanilla extract

3

tbsp

full-fat milk

or cream

125

g

butter

melted
Instructions
First bowl.
Whisk the egg whites until firm and form stiff peaks.
Second bowl
Mix the egg yolks, coconut flour, sweetener, and baking powder.

Add the melted butter slowly, mixing to ensure it is a smooth consistency.

Add the milk and vanilla, mix well.

Gently fold spoons of the whisked egg whites into the yolk mixture. Try to keep as much of the air and fluffiness as possible.

Place enough of the waffle mixture into the warm waffle maker to make one waffle. Cook until golden.

Repeat until all the mixture has been used.
Nutrition
Serving:
1
waffle
Calories:
277.2
kcal
Carbohydrates:
4.6
g
Protein:
6.8
g
Fat:
25.6
g
Sodium:
257.7
mg
Potassium:
173.6
mg
Fiber:
2.1
g
Sugar:
1.2
g
Vitamin A:
876.9
IU
Calcium:
84.1
mg
Iron:
1
mg
Get our FREE guide to finally fix your metabolism!
Losing weight & getting healthy is never easy, but lately you might feel like it's suddenly become impossible.
Our Flip the Switch guide will help you clearly understand what's been going on, as well as exactly what you can do to get your metabolism working again so that you can look and feel your best—it's easier and more simple than you think!