Why create a nut free "peanut butter" cookie? Because I have so many readers with nut allergies who are always asking for more nut-free recipes, cakes, and biscuits. So this is a great lunchbox recipe for you to keep on hand.
But if you want real peanut butter cookies, I have those for you below too.
For this special cookie, there is no peanut butter in the homemade recipe for those who cannot tolerate peanut butter. There are easy and clever ways to still get that peanut butter flavor, but without actual peanuts.
Is peanut butter keto?
Yes, peanut butter is keto, depending on how much you eat. Peanut butter is higher in carbs than most nut butters but as long as you eat it in small quantities you can still stay within your daily carb limit.
There is no strict list of keto foods. To be on a keto diet your goal is to be in nutritional ketosis which is achieved by lowering your carbs so your body begins to burn fat.
How many carbs are in peanut butter?
Peanut butter is low-carb, high fat, and moderate protein.
1 tablespoon of natural peanut butter (salted) contains: 2 g net carbs, 7.9 g fat, 3.9 g protein, and 94 calories.
Nutritional values from cronometer.com
Allergy friendly peanut butter cookies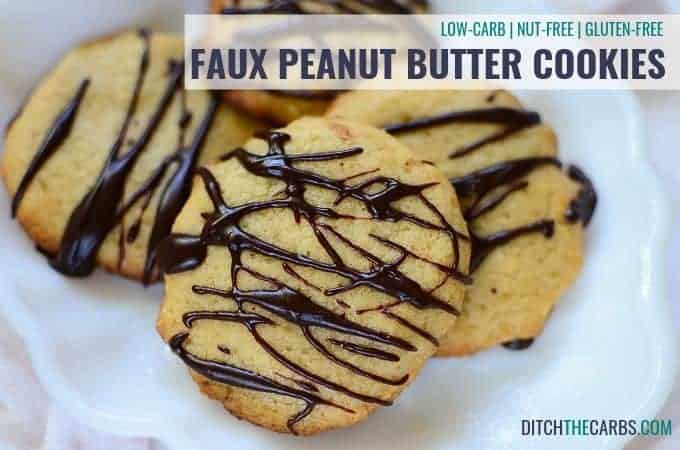 Why did I develop my nut-free peanut butter cookies? And what are they?
Are you ready to create the ultimate 12-month blueprint for reaching your health & weight loss goals this coming year?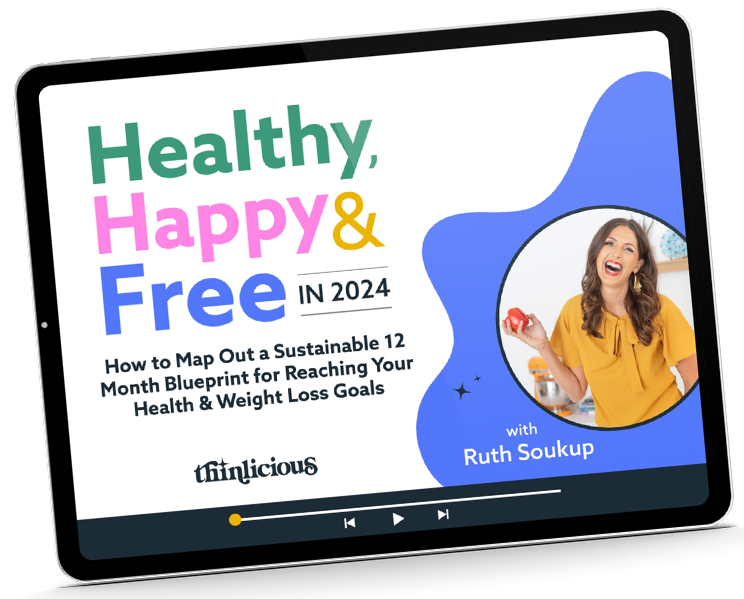 Our free on-demand video training will walk you through how to make 2024 THE year you set health goals…and keep them.
With so many of my readers having peanut allergies, and so many schools have a nut free policy. Trying to find low-carb baking that low carb kids can take to school is pretty tricky. And even though peanuts aren't actually nuts (they're legumes) peanuts are generally included in most schools nut-free policies.
Many wheat-free or low carb recipes call for ground almonds (which also aren't permitted) or use a large amount of coconut flour which has quite a strong flavor and strange texture if you are new to low-carb baking.
These peanut free peanut butter cookies solve both these problems. The easy recipe only requires a small amount of coconut flour and the recipe uses your favorite seed butter instead as an easy and healthy alternative.
Note On Nuts: "The FDA lists coconut as a tree nut but in fact, coconut is a seed of a drupaceous fruit. Most people allergic to tree nuts can safely eat coconut. Coconut allergy is reasonably rare. If you are allergic to tree nuts, talk to your allergist before adding coconut to or eliminating coconut from your diet."
Get your FREE 1-month lunch box planner
Which seed butters to choose?
Nut free (or un-peanut butter cookies) uses different seed butters instead of regular peanut butter. I have created the recipe using tahini (sesame seed paste) but please choose a seed butter that is tolerated by the person who will be eating them.
Once they are drizzled with chocolate, they look perfect for a special occasion and the perfect healthy kid-friendly recipe.
Peanut butter substitutions – ALWAYS check food allergies and food intolerances BEFORE serving someone. Make sure that the seed butter you have chosen can be tolerated by them.
Tahini (sesame seed paste)
Sunflower butter
Pumpkin seed butter
Poppyseed butter
Chocolate seed butter
Hemp seed butter
Variations
If you want to take your delicious homemade cookies to the next level, try these variations. You'll be sure to find something that will please all the family. And even the picky eaters will come back for seconds.
For a crunchy cookie, use the crunchy version of your seed butter instead of smooth
Add sugar-free chocolate chips
Add cacao nibs
Drizzle or dunk in melted sugar-free chocolate
Add sugar-free chia jam and make a healthy sugar-free PBJ cookie sandwich
Add 1/2 teaspoon of xanthan gum to make the cookies chewy
1 or 2 teaspoons of ground cinnamon
1 or 2 teaspoons of ground ginger (try it, you'll love it)
Method
Now your kiddos can enjoy a sweet treat in their lunch box! With only 7 ingredients and 20 minutes, this is definitely a quick and easy cookie recipe that is school and kid-approved.
Keto cookies
My favorite keto cookies have to be my coconut flour chocolate chip cookies, snickerdoodles, or my chewy chocolate coconut cookies.
TOP TIP: Keep some keto cookies in the freezer so you're not tempted to eat them regularly, only when a sugar craving strikes and you want to stay on track with your keto diet.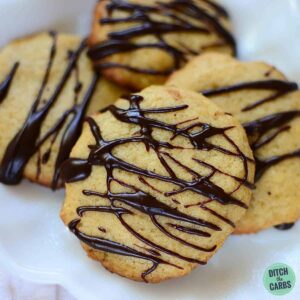 Nut Free 'Peanut Butter' Cookies Recipe
Nut free 'peanut butter' cookies are such a simple idea. Use sesame seed paste (tahini) instead for that nutty flavour. In fact, you can use any seed butter you like and can tolerate.
Print
Pin
Rate
Want to lose weight and get healthy for life—without dieting, drugs, or making yourself miserable?
We can help! Tell me how!
Equipment
Mixing bowls

Baking sheets – non stick

Silicone baking sheets
Ingredients
110

g

butter

softened

70

g

tahini

sesame seed paste

1

tbsp

granulated sweetener of choice

or more to your taste

1

eggs – medium

2

tsp

vanilla extract

25

g

coconut flour

1/4

tsp

baking soda
Instructions
In a bowl, add the softened butter, tahini and sweetener. Cream together for a few minutes until light and smooth.

Add the egg, vanilla and mix again until smooth.

Add the coconut flour and baking soda. Mix then leave to thicken while you line a baking tray with baking paper.

Mix again then place large teaspoons of the mixture on the baking paper. Smooth the top of each biscuit.

Bake at 180C/350F for 10 minutes or until golden.

Once cooled, drizzle with some melted chocolate.

Eat and enjoy!!! xxx
Nutrition
Serving:
1
cookie
Calories:
116
kcal
Carbohydrates:
3
g
Protein:
2
g
Fat:
11
g
Saturated Fat:
6
g
Sodium:
103
mg
Potassium:
32
mg
Fiber:
1
g
Sugar:
1
g
Vitamin A:
249
IU
Vitamin C:
1
mg
Calcium:
12
mg
Iron:
1
mg
If you are looking to make recipes WITH peanut butter. You might like these recipes:
Get our FREE guide to finally fix your metabolism!
Losing weight & getting healthy is never easy, but lately you might feel like it's suddenly become impossible.
Our Flip the Switch guide will help you clearly understand what's been going on, as well as exactly what you can do to get your metabolism working again so that you can look and feel your best—it's easier and more simple than you think!