Quick keto macaroons (or keto coconut macaroons) – with 6 variations in this recipe, and only 0.6g net carbs each.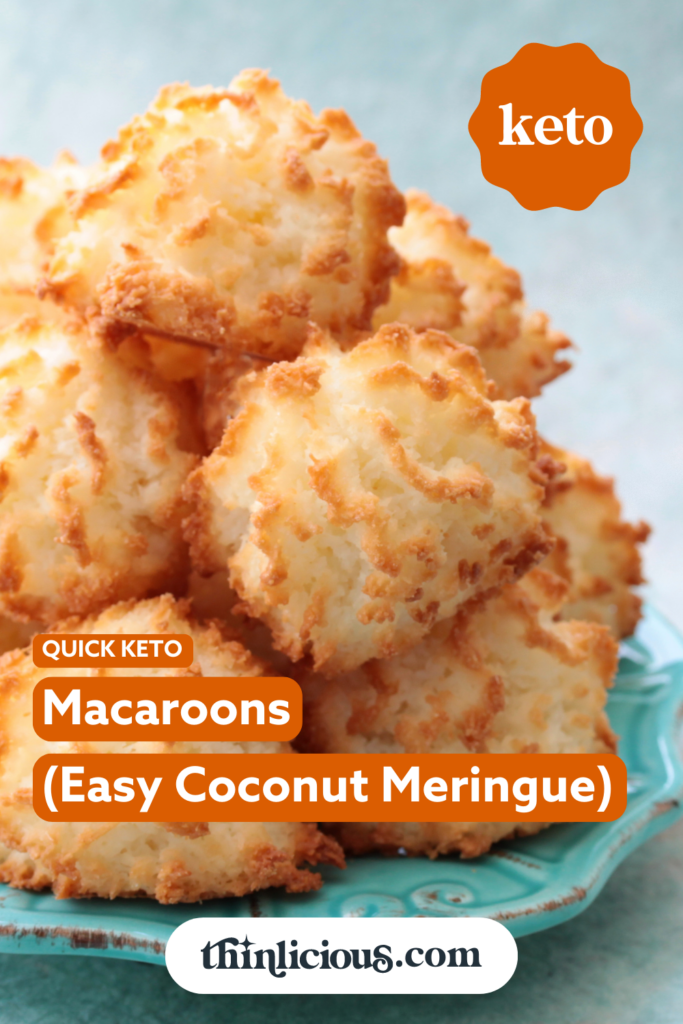 What do you do when you are really craving cookies, but want to keep up your healthy lifestyle? You make these luxurious keto macaroons!
How To Make Easy Keto Macaroons
These sugar-free macaroons are the perfect things to make when you are craving something sweet. They taste like a rich dessert but they have less than a gram of net carbs in each one!
Ready to lose weight and get healthy for life without dieting, drugs or making yourself miserable?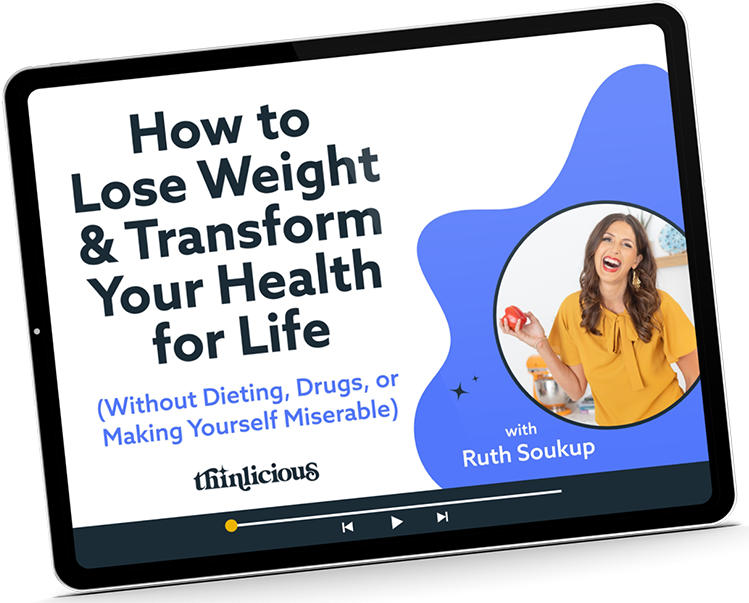 Our free on demand video training will help you understand why it's been so hard and what do to about it.
There are only 4 simple ingredients in these decadent cookies! They are easier to make than you might think. There is no flour at all – just the egg whites, sweetener, vanilla, and shredded coconut.
I preferred to use a granulated sweetener, but I am sure you can use a liquid sweetener too. Just don't use a confectioner's sugar substitute or brown sugar substitute. Those will not work in this recipe.
The secret to these light and airy macaroons is to whip and beat the egg whites until they form stiff peaks.
You can whip the egg whites by hand, but this method will take much longer. I prefer to use an electric mixer. The stiff peaks formed in no time at all this way.
Do You Need To Pipe Macaroons?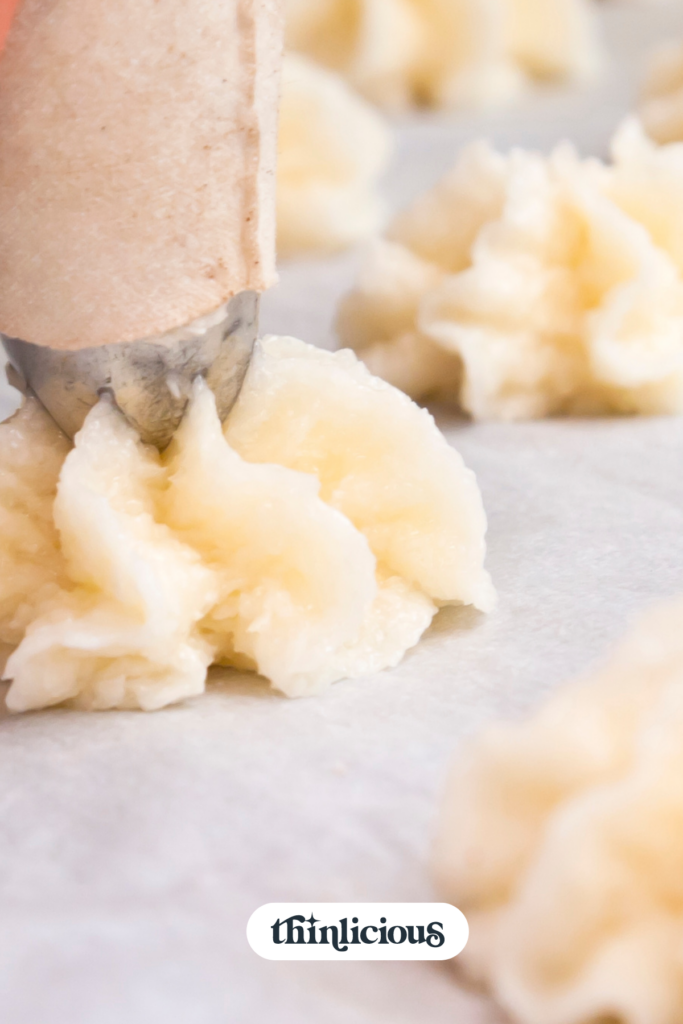 No.
To make them look pretty (and only if I have time), then I will pipe the easy coconut macaroons. I line a baking tray lined with parchment paper to make them easy to remove.
If I am in a hurry, then I tend to spoon the macaroons instead of piping them.
Keto Coconut Macaroons Baking Tips
How many macaroons can I eat on keto?
You won't have to restrict yourself to eating just one when you make these macaroons! Each one has less than one gram of net carbs, so you can actually eat a few of them.
You'll want to eat quite a few of them, too! The outside is crispy with a slightly sweet taste. The inside has the exotic taste of coconut and it melts in your mouth.
The fact that they are sugar-free is completely surprising! There is no aftertaste and they taste just like traditional macaroons.
But with all things keto, please spend your carbs wisely. Don't spend all your carbs on keto baking and keto desserts. You want to base your meals and snacks on nutrient-dense foods.
You can use the FREE macro calculator to set your daily carbs, fat, and protein.
Here are some questions people often ask about these keto desserts. They are so easy to make that even if you have never whipped egg whites before, you will be able to make them.
What baking tray should I use for macaroons?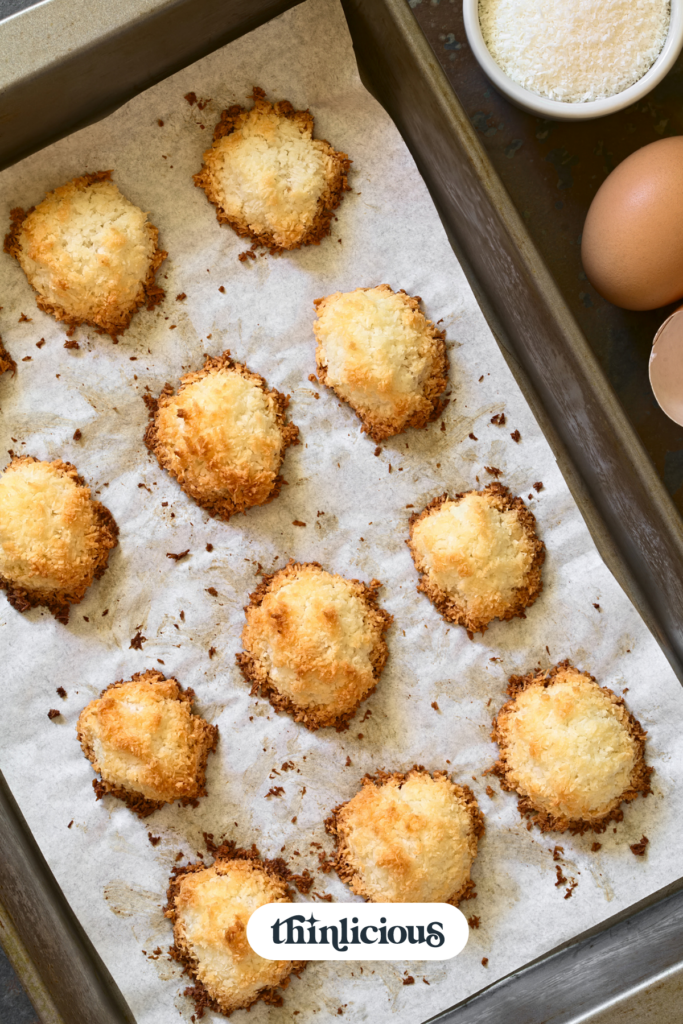 I use a large baking tray that I line with baking parchment or a silicone liner.
How can I decorate keto coconut macaroons?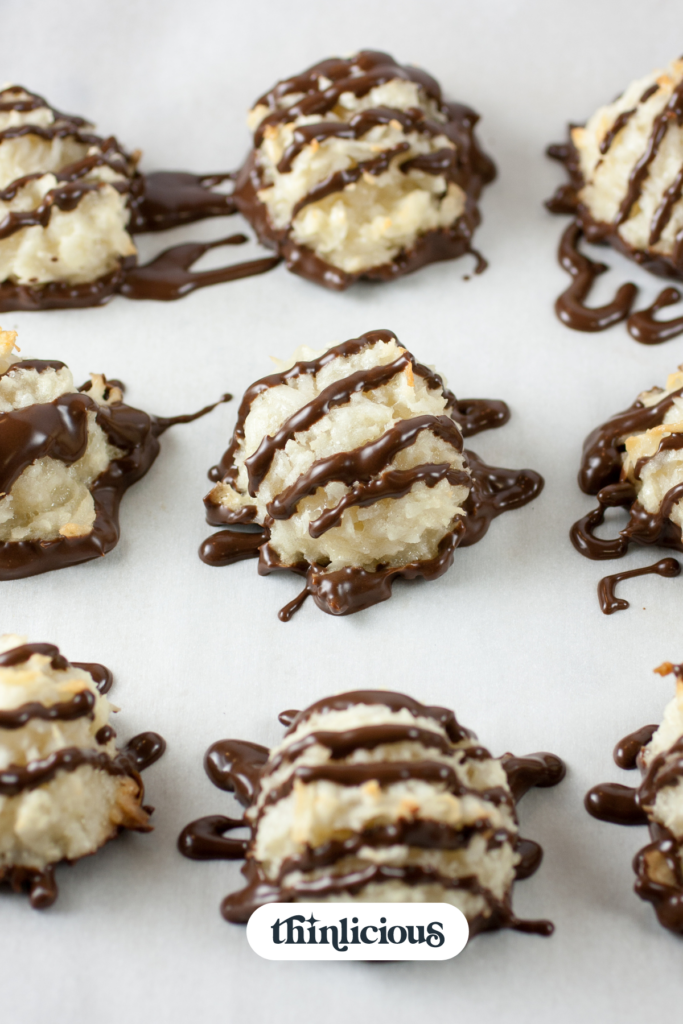 I allow the macaroons to cool completely then on the lined baking tray, or my wire cooling rack, I drizzle with melted sugar-free chocolate or melted Lindt 95% for an extra treat.
What is the difference between a macaron and a macaroon?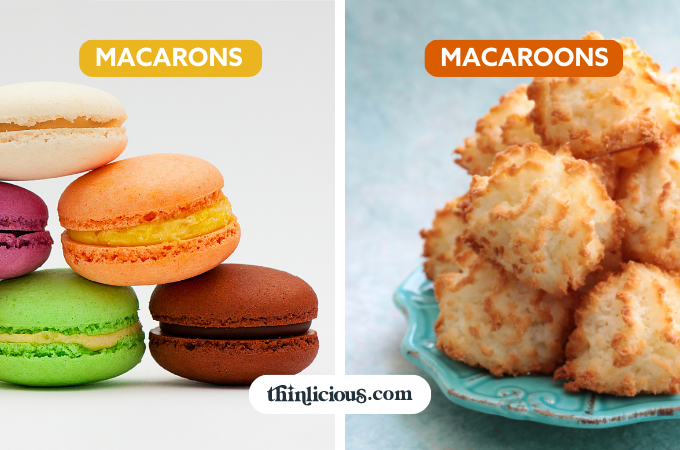 This is a very common misunderstanding. The simple and quick answer is that macron looks like a sandwich cookie and a macaroon looks like a coconut cookie without any filling at all.
Beyond that, there are a bunch of other differences too.
A macaron is Italian. A sweet filling is sandwiched with two cookies. In fact, macrons used to be a single delicate almond flour cookie. When they were brought to France, they became the sandwich that we love today.
A macaroon is French. It was actually a twist on the original macaron recipe, using grated coconut instead of almond flour meringues.
Another big difference is the appearance and texture.
Macaron – delicate eggshell-like crust with a sweet filling of either ganache, buttercream, or fruit jam.
Macaroon – lumpy and dense texture filled with shredded coconut.
Is shredded coconut keto-friendly?
Yes, shredded coconut is a keto-friendly ingredient, as long as you use unsweetened coconut flakes. Shredded coconut is high in healthy fats and protein, so it is a fantastic choice on the keto diet.
In fact, in 2 tablespoons, there are just 2 grams net carbs and 1 gram of protein.
Nutritional values from cronometer.com
This is one of my favorite ingredients to use when I am trying to make a dessert because it adds healthy fats and fiber without adding carbs.
How do you store keto coconut macaroons?
The best way to store coconut macaroons is in an airtight container at room temperature. You do not need to put them in the refrigerator. They will stay fresh for up to a week.
I bet you eat them up way before they get to the end of the week!
Can you freeze sugar-free coconut macaroons?
Yes, you can freeze sugar-free macaroon cookies. They will last about 3 months in the freezer. Just follow these steps:
Place them on a single layer on a baking sheet that is lined with parchment or wax paper.
Put them in the freezer for up to 3 hours or until they are completely frozen.
Remove the baking sheet and place all the cookies in a plastic resealable freezer bag.
When you are ready to eat them, you can let them thaw at room temperature. Freezing them doesn't alter their texture at all!
How do you know when macaroons are done?
You will know the macaroons are done baking when they turn a nice golden color. When they are completely cooked, they should be moist, light, and chewy. If you overcook them, they will be dry and crumbly.
Sugar-Free Macaroons Flavor Variations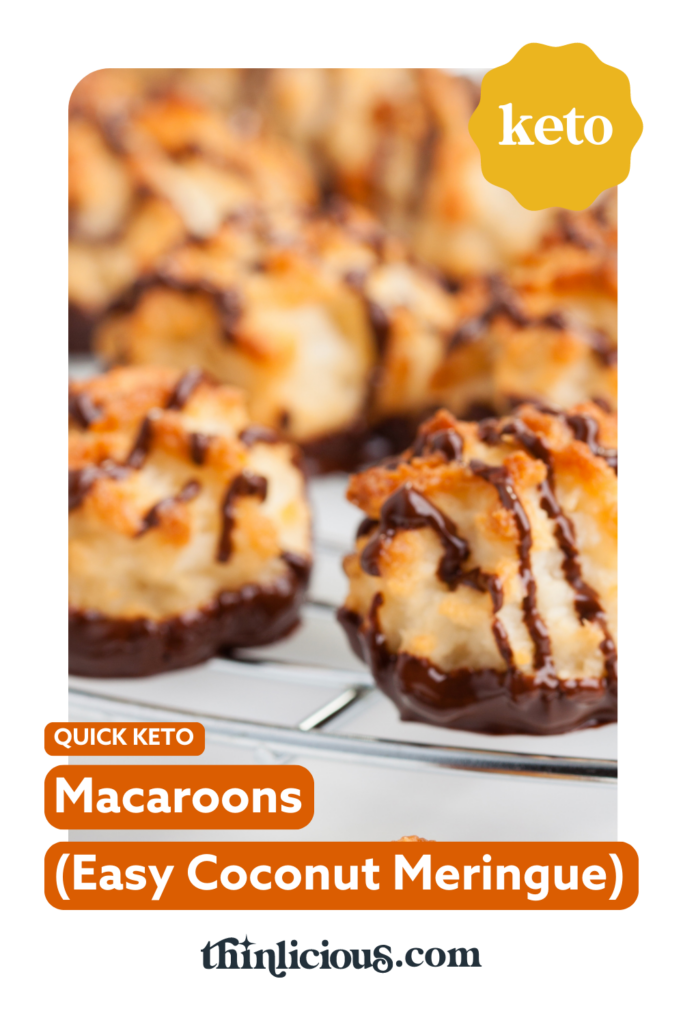 The best thing about these macaroons is that you can add different spices and flavors and make them taste completely different! Here are some of my favorite sugar-free macaroon flavor variations:
Lemon – Mix in some lemon zest
Orange – Mix in some orange zest
Dark Chocolate Drizzle – Melt some sugar-free dark chocolate chips and drizzle it on top or dip them in the dark chocolate.
Vanilla and Cinnamon – Sprinkle some cinnamon on top
Spicy Ginger – Make them taste savory with some fresh-minced ginger
Allspice and Nutmeg – Make some fall or Christmas cookies with the aromatic addition of nutmeg and allspice.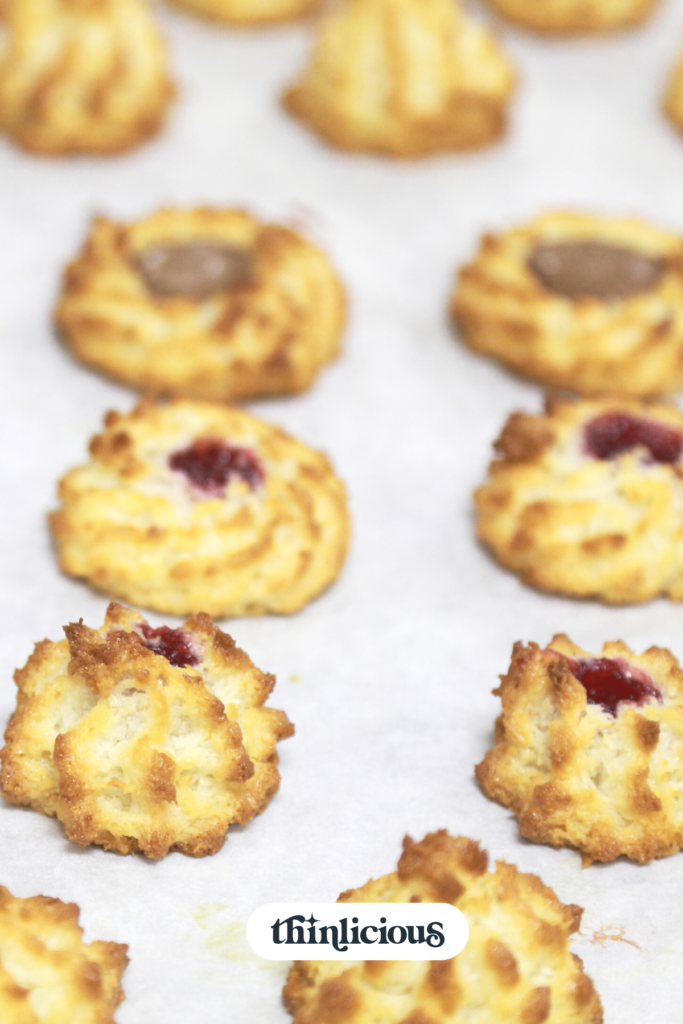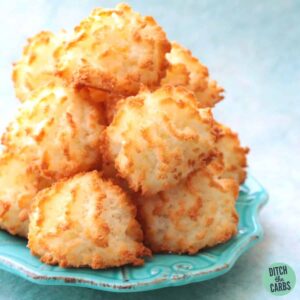 Easy keto macaroons recipe
Quick and easy keto macaroons are the perfect way to use up and egg whites you might have left after a recipe. Why not dip these in dark chocolate or even add some orange zest to the mixture before baking?
Print
Pin
Rate
Want to lose weight and get healthy for life—without dieting, drugs, or making yourself miserable?
We can help! Tell me how!
Equipment
Measuring cups and spoons

Baking sheets – non stick

Food Processor

Silicone baking sheets
Ingredients
4

egg whites

2

tbsp

granulated sweetener of choice

or more, to your taste

1

tsp

vanilla extract

2

cups

desiccated/shredded coconut

unsweetened
Instructions
Clean a large bowl with kitchen paper to ensure it is free of grease or oil, otherwise, your egg whites won't whisk to stiff peaks. Whisk the egg whites with the sweetener, to form stiff peaks.

Add the vanilla and the coconut and gently mix to combine.

Line a baking tray with a non-stick liner or baking paper. Roll (or pipe) a spoonful of macaroon mixture into a small firm ball and place evenly on the baking tray.

Bake at 180C/350F for10-12 minutes depending on your oven and the humidity.

Decorate with sugar-free chocolate (optional).
Nutrition
Serving:
1
macaroon
Calories:
59.8
kcal
Carbohydrates:
2.1
g
Protein:
1.2
g
Fat:
5.5
g
Sodium:
13.1
mg
Potassium:
56.2
mg
Fiber:
1.5
g
Sugar:
0.7
g
Vitamin C:
0.1
mg
Calcium:
2.7
mg
Iron:
0.3
mg
More recipes you may like: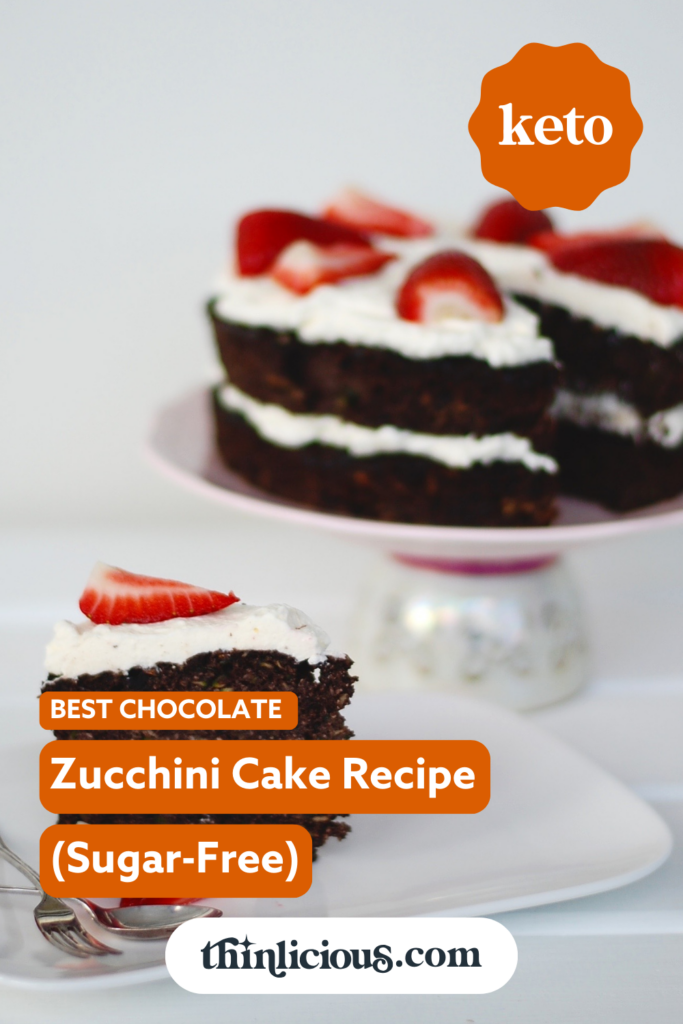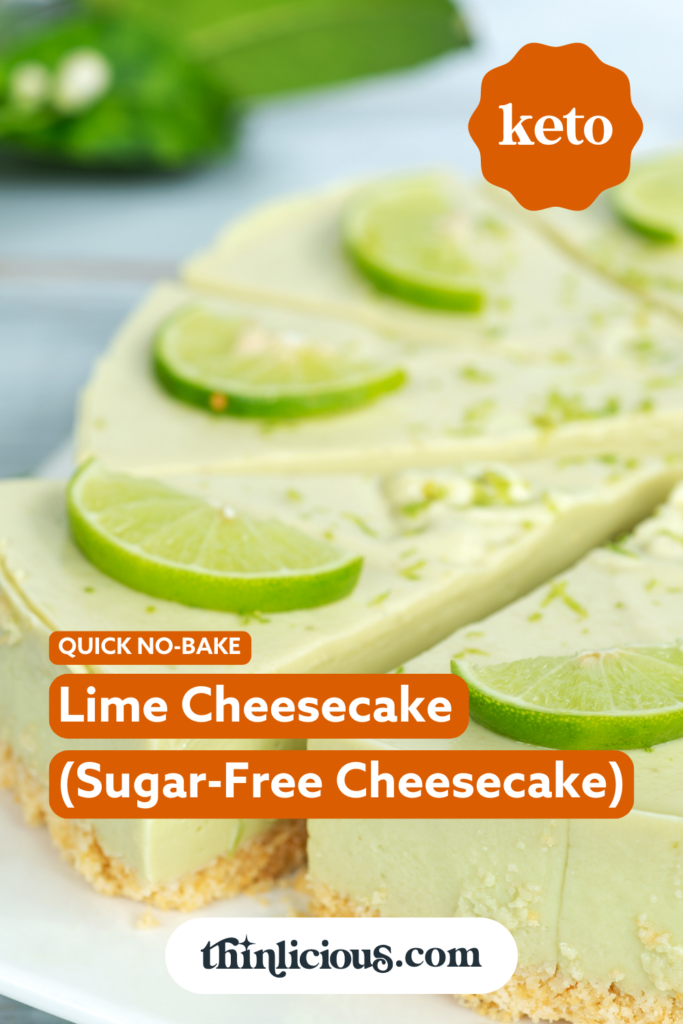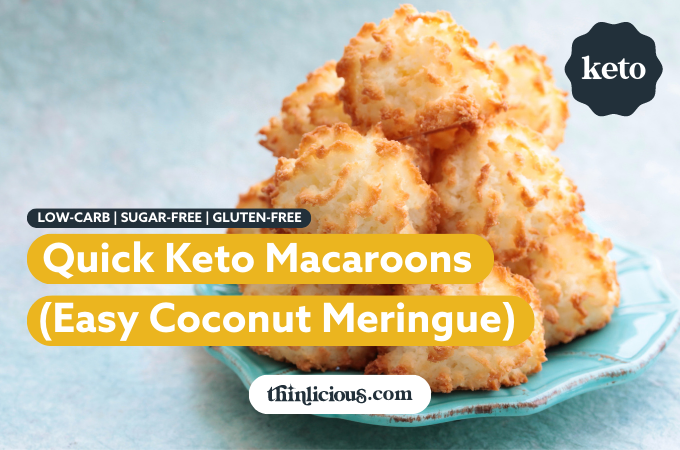 Get our FREE guide to finally fix your metabolism!
Losing weight & getting healthy is never easy, but lately you might feel like it's suddenly become impossible.
Our Flip the Switch guide will help you clearly understand what's been going on, as well as exactly what you can do to get your metabolism working again so that you can look and feel your best—it's easier and more simple than you think!