The best keto cheesecake recipe that only takes 10 minutes to prepare and 8 simple ingredients that you can find in your local grocery store.
Transform each keto cheesecake slice by adding one of these four amazing sugar-free keto toppings.
Satisfy the entire family with the amazing four-in-one recipe.
We have a wide variety of amazing keto cheesecakes on this site, from easy 1-minute mug cheesecakes to more complicated layered berry cheesecakes.
Are you ready to create the ultimate 12-month blueprint for reaching your health & weight loss goals this coming year?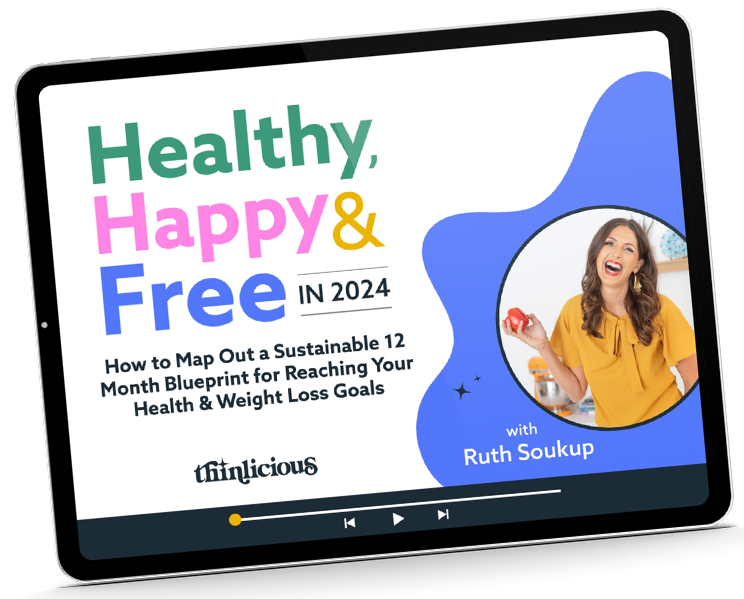 Our free on-demand video training will walk you through how to make 2024 THE year you set health goals…and keep them.
Is it OK to eat cheesecake on keto?
Traditional cheesecakes are usually avoided on the keto diet, low-carb diet, and for those on a diabetic diet.
Traditional baked cheesecakes have a cheesecake filling that is full of sugar and covered with syrup, chocolate, or strawberry sauce. The cheesecake crust is usually made with wheat flour or gluten-free flour, butter, and sugar, or crushed cookies or a graham cracker crust.
What is in a keto cheesecake?
A keto cheesecake filling uses sugar-free sweeteners instead of sugar, and the keto cheesecake crust uses low-carb flour to reduce the sugar and carb count.
Keto cheesecakes taste exactly like the real thing. It's a wonderful recipe especially if you are just starting your keto diet and are missing sweet desserts.
How many carbs are in a keto cheesecake?
A small slice of this easy keto cheesecake recipe has 5.3g net carbs, 11.1g of protein, 14.1g fat, and 195 calories.
A regular original cheesecake from the cheesecake factory has 38g carbs, 6g protein, 24g fat, and 400 calories.
Nutritional values from cronometer.com
A deliciously rich and creamy vanilla cheesecake filling baked on an almond flour crust that is sugar-free and low-carb. It's the best recipe to satisfy your sweet tooth (without regular sugar).
Ingredients you need
This keto cheesecake uses a simple almond flour buttery crust base and a rich and creamy vanilla cheesecake batter with a fresh hint of lemon.
This combination is the perfect base for any baked keto cheesecake.
Keto Cheesecake Crust Mixture
almond flour – superfine almond flour or ground almonds
butter – room temperature softened or melted butter
granulated sweetener – use your favorite sugar replacers such as erythritol, xylitol, allulose, stevia, or monk fruit sweetener
Sugar-Free Cheesecake Filling
blocks of cream cheese – always use full-fat cream cheese otherwise your cheesecake filling will not set properly. It's best to use softened cream cheese at room temperature
sweetener – you can use any keto sweetener but I prefer to use a powdered sweetener such as powdered erythritol for an extra smooth and creamy cheesecake filling
heavy cream – double cream, heavy whipping cream
vanilla extract – or vanilla essence
lemon juice – fresh lemon juice is best but you can use bottled lemon juice
eggs
See the recipe card for quantities, full instructions, and nutritional information.
Step-by-step instructions
To make this keto cheesecake recipe you will start by making the almond flour cheesecake crust. While the crust is baking you can mix together the cheesecake filling.
Prepare your baking dish by spraying it with cooking oil and placing a circle of baking parchment paper at the bottom.
Preheat oven to 180C/350F.
Mix the cheesecake crust ingredients together in a medium mixing bowl. Pour it into your lined cheesecake pan and press into the bottom and up the side of the pan using the back of your hands or the back of a measuring cup. Bake for 10 minutes.
In a large mixing bowl mix together the full-fat cream cheese, heavy cream, sweetener, lemon juice, and vanilla extract with an electric hand mixer. Once it is smooth and lump free add the eggs and mix just until the eggs can't be seen anymore.
Pour the cheesecake filling onto the baked crust. Tap the cheesecake several times on the counter to remove any air bubbles.
Bake the cheesecake uncovered on the middle rack of the oven. Put an oven-safe dish filled halfway with water on the rack under the cheesecake to create a steam bath.
Bake at 180°C/350°F for 30-40 minutes. Your cheesecake is done when the edges have set but the center of the cheesecake is still jiggly.
Open the oven door gently to allow the steam to escape.
Let the cheesecake cool on the counter until it is at room temperature. Then cover and chill the cheesecake in the refrigerator for at least 6 hours, preferably overnight before removing it from the pan and slicing.
Hint: The smaller the pan the taller your cheesecake will be.
4 Topping flavors
This basic vanilla keto cheesecake recipe is wonderful served plain or with an amazing sweet topping.
We have four amazing sugar-free keto toppings you can add to each slice of cheesecake. Click on the link for each sauce to learn how to make it.
Each of these toppings can be made separately and stored in the refrigerator for use as needed.
1: Raspberry Sauce
This will add 2.5g net carbs per 2 tablespoons.
You only need 2 ingredients to make keto raspberry sauce.
This sugar-free raspberry sauce can be enjoyed warm or cold. If you want to serve it warm heat it up in a saucepan on low heat until it simmers.
You can use fresh or frozen raspberry to make this sauce. When ready to serve add a spoonful of raspberry sauce over a slice of cheesecake.
If you want to use other fresh berries, check the fruit carb charts.
2: Keto "Nutella"
Keto "Nutella" will add 2.2g net carbs per 2 tablespoons per serving to your cheesecake.
It's so easy to make homemade keto chocolate sauce by using my copycat sugar-free Nutella easy blender recipe.
Keto Nutella is easy to drizzle over the top of your cheesecake when it is at room temperature. I tend to store my keto Nutella in the refrigerator so that it last longer, but I soften a spoonful or two in the microwave to make it easy to drizzle over the cheesecake.
3: Keto maple syrup
We keep a batch of keto maple syrup on hand and add it to keto oatmeal, pancakes, and chaffles.
I love that this keto maple syrup recipe has 0 net carbs, so you aren't adding more carbs to your cheesecake.
4: Sugar-free lemon curd
A spoonful of lemon curd from the lemon custard found in these mini lemon meringue pies will only add 1g net carbs per 2 tablespoons per serving to your cheesecake.
This is another topping that is great to keep in your refrigerator because you can use it like jam on keto scones as well.
Substitutions and swaps
If you have run out of cream or lemon juice, or need to make a substitution for an ingredient used in this delicious keto cheesecake recipe, these are the substitution recommendations.
Eggs – eggs are needed to bind the cheesecake together. However, you can always use one of my no-bake cheesecakes instead.
Heavy Cream – yogurt or full-fat cream can be used in place of heavy cream. Yogurt will give the cheesecake a bit more tang if used.
Lemon Juice – this can be omitted, but it does give the cheesecake a barely noticeable refreshing crisp flavor. Alternatively, you could use lemon extract, bottled lemon juice, or lemon zest that has been steeped in boiling water.
Almond flour – if food intolerances or food allergies to almonds, you can use coconut flour to make this low-carb coconut flour pie crust instead.
Best baking pan for cheesecakes
You will need either a spring-form cheesecake pan or a push-bottom cheesecake pan to bake this cheesecake.
For this recipe, I used a 7in x 3in removable bottom cheesecake pan. I love using this pan for cheesecakes because the cheesecake slides right out the top with no damage.
I just place the pan on top of a jar and push it down. The cheesecake slides right out.
How to store cheesecakes
Your cooked cheesecake can be stored covered in the refrigerator for up to 5 days in an airtight container. The cheesecake can also be lightly wrapped and frozen for up to a month.
I like to store my cheesecake in individual slices so that I can defrost the cheesecake one portion at a time. This way you won't be tempted by leftover cheesecake.
👩🏼‍🍳 Expert baking tips
If your question hasn't been answered below, please ask me anything in the comments and I will help you with any baking challenges you face.
Why do cheesecakes crack?
Over-mixing the eggs into the keto cheesecake filling will cause the top to crack. This is why I recommend mixing the eggs in just until they are no longer visible. However, if your top does crack no big deal. Slice your cheesecake in the direction of the cracks and cover any other cracks with the sauce or whipped cream. It will still look and taste great.
Are water baths necessary to bake a cheesecake?
Many classic cheesecake recipes use a water bath to prevent the top from cracking, this cheesecake recipe uses a steam bath which is easier to lift out of the oven.
Cheesecake FAQ
How do I know when my keto cheesecake is done cooking?
Your cheesecake is done baking when the edges have become firm but the middle is still jiggly. The cheesecake will continue to cook as it cools to room temp on the counter and will finish firming in the refrigerator. Cheesecake is different from baking a cake. If you leave the cheesecake in the oven until the middle has firmed then it will be overcooked, dry, and very cracked.
How long does it take a keto cheesecake to cook?
It will take your cheesecake between 30-40, maybe even 45 minutes to bake. It really depends on how big your cheesecake is. Check your cheesecake after 30 minutes, then check it again every 5 minutes after that. My cheesecake took about 35 minutes to finish baking.
How do I serve a cracked cheesecake?
Simply cut along the crack line or cover with whipped cream and extra sauces. No one will notice.
What can I use instead of cream cheese?
The best cream cheese substitutes are mascarpone cheese, ricotta cheese, neufchâtel cheese, Greek yogurt, vegan cream cheese, sour cream, cottage cheese, and quark. However, you cannot directly swap cream cheese for these in every recipe.
What's the easiest way to remove a cheesecake from a baking dish?
Always allow your cheesecake to cool completely to room temperature. Run a knife dipped in hot water between the cheesecake and the springform pan.

Place the springform pan (or push-bottom cheesecake pan) on top of a tall glass and press gently to slide the cheesecake out.
Can you make a cheesecake in a muffin tin?
Thus keto cheesecake recipe can be baked as one large family cheesecake or as individual mini cheesecakes in a large muffin tin. Oil each muffin case and place a small circle of baking paper at the bottom, or use a muffin case. Press the keto cheesecake crust into each muffin case then pour the cheesecake filling on top.

Bake for only 15-20 minutes. Allow the mini cheesecakes to cool completely on a wire rack to room temperature before removing them from the muffin tray.
How do you serve keto cheesecake?
My favorite way to serve any keto cream cheese dessert is to serve it with sweetened whipped cream, fresh berries, and a few sugar-free chocolate chips.
What's the best way to make a smooth cheesecake filling?
To make sure your cheese cake is smooth and creamy always use softened cream cheese at room temperature and use powdered sweetener instead of granulated sweetener. For best results, use a food processor, hand mixer, electric mixer, stick blender, or stand mixer.
More keto cheesecake recipes
The best keto dessert made with cream cheese has to be a keto cheesecake. Each of these keto dessert recipes is sugar-free, gluten-free, low-carb, and keto-friendly and worthy of 5 stars.
If you want a classic cheesecake, then a keto New York baked cheesecake with a chocolate ganache is one the whole family will love.
And if you want a no-bake cheesecake then this sugar-free lime no-bake cheesecake or sugar-free peanut butter chocolate cheesecake is perfect for holidays and keto summer desserts.
Or use your Instant Pot and make a vanilla berry cheesecake with a walnut crust.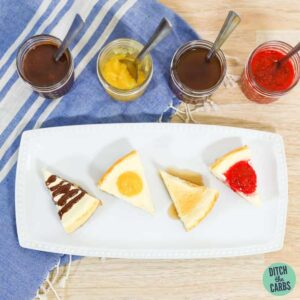 The Best Keto Cheesecake Recipe (4 Topping Flavors)
Delicious baked vanilla keto cheesecake recipe topped with your choice of raspberry sauce, lemon curd, maple, or keto "nutella".
Print
Pin
Rate
Want to lose weight and get healthy for life—without dieting, drugs, or making yourself miserable?
We can help! Tell me how!
Equipment
Springform tin

Measuring cups and spoons

Electric Hand Mixer
Ingredients
Almond Flour Crust
1

cup

almond meal/flour

2

tbsp

butter

melted

1

tbsp

granulated sweetener of choice

or more to your taste
Vanilla Keto Cheesecake Filling
16

oz

cream cheese

softened

⅓

cup

granulated sweetener of choice

granulated, more to taste

1

tbsp

vanilla extract

½

cup

heavy whipping cream

2

eggs – medium

room temperature

1

tsp

lemon juice
4 Topping Flavors
sugar-free raspberry sauce

sugar-free lemon curd

sugar-free maple syrup

keto "Nutella"
Instructions
Almond Flour Crust (Gluten-Free)
Preheat oven to 180°C/350°F.

Mix all the ingredients for the cheesecake crust together in a bowl using a fork. It should be crumbly.

Pour the cheesecake crust mixture into the bottom of your oiled and lined cheesecake pan. Using your palm or the bottom of a cup firmly pack the crust until it is covering the bottom of the pan. You can press the crust up the sides of the pan a bit if desired.

Bake the crust in the oven for 10 minutes until just golden brown on the edges. Remove it from the oven and set it aside until it is ready to fill. Do not remove the crust from the pan.
Keto Vanilla Cheesecake Filling
In a large bowl mix together the softened cream cheese, sweetener, vanilla, cream, and lemon juice using your electric hand mixer. Mix until the filling is smooth and there are no lumps.

Next, add the eggs to the batter and mix the batter until the eggs are just blended and not visible anymore. Pour the filling into the crust. Tap the cheesecake on the counter several times to level the cheesecake and remove any large air bubbles.

Place the cheesecake in the hot oven uncovered on the middle rack. On the rack below the cheesecake put an oven-safe dish filled halfway with water. This will create a steam bath for the cheesecake and help prevent cracking.

Bake at 180°C/350°F for 30-40 minutes. Your cheesecake is done when the edges have set but the middle is still jiggly.

When the cheesecake is done baking remove it from the oven and let it cool on the counter until it is room temperature. Then cover and chill the cheesecake in the refrigerator for at least 6 hours, preferably overnight.

The next day, remove the cheesecake from the pan and slice it. Serve with a spoonful of your favorite topping from above.
Nutrition
Serving:
1
serve ( serves 10)
Calories:
195.4
kcal
Carbohydrates:
6.6
g
Protein:
11.1
g
Fat:
14.1
g
Sodium:
353.5
mg
Potassium:
153.6
mg
Fiber:
1.3
g
Sugar:
3.5
g
Vitamin A:
330.3
IU
Vitamin C:
0.3
mg
Calcium:
198.2
mg
Iron:
0.7
mg
Get our FREE guide to finally fix your metabolism!
Losing weight & getting healthy is never easy, but lately you might feel like it's suddenly become impossible.
Our Flip the Switch guide will help you clearly understand what's been going on, as well as exactly what you can do to get your metabolism working again so that you can look and feel your best—it's easier and more simple than you think!