With these keto dinner rolls, you can enjoy warm soft bread with a crunchy crust straight from the oven in only a few minutes. At only 2.3g NET carbs per serving, they are perfect for a family dinner, BBQ, holidays, dinner parties, or game night.
If you have been looking for a low carb dinner roll recipe that is easy to throw together while dinner is cooking then this is the recipe for you!
This delicious combination of almond flour, mozzarella, and cream cheese will quickly become your new favorite recipe for keto bread rolls. If you missing bread, you will love these keto bread rolls.
If you're missing bread at your dinner table, these dinner rolls (and keto hamburger buns) make the perfect side dish for chicken, beef, pork, and vegetarian family meals.
Are you ready to create the ultimate 12-month blueprint for reaching your health & weight loss goals this coming year?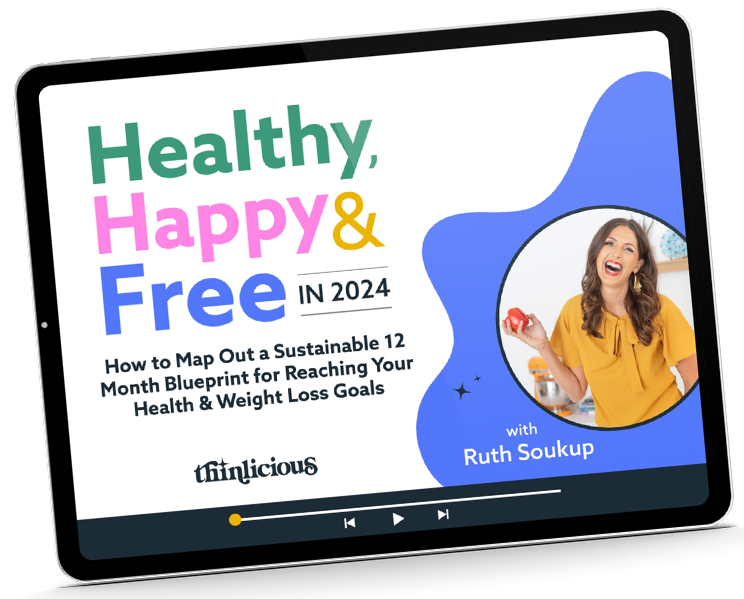 Our free on-demand video training will walk you through how to make 2024 THE year you set health goals…and keep them.
If you are an absolute beginner, you may want to see the supreme guide to making fat head dough even without a microwave. Can be made with almond flour or coconut flour EVEN WITHOUT a microwave PLUS 16 keto recipes to use it.
Are mozzarella dough bread rolls keto?
Yes, mozzarella dough is keto! Each of these keto bread rolls are only 2.3 g net carbs per serving, making them perfect for your low-carb keto diet. They are also gluten-free, grain-free and no sugars.
Keto dinner rolls nutrition per bread roll: 2.3 g net carbs, 10 g protein, 16.8 g fat, 204 calories.
What is mozzarella dough?
My keto dinner rolls are made with mozzarella dough (also known as fathead dough) with a little twist to help the rolls rise. This is an adaptation of the same dough used to make a keto pizza crust.
Fathead dough is a combination of shredded mozzarella and cream cheese with almond flour. It works so well in these keto rolls recipe (or fathead bread rolls)! They turn out perfectly moist, pillowy, and have a golden brown crunchy crust every time.
Plus, all the ingredients used are keto-friendly with a low glycemic index that won't make your blood sugar rise because the net carbs are so low.
Once you master how to make fathead dough, you can also make these quick and easy keto recipes such as keto pizza crust, keto nachos, keto breadsticks, and even fathead garlic bread.
Ingredients
You only need 7 ingredients to make these keto bread rolls. The entire recipe is made from basic pantry staples that you likely keep on hand, especially if you have been following keto for a while.
To make this recipe, you will need:
low-moisture shredded mozzarella cheese – a mild cheddar cheese may work, but the bread rolls will definatley taste cheesy
almond flour – you may also use almond meal, ground almonds or super fine almond flour
cream cheese – always choose full fat and read the nutrition label to avoid any added sugars
ground flax seed – or whole flaxseed ground in your food processor
baking powder – aluminum free baking powder
apple cider vinegar
an egg
All quantities, ingredients, and instructions are in the recipe card below.
Why vinegar?
You may be questioning the use of vinegar in your dinner rolls, but don't worry. You can't taste the vinegar at all.
The vinegar is used to activate the baking powder and create more air pockets in the dough. This allows the dough to rise more and feel more like traditional dinner rolls instead of a flat keto bread.
What is low-moisture mozzarella cheese?
Yes, there is a difference between low-moisture and regular mozzarella cheese (and please don't use skim mozzarella).
Typical mozzarella cheese, like the fresh balls of cheese you often find at Italian restaurants, have a moisture content upwards of 60%.
Low-moisture mozzarella cheese, on the other hand, must have a moisture content between 45-52%. You can find it in blocks or as shredded cheese, but for proper fathead dough, it should be labeled as low-moisture.
We certainly don't want a soggy keto dinner rolls recipe!
Instructions
STEP 1: Make the mozzarella dough
Mix: To make keto bread rolls, start by mixing the egg and vinegar together in a small bowl. Set it aside.
Heat: Next mix your cheese, almond flour, and ground flaxseed in a microwave-safe bowl. Then add the cream cheese to the bowl and microwave for 1 minute.
Fold: Remove the bowl from the microwave. Mix the melted cheeses with the flour mixture. Fold in the baking powder, then fold in the egg and vinegar mixture you made earlier.
It should be a smooth dough, not dry or soggy. If the cheese or egg has made the dough soggy, add more almond flour, a little at a time.
STEP 2: Shape the keto bread rolls
Divide dough: Cut your mozzarella dough into eight equal pieces and roll them into dough balls. Arrange your dough balls in an 8-inch circular baking pan that has been lined with baking parchment paper (or wax paper).
Decorate: Brush the low carb rolls with melted butter, garlic powder, and parsley.
And that's it! Your almond flour keto rolls are ready to bake.
Baking time
Your keto bread rolls should be baked in an oven preheated to 400°F/200°C on the top rack for 10-12 minutes. When they are cooked remove from the oven and let the rolls cool for 5 minutes.
The rolls should be baked uncovered to allow the rolls to become a golden brown color and develop a crunchy crust. Baking your keto bread rolls on the very top rack allows the tops to brown while keeping the bottoms from burning.
Top tips
Lining your pan with parchment paper will prevent your rolls from sticking to the pan.
Fresh herbs or crushed garlic can be mixed into the bread dough before cooking if desired. To make the dinner rolls cheesy, sprinkle fresh parmesan cheese over your rolls before baking.
Keep reading for more variation ideas for these almond flour rolls!
Substitutions
The flaxseed in these rolls is used to make this recipe look like whole wheat or multigrain bread.
I cannot taste the flax in the rolls, but if you do not like flaxseed you can substitute it with whole psyllium husk or leave it out altogether.
Variations
The fun thing about this low carb keto dinner roll recipe is just how versatile it is. At just 2.3 g net carbs per roll, you can enjoy a couple with dinner, guilt-free. Here are a few variations to try:
Italian. Add shredded parmesan cheese and a sprinkle of fresh or dried rosemary.
Garlic. Top with melted butter and roasted garlic.
Sweet. Mix in cinnamon and the sweetener of your choice for a take on cinnamon rolls.
Toppings. You can brush the low carb bread with butter, olive oil or an egg wash. Then sprinkle sesame seeds, dried onion flakes, dried garlic powder, or everything bagel seasoning.
Equipment
I used a microwave to melt the cheeses together. However, if you don't have a microwave you can still make the dough on your stovetop.
To form your dough on the stove, you would want to mix the ingredients in a saucepan and melt on medium/low heat while continuously stirring to prevent burning. Alternatively, you can use a double-boiler.
Follow the steps written in the recipe and ensure your cheese is melted and removed from heat prior to stirring in your egg.
Storage
Baked rolls can be stored in an airtight container in the refrigerator for 2-3 days. They can be stored in the freezer for up to 1 month.
Frozen keto rolls dough should be brought to room temperature on the counter before reheating to prevent them from going soggy.
To reheat the rolls, you can place them in a preheated oven for 5 minutes, microwave for 15-20 seconds or slice them and reheat them in the toaster.
Raw uncooked keto bread dough must be made fresh and cooked immediately because the raw egg has been mixed with warmed cheese. For safety, you cannot make the dough in advance and store it in the refrigerator or freezer.
FAQs about keto rolls
Can I sub out the almond flour for coconut flour?
Almond flour cannot be substituted for coconut flour in these keto rolls. If it's your first time baking with coconut flour and almond flour, you may need to read my guide to low-carb flours.
What kind of cream cheese should I use?
You need the unflavoured, plain, full-fat cream cheese. The other variations of cream cheese will not work and may be higher in carbs or have added sugars. I prefer to use softened cream cheese.
What are the best tips to make keto rolls?
Preheat your oven while you are making the keto bread rolls. Make sure the oven is hot before baking to guarantee a crispy crunchy bread crust. Do not make your keto rolls too big otherwise, they may burn before fully cooked in the center.
How to store and freeze almond flour rolls?
Store fresh bread rolls in the fridge for up to 3 days, in the freezer for up to 1 month. The raw dough cannot be frozen.
Can I add an egg wash finish?
Yes. Whisk an egg in a cup then brush over the top of the keto rolls before baking. I like to mix minced garlic with the egg wash first.
Which baking pan is best to use?
You can use any baking dish as long as you have lined it with baking parchment paper. This makes it easy to lift and serve at the dinner table. You could use a large round cake tin, a pizza stone, a baking tray, a cookie sheet, or a regular baking sheet.
How do I stop my dough from going soggy?
If the cheese or egg you used had additional moisture, and your dough is a little too damp, add more almond flour or almond meal. Just 1 tabslepoon at a time.
How do I melt the cheese without a microwave?
Place the cheeses in a saucepan and melt on medium/low heat while continuously stirring to prevent burning. Alternatively, you can use a double-boiler to make the cheese mixture (smooth dough).
How many calories are there in fathead keto rolls?
Each of the keto rolls provide 203 calories. If you wish to reduce the calories, you can omit the butter that is brushed over the top.
More low carb keto bread recipes
If you're missing your traditional bread loaf, or you want to know the best side dish to serve with a family dinner, these easy keto low carb recipes will make you a keto baking pro in no time.
You don't need to watch bread rise, no need for a food processor, or a stand mixer. They're all made in ONE BOWL! And each delicious recipe can be made with coconut flour or has a substitution guide.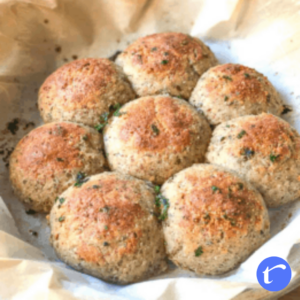 Easy Keto Dinner Rolls Recipe
These mozzarella dough keto dinner rolls are soft, pillowy, and delicious with a crunchy crust!
Print
Pin
Rate
Want to lose weight and get healthy for life—without dieting, drugs, or making yourself miserable?
We can help! Tell me how!
Equipment
Parchment Paper

Measuring cups and spoons

Mixing Bowls

Baking sheets – non stick
Ingredients
1

egg

1

tsp

apple cider vinegar

¼

cup

ground flaxseed/linseed

ground

¾

cup

almond meal/flour

1

tsp

baking powder

1¾

cup

pre-shredded/grated mozzarella

2

tbsp

cream cheese
Toppings
1

tbsp

butter

melted

¼

tsp

garlic powder

1

tsp

chopped parsley
Instructions
Preheat your oven to 400°F/200°C. In a small bowl mix together your egg and apple cider vinegar. Set aside until ready to use.

Place the flax seed, almond flour, baking powder, and shredded mozzarella cheese in a microwave-safe bowl. Mix. Then add your cream cheese to the bowl. There is no need to mix the cream cheese in just yet.

Place your bowl in the microwave. Melt your cheeses for 1 minute, remove the bowl and mix with a silicone spatula. If your cheese is not completely melted yet microwave for 30 more seconds until your cheese is completely melted.

While your mozzarella dough is still warm (but not hot) add your egg/vinegar mixture to your dough. Fold in with your silicone spatula.

Roll your bread dough into a ball and divide into 8 equal sections. Roll each section into a dough ball. Place each ball in a lined 8-inch round baking pan.

In a small bowl combine your melted butter, garlic powder, and parsley. Brush half your butter mixture over the dough ball. Bake your dinner rolls in the oven for 10-12 minutes or until golden brown and the edges no longer look wet.

Remove the bread rolls from the oven. Brush your dinner rolls with your remaining melted garlic butter. Let cool for 5 minutes and enjoy!
Notes
You can make your own ground flax seed.

Add whole flax seed to a food processor, coffee grinder, or blender, pulse until coarsely ground.

Allow the hot melted cheese mixture to cool slightly before adding the raw egg and vinegar mixture.
Nutrition
Serving:
1
dinner roll
Calories:
204.1
kcal
Carbohydrates:
5
g
Protein:
10
g
Fat:
16.8
g
Sodium:
196.8
mg
Potassium:
130.8
mg
Fiber:
2.7
g
Sugar:
0.9
g
Vitamin A:
299.5
IU
Vitamin C:
0.1
mg
Calcium:
197.4
mg
Iron:
1
mg
Get our FREE guide to finally fix your metabolism!
Losing weight & getting healthy is never easy, but lately you might feel like it's suddenly become impossible.
Our Flip the Switch guide will help you clearly understand what's been going on, as well as exactly what you can do to get your metabolism working again so that you can look and feel your best—it's easier and more simple than you think!