Made with a creamy sugar-free cheesecake filling, raspberry sauce, and a gluten-free cheesecake base.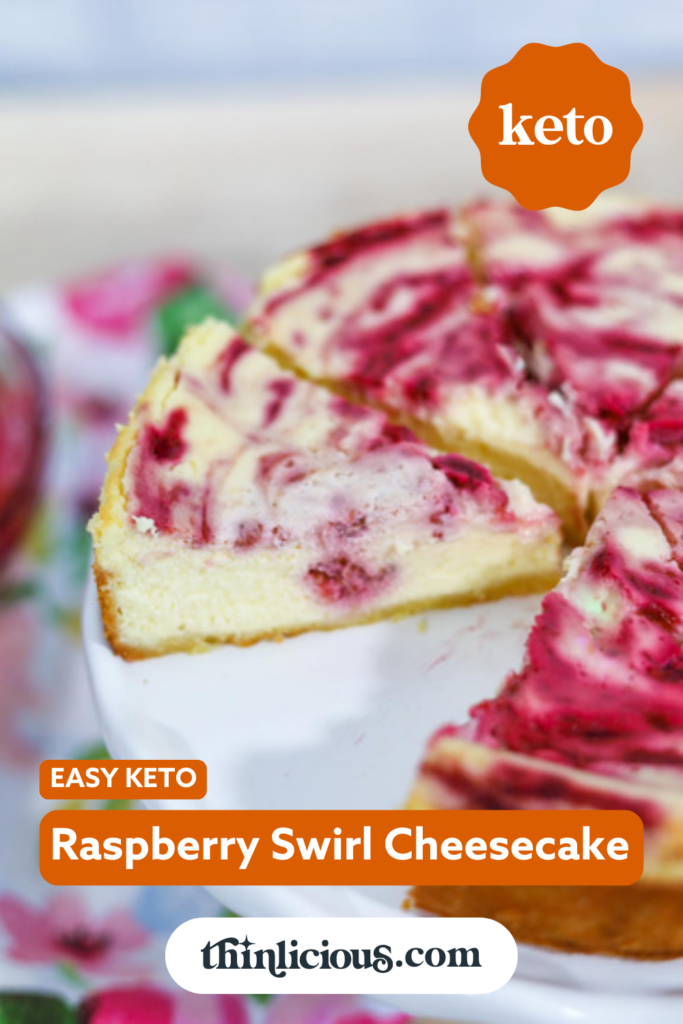 Discover how easy it is to make low-carb raspberry swirl cheesecake with sugar-free berry sauce. It can be made as raspberry cheesecake bars or single-serve keto desserts.
Cheesecakes are a wonderfully delicious way to celebrate a special family occasion, wonderful to bring to dinner parties, and perfect for sharing at a holiday BBQ.
If you love delicious keto desserts these are the 34 best keto desserts made with cream cheese (you have to try).
Ready to lose weight and get healthy for life without dieting, drugs or making yourself miserable?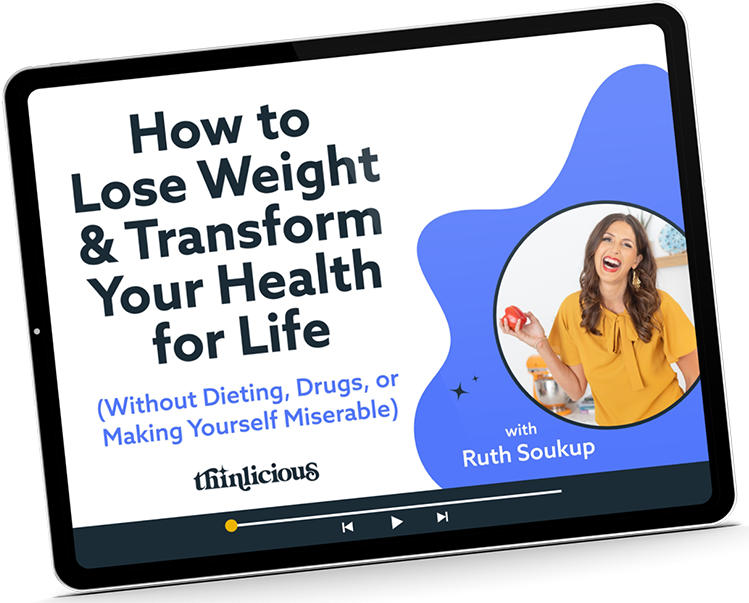 Our free on demand video training will help you understand why it's been so hard and what do to about it.
Are cheesecakes keto?
No, regular cheesecake (and traditional real sugar cheesecake recipes) are definitely not keto. They have a high amount of added sugar, wheat flour, and sugary syrups.
But, by making a few simple adjustments and ingredient substitutions (such as utilizing a sugar-free sweetener) and using low-carb flours, you can make delicious, creamy, smooth keto cheesecakes that will stop even the most insatiable sugar cravings.
This low-carb cheesecake recipe with a raspberry swirl is a delicious keto treat and perfect for your keto diet.
The sugar-free berry sauce is low in carbs and can be used for any keto cake, keto cheesecake, or keto cheesecake bars. You can even make mini raspberry swirl cheesecakes for perfect portion control.
Ingredients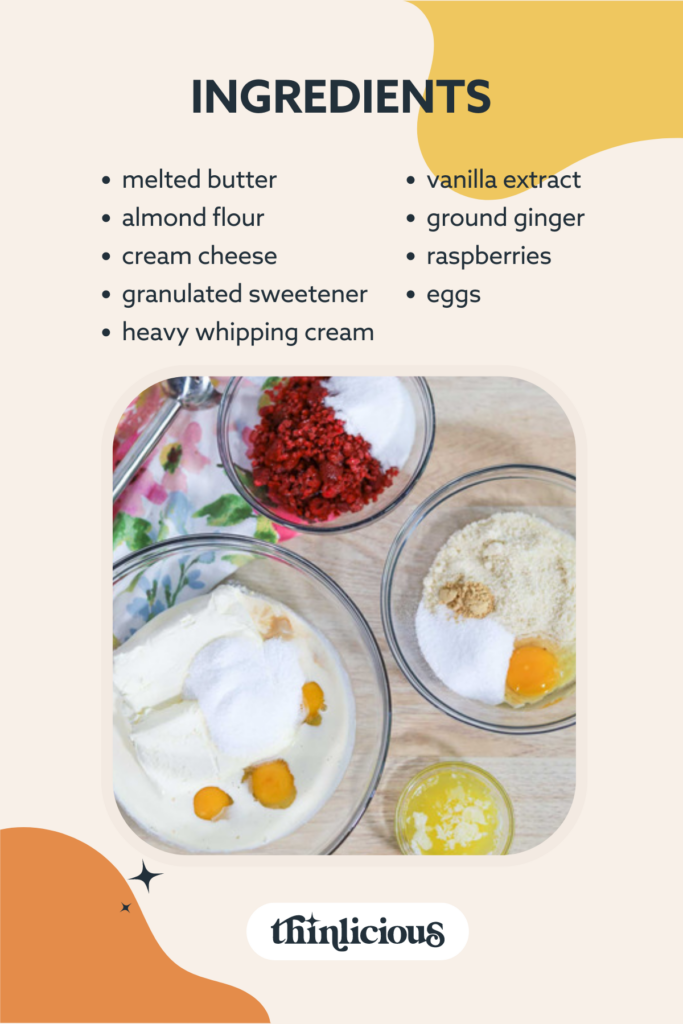 There are three main parts to this recipe, but don't let that intimidate you! The ingredient list is quite simple as you'll see below:
For the complete recipe and exact amounts, see the keto raspberry cheesecake recipe card below.
Cheesecake base
Melted butter – use salted butter or unsalted butter, then add a pinch of salt if required.
Almond flour or meal – this naturally gluten-free flour is perfect for a nutty cheesecake base.
Egg
Ground ginger – this is optional, but I highly recommend it.
Granulated sweetener of choice* – add more or less to your liking and sweet tooth.
Raspberry cheesecake
Cream cheese – make sure to get the full fat, plain, regular variety. Do not buy the spreadable variety! It will not work in this recipe.
Granulated sweetener of choice*
Heavy whipping cream
Eggs
Vanilla extract – or vanilla essence. I always recommend buying the best vanilla extract you can afford. It makes a big difference!
Raspberry sauce (raspberry swirl)
Raspberries – either fresh or frozen raspberries work well
Granulated sweetener of choice*
Which sweetener is best?
*My favorite sugar substitute for keto raspberry cheesecake filling can vary.
Typically I reach for an erythritol blend or monk fruit sweetener. However, you can also use allulose, stevia, or xylitol.
Liquid stevia can work in a pinch if that's all you have on hand, but I think this raspberry keto cheesecake is best with granulated sugar substitutes or a powdered sweetener. Read more about how to choose a sweetener in this ultimate guide to low-carb sweeteners.
Instructions
You'll be surprised at just how easy it is to make keto raspberry cheesecake. It's the perfect dessert for the keto diet. One bite will sell you on it!
Make The Crust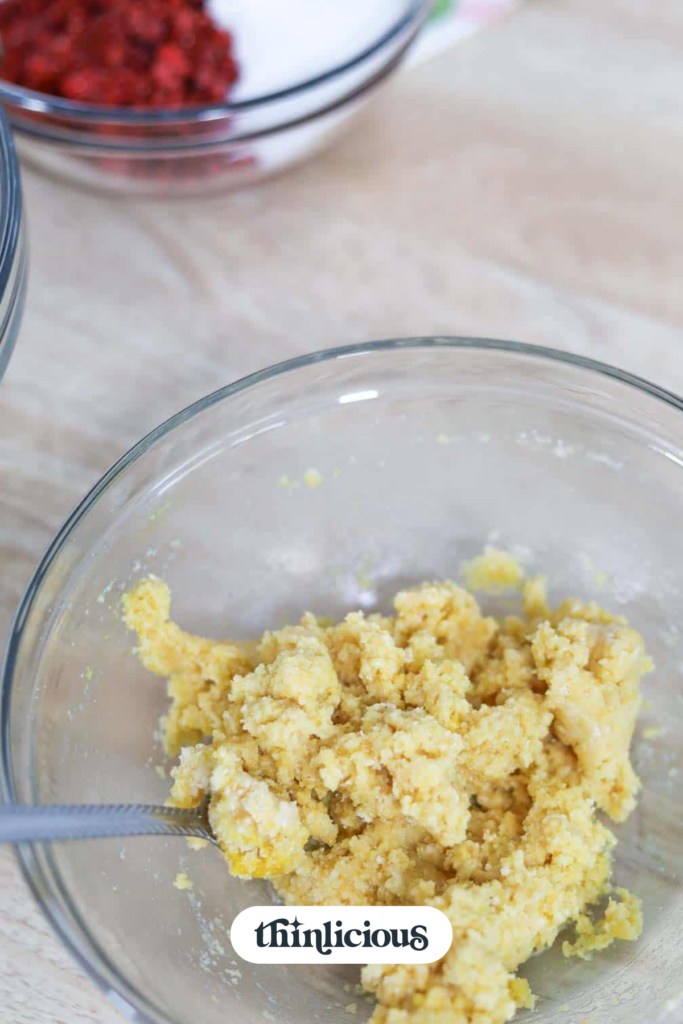 First, mix together the melted butter, almond flour, eggs, ginger, and sweetener of your choice. Then, press this almond flour crust firmly into a pie plate, springform pan, or a loose bottom baking pan that has been oiled and lined with baking parchment paper.
Press gently with a fork all over the base to make tiny holes. This helps the crust to bake evenly.
If you use almond meal instead of almond flour, the crust will have a grainy texture. You can use them interchangeably, but they have different textures.
Bake the crust for about 10 minutes or until it is golden.
Make The Filling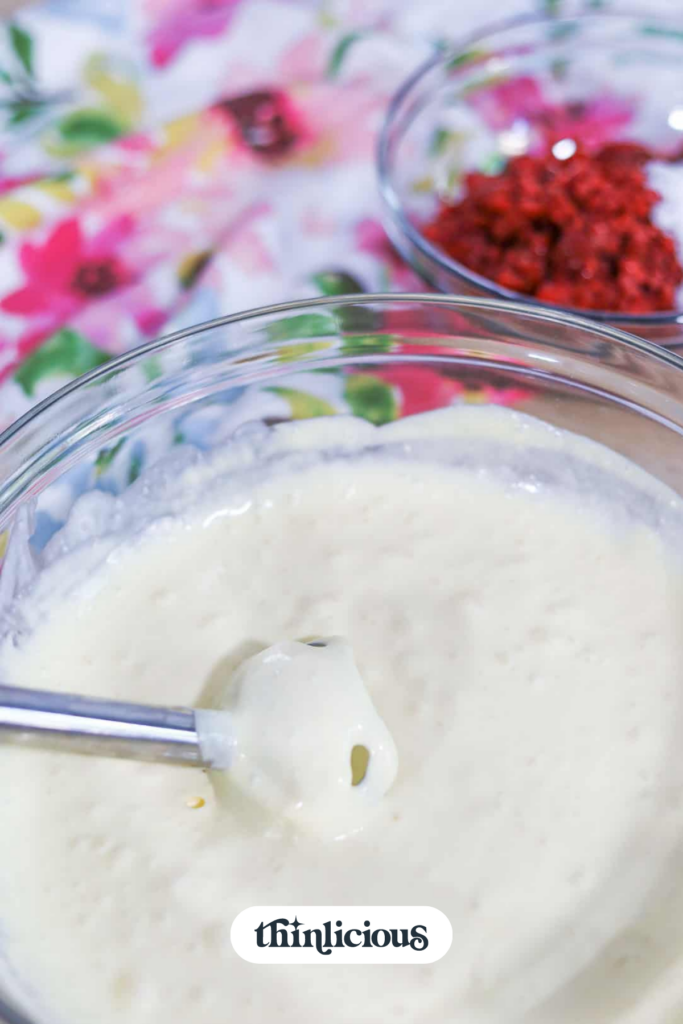 Mix together all of the ingredients for the filling – including vanilla extract. This does not include the raspberries yet.
It's best to use softened cream cheese. This helps to get a smooth cheesecake layer.
You can mix everything together in a large mixing bowl and a stick blender, a food processor, or place everything in a blender.
When it is nice and creamy, scoop it out onto the almond flour crust.
Create Raspberry Sauce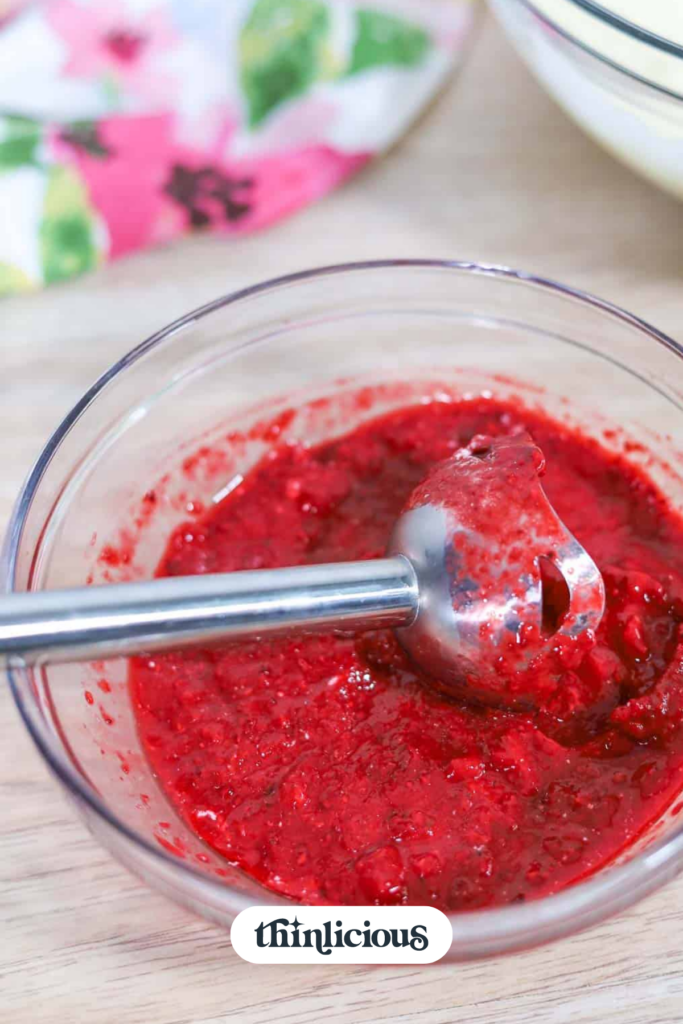 To make the sugar-free raspberry sauce, puree fresh raspberries or defrosted frozen raspberries with the sweetener of your choice in a medium bowl. You can add a squeeze of lemon juice to them too.
Swirl Raspberry Sauce
Part of what makes this keto raspberry cheesecake recipe so pretty is the red raspberry sauce swirled in the cheesecake.
Simply pour the raspberry filling on top of the cheesecake in circles or swirl patterns. Use a spatula or a knife to create swirls into the cheesecake mix gently.
Bake It
Now that you have the cheesecake mixture swirled and on top of the pie crust, just bake it!
Serve with any extra raspberry puree and whipping cream.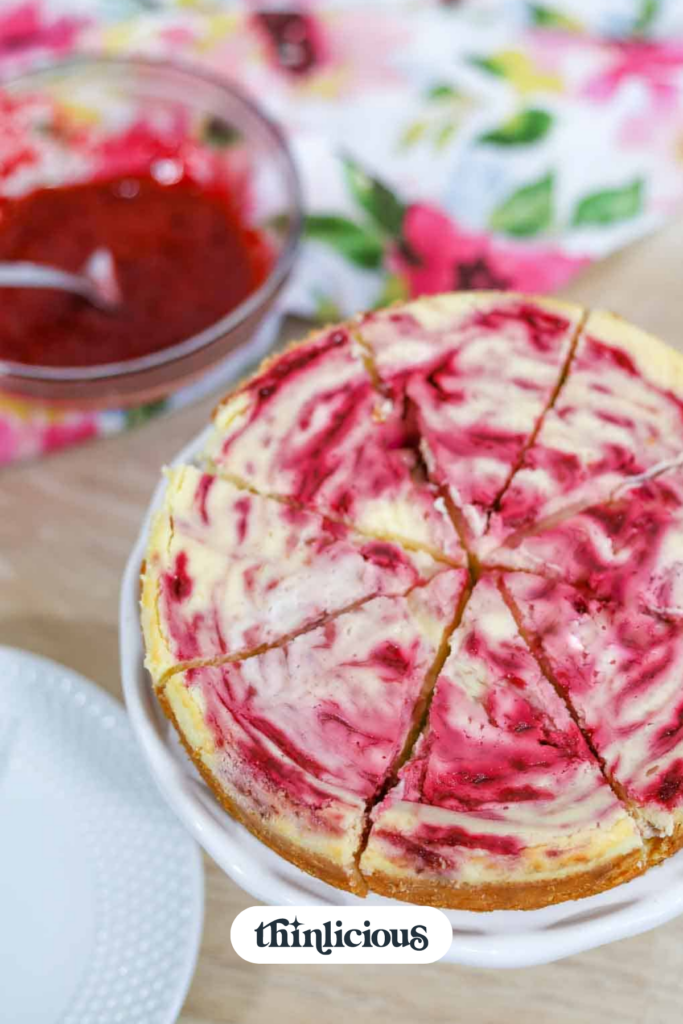 Variations
This is one of my favorite healthy recipes because it is so full of healthy fats and protein. Here are a few ways you can change it up while still reaping all the benefits!
Turn it into bars. Make keto raspberry cheesecake bars with the cream cheese mixture. In fact, if you store them in the freezer, they become delicious frozen cheesecake bars.
Deepen the flavor. If you want the keto cheesecake to have a deeper flavor profile, add a teaspoon of lemon juice. Adding more vanilla extract or raspberry extract is another way to add more flavor.
Add some zest. For a little garnish, add some lemon zest on top and some whipped cream.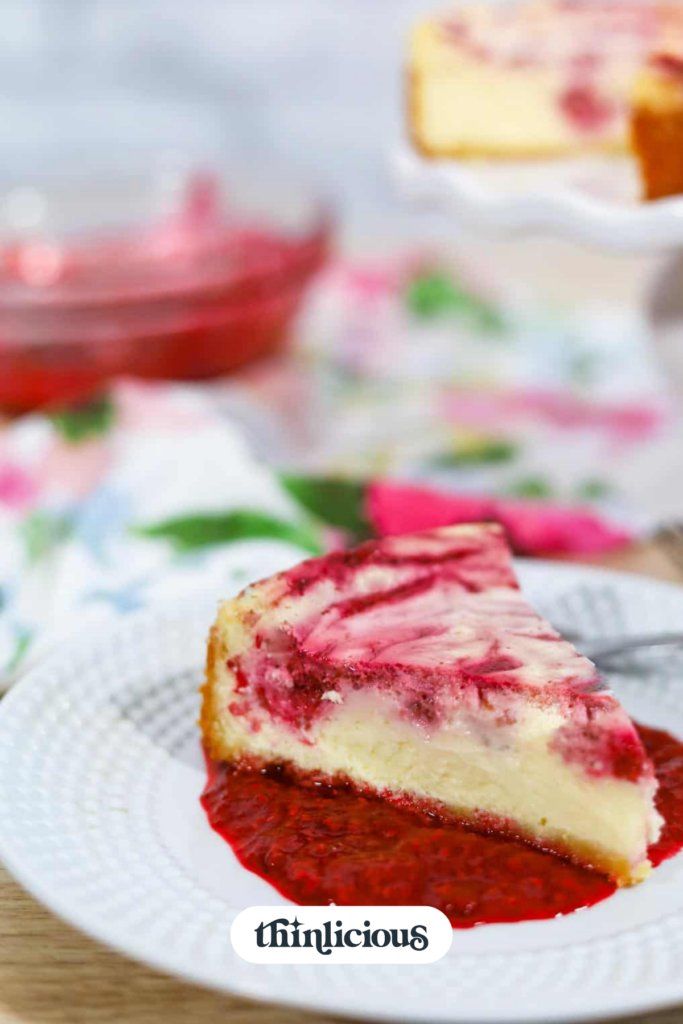 Storage
Store leftover keto raspberry cheesecake in an airtight food storage container in the refrigerator for up to 3 days.
It's a great recipe to make ahead before a dinner party or celebration. And no one will guess it's a low-carb dessert.
Recipe FAQs
Here are some questions people often ask about how to make keto raspberry cheesecake. If you don't see your question in this list, please leave it in the comments.
What is the best type of cream cheese to use?
Keto recipes always use the regular full-fat kind to get the best cheesecake batter. Here are three reasons why:

1: Avoid low-fat because it generally has a higher carbohydrate value. When they remove the naturally occurring fat in cream cheese, it ends up tasting bland and is too thin. So they bump it up with sugars, starches, and other additives to make it palatable.

2: Full-fat cream cheese makes you fuller for longer. And by eating a full-fat cream cheese cheesecake, you can only manage a smaller portion, and hence even fewer carbs.

3: Spreadable cream cheese NEVER sets properly in a cheesecake. I cannot emphasize this enough. If a reader tells me their cheesecake, fudge or brownie has failed, I question them a little deeper, and it turns out they used the low fat, or lite, cream cheese.
Is Philadelphia cream cheese low carb?
Depending on where you live, Philadelphia cream cheese may be the most popular option. The good news is that, yes, it is keto-friendly and low carb IF you stick to the original variety. Once you start to try the flavored or low-fat versions, the carb count starts to really climb.
How do you serve keto raspberry cheesecake?
I prefer to make my low-carb raspberry swirl cheesecake in one large dish. Alternatively, you could prepare it in several individuals serving dishes such as a ramekin. Or bake it in a square pan and slice it to make keto raspberry cheesecake bars.
Which berries are best?
Fresh raspberries are the best but frozen berries are a handy option. But you can use any other low-sugar fresh berries. Fresh strawberries make a wonderful summer cheesecake for barbecue season.

If fresh berries are out of season, you can easily swap for the frozen variety.

Here is a full list of carbs in fruit which is handy to remind ourselves which fruit to enjoy and which to avoid. Because once you learn the different carb values in food, you can begin to make better choices and learn how to stay within your carb allowance.
How do you reduce carbs even more?
To make any cheesecake even lower in carbs, use a low-sugar berry, use fewer berries, and make it a crustless cheesecake:
– Faster to prepare
– Cheaper
– Lower in carbs
– Quicker to bake

Even though coconut flour and almond flour are low-carb flours, they contain carbs, and leaving them out will help you save on carb counts for this cheese cake.

If you opt to make the cheesecake crustless, you can make a batch in a muffin tin to make individual portions too! Mini cheesecakes are easier for portion control than simply cutting a slice of cheesecake.
What can I substitute for sugar in keto cheesecake?
Whenever you bake low-carb recipes, you should always use sugar substitutes. I made this sweetener guide to help you figure out the best sweeteners to use in your keto dessert recipes – no matter what you make.
How can I make any cheesecake a keto cheesecake?
By making a few simple ingredients swaps, you can make any cheesecake healthier and reduce the net carb count.
1: Make a keto base with almond flour or coconut flour instead of wheat flour.
2: Swap sugar for your favorite sweetener or sugar replacer such as erythritol, mink fruit, or allulose.
3: Swap any chocolate in a recipe for sugar-free chocolate.

Your cheesecake will still taste amazing. Find more keto dessert recipes here in the keto cheesecake recipe index.
How do I make keto raspberry cheesecake bars?
1: Make a double quantity of the cheesecake base and press HALF the base into a lined square baking pan and bake as per the recipe.
2: Pour the filling onto the cooked base. Sprinkle the other HALF of the cheesecake base (crust) on top of the unbaked filling.
4: Bake as per the recipe.
5: Cut into cheesecake bars (squares or rectangles).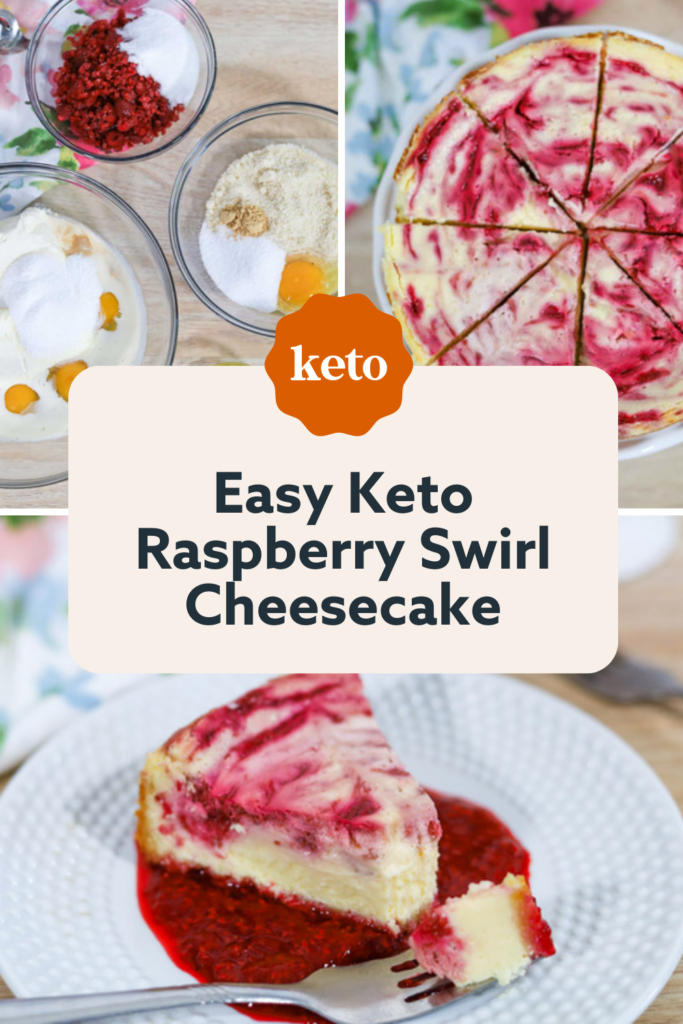 Egg-free cheesecakes
If you're looking for a cheesecake without eggs, you'll love my keto cheesecake mug cakes without eggs. They only take 1-minute to cook and you can choose strawberry, Nutella, pumpkin pie spice, or blueberry vanilla.
Each one is a single-serve healthy dessert so you will have instant portion control.
The best keto cheesecake recipes
These are just some of the most popular low-carb keto cheesecake recipes for you. If you ever want to make a dessert recipe for family parties and special celebrations, any of these cheesecake recipes will be a real crowd-pleaser.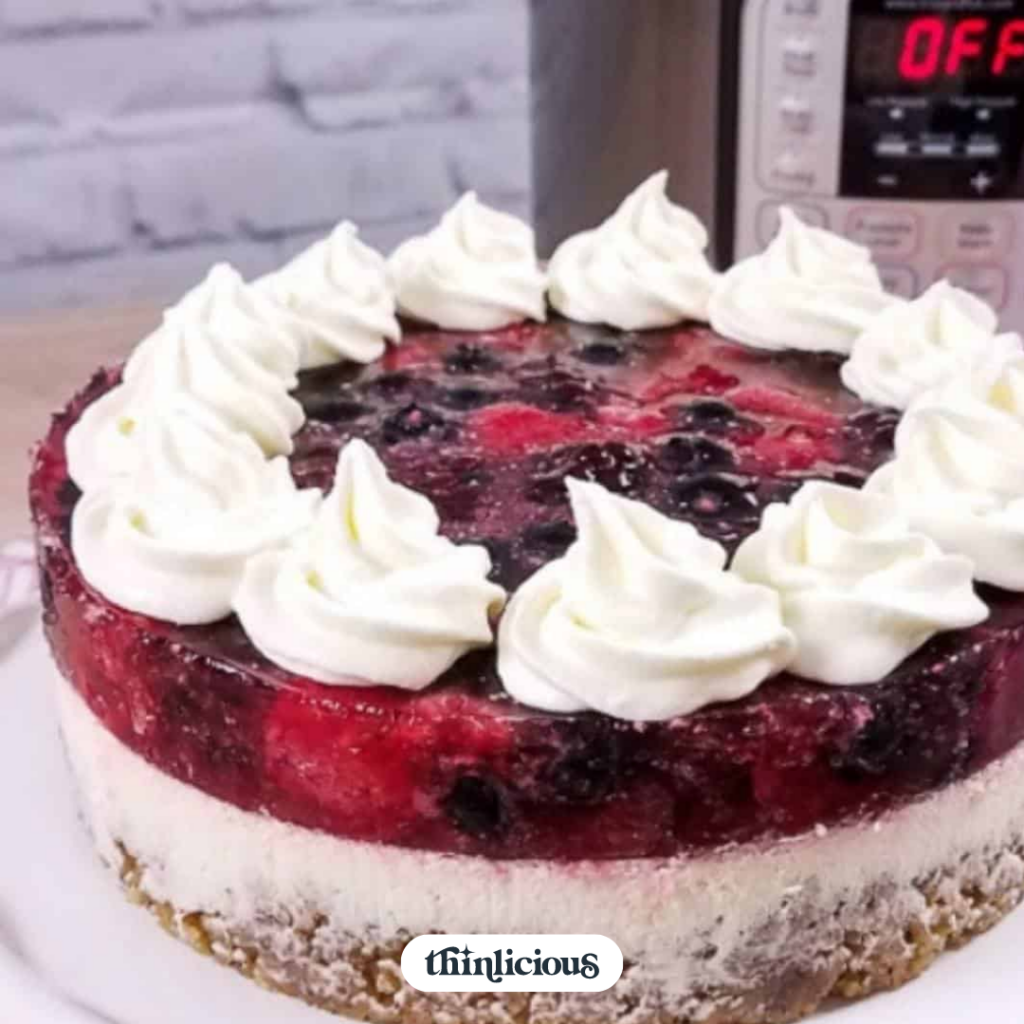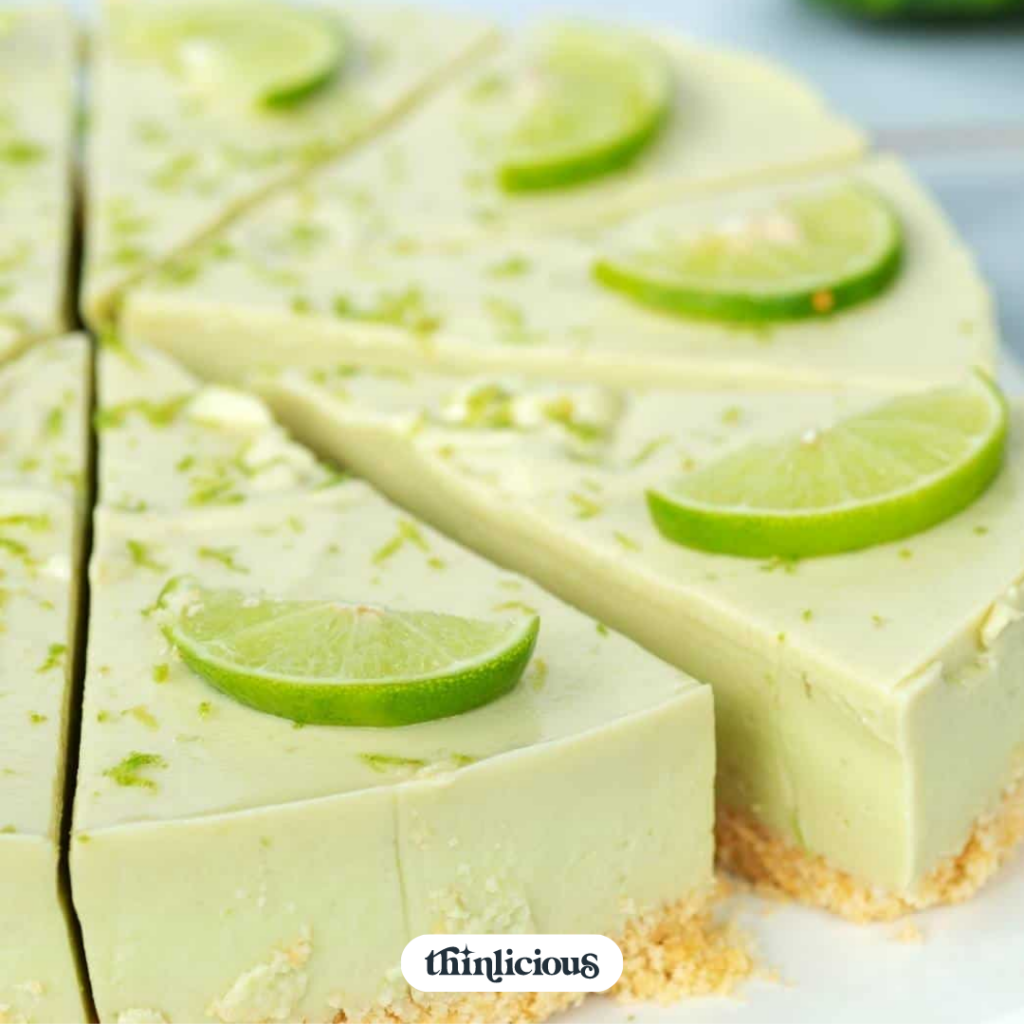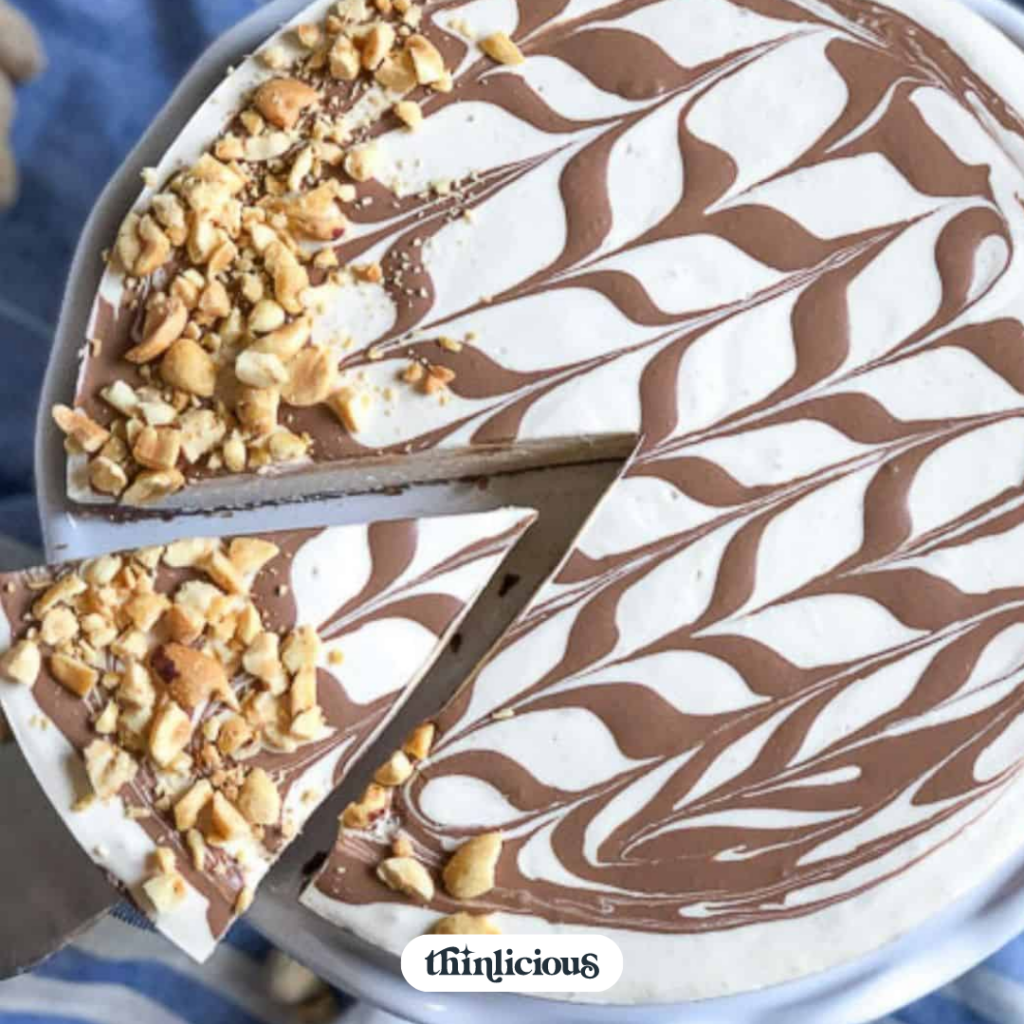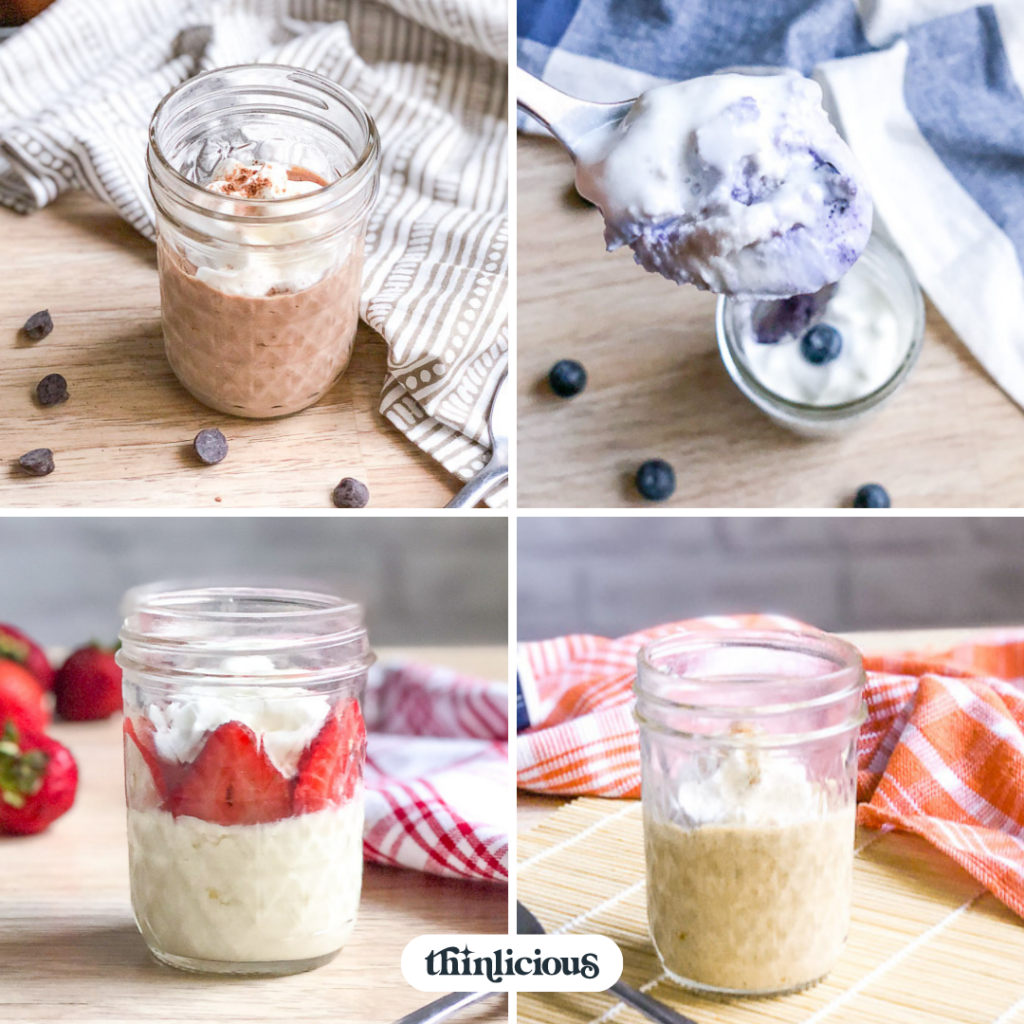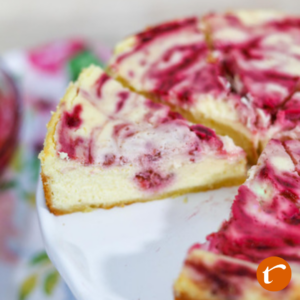 Keto Raspberry Swirl Cheesecake Recipe
This amazing keto raspberry cheesecake has only 5g net carbs and is the perfect sugar-free recipe for parties. The best creamy delicious keto raspberry cheesecake with a gluten-free cheesecake crust.
Print
Pin
Rate
Want to lose weight and get healthy for life—without dieting, drugs, or making yourself miserable?
We can help! Tell me how!
Equipment
Stick Blender

Measuring cups and spoons

Mixing Bowls
Ingredients
Raspberry Swirl Cheesecake Base
50

g

butter

melted

130

g

almond meal/flour

1

eggs – medium

1

tsp

ground ginger

(optional)

3

tbsp

granulated sweetener of choice

or more to taste
Raspberry Swirl Cheesecake Filling
500

g

cream cheese

NOT spreadable

4

tbsp

granulated sweetener of choice

or more to taste

125

ml

heavy whipping cream

3

eggs – medium

lightly beaten

3

tsp

vanilla extract

to taste
Raspberry Swirl
200

g

raspberries

fresh or frozen

3

tbsp

granulated sweetener of choice

or more to taste
Instructions
Keto Raspberry Cheesecake Base
Place all the ingredients for the cheesecake base in a mixing bowl and mix well.

Place the cheesecake base into a lined pie dish. Press the base down with the back of a spoon or using parchment paper, press down gently.

Bake at 180C/350F for 10 minutes, or until golden.
Keto Raspberry Cheesecake Filling
Place all the ingredients in a mixing bowl. Using a stick blender, process with the blade attachment until lump-free.

You may also use a blender to do this step.

Pour the cheesecake filling onto the cooked cheesecake base. Add the raspberry swirl (see below). Gently swirl the cheesecake filling and the raspberry puree together.
Raspberry Puree
Pulse/blend the berries and the sweetener together using a stick blender. Pour HALF the raspberry puree over the cheesecake filling in large circles. Swirl together gently.

Bake at 180C/350F for 20 minutes, or until cooked in the center. Push a fork into the middle to test.

Serve the raspberry swirl cheesecake with extra raspberry puree.
Nutrition
Serving:
1
serve ( serves 10)
Calories:
366.8
kcal
Carbohydrates:
7.9
g
Protein:
8.7
g
Fat:
34
g
Sodium:
217.9
mg
Potassium:
138.1
mg
Fiber:
2.7
g
Sugar:
3.8
g
Vitamin A:
1083
IU
Vitamin C:
5.3
mg
Calcium:
100.5
mg
Iron:
1
mg
Please rate the keto raspberry cheesecake recipe and leave me a comment. I read and respond to them all.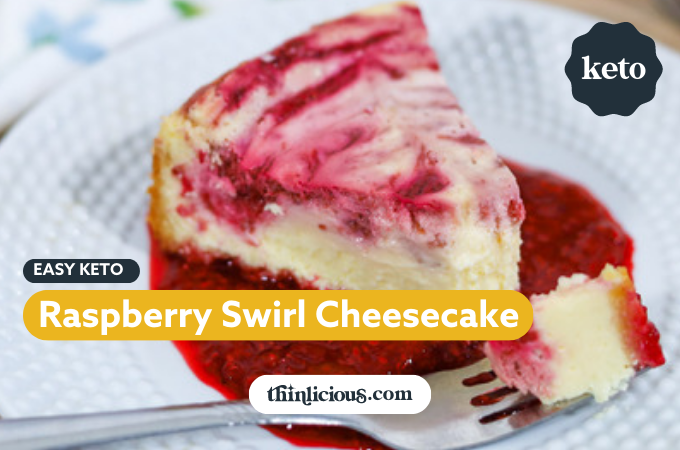 Get our FREE guide to finally fix your metabolism!
Losing weight & getting healthy is never easy, but lately you might feel like it's suddenly become impossible.
Our Flip the Switch guide will help you clearly understand what's been going on, as well as exactly what you can do to get your metabolism working again so that you can look and feel your best—it's easier and more simple than you think!