If you are a peanut butter LOVER you are going to love this keto chocolate peanut butter cheesecake recipe!
With only 3.7g net carbs per serving and easy no-bake preparation, this cheesecake is a keeper!
Cheesecake will always be one of the best desserts. Add some chocolate and peanut butter into the mix you have the perfect treat!
You can quickly whip this cheesecake together in under 20 minutes, and since it is a no-bake cheesecake it takes less time to set than a baked cheesecake.
Are you ready to create the ultimate 12-month blueprint for reaching your health & weight loss goals this coming year?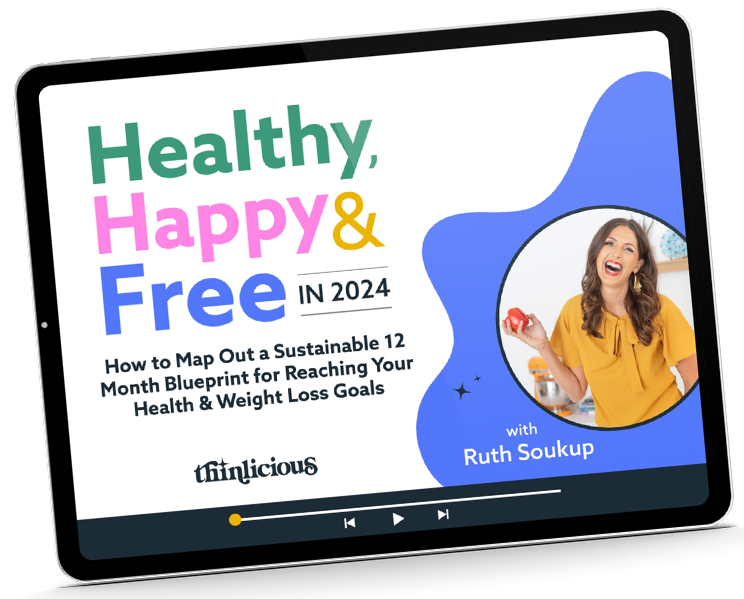 Our free on-demand video training will walk you through how to make 2024 THE year you set health goals…and keep them.
Is Peanut Butter Keto?
Peanut butter is a legume so will be higher in carbs and some on the ketogenic diet choose to avoid it. However, as long as you can tolerate peanut butter and you're smart, only use the minimum for flavor then it can be considered to be keto.
This sugar free cheesecake only requires 1/3 cup of natural peanut butter = 9.8 grams of net carbs for the entire recipe. The creamy homemade cheesecake gets the lovely nutty taste of the peanut butter, but with the minimal carbs.
Nutritional values from cronometer.com
It is often unhelpful to ask yourself "is this keto". It is a myth to think some foods are keto and some foods are not. It's all about quantity (net grams of carbs) and quality (source and suitability).
If you prefer, you may also substitute peanut butter for any nut butter. Avoid cashed butter as this has the highest carb value. If you are just starting out, it is wise to understand the carbs in nuts and seeds so you can make a good choice.
What Kind of Crust Do You Use With a Chocolate Peanut Butter Cheesecake?
A simple almond flour crust is the perfect crust for a peanut butter cheesecake. The nutty flavor adds to the peanut butter flavor while keeping the carbs down per serving.
Adding a little unsweetened cocoa powder to the crust is an easy way to make your almond flour crust chocolate. With this recipe, a little cocoa powder goes a long way.
Recipe For Chocolate Peanut Butter Cheesecake
To make this cheesecake no-bake you will be using unflavored gelatin to thicken your cheesecake. Since gelatin can clump when hot water is added to it, I recommend mixing the gelatin with the sweetener before mixing the boiling water into the gelatin.
A stick blender, food processor, or hand mixer to mix together your cheesecake filling to help make a clump-free filling.
TOP TIP: As with ALL recipes here, ALWAYS taste your batter BEFORE cooking to ensure you have added enough sweetener to suit YOUR tastebuds. Read the Ultimate Guide To Low-Carb Sweeteners.
If this is day 1 of sugar-free living for you, you may require twice the amount of sweetener as someone who has been living sugar-free for years. So don't be afraid to add more sweeteners. The longer you live sugar-free, the less sweetener in time you will require.
What Pan Should I Use for a Chocolate Peanut Butter Cheesecake
You can use any cheesecake pan or pie pan to make your cheesecake. The smaller your pan, the taller your cheesecake will be. The larger the pan the thinner your cheesecake will be. Use whatever pan you have on hand.
As long as you are cutting your cheesecake into 12 servings the net carbs per serving will not change due to the size of the pan you use. Just remember that with a smaller pan your slices will taller, but thinner.
How To Make A Chocolate Swirl On Your Chocolate Peanut Butter Cheesecake
I tried to keep the chocolate swirl on top of the cheese as simple as possible. To make the swirl you will want to mix a small portion of the cheesecake filling with some cocoa powder and little water in a separate bowl.
Then drizzle the chocolate filling over the filled cheesecake. To mark the swirl design run the tip of a skewer, chopstick, or knife through the cheesecake in the opposite direction that you poured the chocolate filling until you are satisfied with the design.
So if you drizzled the cholate left to right, run the skewer through the cheesecake up and down.
How To Reduce The Carbs Even Further?
How many carbs are in your keto peanut butter cheesecake will be determined by how you make your chocolate swirl in the keto cheesecake.
I initially was going to use sugar-free chocolate chips, but the carb value varies tremendously depending on which brand you purchase.
So to make this sugar-free cheesecake as low in carbs as possible, I decided to mix cocoa powder with some of the cheesecake filling.
However, you may wish to use melted sugar-free chocolate chips. Let me explain what you need to look for when deciding which sugar-free chocolate chips to buy.
More Low-Carb Dessert Recipes & Low-Carb Cake Recipes …
Which Sugar-Free Chocolate Chips Are The Lowest In Carbs?
The sweetener that is found in your choice of sugar-free chocolate chips will dictate the carb count and their effect on your blood sugar.
For example, sugar alcohols such as erythritol are not absorbed, do not raise blood sugars, so these values do not count. Whereas maltitol is absorbed in the range of 5%-80% (1), does raise blood sugars and does count. This is why you should be a label reading detective.
Too many low-carb and keto bars make the claim they are sugar-free, but maltitol should be avoided and does count. This is called confusion marketing.
Here are just 2 examples of sugar-free chocolate chips. you can see the difference in their true carb value.
Hershey's sugar-free chocolate chips vs Lily's sugar-free chocolate chips
Sweeteners
Calories
Total carbs
Fibre
Net carbs per tbsp
Hershey's sugar-free chocolate chips
per tbsp (15g)
Maltitol 7g
(raises blood sugar so carb value counts)
70
9g
1g
8g
–
–
–
–
–
–
Lily's sugar-free chocolate chips
per tbsp (14g)
Erythritol 3g plus inulin and stevia (does not raise blood sugar so carb value ignored)
50
9g
4g
5g
Sugar-free chocolate chips comparison table
If you wish to use real chocolate AND reduce your carbs, why not drizzle your keto cheesecake with a small measure of sugar-free chocolate chips, choose Lindt 90% instead (40g/4 squares = 7g net carbs).
Note: Erythritol is not extensively absorbed and does not raise blood sugars (1) (2) for MOST people. However, a few members of my Facebook group have reported they have experienced a blood sugar spike so if very close blood sugar control is imperative, please test to see if you are one of the few people that erythritol affects.
Storage – fridge or freezer
How Long Can You Store This Cheesecake In The Refrigerator?
Your cheesecake will set in the refrigerator in about 4-8 hours depending on how deep your cheesecake is. Once the cheesecake is set it will stay fresh in the refrigerator for 5-7 days.
Be sure to tightly cover the cheesecake or store it in an airtight container so that it doesn't absorb any scents or flavors in your refrigerator.
Can You Freeze This Chocolate Peanut Butter Cheesecake Recipe?
Yes! You can store your cheesecake in the freezer for 1-2 months in an airtight container or zipped freezer bag. The cheesecake be frozen whole or in slices.
The cheesecake can be defrosted by moving it to the refrigerator the day before serving or on the counter at room temperature for a few hours.
Garnishing Keto Chocolate Peanut Butter Cheesecake
When making any type of swirl on a cheesecake there are bound to be imperfections in the design that you may want to cover up. If you have some larger spots of chocolate on the top of around the edges do not fret.
You can easily cover any imperfections with a garnish of sweetened whipped cream or a spoonful or two of coarsely chopped peanuts. Keep in mind the carbs in each of the options and choose the option that works best for your needs. Enjoy!
More recipes you may like:
More keto cheesecake recipes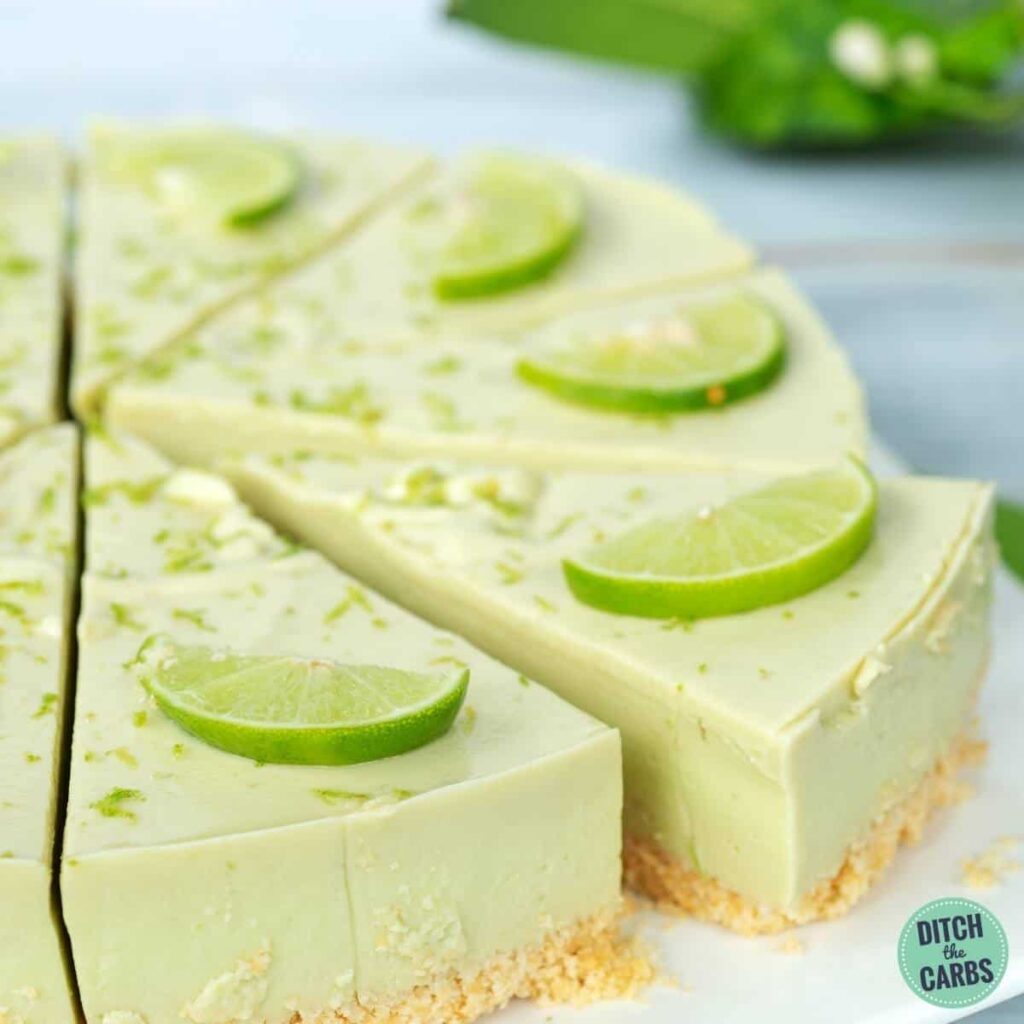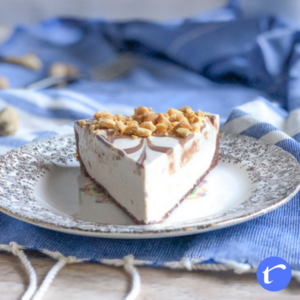 Keto Chocolate Peanut Butter Cheesecake Recipe (no-bake)
If you love peanut butter you will love no-bake keto chocolate peanut butter cheesecake.
Print
Pin
Rate
Want to lose weight and get healthy for life—without dieting, drugs, or making yourself miserable?
We can help! Tell me how!
Equipment
Measuring cups and spoons

Mixing Bowls

Stick Blender
Ingredients
Chocolate Almond Flour Crust
1

cup

almond meal/flour

4

tbsp

butter

softened

1

tbsp

cocoa powder (unsweetened)

unsweetened

2

tsp.

granulated sweetener of choice

or more to taste
Peanut Butter Cheesecake Filling
16

oz

cream cheese

full fat softened

⅓

cup

peanut butter

no sugar added

1

tsp

vanilla extract

2

tbsp

granulated sweetener of choice

or more to taste

1

cup

boiling water

1

tbsp

powdered gelatine

unflavored
Chocolate Swirl Topping
1

tbsp

cocoa powder (unsweetened)

mixed with some cheesecake filling

1

tbsp

water
Instructions
Chocolate Almond Flour Crust
Combine all the crust ingredients together in a bowl until it is well combined and sticks together.

Press the crust mixture firmly into the bottom of your cheesecake pan or pie pan with the palm of your hand. Start in the middle and work your way to the edges, pressing the crust partially up the sides of the pan. Place the crust in the freezer until ready to use.
Peanut Butter Cheesecake Filling
In a large mixing bowl stir together the sweetener and gelatin.

Next, pour the boiling water into the bowl to dissolve the gelatin and sweetener. Mix the gelatin with the stick blender as you slowly pour the boiling water over the gelatin. Continue to mix the gelatin until it is completely dissolved.

Add the remaining filling ingredients to the bowl. Mix with the stick blender until smooth.

Remove ¼ cup of the filling and set it aside. Pour the filling into the crust and spread it out with a spatula until level.
Chocolate Swirl
To make the chocolate swirl mix a spoonful of cocoa powder with the ¼ cup cheesecake filling you set aside. If the filling is too thick to pour then mix in a spoonful of water until you can a consistency that is easy to pour.

Drizzle the chocolate filling in a snake-like pattern over the top of the cheesecake. Then run the tip of a knife, skewer, or chopstick through the top of the cheesecake in the same pattern but the opposite direction until you are satisfied with the pattern.

Cover the cheesecake and let it set in the refrigerator for 4-8 hours or until firm. Garnish the cheesecake with sweetened whipped cream or coarsely chopped peanuts. Enjoy!
Notes
Mixing the gelatin and sweetener together first helps keep the gelatin from clumping.

If you do not have a stick blender you can mix everything together in a regular blender or food processor, just slowly add the boiling water over the gelatin and sweetener while you mix.
Nutrition
Serving:
1
serve (serves 12)
Calories:
262.5
kcal
Carbohydrates:
5.4
g
Protein:
6.7
g
Fat:
25.1
g
Sodium:
189.9
mg
Potassium:
113.1
mg
Fiber:
1.7
g
Sugar:
2.3
g
Vitamin A:
624.3
IU
Calcium:
62.9
mg
Iron:
0.8
mg
Get our FREE guide to finally fix your metabolism!
Losing weight & getting healthy is never easy, but lately you might feel like it's suddenly become impossible.
Our Flip the Switch guide will help you clearly understand what's been going on, as well as exactly what you can do to get your metabolism working again so that you can look and feel your best—it's easier and more simple than you think!