If you have the right low-carb kitchen gadgets, it makes life just that little easier and more successful. Don't waste money on kitchen gadgets that aren't necessary.
You may already have many of these in your kitchen already.
1: Kitchen scales
Kitchen scales are so vital for measuring out serving sizes for beginners. It's hard to know the macronutrient profile of your food if you don't know how much you're eating.
And if you have been here for a while you will know I love cooking by weight. It is accurate and there is zero room for error. Cooking by volume (using cups) is generally where I see recipe failures. Readers pack their cups too firm or too loose, hence adding too much or too little of an ingredient and so there recipe was a disaster.
Are you ready to create the ultimate 12-month blueprint for reaching your health & weight loss goals this coming year?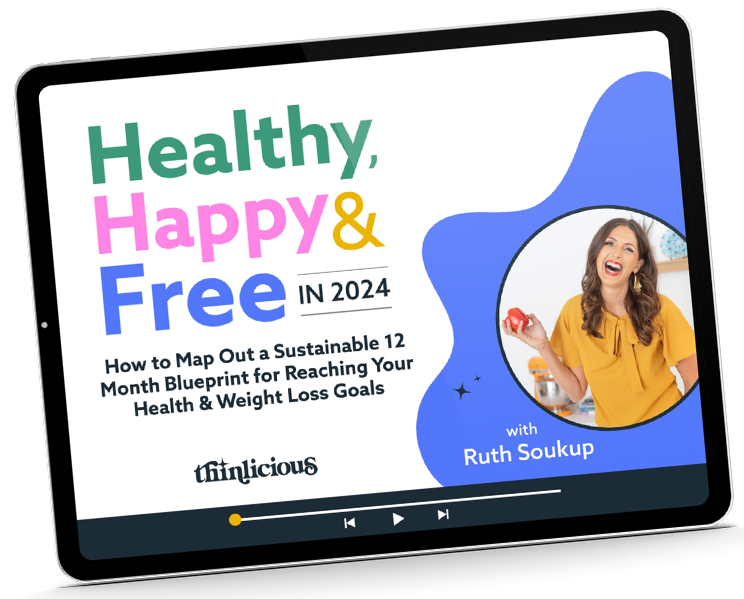 Our free on-demand video training will walk you through how to make 2024 THE year you set health goals…and keep them.
Save yourself the trouble and start using electric scales. You can easily switch between grams or ounces, depending on what you prefer. Using scales also cuts back on washing up. Zero the scales, add your first ingredient, zero the scales again, add your second ingredient, and so on.
Give it a go, because once you earn how easy it is to cook this way, there is no turning back. If you only have $20 to spend on one item, this is it.
2: Slow cooker
Slow-cookers are perfect for making meals while you're on-the-go. Set it and forget it!
I absolutely love my slow cooker. It makes life so easy. If I know we have a crazy day and won't be him until late after sports and other activities are finished, I always pop the slow cooker on. When we walk in the door, dinner is ready and waiting.
Why not try my slow cooker beef stroganoff, slow cooker Malaysian style beef curry or slow cooker self saucing meatballs?
3: Frying pan/skillet
What can be better and simpler than a well cooked steak with herbed butter?
Ensure you buy frying pans that has a heavy base so the heat is even and constant. You really will notice the difference.
My other love is my electric frying pan. When I want to cook a big breakfast for my family of five, I have to squeeze in bacon, eggs, greens and tomatoes. This is the easy way to cook a full breakfast in one go.
Eggs cook perfectly with the lid on, bacon doesn't dry up and they all stay warm if someone is still in the shower when breakfast is ready. No more messing about with two frying pans, keeping things warm in the oven.
4: Spiralisers (benchtop, handheld)
Vegetable noodles are very popular and are a great (and healthier) substitute for pasta. I have two different spiralisers, one for home and one for vacation.
The handheld spiralisers are easy to take on holiday with you, but are a little slower to use and you must keep little fingers away from the exposed sharp blades.
The bench top one is fast, quick and fun for the children to use. It is safe and washes really easily. It comes with 3 blades to create different sized zoodles or ribbons of "pasta".
5: Stick blender
I use my stick blender daily. I make homemade mayonnaise, smoothies, ground almonds (when I run out of store-bought), cheesecakes, brownies — I pretty much use it for everything.
I thoroughly recommend buying a stick blender with multiple attachment options. I use the blade for most of the items above, the mini processor to grind almonds and nuts, and the whisk for whipping cream.
6: Food processor
Food processor is another kitchen must-have for chopping and pureeing.
I use mine for grating/shredding carrots for my low-carb carrot cake (note: it is now Google's no.1), and cheese because buying pre-grated/shredded cheese is twice the price of a block.
I also use it to make my flourless orange cake. I throw the orange in quartered, but take a look at why I don't even bother to peel it or boil it – genius!
7: Measuring cups and spoons
These are important for the same reason the kitchen scale is important. You want to know exactly what your servings are and measuring cups and spoons help you to do this. Also, measuring correctly leads to better tasting recipes!
In all my recipes I prefer to cook by weight but I also have conversions for every recipe showing US cups (where applicable). Simply switch between Metric – US conversions using the big red buttons below every recipe.
I have a selection of Pyrex jugs for measuring stock, dissolving jello and gelatine for cheesecakes and for a quick and easy way to microwave scrambled eggs.
8: Mixing bowls various sizes
I choose to buy stackable mixing bowls to save space in my cupboards. If you can find them that have lids, they double up as storage in the fridge too.
I also have one big old-fashioned antique mixing bowl to make cakes. I'm not sure why, I just prefer to use it and feel like I am channeling my inner Julia Child.
9: Baking trays, cake tins
I have a few baking trays I swear by and a selection of cake tins I use for my low-carb cakes.
I use the loose bottom cake tin for chocolate heaven cake and my ring tin for a heavier cake such as my lemon coconut cake to ensure it cooks evenly.
10: Various kitchen utensils
You don't want to start cooking and then realise you don't have the right tools to continue.
The success of flipping pancakes without them splitting or ripping, is to have a decent flipping tool. One with old, rough, jagged edges will only ruin all your hard work and you will wonder why they split each and every time. Does this sound familiar?
And who else loves the scrape out of the cake batter? You can get every little morsel out with a silicon scraper and they are great for mixing cakes too.
11: Roasting pan
Roasting meats and vegetables is a great and surprisingly easy meal that I cook on a regular basis.
I generally have two roasting pans in the oven at any one time. One for the meat and vegetables, and another I use for cooking my grain-free granola.
12:Non stick baking sheets/silicone mat, parchment paper
These are absolutely essential for Fat Head pizza and to line cake tins.
Make sure you have these so you're not struggling with clean up when you're done baking or cooking.
13:Knives
Having a good, solid knife set in your kitchen makes all the difference.
You will notice it makes for safer, easier and faster cooking.
14: Mortar and pestle
As I am a pharmacist, it would be remiss of me not to include my mortar and pestle in my list of favourite gadgets.
I often use this to grind up granulated sweetener if I ever run out of powdered sweetener.
Powdered sweetener is necessary for sugar free chocolate shell (yes it really does work) and it is easier to dissolve into fat bombs or fudge. The powdered sweetener makes fora lovely texture and blends in easier. So if you have ever experienced lumpy fudge or fat bombs where the sweetener has settled to the bottom, try using a mortar and pestle on your sweetener before adding it to your recipe.
15: Waffle maker and coffee maker
These are not essential but make life so much nicer.
I almost threw my waffle maker away then developed my keto waffles based on an older wheat and sugar recipe I grew up with and now my waffle maker is firmly back in my kitchen cupboard.
My coffee maker needs no explanation, it just makes life so enjoyable drinking good coffee (and is amazing in my sugar free tiramisu).
16: Egg cooker
If you love eggs, having one of these will help you cook eggs without any of the fuss! Mine poaches or boils many eggs at a time.
I use mine many times each week. I pop the eggs on before I head into the shower, by the time I come out, I can hear the eggs are ready.
Having an egg cooker is a really handy tool to have when you need to cook some boiled eggs for the following day's school lunches. This has saved me from running to the grocery store numerous times.
We all know eggs are one of the best low-carb meals and low-carb snacks to stay on track.
17: Storage containers
If you start doing food prep, then you need to have storage containers. You will want enough to keep a few meals in the fridge, along with any leftovers.
It's also handy to have a selection of tiny containers to pop leftovers in so you can add them to school lunch boxes in the morning. Nothing goes to waste.
18: Kid's lunch boxes
If you want to be a real food family who has ditched junk food and processed food, you'll need a decent lunchbox.
Here is a month of my children's lunch boxes to help you get started, and this is my Family Cookbook.
You may also want to read Low Carb Kids: Top Myths and How to transition your child to real food.
19: Silicon cupcake cases
These are great for cooking and perfect for lunchboxes.
Not only are these superb for making low-carb cupcakes, they are a handy way to serve little cheese cubes or berries in a lunchbox, make fat bombs or set mini jello/jellies. Silicon cupcake cases in a variety of shapes are handy to have.
20: Ice-cream makers
Who doesn't love homemade ice cream?
For many ice creams, it is not essential to have ice cream, and many of my recipes are no-churn. But of you do have an ice cream maker, it makes for a lovely light and fluffy scoop.
An additional bonus is that children love helping. They adore watching the ice cream churn and adding little cacao nibs or sugar-free chocolate chips.
This list may seem daunting, but once you have these essentials in your kitchen, they will make your life so much easier. Whether it's food prepping, baking, or making a delicious low-carb meal, these kitchen gadgets will help make the process seamless and fun!
What is your favourite kitchen gadget that you couldn't live without? I am sure I must have missed a few things here.
So start today, by stocking up your pantry too with this discount code.
---
iHerb offer International Shipping, so for those of us who are outside the US, we can now buy goods that are not easily available in our local supermarkets or health food shops. I order Swerve confectioners mix from here in N.Z. Use my special discount link, and save 5% immediately.
Visit their daily and weekly discounts here. This is my top selection from their site.
Every time you shop, you earn 5% rewards to spend on your next shop too. So share with friends and start saving. DIT6459
Get our FREE guide to finally fix your metabolism!
Losing weight & getting healthy is never easy, but lately you might feel like it's suddenly become impossible.
Our Flip the Switch guide will help you clearly understand what's been going on, as well as exactly what you can do to get your metabolism working again so that you can look and feel your best—it's easier and more simple than you think!