When you first start a low-carb diet, you may feel confused about which low-carb flour to use. You may never have used any of them before and how to use them properly can be daunting.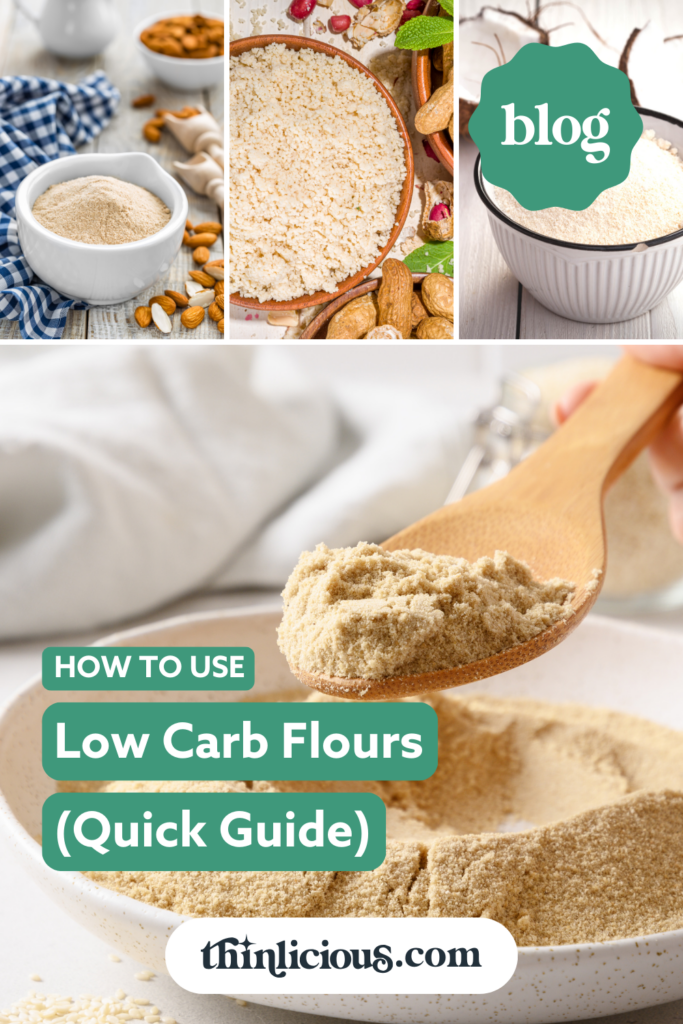 Low-carb flours don't behave like wheat flour, so you can't exactly swap them out 1:1 all of the time. One of the most common questions I get is how to use low-carb flour in regular high-carb recipes.
That's why I created this guide – to explain the different types and how to use each.
Are you ready to create the ultimate 12-month blueprint for reaching your health & weight loss goals this coming year?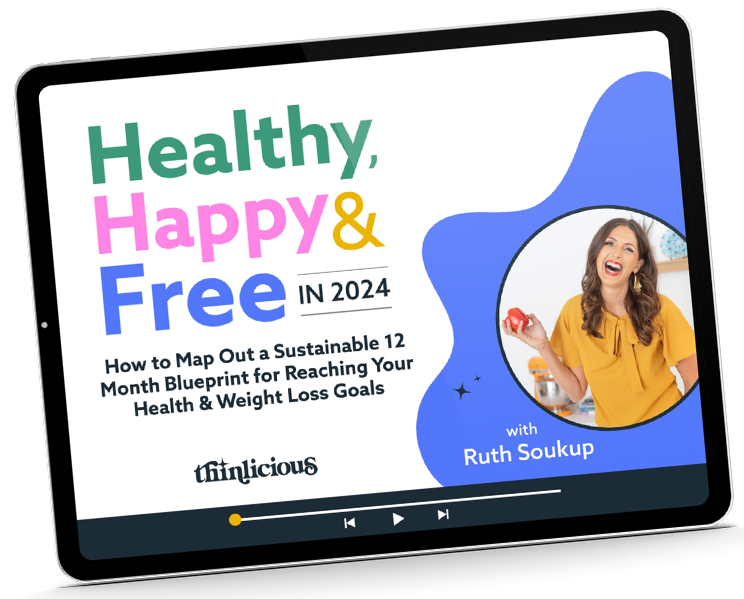 Our free on-demand video training will walk you through how to make 2024 THE year you set health goals…and keep them.
If you are new here, you may want to print a copy of the cooking conversion charts. You'll discover kitchen conversions for metric/imperial, tbsp to ml, temperatures, and even international ingredient names. So no more guessing what a recipe needs.
Baking 101 (tips & charts)

How to start using low-carb flours (read this first)
Knowing where to start with low-carb flour can be confusing. My advice is to begin by baking recipes that have already been developed using low-carb flours.
Most low-carb flours cannot be directly substituted in your wheat flour recipes. For example, coconut flour absorbs more liquid than any other low-carb flour so generally, it is used in small amounts (1/3 — 1/4 of wheat flour) and many more eggs are required.
Once you have been low-carb for a while and really understand how to use low-carb flours, you may wish to start experimenting with your old recipes using lower-carb flours instead.
I instinctively know which recipes can be converted to low-carb baking, and which ones cannot.
These best low-carb baking recipes for beginners: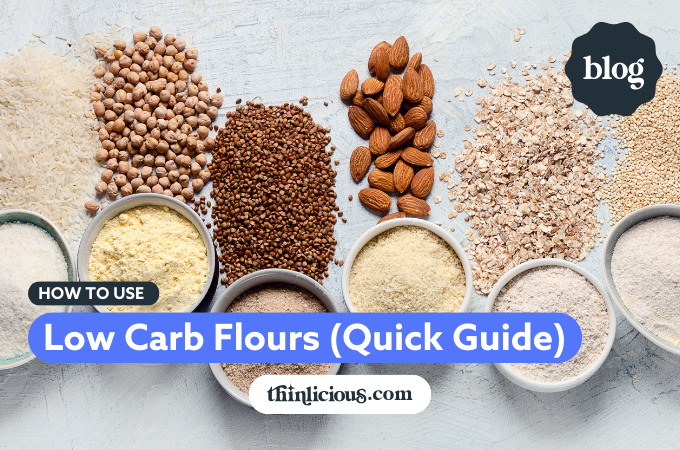 Should I avoid regular wheat flour?
Wheat is high in starch and rapidly turns into blood glucose once digested. Just one piece of bread — no matter if it is whole grain, white, brown, organic, or made by some artisan baker, will all raise your blood sugars.
If you are new here, you may wish to look at these 7 charts — how everyday foods affect our blood sugars. Just look at all these handy charts!
Is gluten-free flour keto?
No, gluten-free flour is not keto-friendly, and you should avoid using it.
Gluten-free flours are generally ultra-processed and use rapidly absorbed starches such as tapioca starch, potato starch, rice flour, or corn flours. We are grain-free so this makes us naturally gluten-free.
Even if gluten-free products such as gluten-free bread, gluten-free pasta, or gluten-free granolas claim to be full of vitamins, learn how to read the nutrient panel and you are more than likely to find it has been fortified.
Remember, gluten-free junk is still junk. You can read the full article comparing gluten-free vs grain-free!
Can I eat keto bars and low-carb bread?
You may ask yourself, why would you want to make homemade low-carb baking when you can just buy it instead? Because many low-carb products have been found to contain ingredients that are actually high-carb in disguise.
Despite these products being sold as low carb or keto, they often tend to be highly processed and may contain wheat, gluten, and corn. They often contain certain sugar alcohols that are not keto-friendly and will raise your blood sugar, despite being low-carb.
By making your own low-carb baked goods, you can control exactly what goes in (and what doesn't). You can control the sweeteners and the carb value so that you ensure you stay within the daily carb limit of your keto diet.
Low-carb and keto flours (nutrition chart)
Nutrition values are per 100g. But remember, nutrition values per 100g (or per cup) are not a true comparison as each low-carb flour is used in different quantities in recipes. For example, you would only use 1/4 cup of coconut flour to 1 cup of almond flour.
Each of the flours is discussed in further detail below, and how to use each one.

| Flour | Net carbs | Protein | Fat | Calories |
| --- | --- | --- | --- | --- |
| Almond flour | 25g | 25g | 35.7g | 536 |
| Almond meal | 10.7g | 21.4g | 50g | 571 |
| Coconut flour | 21.4g | 14.3g | 14.3g | 429 |
| Flax meal | 7.7g | 23.1g | 26.9g | 462 |
| Sunflower flour | 9.4g | 28.1g | 40.6g | 563 |
| Pumpkin flour | 2.7g | 59g | 15g | 399 |
| Psyllium husk | 11.1g | 0g | 0g | 333 |
| Peanut flour | 18.8g | 52.2g | 0.6g | 327 |
| Sesame flour | 35.5g | 50.1g | 1.8g | 333 |
| Oat fiber | 0.7g | 2.2g | 0.5g | 24g |
Nutritional values from cronometer.com
The top 10 best low-carb flours (and how to use them)
These are my favorite gluten-free low-carb flours. You can make delicious low-carb bread, cakes and low-carb desserts You don't need to be deprived of your favorite foods while eating low carb.
There are actually quite a few really healthy low-carb flours that you can choose from. Discover how they work, why to use them, how to use them, and the best low-carb baking tips.
1: Low-carb almond flour
Almond flour is the most popular low-carb flour on the list. Whole almonds are finely ground and blanched to remove the skin. Almond flour is rich in natural vitamins and minerals and provides the most calcium compared to any other nut.
A serving (1/4 cup or 28 grams) of almond flour has around 160 calories, 6 grams of carbs, and 3 grams of fiber. Making this only 6 total carbs or 3 net carbs per serving!
Nutritional values from cronometer.com
Almond flour is available in supermarkets and grocery stores or can be ordered online. It can be cheaper to buy online especially when you order in bulk.
The most popular brands of almond flour:
Honeyville Almond Flour
Bob's Red Mill Almond Flour
NOW Foods Almond Flour
Anthony's Almond Flour
Sincerely Nuts Almond Flour
Storage
Since almond flour can go bad fast when the weather is hot, I like to put my almond flour in the fridge or freezer after opening. Most almond flour comes in an airtight sealed bag, but you can also use an airtight container.
Related recipes: Almond and Orange Flourless Cake, Fat Head Pizza
2: Low-carb almond meal/ground almonds
Almond Meal is made slightly differently than almond flour. Instead of blanching the almonds to remove the skins, the skins on the almonds are retained. You will see little flecks of the dark brown almond skin (husks) and it's a little bit coarser than almond flour and still bakes the same.
For low-carb baked goods, I like to use a super fine ground almond flour but I will equally use almond meal as it seems to perform just as well in most recipes and at a reduced cost.
Almond meal may also be known as ground almonds. I often make my own almond flour by grinding whole almonds using my blender, coffee grinder, or food processor. The power of your blender will dictate how fine your almond meal will become.
Just be aware, if you are making your own almond flour or ground almonds from whole almonds, ensure you stop processing with your food processor blase as soon as almond flour is made, otherwise, if you over process, you'll end up with almond butter.
A serving (1/4 cup or 28 grams) of the almond meal has the same nutrition as almond flour of nearly 160 calories, 6 grams of carbs, and 3 grams of fiber. Only 6 total carbs or 3 net carbs per serving!
Nutritional values from cronometer.com
The most popular brands of almond meal:
Honeyville Almond Meal
Bob's Red Mill Almond Meal
NOW Foods Almond Meal
Anthony's Almond Meal
Sincerely Nuts Almond Meal
Storage
After opening, I do the same thing with almond flour and store the almond meal in the fridge or freezer.
Related recipes: Grain Free KFC, gluten-free low-carb healthy chicken nuggets
3: Low-Carb Coconut Flour
Coconut Flour has become quite popular these past few years and with good reason. Coconut flour is low in carbs, extremely high in fiber and protein. If you've been struggling to find ways to increase your fiber, then this is one low-carb flour that can help you out.
The biggest difference between coconut flour and most low-carb flours is that coconut flour requires more moisture when baking. It's fairly common to find coconut flour recipes that include 2-3 eggs per ¼ cup. If you're new to baking with coconut flour, then I recommend not foregoing the eggs, butter, or extra moisture you see in recipes.
Top Tip: Coconut flour absorbs a lot of liquid, and recipes thicken over a few minutes. If you are making a recipe such as low-carb keto waffles, allow the batter to stand and thicken while the waffle machine or frying pan is heating up. It will make for a sturdier waffle.
Coconut flour has nearly 45 calories per serving (a serving is 2 tbsp or 18 grams), 11 grams of total carbs, 8 grams of fiber, and 4 grams of protein. This makes this flour only 2 net carbs per serving!
Nutritional values from cronometer.com
The most popular brands of coconut flour:
Nutiva Coconut Flour
Bob's Red Mill Coconut Flour
NOW Foods Coconut Flour
Honeyville Coconut Flour
Viva Labs Coconut Flour
Storage
Since coconut flour can easily absorb moisture, it's important to keep coconut flour in an airtight sealed bag or container. I store mine in a cool, dark pantry. I don't normally store it in the fridge.
Related recipes: Flourless berry sponge, Lemon bars, Keto waffles, coconut flour bread, coconut flour chocolate chip cookies.
4: Low-Carb Ground Flax Meal
Flax meal is also known as flaxseed meal, ground flax, ground flaxseeds, or linseed. Flaxseeds are nutritious and are a good source of vitamin B1, Copper, and Omega 3. What's great about baking with flaxseed is that not only can it replace flour in recipes, but it can also replace eggs in recipes.
A common egg replacement for vegans or for those who have an egg allergy is using a slurry of flaxseed meal and water.
To replace 1 egg, mix 1 tablespoon of ground flaxseed meal with 3 tablespoons of water and allow it to swell. This can be used to replace the eggs but it will not give all the properties that eggs traditionally do. Eggs help bind the ingredients, eggs help the baking become light, fluffy, and rise. Eggs help emulsify the mixture.
This formula is used in many vegan recipes or for those who are allergic to eggs. If a recipe is heavily based on eggs, this substitution will not work.
Ground flax has nearly 70 calories per serving (2 tbsp or 14 grams), 5 grams of total carbs, 4 grams of fiber, and 3 grams of protein. This makes flax meal flour only 1 net carb per serving, and one of the best low-carb flours in terms of net carbs!
Nutritional values from cronometer.com
The most popular brands of ground flax meal:
Flax USA Ground Flaxseed Meal
Bob's Red Mill Flax Meal
Viva Labs Ground Flaxseed
NOW Foods Organic Flaxseed Meal
Spectrum Essential Organic Ground Flaxseed
Storage
Flax meal and seeds can become rancid very quickly, so it's always good to store the flax in the fridge before and after opening. Most bags do come in an airtight bag. If not, you can use an airtight mason jar for storage. You can even freeze portions.
Related recipes: Cinnamon crunch granola, grain-free granola bars
5+6: Low-Carb Sunflower Seed + Pumpkin Seed Meal
Sunflower seed meal and pumpkin seed meal are good options for those who are allergic to almond or coconut flour- really, any nut flour. Seed flour is high in vitamins and minerals such as vitamin E, copper, thiamine, selenium, and phosphorus. They generally can be used 1:1 in place of almond flour/meal.
The downside of these is that they can be a bit more expensive than most low-carb flours and hard to find. But, you can make your own sunflower or pumpkin seed meals using a sturdy food processor or coffee grinder.
You may also find if you are making a low-carb baking recipe using pumpkin seed flour, your waffle, cake or pancake will turn green from the color of the pumpkin seeds.
The most popular brand for sunflower seed meal:
Gerbs Allergen Friendly Foods — sunflower seed meal
Gerbs Allergen Friendly Foods — pumpkin seed meal
Storage
Sunflower seed meal can be stored in a cool dark pantry and seems to last up to 4 months outside of the fridge.
7: Psyllium Husk
Although psyllium husk is not flour, it is a great addition to any low-carb pantry. Psyllium husk is an incredibly high fiber flour and is commonly used as a colon cleanser and laxative.
In baking, however, it is used to replicate the stretchy chewy properties of gluten. It adds volume, fiber, texture and be used as a thickener to help the recipes bind together. This leaves a recipe with a great crumb-like texture.
Psyllium husk powder is psyllium husk hulls that have been ground to a very fine powder. They both have the same properties in low-carb baking, you just need to be aware of which one you have. The powder is finer and so more concentrated when packed into a teaspoon or tablespoon so you would require less.
1 tablespoon of psyllium husks is equivalent to 1 teaspoon of psyllium husk powder.
Psyllium husk to psyllium powder conversions:
1 tablespoon (8g) of psyllium husk = 1 teaspoon (5g) of psyllium husk powder: 1.4 g net carbs, 0.2 g protein, 0 g fat, 17 calories
The most popular brands for psyllium husk:
NOW Foods Psyllium Husk
Yerba Prime Whole Psyllium Husks
Why does psyllium husk turn purple? Psyllium seeds are actually purple but when they are ground or powdered, it is not so visible. This slight purple color left from the seeds can turn baking purple. It does not affect the taste or texture.
How to stop psyllium from turning purple? You can alter the acidity to lower the ph of the psyllium husk. Add 1 tsp lemon juice to 1 tsp psyllium and mix to a paste, or mix 0.5 tsp citric acid to 1 tbsp psyllium before baking to bleach out the purple color.
Some brands of psyllium are worse than others to turn your baking purple. Find a good brand and stick to it.
Storage
Most brands come in a bottle and can be stored in a cool pantry.
Related recipes: Low Carb Focaccia Bread, Wheat Free Crackers, cinnamon scrolls, keto garlic bread.
8: Peanut flour
Peanut flour is higher in carbs because it is made from ground defatted peanuts (which are legumes). Legumes are generally avoided on the keto diet because they are high in carbs. However, peanut flour has become popular recently as a lower-carb flour …. it is not the same as PB2. PB2 is a branded powdered peanut butter that has added sugar and salt.
9: Sesame flour
Sesame flour is made from finely ground or milled dehusked and defatted sesame seeds. It has a strong nutty flavor. You may already be used to enjoying sesame seeds as tahini (sesame seed paste).
10: Oat fiber
Oat fiber is made from an oat's hull, the outermost, indigestible seed-covering. It is NOT the same as oat flour which is high in starch. Oat fiber is comprised of primarily insoluble fiber. It is often added to processed foods to increase the fiber content (and to gain extra healthy food star ratings). It is often used in keto baking to give bulk without the carbs.
Conclusion: Low carb flours
Starting a low-carb diet doesn't have to be hard.
There are so many ways you can use low-carb flours to enjoy some of your old favorite recipes. It might take some time to get used to low-carb baking with low-carb flours, but soon enough you'll be your own low-carb baking expert.
Low-carb flours FAQ
Which flour has the lowest carbs?
The most commonly used flour which is the lowest in carbs is coconut flour.
Note: Psyllium has the lowest carbs, however, psyllium is generally not used to bake entire cakes or cookies, it's used in smaller quantities to add bulk, fiber, and elasticity.
Are low-carb flours keto?
Yes, low-carb can be keto if you restrict how much and how often you eat them. Eating low-carb and keto baking treats too often may knock you out of ketosis and stop any weight loss because they can be very high in calories and contain unrealistic amounts of nuts.

Meals and snacks should be based on whole food and nutrient-rich food. But it is nice to have some low-carb and keto homemade treats to stop your sugar cravings.
Is gluten-free flour keto-friendly?
No, gluten-free flour is not keto. It is often high in starches such as tapioca starch, potato starch, rice flour, or cornflour.
Can I replace all-purpose flour with almond flour?
No, almond flour does not have the same properties as all-purpose flour and does not have gluten. You cannot directly replace one with the other. Almond flour recipes require additional protein and binders.
Is ground almonds the same as almond flour?
They both are interchangeable. Ground almonds are coarser in texture and almond flour is finer. You may require a few additional tablespoons of ground almonds as they will not absorb as much liquid as fine almond flour does.
Which I the best keto bread crumb alternative?
You can use almond flour, coconut flour, or ground pork rinds as a replacement for bread crumbs. Season and flavor with herbs and spices for a delicious tasty bread crumb substitute.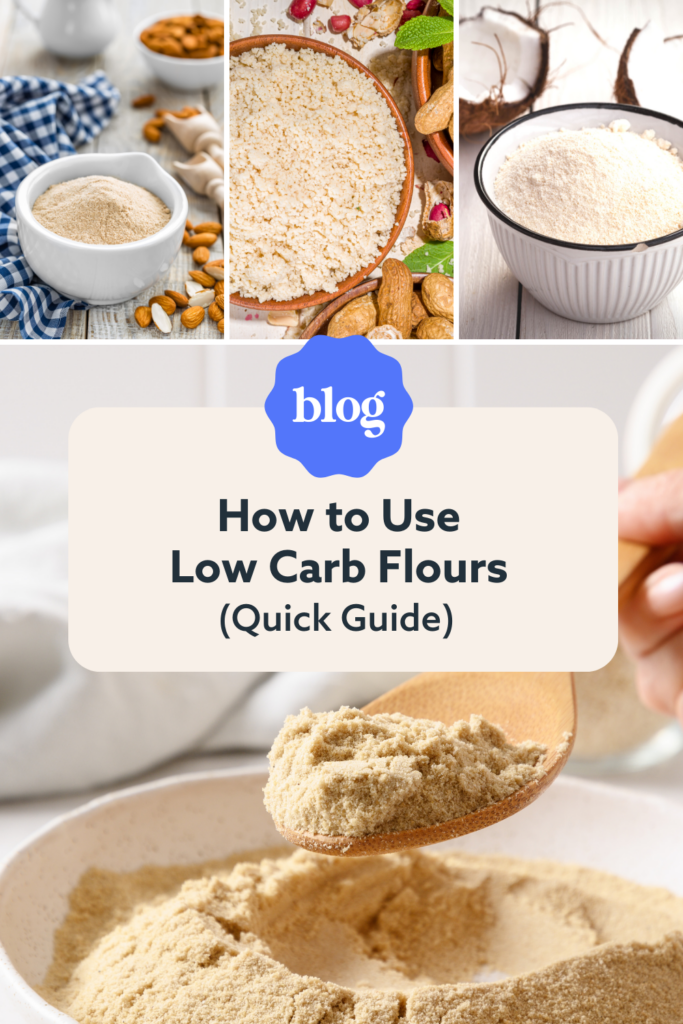 More baking tips
Successful baking needs the right ingredients and accurate measurements. Learn how to measure butter and which is the best type of low-carb flour or low-carb sweetener to sue too.
How to measure butter (quick butter conversion charts)
Egg size conversion charts (and the best egg substitutes)
Ultimate Low-Carb Sweeteners GuideThe best low-carb sweeteners to use
Take a look at the entire series of Ultimate Guides
Get our FREE guide to finally fix your metabolism!
Losing weight & getting healthy is never easy, but lately you might feel like it's suddenly become impossible.
Our Flip the Switch guide will help you clearly understand what's been going on, as well as exactly what you can do to get your metabolism working again so that you can look and feel your best—it's easier and more simple than you think!