Ready to have dinner done in a snap? Try these insanely delicious 29 Keto Instant Pot recipes! Each one of these can be cooked in the pressure cooker with ease, while also keeping you on track with your low-carb diet.
Have an Instant Pot but don't know how to use it? Don't be intimidated – I'll show you how! You can make mouthwatering and healthy low-carb and keto recipes in less than 30 minutes.
Read on to see the best sweet AND savoury keto Instant Pot recipes. Try just one or two of these and you'll be amazed at how quickly you can get dinner on the table.
What Is An Instant Pot?
An Instant Pot is a device that cooks food in a fraction of the time. It can cook meat and vegetables in a matter of minutes or even seconds with steam.
The Instant Pot was invented by Canadian product designer Michael Wang, who had the idea back in 1987. Wang used his skills as an electrical engineer to develop this device.
The Instant Pot was initially marketed only to Canadians, but it gradually became popular outside the country as well. You can buy one for as low as $60 on Amazon, making it perfect for anyone who wants to save time and money!
How Does An Instant Pot Cook So Fast?
The Instant Pot combines the cooking power of a pressure cooker, slow cooker, rice cooker, and yogurt maker in one kitchen appliance. The timesaving kitchen gadget eliminates the need for you to purchase these appliances separately.
An Instant Pot cooks food significantly faster than other cooking methods. It uses up to 70% less energy than a conventional oven and helps you save time and money.
What Does 5:20 Mean?
Have you ever wondered why do all official images from Instant Pot have 5:20 on the clock?
When you say "5-2-0"out loud in Mandarin, Wang's native language, it sounds like the phrase "I love you.â€
"It's a subliminal message,"Wang says. "It shows how much we care about our customers.â€
Why Every One on the Keto Diet Needs an Instant Pot
You might have noticed that a lot of people are raving about the Instant Pot. Well, it's because you're really going to love it once you try it!
You can have an amazing low-carb and keto dinner on the table fast – often in less than 20-30 minutes. If you love your slow-cooker, you will become obsessed with your Instant Pot. You'll get all that awesome flavour but in a fraction of the time!
The only problem is, there aren't a lot of low-carb and keto Instant Pot recipes out there. Have you noticed that most Instant Pot recipes are for carb-loaded pasta, rice, risottos, and casseroles?!
To make it easier for you, I compiled this list of Instant Pot keto recipes from both my own site as well as my fellow low-carb websites. You'll find everything from bone broth to chicken thighs and so much more! Trust me, these one pot meals are soon to be on your weekly rotation.
By the way, there are a lot of different Instant Pots on the market. Unsure which to get? Check out my guide to picking the perfect Instant Pot.
Why I Love My Instant Pot
I love my slow-cooker and fought the urge to buy yet-another-kitchen-gadget. But there are three reasons why I finally caved in and bought an Instant Pot.
It is 7 appliances in one. A slow cooker, pressure cooker, steamer, yoghurt maker and frying pan, just to name a few.
It will cook dinner in 30 minutes rather than slow-cooking all day (a lifesaver for the days I forget to pop the slow cooker on in the morning rush).
You save money. It will turn any cheap cut of meat into a luxurious, tender, flavoursome meal.
It's worth noting that there are a lot of different accessories out there for the Instant Pot too! Before you start adding them to your cart, however, I strongly suggest you read this guide to the 10 best Instant Pot accessories that are keto-friendly.
Can I Cook Frozen Meat in the Instant Pot?
If you are a meal prepper with a full freezer, you'll be thrilled to know that chicken recipes can be cooked from frozen.
Beef can also be cooked from frozen with ease – and will turn out absolutely delicious.
Now, let's dive into the Instant Pot keto recipes!
Savory Instant Pot Keto Recipes
This is one of my favourite ways to use the Instant Pot! It's hard to think of a more keto friendly food than the egg – it's full of healthy fats and protein with no carbs.
Whether you prefer your eggs hard boiled, soft boiled, or somewhere in between, make a dozen perfect eggs in the Instant Pot.
This taco soup with shredded chicken is absolutely bursting with spicy Mexican flavours and can be ready in less than 30 minutes. Who else is making this for dinner tonight?
These meatballs are made with beef and bacon (yum!) and make the perfect weeknight meal or party appetizer.
This creamy keto chicken in cooked in cream cheese. Who doesn't love the look of this? The side serving of bacon adds that va va va voom!
With just one net carb per serving, this salmon is the perfect Instant Pot keto recipe to make.
There are so many ways to cook salmon, poached, fried, slow-cooker and even the air fryer. But cooking it in the Instant Pot retains all the delicious flavours (and smells).
You'll love the Greek flavours in these Instant Pot Low-Carb Cauliflower Rice Greek Chicken Bowls!
They are perfect for a summer BBQ and family gatherings.
The Instant Pot is the fastest and easiest way to make tender shredded chicken! This includes a chart for times based on weight. I recommend doubling this recipe and freezing some of the cooked shredded chicken for when you need an easy salad topping or snack.
This vegan-friendly recipe uses coconut milk cream to up the fat content and add some fantastic flavour.
With only a few minutes of prep time, you can have this on the table in around 30 minutes! While the soup is delicious on its own, the star of the show is definitely the toppings!
Here's another dish where you can have some fun with toppings! I like to top my burrito bowls with salsa, avocado, cheese, and sour cream – yum!
Yup, you heard right! Lobster??? Butter??? Instant pot??? It's pretty much a match made in heaven.
If you are looking for comfort food filled with chunks of perfectly cooked meat, look no further! This curry will keep you full while also keeping you on track with your eating plan.
Who knew you could make quiche in the Instant Pot? Genius!
This keto pot roast recipe is one of my favourites, hands down. It is easy to make and good for you with plenty of delicious low-carb vegetables.
You'll love the spicy flavours in this bowl of awesomeness. This will be a real crowd-pleaser. Don't forget to top with cheese and a dollop of cream!
This recipe is completely fool-proof. In just minutes, you'll easily have a protein-fueled keto breakfast for the whole family.
A super simple chicken soup that cooks up easily with minimal prep time any time you want comfort food. This recipe calls for the chicken to be cooked on the bone so you get the added benefit of bone broth too!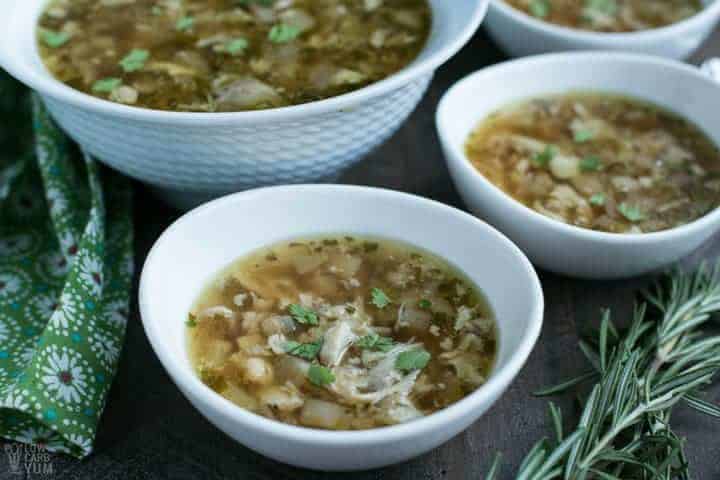 Traditional stovetop methods for bone broth can take upwards of 24+ hours to make! This Instant Pot version only takes a couple of hours and results in velvety smooth broth.
Bone broth is incredibly nutritious and wonderful to help get you through some cravings when you first start keto.
Are you a chili fan? If so, this recipe will absolutely blow you away! Even better? it cooks in 30 minutes!
You can adjust the level of spiciness in your chili. And you can serve with sour cream, guacamole, cheese and jalapenos (if you like it hot).
Got a few minutes to spare? If so, you can toss together this flavourful taco soup!
This meatloaf can be thrown together quickly, and the mushroom gravy is made in the Instant Pot too, which means a much easier clean-up.
Best Sweet Low-Carb Keto Instant Pot Recipes
So, we've seen how the Instant Pot is a rockstar when it comes to making keto savory dishes…but did you know it can whip up the best desserts too?
Mugs of low carb, grain free, gluten free, super fudgy brownies are an insanely decadent treat.
This cheesecake will be an instant hit with the entire family! It's light, creamy, and guilt-free…the best combination!
If you are a huge fan of anything Tiramisu and you are always up for a challenge – try this recipe. This poke cake will be a hit at your home, especially if you are hosting a party or have a family gathering.
This mousse is filled to the brim with rich chocolate flavour…minus the guilt! Make this one for your next date night.
Use the pressure cooker to bake a rich and delicious keto chocolate cake without having to turn on the oven.
Whether you want to eat them for breakfast, snack, or dessert, these muffins have all the chocolate taste with only 4 grams of net carbs!
The dairy free muffin recipe is also sugar-free, gluten-free and low-carb.
This deliciously fudgy mint chocolate cake is made in the Instant Pot! Low-carb, sugar-free, keto, and gluten-free recipe.
You'll love the cake at first bite, but when your spoon sinks way down you'll be pleasantly surprised by the hidden gooey chocolate at the bottom. Yes, it's as good as it sounds!
Yes, you CAN have muffins on keto! This version, in particular, only has 4 grams of net carbs so you can enjoy them guilt-free.
29 Best Low-Carb Keto Instant Pot Recipes
There you have it! The best low-carb ketogenic Instant Pot Recipes from around the web!
Have you tried any of them? Let me know your favourite low-carb and keto Instant Pot recipe in the comments section below! Or give me an old family favourite meal you would like me to develop into a low-carb keto Instant Pot recipe.
Get our FREE guide to finally fix your metabolism!
Losing weight & getting healthy is never easy, but lately you might feel like it's suddenly become impossible.
Our Flip the Switch guide will help you clearly understand what's been going on, as well as exactly what you can do to get your metabolism working again so that you can look and feel your best—it's easier and more simple than you think!