Long gone are the days when lunches consist only of a soggy sandwich—instead, give these bread-free lunch ideas a try!
There are so many ways to make a nourishing, delicious meal without any of the carbs that leave you sluggish and bloated. Here are some of my favorite non-sandwich recipes that are quick and easy to put together.
Free lunchbox planner
If you have found yourself staring blankly into the pantry trying to figure out to make for lunch that will keep you energized, this post is what you've been looking for.
Each of these recipes is kid-approved and full of flavor. From kebabs to chicken nuggets, lunchtime may become the new favorite meal of the day!
Ready to lose weight and get healthy for life without dieting, drugs or making yourself miserable?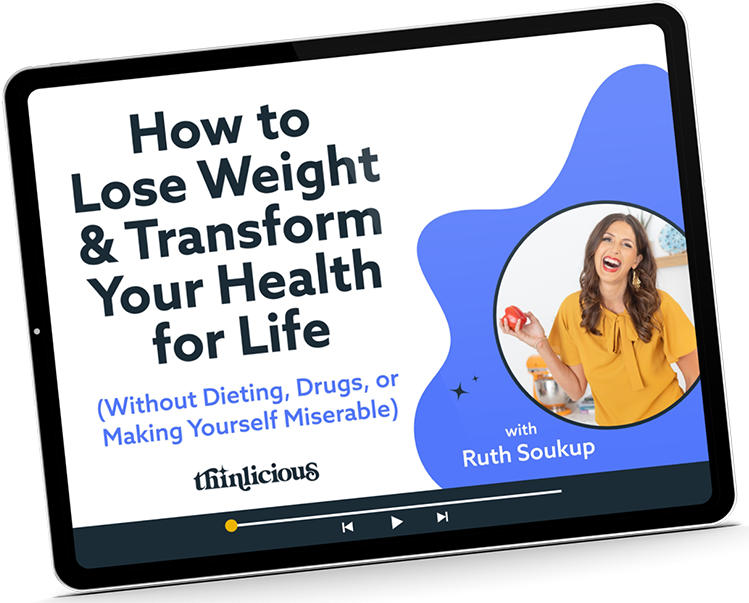 Our free on demand video training will help you understand why it's been so hard and what do to about it.
Get your FREE 1-month lunch box planner
Bread-free lunches
Lunch is one of those meals that can be just tough to plan out. You don't really want to do any cooking. You aren't all that hungry, but you want something that is filling and helps you avoid snacking.
When you are eating low-carb, it's really easy to get stuck in the salad rut. If the thought of another chopped salad with lettuce, veggies, and dressing, sounds monotonous, then this list is for you!
All of these ideas are quick, easy, and they don't have bread. Even better, none of them is a salad either. They are all hearty but take just minutes to prepare.
When you are ready to start a low-carb lifestyle, plan for protein-packed lunches. They will keep you feeling full and fuel your body all day long.
Read more: 1-month low-carb lunch box ideas & handbook
Non-sandwich lunch ideas
One type of lunch that almost all of us remember from kids is the sandwich. It's quick, easy, and portable – what's not to love?
Oh yeah, the carbs.
Thankfully, I have some non-sandwich lunch ideas that taste like takeout and are effortless. Some of them don't need any refrigeration, and some are hot and hearty.
Yes, I even included low-carb mug cake and nut-free cookies on the list. When you prepare them with keto ingredients they become a high-protein meal that satisfies you.
Who said you can't have your cake and eat it too, right?
Quick healthy lunch boxes
These healthy bread-free lunch ideas are going to become some of your favorite meals! They pack easily in your lunch box and provide enough variety to keep you enjoying lunch.
1. Lunchbox Kebabs and Dips
These 5 healthy lunchbox kebabs and dips make lunchtime fun! They are made with all whole ingredients – fresh fruits and veggies and meats. The combination of flavors is outstanding!
5 Easy Healthy Lunchbox Kebabs and Dips
Give your lunchbox an upgrade with these easy and fun kebabs and dips.
Check out this recipe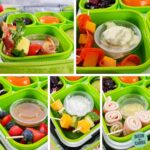 2. Grain-Free Granola Bars – 2.4G Net Carbs
These grain-free granola bars can be made easily in your food processor and oven. Make them ahead of time and you can pack them in your lunchbox – grab and go!
3. Low-Carb Cauliflower Sushi – 5G Net Carbs
This low-carb cauliflower sushi is absolutely delightful! Roll up some chopped cauliflower with cream cheese and fish. It tastes like takeout!
4. Low-Carb Mug Cake – 4.5G Net Carbs
A mug cake is a really sweet way to enjoy lunch. Plus, you make them in the microwave, so your lunch is minutes away. This post has the complete recipes for 4 different mug cakes.
5. Mini Pizza Chaffles – 1G Net Carbs
It's amazing how some egg and mozzarella cheese in a waffle maker can make these mini pizza chaffles! They are almost carb-free! Enjoy the taste of pizza for lunch.
Easy Low-Carb Mini Pizza Chaffles Recipe
Low-carb mini pizza chaffles are the perfect weekend lunch your whole family will love. Make them personalized by adding your own toppings.
Check out this recipe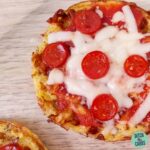 6. Nut-Free "Peanut Butter" Cookies – 2G Net Carbs
The secret to these nut-free peanut butter cookies is the tahini. It gives the cookies a wonderful texture and full flavor, you don't even miss the nuts.
7. Coconut Flour Chocolate Chip Cookies – 2G Net Carbs
Pack some cookies in your lunch! These coconut flour chocolate chip cookies are delightfully soft and have that same sweet flavor. The difference is these have plenty of protein and almost no carbs!
8. Hard-Boiled Eggs In the Instant Pot
Hard-boiled eggs are the perfect addition to a low-carb lunch. Check out how to hard boil eggs using an Instant Pot. Your perfect eggs are just a few minutes away.
9. Fat Head Sausage Rolls – 3.6G Net Carbs
Use the popular Fathead dough to create your own portable Fathead Sausage Rolls. If you are craving something salty, these will hit the spot!
10. Meatloaf Cupcakes – 0.6G Net Carbs
At less than one gram net carbs per cupcake, these little wonders are the perfect lunch idea. These meatloaf cupcakes have only 4 easy ingredients.
Keto Meatloaf Cupcakes Recipe
Versatile and easy meatloaf cupcakes are great for dinner, lunch or the school lunch box. Make extra as they freeze really well in an airtight container. They can even be used when you need a protein hit.
Check out this recipe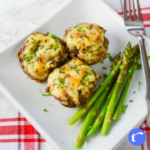 11. Keto Chicken – 4 Ways
Another really easy lunch idea is to munch on a chicken leg. These 4 ideas are the best ways to season and prepare chicken legs that are low-carb and sugar-free.
12. Chicken Nuggets – 2.5G Net Carbs
These low-carb chicken nuggets taste just like the ones you remember from when you were a kid. There's no fillers or anything artificial in them- just pure goodness.
Keto Bacon-Wrapped Chicken Nuggets Recipe
This healthy bacon-wrapped chicken nugget recipe only needs 2 ingredients and can be cooked in the oven frying pan, or air fryer. PLUS there's a simple 2 ingredient creamy sauce too. They're kid-friendly and keto-friendly.
Check out this recipe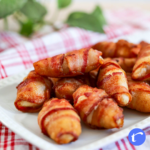 13. Salmon Cream Cheese Bites – 0.1G Net Carbs
Yes, you read that right! These salmon cream cheese bites have virtually no carbs in them! They are full of healthy fats from the salmon and cream cheese.
14. Pepperoni Bites – 1.9G Net Carbs
These pepperoni bites are the perfect thing to eat for lunch. They are small enough that you can use portion control easily – and they taste wonderful with fresh veggies.
15. Low-Carb Meal Prep For A Family
The best way to make sure that you make low-carb choices for lunch is to prep ahead of time. This low-carb meal prep guide shows you just how to do it in less than 2 hours!
More Low-Carb Lunchbox Recipes …
5 Bonus Low-Carb And Keto Bread Recipes
This transition away from bread can be tough. As you transition away from bread one of the easiest ways to break that habit is to bake keto-friendly bread.
All of these low-carb and keto bread recipes let you eat those foods you might miss on a low-carb diet – sandwiches and grilled cheese. These bread recipes fit perfectly in your healthy packed lunch ideas.
1. Low-Carb Almond Flour Bread – 1.9G Net Carbs
This almond flour bread tastes amazing with butter on it or as a keto grilled cheese.
2. Keto Bagels – 2.4G Net Carbs
Smother these keto bagels with butter or eat them just as they are. With less than 3 grams net carbs per bagel, you can eat the entire thing for lunch.
3. Coconut Flour Mini Cheese Loaves – 1.3G Net Carbs
These coconut flour mini loaves are bite-sized pieces of Heaven! They are packed with fiber and healthy fats that will keep you full all day long.
Coconut Flour Mini Cheese Loaves Recipe
The perfect little cheesy mini loaf for lunch boxes. Serve warm with butter.
Check out this recipe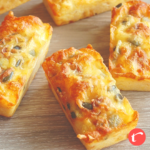 4. 1-Minute Keto Muffins – 2G Net Carbs
Not only do these keto muffins taste great, but they only take a minute to make. Plus, there are only 4 easy ingredients.
5. Low-Carb 3-Seed Bread – 1.9G Net Carbs
This 3-seed bread has such low net carbs because it has so much fiber in it. It's made with Chia, sunflower, and pumpkin seeds.
[convertkit form=2151265]
As you transition to eating a bread-free lunch, it's ok to use some of these keto-friendly bread ideas too!
Get our FREE guide to finally fix your metabolism!
Losing weight & getting healthy is never easy, but lately you might feel like it's suddenly become impossible.
Our Flip the Switch guide will help you clearly understand what's been going on, as well as exactly what you can do to get your metabolism working again so that you can look and feel your best—it's easier and more simple than you think!