Homemade keto bounty chocolate bars are super easy to make. The no-bake vegan recipe is sugar-free, egg-free, dairy-free, and low carb too, of course!
Store the easy sugar-free chocolate coconut bars in the fridge or freezer for a quick sweet snack, but without the typical sugar crash.
If you're a candy bar fan, you'll rate this one 5 stars!
This recipe was inspired by my other keto bars that even picky eaters will love.
Ready to lose weight and get healthy for life without dieting, drugs or making yourself miserable?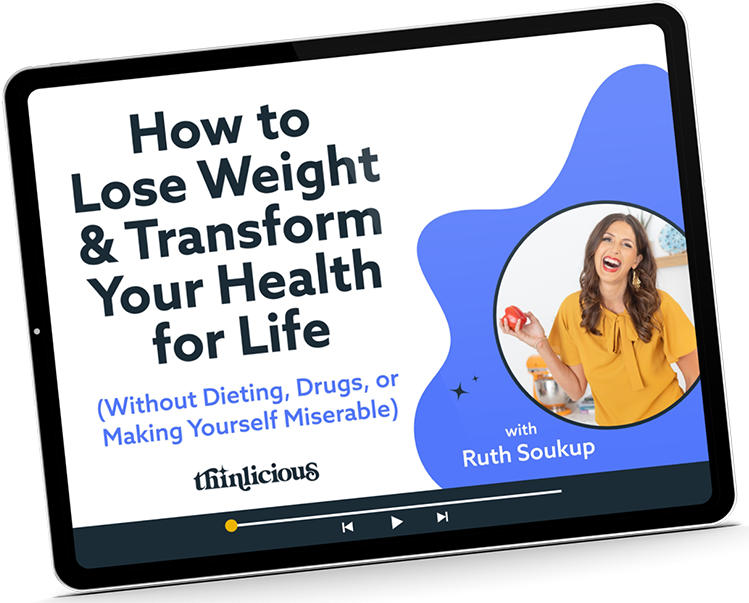 Our free on demand video training will help you understand why it's been so hard and what do to about it.
If you're looking for healthy lunchbox ideas, chocolate Paleo seed bars, grain-free granola bars, or keto protein bars are sturdy enough to reach school in one piece and they won't give your children the mid-morning sugar slump.
What are Bounty bars?
Original Bounty bars are milk chocolate-covered coconut bars. They all have a coconut-filled center and are covered with a sweet milk chocolate coating.
But once you discover how much added sugar is in one of these Bounty bars, you won't be having them again. The original recipe is a sugar disaster.
1 Bounty bar (57g) = 34g net carbs (27.4g sugar), 2.1g protein, 14.6g fat
1 keto Bounty bar (recipe below) = 2.4g net carbs (1.8g sugar), 2.5g protein, 34.2g fat
Nutritional values from cronometer.com
I decided to reinvent these famous coconut bars into a healthy recipe instead. Just 1 store-bought bar has a whopping 27.4 g sugar, that's almost 7 teaspoons of sugar!
When you realize how everyday foods raise your blood sugars, you will begin to avoid all sugar wherever you can when you are on a low-carb diet or keto diet.
Is coconut keto?
Coconut is keto as long as you don't buy the coconut with added sugars. Thankfully, coconut is a wonderfully versatile ingredient and can be used in a variety of healthy recipes.
Nutrition of unsweetened shredded coconut per 100g: 7.3 g net carbs, 6.9 g protein, 64.5 g fat, 660 calories.
Ingredients
All the quantities and instructions are in the recipe card below.
Using a few simple ingredients has turned this junk food chocolate bar into a healthy recipe. Now you can feel reassured this keto and vegan Bounty bar will be as close to the real thing and will satisfy even the sweetest tooth.
Keto Bounty bar
Sugar-free chocolate coating
To replace the milk chocolate, you can make your own sugar-free and dairy-free chocolate coating.
Coconut oil – melt the coconut oil before adding it to the dry ingredients
Cocoa powder – always buy unsweetened cocoa powder (unsweetened chocolate), with no added sugars.
Powdered sweetener – this gives the smooth rich and velvety smooth texture of real chocolate.
See the recipe card for quantities.
Instructions
This is a very quick recipe, so measure and get all your ingredients ready.
1: Make the coconut filling
Combine all the ingredients for the coconut filling into one large glass bowl. Mix well with a rubber spatula or wooden spoon.
2: Make the bars and freeze
Once the coconut mixture is mixed well and there is no visible coconut oil, press the mix into a pre-prepared rectangular dish that has been lined with baking parchment. Alternatively, you can press the coconut mixture into small mounds or roll it into balls.
Place this in the freezer for a minimum of one hour.
Once the bars have been set and are solid, cut into squares or bars.
3: Sugar-free dark chocolate coating
This is the messy part of the recipe. You don't need a double boiler, you just mix all the ingredients for the sugar-free chocolate together.
Now one by one, hold each coconut bar with a fork and dip each one into the dark melted chocolate.
If you want really thick chocolate covering, then you may want to dip each bar 2 or 3 times.
Because the bars are frozen, the chocolate should set almost instantly each time you dip the bars.
When you have enough dark chocolate mixture on each bar, place them on a baking tray or sheet pan that has been lined with baking parchment.
Then, place the tray back into the freezer. Remove, then drizzle with more chocolate for the last time.
Hint: You can make them as bars, balls, or even little squares. It's up to you. By making them into tiny squares, portion control is a breeze. These are rich bars, so a little goes a long way.
Variations
If you love the idea of making your own homemade candy bars at home, why not make some variations on this simple recipe?
Deluxe – sprinkle some chopped pistachios or chopped macadamia nuts onto the drizzled chocolate.
Berry coconut bars – add some raspberry essence to the coconut filling. You'll make yummy sweet berry Bounty bars.
Peanut butter bars – add 2 tbsp peanut butter to the coconut filling and sprinkle salted chopped peanuts onto the melted drizzled chocolate.
Equipment
This is such a quick and easy recipe. You likely already have all the equipment you need in your kitchen.
You only need a few large mixing bowls, a rubber spatula, a rectangular dish for setting, and some baking parchment paper.
Storage
Once you have made the keto chocolate coconut bars, they can be stored in the fridge for up to 5 days. They probably last longer but they never last more than 24 hours in our house.
For longer storage, you can also store them in the freezer for up to 3 months in an airtight container. They can be eaten defrosted, chilled, or frozen.
It's best to eat these chilled because as you bring each one to room temperature the chocolate will begin to melt.
Top tip
If your chocolate coating begins to solidify as you dip each of the frozen bars, simply microwave for a few seconds to melt it again.
Recipe FAQ
Where are bounty candy bars made?
If you haven't heard of a Bounty chocolate bar before, these delicious bars are made in the UK. You can often find them in Australia, New Zealand, and Canada too!
Can you get Bounty Bars in the United States?
Unless you purchase them at a specialty global grocery store (like World Market), no Bounty Bars are not available in the USA. However, you may be familiar with the US version of this chocolate, Mounds bar, or Almond Joy bars.
Is this bounty chocolate recipe vegan?
Yes! While the store-bought variety is NOT vegan, this version is! These coconut bars are dairy-free and vegan.
What is the Bounty bar slogan?
Thanks to the yummy tastes of moist coconut and chocolate, this bar's official slogan are "the taste of paradise". Fitting, isn't it?
More keto candy recipes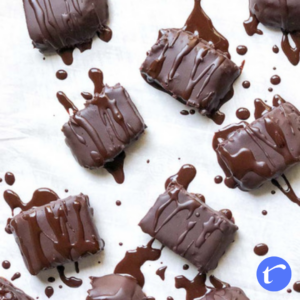 Keto Bounty Bars Recipe (sugar-free coconut bars)
Chocolate-coated keto bounty bars are only 2.4g NET carbs. These sugar-free coconut bars are super easy to make. The no-bake recipe is sugar-free dairy-free and keto-friendly too.
Print
Pin
Rate
Want to lose weight and get healthy for life—without dieting, drugs, or making yourself miserable?
We can help! Tell me how!
Equipment
Measuring cups and spoons

Mixing Bowls

Parchment Paper
Ingredients
Sugar Free Bounty Bars (coconut bars)
200

g

desiccated/shredded coconut

unsweetened

2

tsp

vanilla extract

4

tbsp

granulated sweetener of choice

or more, to your taste

4

tbsp

coconut cream

6

tbsp

coconut oil

melted
Sugar free chocolate coating
100

g

coconut oil

melted

6

tbsp

powdered sweetener

45

g

cocoa powder (unsweetened)

unsweetened

2

tsp

vanilla extract
Instructions
Sugar-Free Bounty Bars (coconut bars)
Mix all the ingredients together until well combined.

Spoon into a square dish lined with baking parchment/paper.

Place in the freezer until firm enough to cut.

Remove from the freezer and cut into bars, squares, or roll handfuls into balls. Place each one on a baking tray lined with baking parchment/paper.

Place back the baking tray with the coconut bars back into the freezer to completely freeze and set.
Sugar-free chocolate coating
Place all the ingredients together and mix well.

Slowly dip each frozen bar, square, or ball into the sugar-free chocolate coating and place it on the lined baking tray. Dip each bar, square, or ball, a second time to get a thick coverage with the sugar-free chocolate coating.

Store in the freezer for up to 1 month and in the fridge for up to 1 week.
Notes
Place the coconut cream in the fridge and allow the full-fat cream to rise to the top. Use this full-fat cream in the recipe for a tastier rich coconut bar.
If your chocolate coating begins to solidify as you dip each of the frozen bars, simply microwave for a few seconds to melt it again.
Nutrition
Serving:
1
bar (makes 10)
Calories:
326.7
kcal
Carbohydrates:
7.3
g
Protein:
2.5
g
Fat:
34.2
g
Sodium:
8.7
mg
Potassium:
199.4
mg
Fiber:
4.9
g
Sugar:
1.8
g
Vitamin C:
0.5
mg
Calcium:
11.8
mg
Iron:
1.4
mg
Get our FREE guide to finally fix your metabolism!
Losing weight & getting healthy is never easy, but lately you might feel like it's suddenly become impossible.
Our Flip the Switch guide will help you clearly understand what's been going on, as well as exactly what you can do to get your metabolism working again so that you can look and feel your best—it's easier and more simple than you think!