Cheesy keto chicken meatballs are a quick and simple recipe for a protein-packed lunch, dinner, or snack that your whole family will love.
Keep reading to learn how to make this hearty, high-protein meal in under 30 minutes. This is a great recipe and one of my family's favorite foods.
Keto meatballs are an excellent protein-rich meal your whole family will love. This recipe is very simple and uses minimal ingredients, but packs a lot of delicious flavors.
Even better? All the ingredients can be mixed together in a food processor. This means prepping your meatballs only takes a few minutes before they are ready to bake.
Are you ready to create the ultimate 12-month blueprint for reaching your health & weight loss goals this coming year?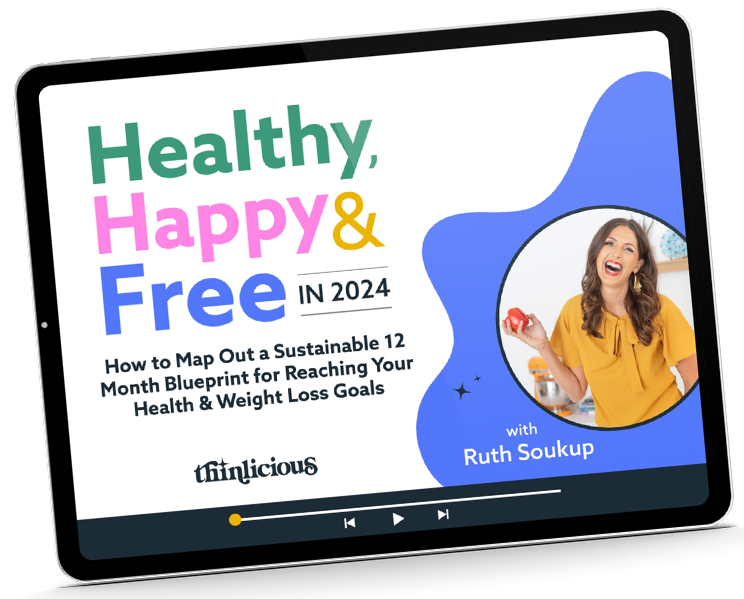 Our free on-demand video training will walk you through how to make 2024 THE year you set health goals…and keep them.
This recipe will make enough meatballs for six servings. The number of actual meatballs you'll make will depend on how large you make the meatballs, but overall, you'll have enough to feed the whole family.
Is chicken keto?
Chicken is a versatile and filling source of complete protein.
The base of this recipe is ground chicken, which is very keto-friendly with zero carbs! Depending on what type of ground chicken you get, your mixture may have more dark meat than light, or you can purchase low-fat ground chicken.
Personally, I like chicken drumsticks or ground chicken that has a bit of dark meat in it as I find it's more flavourful and the fat satiates me longer.
It's also important to look for plain ground chicken rather than a pre-seasoned variety. Often these mixes have sugar or other additives that you don't need.
| | | | | |
| --- | --- | --- | --- | --- |
| Per 100g (3.5oz) | Net Carbs | Protein | Fat | Calories |
| Chicken breast, skinless | 0 | 30.9g | 4.5g | 173 |
| Chicken drumstick, skin eaten | 0 | 27.3g | 10g | 206 |
| Chicken drumstick, skinless | 0 | 24.2g | 5.7g | 155 |
| Chicken skin | 0 | 20.4g | 40.7g | 454 |
| Chicken thigh, skin eaten | 0 | 28.2g | 13.2g | 239 |
| Chicken thigh, skinless | 0 | 27.7g | 6g | 173 |
| Chicken wing, skin eaten | 0 | 23.8g | 16.9g | 354 |
Chicken nutrition per 100g/3.5oz serving
Nutritional values from cronometer.com
Ingredients
To make these meatballs you really only need six ingredients, all of which are gluten-free and fit into a low carb diet:
I will usually add some salt and black pepper to taste, but overall you do not need a lot of seasoning for great flavor.
If you want to experiment with spice, Italian seasoning can work well here. You can also try fresh herbs such as fresh oregano or chopped parsley (or even dried parsley in a pinch).
To make chicken parmesan meatballs, add 2 tablespoons of parmesan cheese to the chicken meatballs recipe.
Equipment
The kitchen tools you'll need for these ground chicken meatballs are a food processor to chop and mix the ingredients, and then a baking pan, baking sheets, or baking tray covered with parchment paper or liner.
A food processor is not necessary for making this recipe, but it can speed the process up. I prefer to use a food processor because it makes the chicken meatballs texture the authentic smooth taste of store-bought meatballs.
Sometimes I will chop the onion and mix the meat by hand in a large bowl, other times I will toss it all in a food processor. It really just depends on what you feel like doing that day.
You can either cook this keto chicken meatballs recipe in the oven or an air fryer, so the air fryer is an optional tool.
Instructions
All quantities, ingredients, and instructions are in the recipe card below.
Now let's talk about how to put these keto chicken meatballs together! You'll be pleasantly surprised at just how quick the process is.
Step 1: Chop onions.
The first step to making these keto chicken meatballs is to chop your onions in the food processor.
I usually peel the onion and cut it into four large pieces. Then I will toss all four pieces into the food processor and let it run for a few minutes until the onions are finely diced.
Step 2: Add all other ingredients.
Next, remove the lid and add the remaining keto chicken meatballs ingredients into the food processor. Turn your food processor on and let it run 15-30 seconds until all the ingredients are mixed.
If you are making these keto chicken meatballs without a food processor, finely chop the onion by hand, and add minced garlic to a large mixing bowl.
Step 3: Roll meatballs.
Combine ground chicken in, along with all the other ingredients, and use your hands to mix well until the meat mixture is homogenous.
Now your meat mixture is ready to form into balls. Grab about a golfball-sized amount of meat (you can use a cookie scoop) and roll it into a ball.
Step 4: Cook meatballs.
Place meatballs on your lined baking sheet as you form them until all the keto chicken meatballs are formed.
How to cook meatballs in the oven
Finally, you are ready to bake your meatballs.
Preheat your oven to 180C/350F and bake your meatballs for about 20 minutes or until the internal temperature reaches 75C/165F.
Note: The larger your meatballs the longer they will take to cook.
When your chicken meatballs are done baking let them rest a few minutes before serving.
How to cook meatballs in the air-fryer
You can also cook these ground chicken meatballs in the air fryer.
To cook meatballs in the air fryer you simply place all the meatballs inside the basket of your air fryer and cook as follows.
Preheat your air fryer to 180C/350F.
Place the chikcen meatballs onto the air fryer wire rack. Ensure there is plenty of space between each meatball and the side of the basket.
Cook for 10 minutes, depending on the size of your air fryer and the size of your meatballs, then open the basket and give it a gentle shake to move the meatballs around or use kitchen tongs to flip each oner over. This gurantees the gluten-free chicken meatballs are cooked and cripsy on each side.
Cook for a further 10 minutes, or until compeltey cooked in the centre of each meatball.
If you love using your air fryer, I have 101 keto air fryer recipes for you to choose from (chicken, pork, ground beef, salmon, vegetables, and even desserts). Discover how to use your air fryer plus FREE printable air fryer cooking cheat sheets.
[convertkit form=2495157]
Storage
Leftover cooked meatballs can be stored in an airtight container in the refrigerator for 3-5 days.
The keto chicken meatballs can also be frozen raw or cooked for up to 3 months, making them one of my favorite meal prep recipes.
What to serve with keto chicken meatballs
While your ground chicken meatballs are baking use the time to toss together a side such as garlic mashed cauliflower, cauliflower rice, a side salad, or steamed/baked vegetables.
Sautéed greens and asparagus are easy low-carb vegetables to serve as a side dish.
In the mood for spaghetti and meatballs? Zoodles (aka zucchini noodles) along with a low-sugar homemade marinara sauce will do the trick.
I also like to serve my keto chicken meatballs with a sprinkle of parmesan cheese on top for even more flavour!
If you are looking for a delicious low-carb or keto-friendly dipping sauce or creamy sauce for your low-carb meatballs you can find three of our favorite dipping sauces below. Enjoy!
Keto meatball FAQ's
How to roll meatballs (that won't fall apart)?
There are a few tricks I've learned over the years that will keep your coked meatballs intact. First and foremost, massaging the meat and making the meat mixture as smooth as possible will go a long way, which is why I recommend using a food processor.

Secondly, you can roll the meatballs in your hand and compact them tightly to make sure they stick together.
What can I use instead of breadcrumbs for keto meatballs?
You really don't need breadcrumbs to make meatballs – this recipe uses almond flour as the binder. If you want to change it up, ground pork rinds also work and can add a nice smoky flavor.

You can also roll your meatballs in parmesan cheese for a crunchy meatball recipe. They're like a bite-sized chicken parmesan taste explosion in your mouth.
Is it better to bake or fry meatballs?
I like my meatballs to have a bit of a crispy outside which is why I usually use the air fryer to cook them. However, this is just personal preference – try both and see which you like best!
What else can I use besides ground chicken?
Ground turkey, ground pork, or a combination of any ground meat will make a good substitute for chicken in this keto chicken meatballs recipe.
How much protein is in these keto chicken meatballs?
These ground chicken meatballs are absolutely packed with protein! There are over 40 grams of protein per serving, making this ideal for those who are looking to increase their protein intake.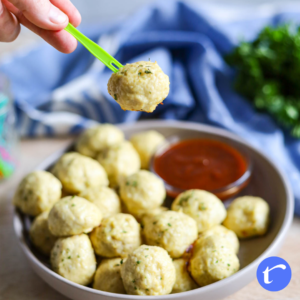 Cheesy Keto Chicken Meatballs Recipe (HPLC)
High-protein low-carb (HPLC) cheesy keto chicken meatballs. With 40g protein and only 4g net carbs, these are the perfect quick and easy high-protein dinner AND high-protein snack.
Print
Pin
Rate
Want to lose weight and get healthy for life—without dieting, drugs, or making yourself miserable?
We can help! Tell me how!
Equipment
Mixing Bowls

Measuring cups and spoons

Casserole Dish
Ingredients
1

onion

1

tbsp

garlic minced

crushed

+/- salt and pepper

to your liking

4

egg

medium

100

g

pre-shredded/grated mozzarella

100

g

almond meal/flour

1

kg

ground/minced chicken

sugar-free ketchup

to serve (optional)
Instructions
Place the onion in your food processor and blitz/pulse until finely chopped.

Add all the other ingredients into your food processor and pulse until completely combined.

Take a golf ball size of the cheesy chicken meatball mixture, and roll or squeeze into a ball. Place on a lined or oiled baking tray.

Bake at 180C/350F for 20 minutes (or more depending on your oven). Air fryer instructions are below in the recipe notes.

Serve as a high-protein low-carb dinner, appetiser, high-protein snack, a BBQ side dish, with salad, or hot with garlic mashed cauliflower.
Notes
The recipe will serve 6 big servings.
The NUMBER of meatballs you make will depend on how large you make each meatball.
Serve with sugar-free ketchup (

optional).

To cook meatballs in the air fryer, oil the air fryer basket, preheat the air fryer to 180C/350F, then place the chicken meatballs into the hot air fryer basket. Cook for 10 minutes, then remove the basket and give it a shake so the meatballs change position. Cook for a further 10 minutes, or until each meatball is completely cooked in the center.
Cooking times will vary on your cooking appliance and the size of your meatballs.
Nutrition
Serving:
1
serves 6
Calories:
434.1
kcal
Carbohydrates:
6.1
g
Protein:
40.9
g
Fat:
27.9
g
Sodium:
251.3
mg
Potassium:
958.5
mg
Fiber:
2.1
g
Sugar:
1.6
g
Vitamin A:
259.7
IU
Vitamin C:
1.8
mg
Calcium:
189.9
mg
Iron:
2.6
mg
More keto meatball recipes
Chicken is such wonderful high-protein meat to enjoy on the keto diet and there are so many low-carb side dishes to serve with chicken. Cooking keto chicken recipes is a quick and easy mid-week affordable family dinner.
Even picky eaters will love these meatballs.
Get our FREE guide to finally fix your metabolism!
Losing weight & getting healthy is never easy, but lately you might feel like it's suddenly become impossible.
Our Flip the Switch guide will help you clearly understand what's been going on, as well as exactly what you can do to get your metabolism working again so that you can look and feel your best—it's easier and more simple than you think!