Serve with mashed cauliflower and sour cream is the perfect mid-week family meal.
If you have a busy day and want some comfort food to come home to, this is the one. Walk in the door late at night, and the smell of low-carb beef stroganoff welcomes you.
Serve this keto beef stroganoff with a cauliflower mash and a dollop of sour cream. It's the perfect end to a busy day.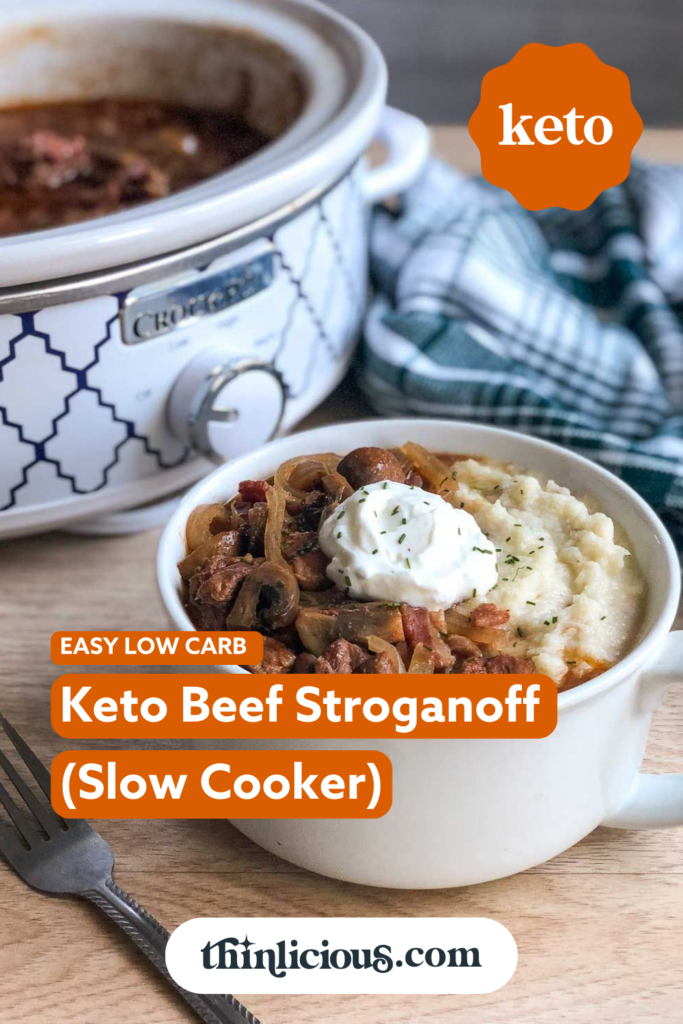 This low-carb keto beef stroganoff is made using the slow cooker and ticks all the boxes. This dish comes together quickly then cooks all day for a tender, incredibly tasty dinner.
Are you ready to create the ultimate 12-month blueprint for reaching your health & weight loss goals this coming year?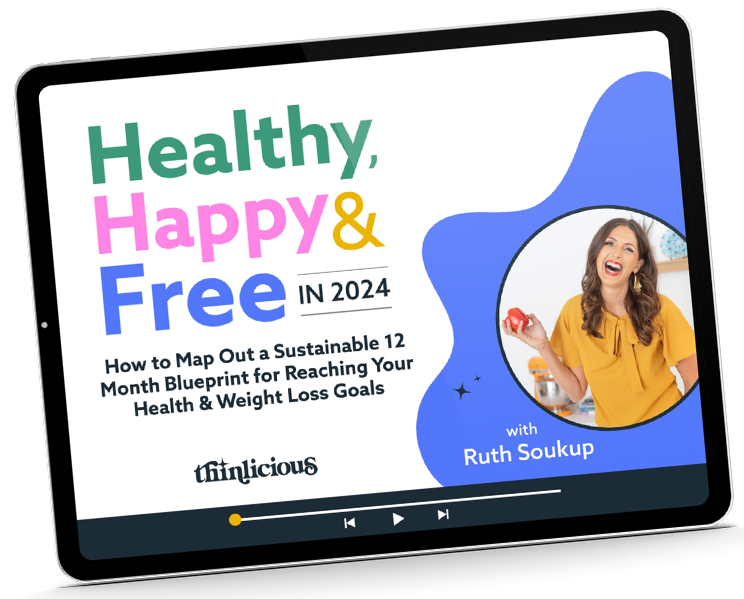 Our free on-demand video training will walk you through how to make 2024 THE year you set health goals…and keep them.
How to cook stroganoff in the slow-cooker
Crock pot beef stroganoff is easy to make. Don't let anyone tell you otherwise! Many cookbooks instruct to saute or fry the onions, garlic, and meat before adding to the slow cooker.
I have found it makes very little difference to the taste or the texture of this dish.
The keto beef stroganoff recipe below will show you how to make stroganoff the cheats way. You simply place all the ingredients in the slow cooker, stir, and cook!
I have tried both methods, and there is little to gain, but you save at least half an hour of preparation and cleaning up dishes by following this easy method.
To make keto beef stroganoff in the crock pot all you need to do is:
Place all the ingredients in the slow cooker.
Mix.
Set on LOW for 6-8 hours or HIGH 4-6 hours.
Serve with sour cream (optional).
If you have a busy day and won't be in until late, you want the easiest meal possible. I'm also guessing on such a busy day, there are other things you would rather be doing than frying onions, garlic, and meat in the morning.
Ingredients you need
The ingredients for this savory comfort food are simple. All you need to have is:
Onion – yellow onion (brown onion) works best.
Garlic – crushed garlic is best but garlic powder will work too.
Bacon – fatty cuts work best. It's called "streaky bacon" here because of the streaks of fat marbled through. It's also called side bacon.
Beef stewing steak – you can try other cuts like sirloin steak but this is one of the most inexpensive and it works very well.
Smoked paprika – make sure to get the smoked variety as it adds rich flavour.
Tomato paste – you save carbs by using tomato paste rather than canned tomatoes. Tomato paste is higher in carbs but you only need a small amount.
Beef stock – or beef broth adds an extra salty punch of beef.
Mushrooms – adds the traditional flavour and are naturally low-carb.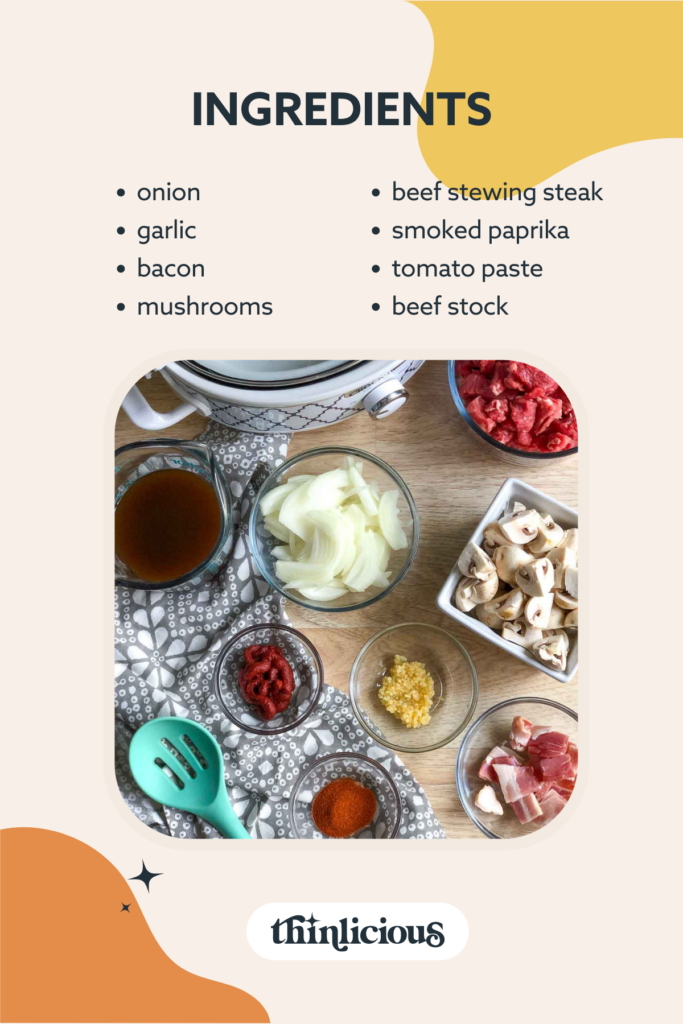 How to make keto beef stroganoff
Making this low-carb beef stroganoff recipe couldn't be more simple!
First, prep your veggies. The onions will need to be sliced and quartered, and the mushrooms will need to be quartered as well.
Then, cube up your stewing steak and dice up the bacon. Small pieces work better than large chunks.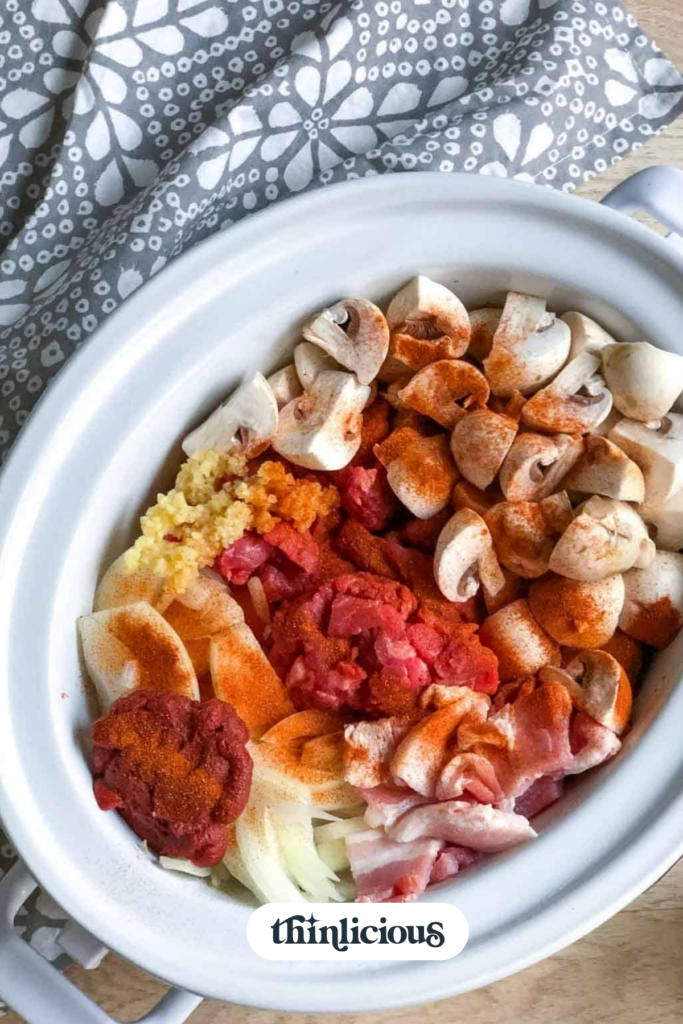 Place all of the ingredients in the crock pot, then pour beef broth over the top.
Give everything a good stir.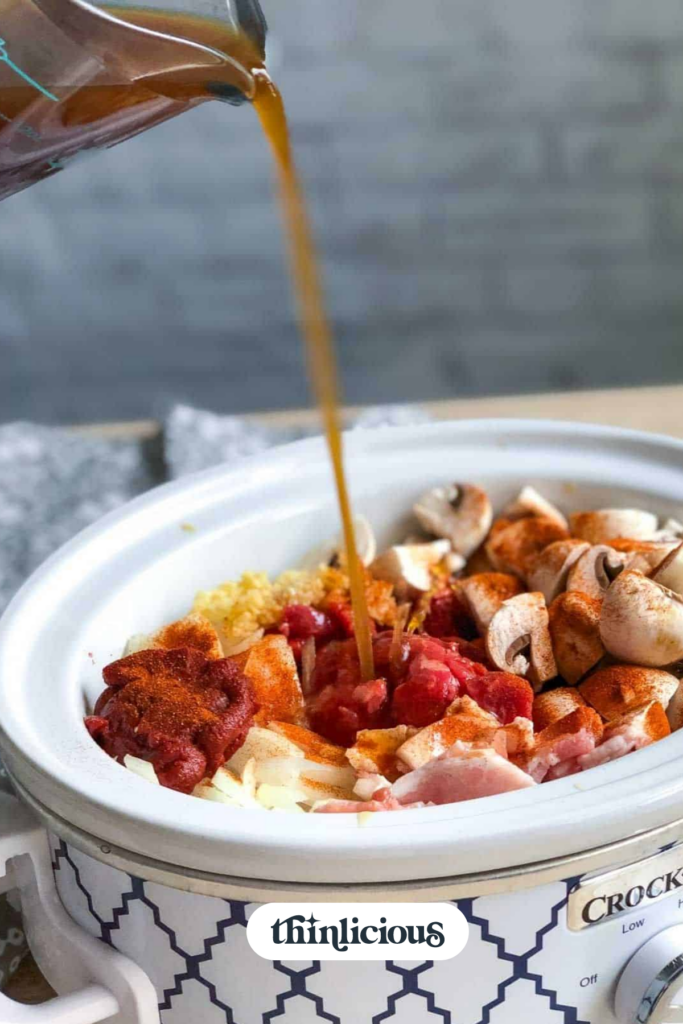 Then, all you have to do is let the crock pot do its magic! This beef stroganoff recipe does best when you cook it on low for 8 hours, but if you are in a hurry you can set it to high heat for 4-6 hours.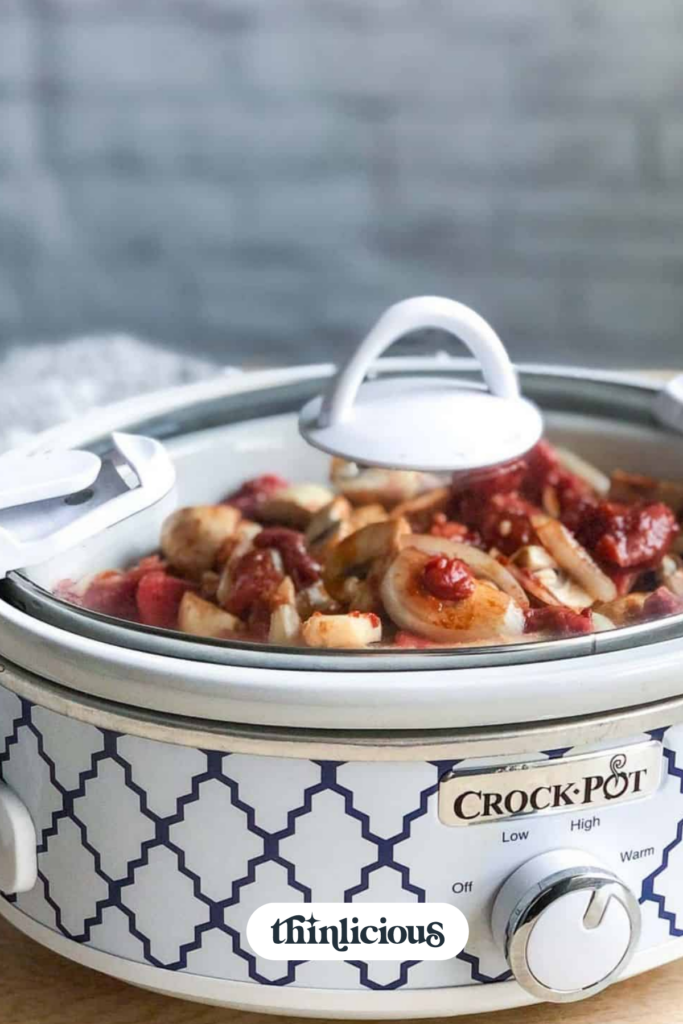 How to serve
There are so many ways to serve this keto beef stroganoff recipe! A few of my favorites to enjoy with this dish include:
Add sour cream or cream cheese to the low-carb beef stroganoff before serving, and place the sour cream or cream cheese on the table for the vegetables. Sprinkle with some chopped fresh parsley.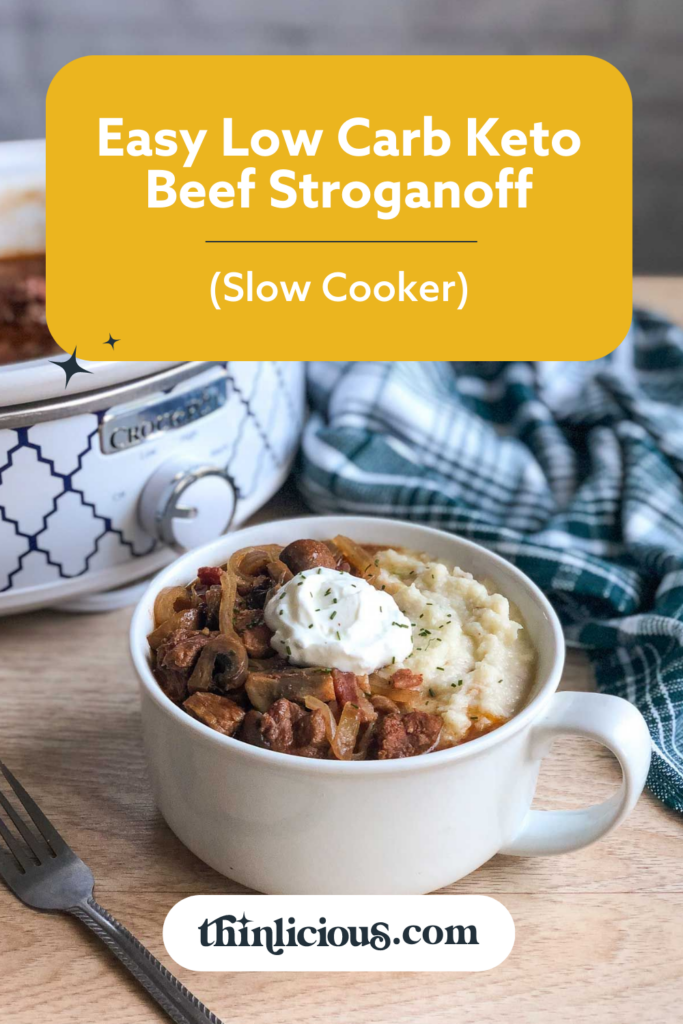 Variations
Want to change it up a bit?
ground beef stroganoff – why not try making this dish as ground beef stroganoff? To do this, you'll need to cook the meat before you add ground beef to the slow cooker. Don't put it in raw!
spicy – like it hot? Add some cayenne pepper or a few dashes of hot sauce to this beef stroganoff.
Storage
This delicious meal is a good one to prep ahead of time. You can store beef stroganoff in a container in the fridge for about 3 days.
Or, you can freeze beef stroganoff too. Simply place it in a freezer-safe meal prep container, and place in the freezer. It will last about 3 months.
To reheat beef stroganoff, you can microwave or cook over the stovetop on medium-high heat.
What are the best keto side dishes?
Beef stroganoff is traditionally served with pasta, but rather than that stodgy filler that adds zero nutrition, you can serve this delicious beef dinner with low-carb vegetables instead. The easiest side dishes for a mid-week dinner are mashed cauliflower and steamed broccoli.
You can also make a "pasta" out of zucchini noodles or cabbage noodles. Or, choose to make cauliflower rice or mash instead.
You cut your carbohydrate intake and double (or even triple) your veggies by giving up pasta.
You can choose from 21+ low-carb and keto side dishes to serve with beef. They are all family-friendly recipes and all are gluten-free.
From gluten-free garlic bread, mashed cauliflower (4 flavours that even children love), or baked broccoli with cheese. The whole family will love these and not realize their usual bread, pasta, and rice are missing.
However you serve it, don't forget the sour cream! It adds a rich creamy flavour to the dish. I like to stir it in with the broth and make a sour cream sauce. Yum!
Beef Stroganoff FAQs
Is beef stroganoff keto?
Traditional beef stroganoff is served with high-carb mashed potatoes and thickened with wheat flour, this low-carb version is served with mashed cauliflower and naturally thickened.
How can I thicken beef stroganoff without flour?
The longer the stroganoff cooks, the more it will thicken. But, if you want to speed the process up you can make a keto roux by adding some xanthan gum.
Can I cook this on the stove?
You can convert this crockpot recipe into a stove top one. Place all the ingredients in a dutch oven or large stewpot, then cook over medium low for 6 hours.
Can I cook this in the Instant Pot?
Yes, once you learn how to cook beef in the Instant Pot, you will realise how quick and easy dinner can be. It makes any tough cut of beef into a tender casserole in under 30 minutes.
How many carbs and calories are in beef stroganoff?
The nutritional information per serving is 6.5 g net carbs, 33.3 g protein, 11 g fat, and 267 calories.
Can I make this dairy-free?
Yes, simply don't garnish with sour cream but add crispy bacon pieces and herbs instead.
Which cut of meat is best for the slow-cooker?
Any type of casserole beef will work, such as chuck steak, rump steak, sirloin steak, flank steak, stewing steak, or even ground beef if you're in a hurry.
Can you make the recipe ahead of time?
Yes, you can place all your raw ingredients inside the slow cooker and store them in the fridge for up to 3 days before you need to cook. Alternatively, once cooked and completely cooled, store in the fridge for up to 3 days.
Can I freeze beef stroganoff?
Yes, it can be stored in the freezer in an airtight container for up to 3 months.
How to reheat slow-cooker dinners?
Place the bowl f the slow-cooker in your slow-cooker and turn on high for 2 hours or reheat in a saucepan or in the oven until thoroughly hot. Reheat time will vary on how much you are heating. Add the sour cream to garnish.
You can use the microwave, however, it does have a tendency to make the gravy and sauce separate.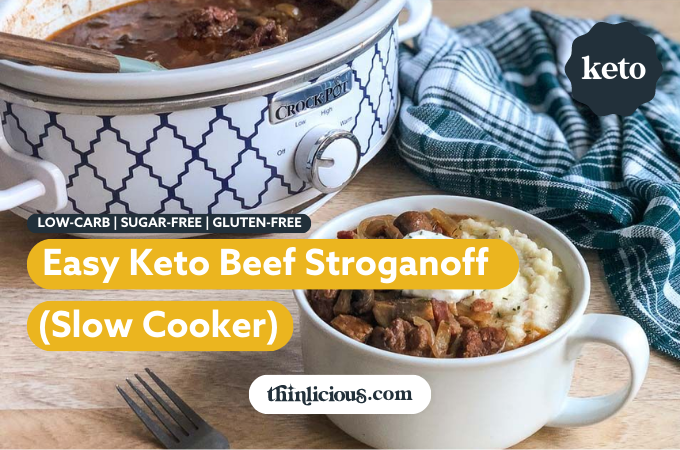 More slow-cooker recipes
When the weather gets colder, or you want a quick and easy healthy mid-week family dinner, these recipes are perfect.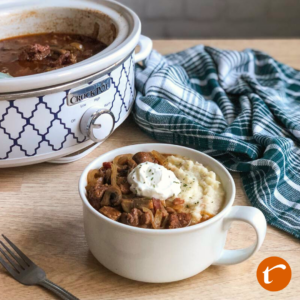 Keto Beef Stroganoff Recipe (Instant Pot)
The perfect quick and easy healthy family meal – Keto Beef Stroganoff In The Instant Pot. Only takes 30 minutes to cook. Serve with zoodles or mashed cauliflower.
Print
Pin
Rate
Want to lose weight and get healthy for life—without dieting, drugs, or making yourself miserable?
We can help! Tell me how!
Ingredients
1

onion

sliced and quartered

2

garlic minced

crushed

2

slices streaky bacon

diced

500

g

beef, stewing steak cubed

1

tsp

smoked paprika

3

tbsp

tomato paste

250

g

mushrooms

quartered

250

ml

beef stock

sour cream

to garnish
Instructions
Pour some oil in the Instant Pot dish, and using the saute function gently fry the onion, garlic and bacon until cooked but not browned.

Add the diced beef and saute until the beef is browned on all sides.

Add the paprika, tomato paste, mushrooms and beef broth. Stir together then pop the lid on and turn until it clicks indicating it is fully sealed.

Cook on High Pressure for 30 minutes.

Use the quick release valve to release the pressure.

Serve with zoodles or mashed cauliflower, and garnish with sour cream
Notes
To make the recipe dairy-free and Paleo, simply omit the sour cream.
Nutrition
Serving:
1
serve
Calories:
317
kcal
Carbohydrates:
8
g
Protein:
29
g
Fat:
19
g
Fiber:
1
g
Sugar:
4
g
Vitamin A:
445
IU
Vitamin C:
6.4
mg
Iron:
3.6
mg
Get our FREE guide to finally fix your metabolism!
Losing weight & getting healthy is never easy, but lately you might feel like it's suddenly become impossible.
Our Flip the Switch guide will help you clearly understand what's been going on, as well as exactly what you can do to get your metabolism working again so that you can look and feel your best—it's easier and more simple than you think!