Seriously luxurious!!! This is an incredibly easy recipe for low-carb mocha truffles that are not only low carb they are sugar-free too.
Only 1.5g net carbs!
Coffee chocolate truffles
Do you prefer chocolate truffles or coffee truffles? Now you can have both with this easy keto mocha truffle recipe.
These creamy low-carb and sugar-free mocha truffles are luxurious and the perfect after-dinner treat or easy keto gift.
Are you ready to create the ultimate 12-month blueprint for reaching your health & weight loss goals this coming year?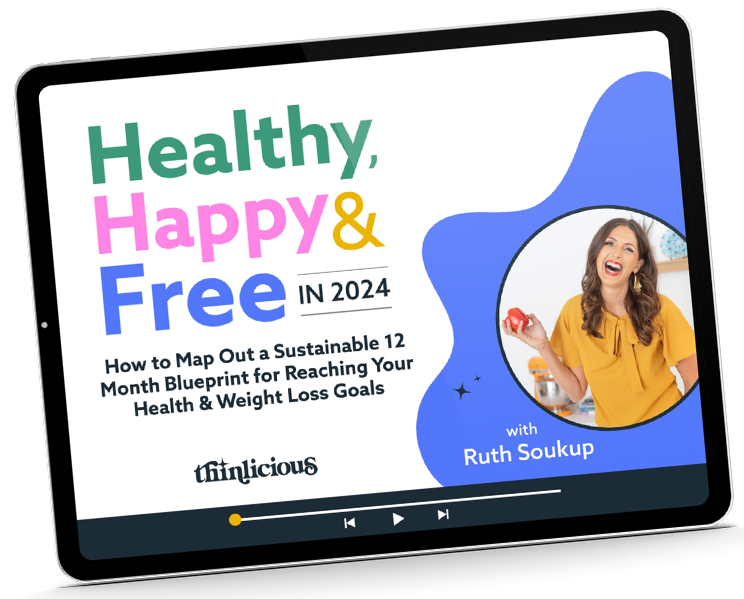 Our free on-demand video training will walk you through how to make 2024 THE year you set health goals…and keep them.
Sugar-Free Mocha Truffles
Sugar-free mocha ice bombs are beautiful and incredibly sumptuous.
I couldn't believe how easy they were to make. We were away on vacation at the time, so as you can imagine, I had very little kitchen equipment, nor time.
It took me 10 minutes to make the mocha ice bombs, then a few more minutes to dip them in the dark chocolate coating. By dinner time, they were ready to indulge (and we did).
TOP TIP: If you want these to be even lower in carbs, you can use this sugar-free chocolate coating instead of 90% chocolate.
Why High Fat?
If you are new to fat bombs you'll be wondering what the heck? Why-o-why would we want to eat more fat?
Well, it is imperative to understand when we go low carb (and only moderate protein) then we want to increase our healthy fats to keep us fuller for longer. Fat doesn't make you fat, a high-carb diet does.
If you are new here, read this post – the advantages of low carb nutrition to better understand these concepts.
And remember, high fat doesn't give you a licence to eat fried fatty unhealthy junk food, it is to eat the fat that comes with your steak, the full-fat dairy, full-fat coconut cream, plenty of olive oil on your salads and plenty of cheese.
Also remember, eat healthy fats ONLY until full. Only increase your healthy fats once you have lowered your carbs.
Do not eat fat to excess, stop when full and ONLY eat when you are truly hungry. It takes a while to get over our fat phobia but once you do, you will understand it is the key to satiety and appetite control.
More sugar-free chocolate recipes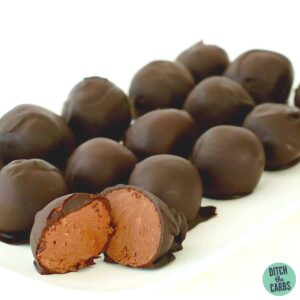 Keto Mocha Truffles Recipe
Mocha ice bombs are an amazing blend of coffee and chocolate, and if you like, you might want to ad some brandy too (adults only). Keep in the freezer for a little evening treat.
Print
Rate
Want to lose weight and get healthy for life—without dieting, drugs, or making yourself miserable?
We can help! Tell me how!
Ingredients
Mocha Ice Bombs
240

g

cream cheese

or mascarpone

4

tbsp

powdered sweetener

2

tbsp

cocoa powder (unsweetened)

unsweetened

60

ml

strong coffee

chilled
Chocolate coating
70

g

90% dark chocolate

melted

28

g

cacao butter

melted
Instructions
Mocha ice bombs can be made in a food processor, or in a mixing bowl using a hand blender.

Add the coffee to the cream cheese (or mascarpone) the cocoa, and sweetener.

Pulse or blend until smooth.

To make the ice bomb shape, roll about 2 tablespoons of the mocha ice bomb mixture and place them onto a tray or plate lined with baking parchment.
Chocolate coating
Mix the melted chocolate and cocoa butter together.

Roll each ice bomb in the chocolate coating and place back on the lined tray/plate.

Place in the freezer for 2 hours, or until set.
Notes
The recipe in the book states it makes 12 although I managed to make 15 from this recipe. The nutrition values are calculated assuming you make 12. If you were to make 15, the carb values would be less.
Nutrition
Calories:
127
kcal
Carbohydrates:
2.2
g
Protein:
1.9
g
Fat:
12.9
g
Fiber:
0.7
g
Get our FREE guide to finally fix your metabolism!
Losing weight & getting healthy is never easy, but lately you might feel like it's suddenly become impossible.
Our Flip the Switch guide will help you clearly understand what's been going on, as well as exactly what you can do to get your metabolism working again so that you can look and feel your best—it's easier and more simple than you think!