The BEST cheesy keto garlic bread recipe … that's only 1.5g net carbs per slice.
So if you want to learn how you can enjoy garlic bread again on your keto diet, made with the famous mozzarella dough, go ahead and print this recipe.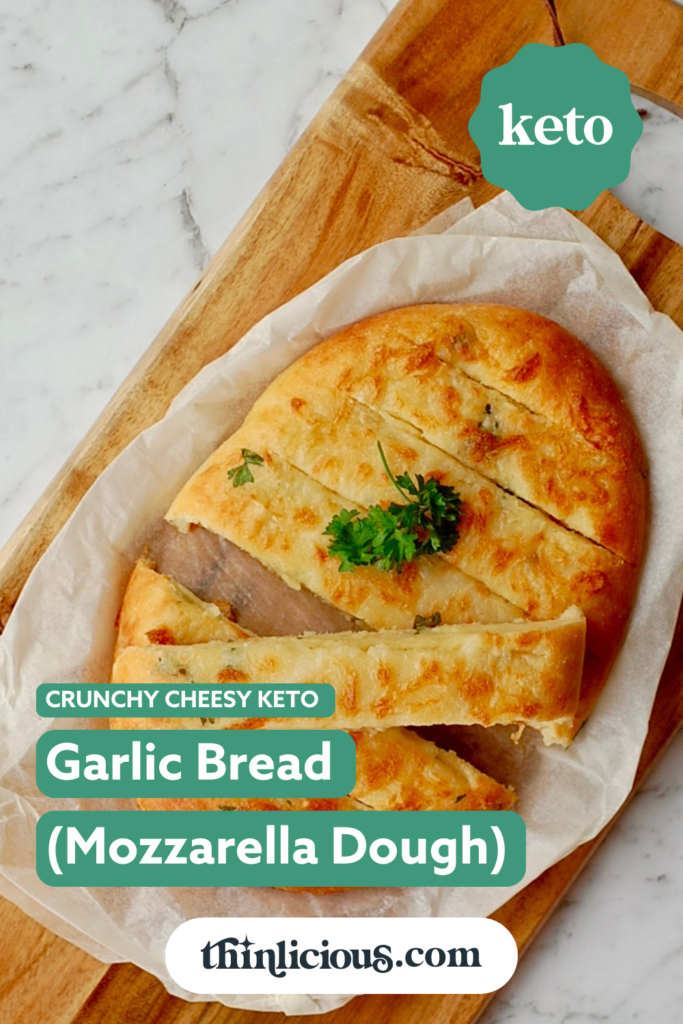 Garlic bread is always a real crowd-pleaser at a summer barbecue or pizza night. And in fact, it's the perfect side dish for chicken, beef, pork, and of course, pizza.
Are you ready to create the ultimate 12-month blueprint for reaching your health & weight loss goals this coming year?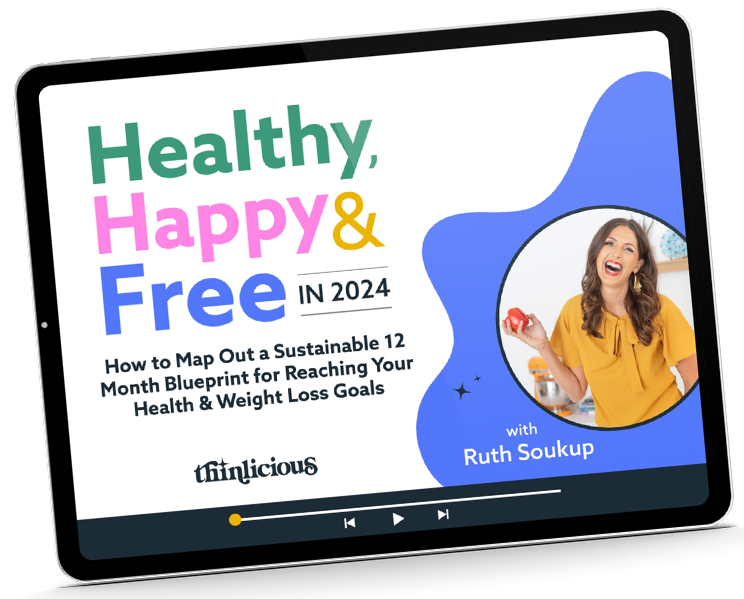 Our free on-demand video training will walk you through how to make 2024 THE year you set health goals…and keep them.
Before you begin, make sure you see the supreme guide to making fat head dough even without a microwave. Can be made with almond flour or coconut flour EVEN WITHOUT a microwave PLUS 16 keto recipes to use it.
Baking 101 (tips & charts)

What is mozzarella cheese dough?
Mozzarella cheese dough is a low-carb and keto dough that is made with melted mozzarella and used in bread recipes, pizza, breadsticks, and even sweet recipes too. It is a mild cheese taste that takes on sweet and savory flavors easily.
The keto dough can be made with almond flour or coconut flour and can be made with a microwave or without.
If you have watched my viral video "Mozzarella Cheese Dough – 4 Ways" you will already be hooked on using mozzarella dough in a number of different recipes.
If you only try ONE recipe, Fat Head dough (mozzarella dough) is it! There are so many meals you can make with fathead dough.
Once you master this one simple, you can make keto dinner rolls, pizza, sausage rolls, crackers, and even breadsticks.
What is Fat Head dough?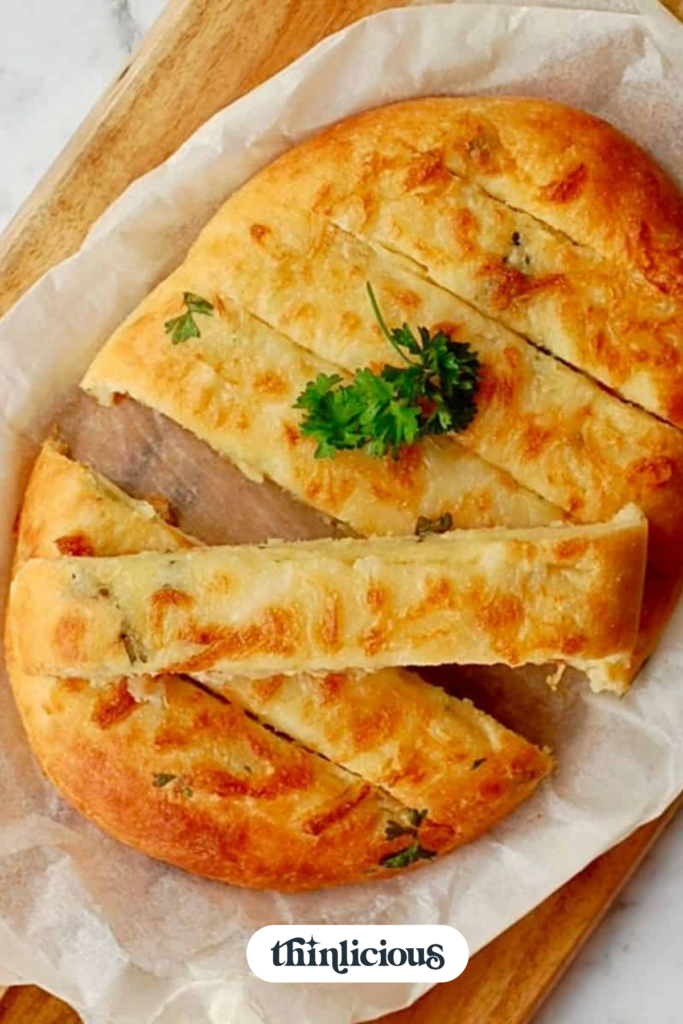 Fat Head dough recipe is sometimes referred to as mozzarella cheese dough.
This famous low-carb dough is known as Fat Head dough because of Tom Naughton, the creator of Fat Head, the movie. You can read more about Tom Naughton and Fat Head here.
This versatile keto dough can be used in sweet and savory recipes and is naturally gluten-free (so throw away those expensive gluten-free flours).
Ingredients
All quantities, ingredients, and instructions are in the recipe card below.
Variations
Add any of these herbs and spices to make the best keto bread recipe.
Shredded parmesan cheese
Italian seasoning
Brush the top of the bread with extra virgin olive oil or garlic butter to taste like the real thing
How to make keto garlic bread (step-by-step photos)
STEP 1: MAKE THE KETO BREAD DOUGH
The first step is to make the low-carb mozzarella cheese dough by using the recipe below and watching the quick video.
In a large microwave-safe bowl, melt the mozzarella cheese, almond flour, and cream cheese.
Stir, then heat again.
Add the large egg and mix until the dough ball forms.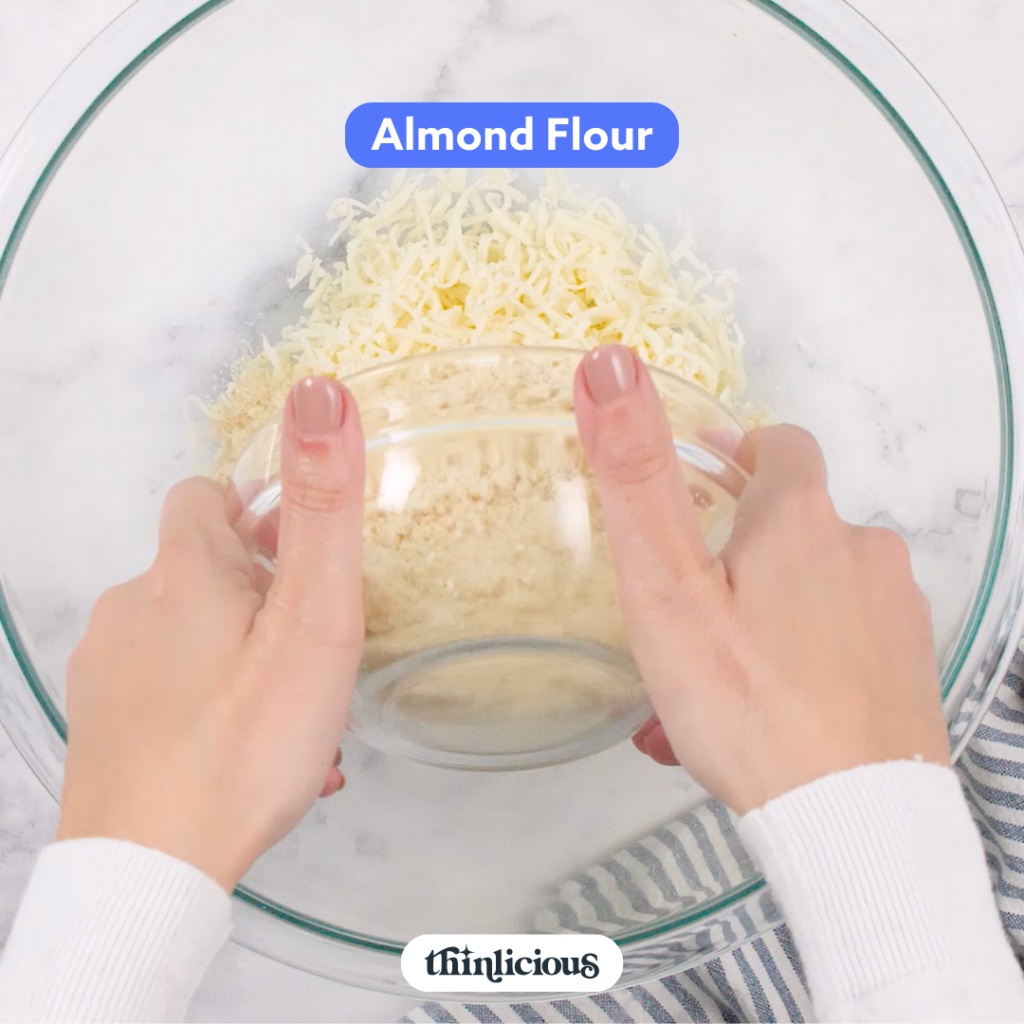 STEP 2: SHAPE THE DOUGH
Place the garlic bread ball of dough onto a baking sheet, lined with baking parchment (or a greased baking sheet). Shape dough into a flat garlic bread so it bakes to a crispy crust and a soft cheesy bread-like center.
Alternatively, you can use the healthy garlic bread recipe to make keto garlic breadsticks using a rolling pin and a knife. Sprinkle some shredded parmesan cheese over each breadstick before baking.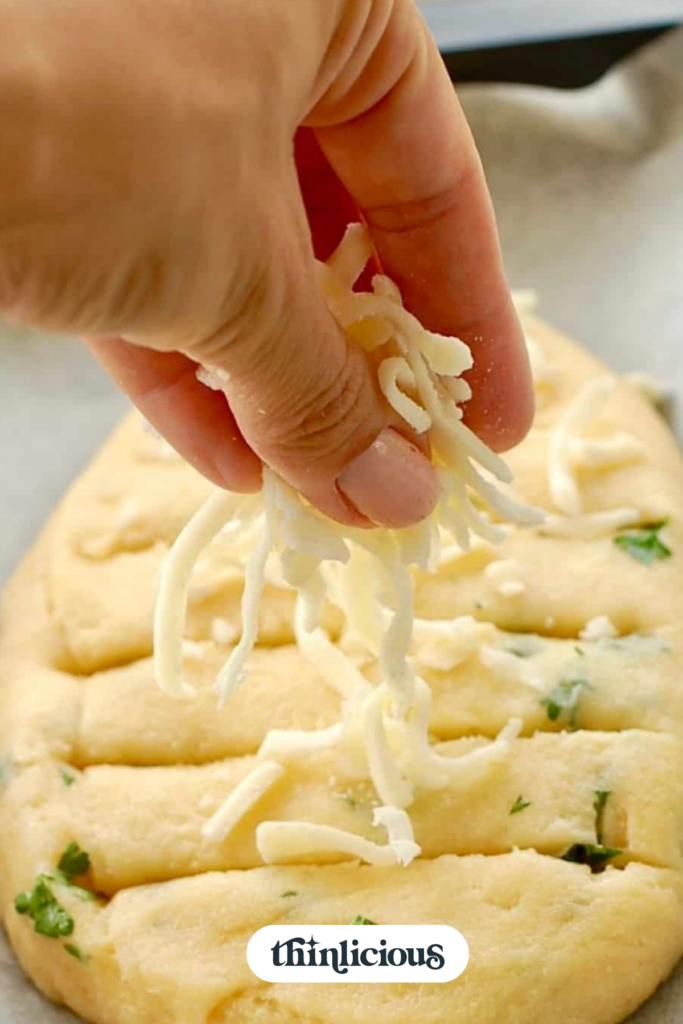 STEP 3: COOK THE GARLIC BREAD
Place the keto garlic cheese bread on a baking sheet (sheet pan) that has been lined with baking parchment paper.
Cut gently almost the entire way through the garlic bread dough before baking. This allows for even cooking and for the slices to bake beautifully.
I like to sprinkle my low-carb garlic bread with extra cheese, for that crispy garlic bread crust.
Watch as the bread bakes that your cheesy crust turns brown and crunchy along the edges.
Bake until golden brown in the oven, toaster oven, and even the air fryer.
How to flavor garlic bread
I also like to add LOTS of garlic, parsley, and sometimes chives to make the best flavors of garlic bread.
In a small bowl mix melted butter with extra garlic, then brush the top of the bread before and after baking.
You will probably have your favorite garlic bread family recipe you want to recreate.
If you really love a punch of garlic, you wish to brush the top of the low-carb garlic bread with extra melted garlic butter mixture. Anything with extra butter in my opinion makes for a delicious side dish.
Keto bread & pasta recipes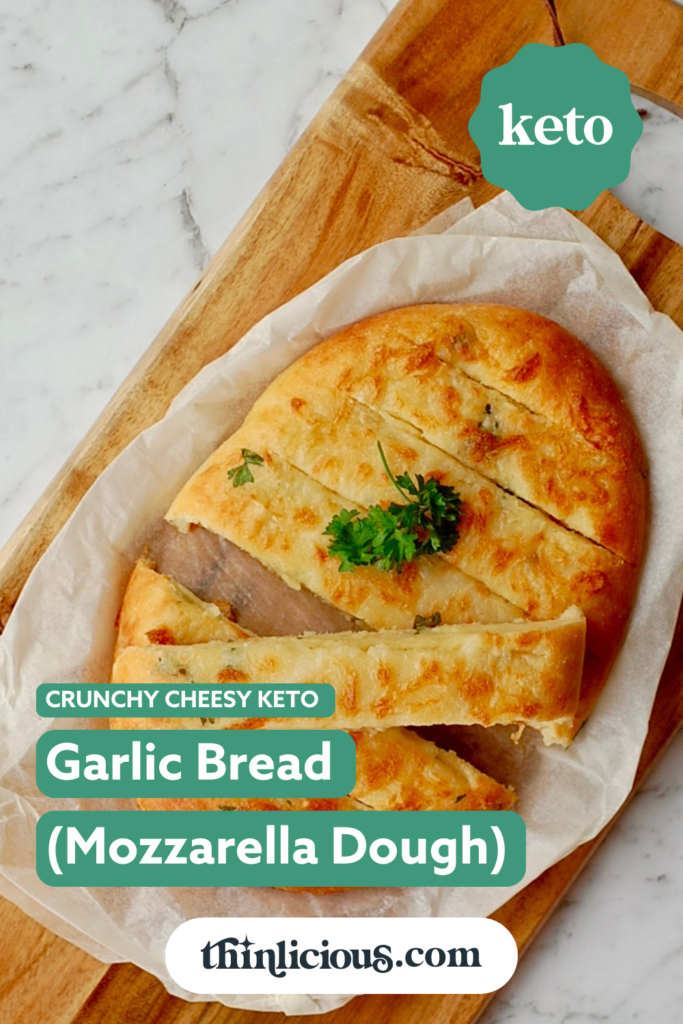 Remember those times when you cooked an authentic Italian lunch or dinner, and you made your favorite pasta with some garlic bread on the side?
But what about that horrible bloated feeling you felt for hours later (or even worse, the after-effects the following day)?
But now you have become low-carb and discovered all the health benefits, you want to recreate those Italian dishes, only low-carb style.
Does that mean that you have to give up on your staple Italian dishes? What if I tell you that you can still have both? I've got you covered with these delicious keto recipes.
Keto bread and pasta recipes
So how do you recreate your favorite Italian bread and pasta side dishes?
The easiest recipe for beginners has to be spaghetti Bolognese with zoodles or 3-ingredient keto pasta.
Start by making vegetable pasta by discovering how to make zoodles.
But what about traditional bread? You've already discovered this much-loved keto garlic bread and you can also make keto cheese bread loaf, almond flour bread, coconut flour bread, and focaccia bread.
So what are you waiting for? Have your beloved pasta and garlic bread like old times — now made healthier!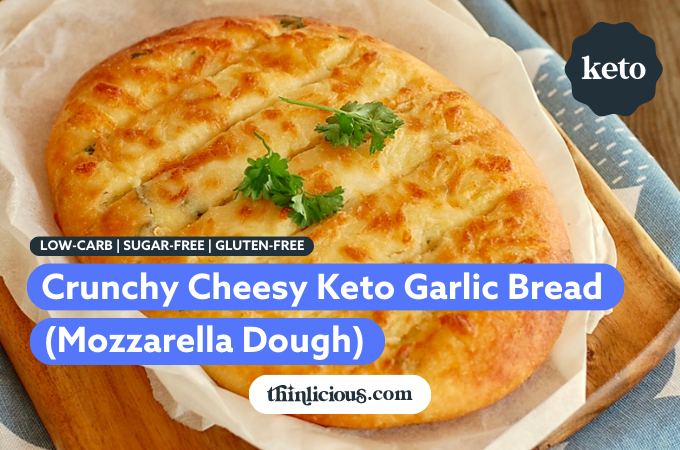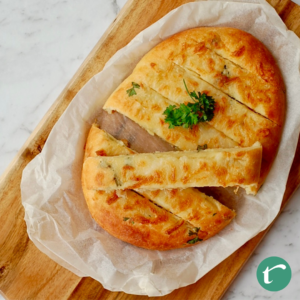 Cheesy Keto Garlic Bread Recipe (mozzarella dough)
The BEST recipe for cheesy keto garlic bread – using mozzarella dough. At only 1.5g net carbs per slice, this is an absolute keeper for your low-carb recipe folder.
Print
Pin
Rate
Want to lose weight and get healthy for life—without dieting, drugs, or making yourself miserable?
We can help! Tell me how!
Ingredients
170

g

shredded/grated cheese

mozzarella

85

g

almond meal/flour

*see recipe notes below

2

tbsp

cream cheese

full fat

1

tbsp

garlic minced

crushed

1

tbsp

parsley

fresh or dried

1

tsp

baking powder

pinch

salt

to taste

1

eggs – medium

medium
Instructions
Place all the ingredients apart from the egg, in a microwaveable bowl. Stir gently to mix together. Microwave on HIGH for 1 minute.


Stir then microwave on HIGH for a further 30 seconds.

Add the egg then mix gently to make a cheesy dough.

Place on a baking tray and form into a garlic bread shape. Cut slices into the low-carb garlic bread.

Optional: Mix 2 tbsp melted butter, 1 tsp parsley and 1 tsp garlic. Brush over the top of the low-carb garlic bread, sprinkle with more cheese.

Bake at 220C/425F for 15 minutes, or until golden brown.
Notes
UPDATE: Nutrition values are for EACH slice. Garlic bread dough makes 10 slices. Mozzarella dough can also be made by replacing the almond meal/flour with 1/4 cup (4 tbsp) coconut flour.
Nutrition
Serving:
1
slice (makes 10)
Calories:
117.4
kcal
Carbohydrates:
2.4
g
Protein:
6.2
g
Fat:
9.8
g
Fiber:
0.9
g
Sugar:
0.6
g
More fathead dough recipes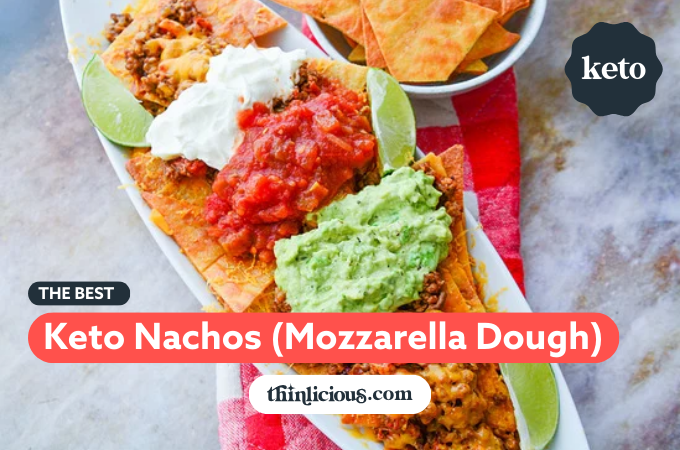 Related recipes
People also ask
If you don't see your question here, please ask me anything in the comments below.
How can I store delicious keto garlic bread?
Allow the bread to cool completely on a wire rack then place it in an airtight container in the fridge for up to 3 days or in the freezer for up to 2 months.
How can I reheat garlic bread?
Place on a large baking sheet and bake at 180C/350F for 10 minutes. Another great option is to use a taste oven or air fryer for 10 minutes on medium heat.
What are the main ingredients of keto bread?
Mozzarella cheese, almond flour (or coconut flour), cream cheese, an egg, and garlic. All the ingredients and quantities are in the recipe card above.

All the ingredients can be found in your local grocery store.
What can I serve garlic bread with?
When a carb craving or bread cravings hit, serve the keto cheese bread alone, or as the perfect side dish with marinara sauce.
How many carbs are in low-carb garlic bread recipe?
The great thing is that the original recipe has only 1.5 grams of net carbs, 6.2 g protein, and 9.8 g fat.
Can I freeze the almond flour dough before baking?
No, the raw egg has been warmed with the melted cheese so it needs baking straight away.
Get our FREE guide to finally fix your metabolism!
Losing weight & getting healthy is never easy, but lately you might feel like it's suddenly become impossible.
Our Flip the Switch guide will help you clearly understand what's been going on, as well as exactly what you can do to get your metabolism working again so that you can look and feel your best—it's easier and more simple than you think!