Sheet Pan Keto Pancakes are an easy keto-friendly pancake batter that is baked in the oven in less than 30 minutes. So no more flipping pancakes in your frying pan for a crowd.
They are only 1.8g net carbs for each keto pancake and are freezer-friendly.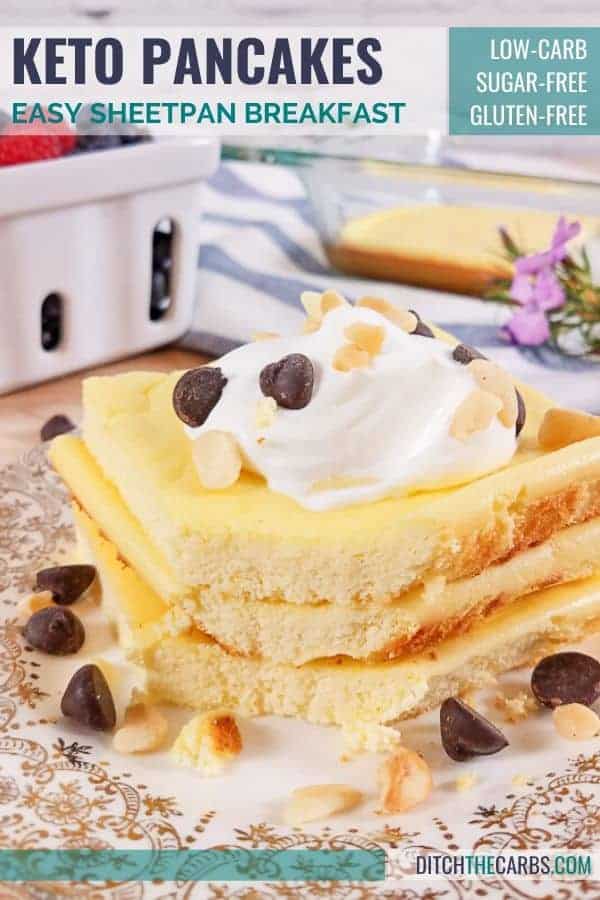 You might also like some other healthy sweet breakfast recipes such as keto banana bread (without bananas), sugar-free chocolate granola (quick recipe), and keto chocolate peanut butter smoothie.
Baking 101 (tips & charts)

What are sheet pan pancakes?
Sheet pan pancakes are made in a blender or food processor. All the pancake batter is baked at once on a lined sheet pan or baking tray, so you don't have to flip individual pancakes.
Are you ready to create the ultimate 12-month blueprint for reaching your health & weight loss goals this coming year?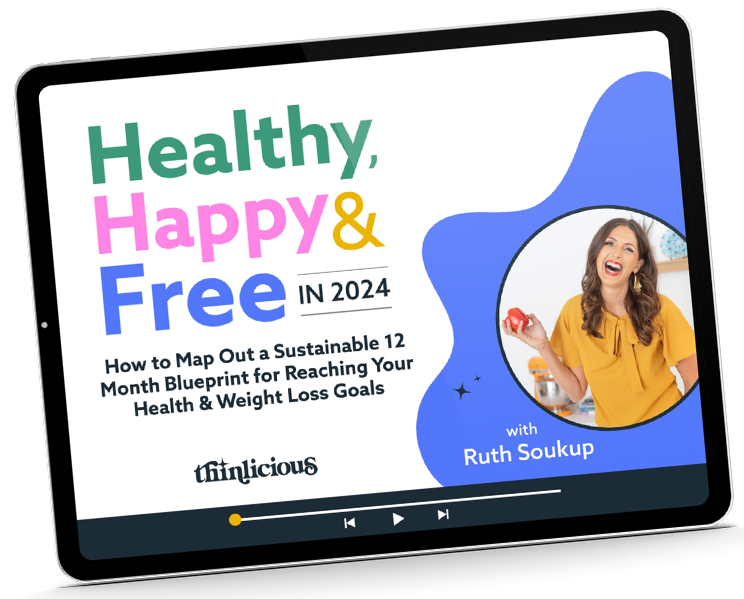 Our free on-demand video training will walk you through how to make 2024 THE year you set health goals…and keep them.
These fluffy keto pancakes are a quick and tasty breakfast or a quick sweet keto snack. They are low in carbs and gluten-free. And because these fluffy pancakes are baked in the oven, you won't need to stand for hours using a frying pan like regular pancakes.
The texture of these sugar-free pancakes is a little different from a traditional pancake. They remind me of a lot of Japanese cheesecakes and have a texture similar to sponge cake.
They are a fast and easy healthy keto easy breakfast. You can even serve the recipe as a quick keto dessert. In fact, why not serve as one giant pancake? This is a great option for a big family or on busy mornings.
Ingredients
These healthy (and naturally gluten-free) pancakes only need 5 simple ingredients from the grocery store. You will probably want to serve with whipped double cream and berries. Maybe even some sugar-free chocolate chips.
All quantities, ingredients, and instructions are in the recipe card below.
I use coconut flour in this recipe, but if you prefer almond flour pancakes, I have a delicious recipe for that too. My low-carb almond flour pancake recipe is a quick blender recipe too, you just need to cook them in the frying pan.
Recipe top tip: This yummy keto breakfast recipe calls for 4 eggs, but they do not have an eggy flavor. If you are sensitive to eggs overpowering the pancakes, you can use additional vanilla.
Read more: The Ultimate Guide To Coconut Flour vs Almond Flour
Why use coconut flour?
Coconut flour is much lower in net grams of carbs than almond flour or regular all-purpose flour. It is also much cheaper and you use far less in a pancake recipe than you would do for an almond flour recipe.
If you have never used coconut flour before, I suggest you only bake with low-carb or keto recipes that have already been developed using this delicious low-carb flour. Coconut flour requires a lot of moisture and eggs (making baking high in protein). I also like to flavor coconut flour recipes well.
Method
Making keto pancake batter is incredibly easy because all the dry ingredients and wet ingredients are mixed together in a blender. You can also use a food processor or an electric hand mixer until you get a smooth batter.
When making the pancake batter you will want your full-fat cream cheese to be at room temperature so that it is easy to work with.
If you are making these pancakes first thing in the morning either set the cream cheese out the night before or soften the cream cheese in the microwave for about 20 seconds (depending on the power of your microwave).
Top Tip: Remember to remove the cream cheese from the foil wrapper before microwaving your cream cheese.
How to make pancakes in a sheet pan
Keto pancakes just taste better when they are baked compared to stovetop pancakes. PLUS you don't have to stand over them flipping pancakes for the whole family.
Before pouring the batter into the baking sheet (sheet pan) you will want to lightly grease your baking sheet (sheet pan) and cover the bottom of the pan with parchment paper. This will ensure your pancakes are easy to remove from the pan.
Once the baking dish is lined you can pour the batter in. At this point, you can sprinkle the top of the batter with sugar-free chocolate chips, or fresh blueberries.
The pancakes will bake at 180 degrees C / 350 F in the preheated oven for about 10 minutes or until a toothpick poked into the middle comes out clean.
Fluffy pancake tips
If you don't want to make the pancake mix in your blender, you can use a regular mixing bowl.
Why not add these pancakes to your Sunday family meal prep routine?
If you are sensitive to the coconut flavor, I suggest using extra sweetener and additional flavor such as an extra teaspoon of vanilla extract. Always taste your batter before baking in the oven.
To level the batter I prefer to tap the pan on the counter several times instead of using a spatula to spread the batter out. This will evenly disperse the batter in the pan AND get rid of any stubborn air bubbles.
Let your gluten-free pancakes cool for at least 10 minutes before cutting into 6-8 squares and removing them from the pan. If the sides of the pancakes stick to the pan run a knife around the edges to loosen your pancakes.
The easiest way to cut individual pancakes is to use a pizza cutter.
Best toppings for keto pancakes
I like to place a scoop of sweetened whipped cream on the top of my pancakes and sprinkle them with sugar-free dark chocolate chips and roasted macadamia nuts. But there are so many other toppings for keto pancakes.
Depending on your carb limit, you may be able to add a few low-sugar berries on top too.
How to keep your pancakes warm?
You can leave the pancakes covered in the oven, but turn the oven off. This will stop them from cooking and possibly drying out. Otherwise, you can place them on your kitchen bench (or heat trivet) and cover them with aluminum foil and a few kitchen cloth towels to help retain the heat.
This healthy breakfast recipe will make 6-8 sheet pan keto pancakes and is enough to serve 3-4 people. The recipe is designed so that you can easily half or double the recipe to meet your needs.
How many carbs are there in keto pancakes?
There are 1.8 grams of net carbs per sheet pan keto pancake. Your choice of toppings will affect the final carb count for your low-carb breakfast. The best serving suggestion is to serve with whipped heavy cream and a few low-sugar berries.
You might also enjoy serving it with melted butter, unsweetened Greek yogurt, almond butter, whipped coconut cream, and fresh strawberries. If you want to use sugar-free maple syrup, make sure you know how to read nutrition labels and avoid sweeteners such as maltitol. It won't be advertised on the front of the syrup bottle, but it will be listed in the nutritional information.
How to store baked pancakes
You can store them in an airtight container in the fridge for up to 3 days, or in the freezer for up to 2 months. Once you are ready for breakfast, simply remove one or two pancakes and reheat them using the microwave, frying pan, or oven.
More keto pancake recipes
If you want to feed your family a healthy breakfast and stay on track with your keto diet, pancakes is on of those keto recipes that the entire family will love.
You can make keto blueberry pancakes, easy fluffy almond flour pancakes (quick blender recipe), and even keto waffles.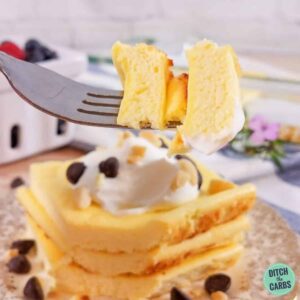 Sheet Pan Keto Pancakes (oven-baked pancakes)
Sheet Pan Keto Pancakes (oven-baked pancakes) are simple and delicious. Served with sugar-free maple syrup, whipped cream, and sugar-free chocolate chips.
Print
Pin
Rate
Want to lose weight and get healthy for life—without dieting, drugs, or making yourself miserable?
We can help! Tell me how!
Equipment
Food processor

Measuring cups and spoons

Baking sheets – non stick
Ingredients
170

g

cream cheese

softened

1

tbsp

granulated sweetener of choice

or more to your taste

4

egg

25

g

coconut flour

1/2

tsp

baking powder
Instructions
Preheat your oven to 180C/350F. Grease your pan and line the bottom with parchment paper to prevent pancakes from sticking.

Mix all your ingredients together in a blender or in a bowl with an electric hand mixer until the batter is smooth.

Pour the batter into the pan and tap it to the counter several times to level the batter.

Bake the pancakes for about 10 minutes. Let the pancakes cool for 10 minutes before cutting and serving. Top with your favorite keto-friendly toppings like whipped cream, sugar-free dark chocolate chips, and macadamia nuts.
Nutrition
Serving:
1
pancake (makes 8)
Calories:
117.6
kcal
Carbohydrates:
2.9
g
Protein:
4.5
g
Fat:
9.8
g
Saturated Fat:
5.2
g
Cholesterol:
105.2
mg
Sodium:
106.3
mg
Potassium:
84.9
mg
Fiber:
1.1
g
Sugar:
1
g
Vitamin A:
404.2
IU
Calcium:
44
mg
Iron:
0.5
mg
More coconut flour recipes
Get our FREE guide to finally fix your metabolism!
Losing weight & getting healthy is never easy, but lately you might feel like it's suddenly become impossible.
Our Flip the Switch guide will help you clearly understand what's been going on, as well as exactly what you can do to get your metabolism working again so that you can look and feel your best—it's easier and more simple than you think!