</p>
This is the EASIEST keto chocolate cupcakes recipe you'll ever find. You only need a few simple ingredients and it only takes 10 minutes to prepare this quick one-bowl recipe.
Moist keto almond flour cupcakes are naturally gluten-free, sugar-free, and with only 3g net carbs are perfect for the diabetic diet. All covered in the most delicious smooth and creamy keto chocolate frosting.
Part of living the low-carb or keto lifestyle is that you want to slowly give up most of your sweet baking but it is nice to have low-carb cupcakes as a healthy alternative.
Are you ready to create the ultimate 12-month blueprint for reaching your health & weight loss goals this coming year?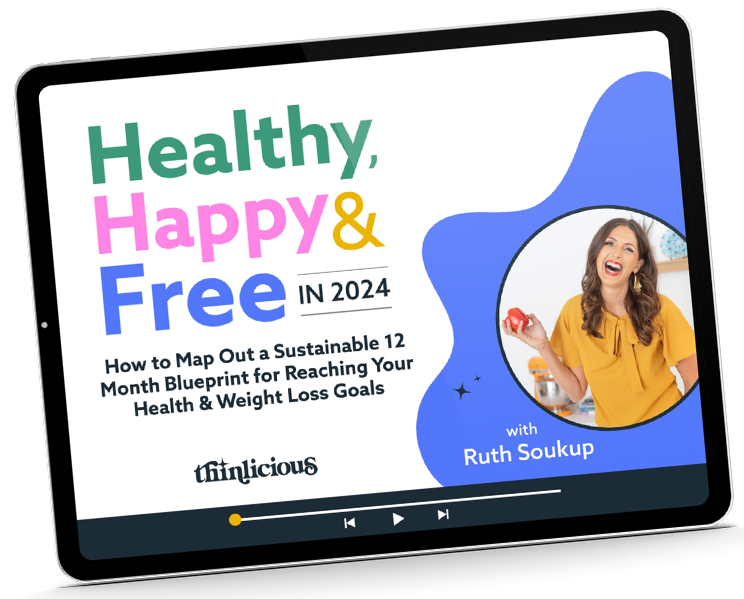 Our free on-demand video training will walk you through how to make 2024 THE year you set health goals…and keep them.
These keto chocolate cupcakes are perfect to stop a sugar craving or chocolate craving with perfect portion control. You need to put this at the top of your list of favorite keto desserts!
Baking 101 (tips & charts)

What are keto cupcakes made of?
The most common ingredients in keto baking and low-carb baking are some type of low-carb flour (usually almond flour or coconut flour) instead of wheat flour, a sugar-free sweetener instead of sugar, eggs, and baking powder to help the cake rise.
Keto cakes are the perfect sugar-free cakes for diabetics or anyone on a sugar-free diet.
Cupcake ingredients
Almond flour makes beautiful moist keto chocolate cupcakes. You don't need protein powders or xanthan gum. In fact, you don't need coconut flour or baking soda either! Here's a bit more information about what I used to make one of my favorite keto recipes.
butter – use either salted melted butter or unsalted, it really doesn't make a difference in this recipe.
granulated sweetener – adjust the amount of granulated sweetener to make it as sweet as you want it. You may require half or double the sweetener in the recipe depending on how long you have been on a low-carb diet or keto diet.
vanilla extract – or sugar-free vanilla essence for that true cupcake flavor.
eggs -these are the emulsifiers and keep everything together. Fresh eggs are best.
cocoa powder – for the best keto chocolate cupcakes, use rich or dark unsweetened cocoa powder.
almond flour – I suggest you use finely ground blanched almond flour rather than almond meal for the softest almond flour cupcakes possible. Keto chocolate cupcakes made with almond meal will still work, but they won't be as soft.
baking powder – the baking powder gives these low-carb chocolate cupcakes a lighter consistency.
double cream – heavy cream or even almond milk.
See the keto cupcakes recipe card below for ingredient quantities.
Which is the best keto sweetener?
The best sweetener for the keto diet is one that tastes like regular table sugar but won't raise your blood sugar.
The most commonly used keto sweetener are granulated erythritol, powdered erythritol (for smooth recipes such as frosting, cheesecakes, and cookies), monk fruit, stevia, allulose, xylitol, and some sugar alcohols.
I would avoid pure stevia powder as it is too easy to add too much which can make your cupcake recipe bitter tasting.
Instructions
Here's how to make the best keto chocolate cupcakes ever using my quick and easy one-bowl recipe.
In a large mixing bowl (that's microwave safe), melt the butter and sweetener in the microwave for 20 seconds to soften. Depending on the power of your microwave you may need to microwave for a further 10-15 seconds.
Add the eggs one at a time and mix it all together using an electric hand mixer beat butter, sweetener, vanilla, and eggs until pale and fluffy.
Add all the dry ingredients to the wet ingredients.
Using the hand mixer, mix until you create a smooth chocolate cupcake batter.
Don't overmix.
If your batter is too dry, add 1 or 2 tablespoons of heavy cream. If your batter is too wet, add 1 or 2 tablespoons of almond flour or cocoa powder.
Pour the batter into your prepared muffin tins and press gently, smoothing out the top with the back of a spoon.
I prefer to use cupcake liners but you can also use silicon cupcake cases or cut our pieces of baking parchment paper.
Bake in a preheated oven at 180C/350F in the middle rack for 10-12 minutes.
A toothpick inserted into the center of each cupcake will show you if they are cooked properly and comes out clean.
Let the cupcakes cool completely on a wire cooling rack to room temperature before you add the sugar-free frosting.
Keto frosting
The best way to serve keto chocolate cupcakes is to top them off with some keto chocolate cream cheese frosting and some optional (but yummy) walnut pieces.
How to frost cupcakes with a spoon
Using two small teaspoons, scoop some frosting with one spoon and place it onto the top of your cupcake, scraping it off with your second spoon.
Use the back of the teaspoon to smooth it over the top then press very gently in the middle then lift the spoon off to create a little peak.
How to frost cupcakes with a piping bag
If you have always wondered how to frost cupcakes with a piping bag, it's super easy with my secret kitchen tip.
Get a tall slim glass and push the piping bag with a nozzle to the bottom. Fold the piping bag over the top of the tall glass then carefully spoon your frosting into the piping bag and give the tall glass a few taps onto a tea towel to remove any air bubbles.
Fold the piping bag down to get all the frosting to reach the nozzle, open the bag again and spoon more frosting into your piping bag.
How to frost cupcakes without a piping bag?
If you don't have a piping bag you can use a large ziplock bag with a small corner cut with kitchen scissors in the corner.
Follow the same instructions as above and fill the Ziplock bag then gently squeeze the frosting over the top of your cupcakes, cakes, or cookies.
Substitutions
Are certain ingredients stopping you from making these chocolate keto cupcakes? Below you will find recommendations for common substitutions.
I suggest only making ONE substitution otherwise you are developing an entirely new keto cupcake recipe.
Almond flour – use half a cup of coconut flour but you'll need to add additional 3 eggs and extra double cream. See the guide to using almond flour and coconut flour (with conversion charts). But it's easier to use a coconut flour cupcake recipe instead that has been developed using coconut flour. (see below)
Eggs – use one tablespoon of flaxseed meal and three tablespoons of water and let it sit for 5 minutes. This will replace one egg.
Butter – use melted coconut oil instead of butter.
Double cream – you can use heavy cream, sour cream, unsweetened almond milk, or coconut cream.
The above substitutions are great alternatives to will keep your classic chocolate cupcakes keto, low-carb, and gluten-free.
Variations
Kick your keto cupcake recipe up a notch with these tasty recommendations below. Make your almond flour cupcakes caffeinated, with bits of nuts, or minty!
Caffeinated – add instant coffee or espresso powder to the cake recipe.
Chocolate – top with some sugar-free dark chocolate chips.
Minty – use a peppermint extract instead of vanilla extract for minty-flavored chocolate cupcakes.
Pecans – add chopped pecans to the keto chocolate cupcakes mixture and sprinkle some sliced pecans over the frosting to decorate.
Keto Chocolate Cake – instead of a muffin tin, pour the batter into a cake pan and top it with keto chocolate buttercream frosting.
If you want to make different size cupcakes, you can pour your keto chocolate batter into a mini muffin tin (mini cupcake tin) or a large muffin pan.
Cooking times will have to be adjusted.
Storage
Cooked keto chocolate cupcakes should be stored in the fridge in an air-tight container for up to 4 days. This dessert cuisine needs to be refrigerated, especially because of the chocolate cream cheese frosting.
Cooled cupcakes can be frozen in an airtight container for up to 3 months. It's best to freeze without the frosting. Once defrosted, serve with whipped cream instead.
Expert baking tips for the best keto cupcakes
Don't worry about the wrinkled tops of the cupcakes, this will be covered by your chocolate cream cheese frosting.
Don't overcook the cupcakes and remove the cupcake liners from the cupcake tray and place them immediately on the wire cooling rack. Otherwise, they will continue to cook in the hot cupcake tray.
Always test the center of your keto chocolate cupcakes with a toothpick to ensure they are cooked in the center.
FAQs about keto chocolate cupcakes
How many carbs are in keto cupcakes?
These tasty delicious keto cupcakes have only 3g of net carbs. If you want to add keto frosting, that is an additional 1g net carbs. Regular classic chocolate cupcakes can have 28g – 63g of net carbs and are made with sugar and wheat flour.
What's wrong with gluten-free flour?
Don't buy gluten-free baking mixes or gluten-free goods as these are generally high in starch, highly processed and incredibly high in carbs. They are stripped of any nutrition then fortified. Gluten-free products are mainly based on rice flour, potato flour or tapioca starch.

Gluten-free products are a billion-dollar industry. It is so much cheaper and easier to just go grain-free, and it is far more nutritious.
What makes a cupcake moist?
If you enjoy a moist chocolate cupcake, then simply avoid overmixing it. The secret to a moist cupcake is to create air bubbles in the batter that expand while it bakes. When you mix it too much, you run the risk of popping the air bubbles and creating a dryer cake.
Why is my cupcake batter is dry?
Almond flour cupcake batter can be dry if your almond flour has dried out n your kitchen. Add 1 or 2 tablespoons of heavy cream, sour cream, almond milk, or coconut cream to the batter.
Can you freeze keto chocolate cupcakes?
They can be frozen for up to 3 months. To defrost keto the cup cakes, remove as many as you need and leave them covered on the kitchen countertop for 1 or 2 hours. Serve with whipped cream with cocoa powder for an extra chocolate flavor.
Are gluten-free cupcakes keto?
No, most commercial gluten-free cupcakes are made with potato starch, tapioca starch, or another high-carb gluten-free flour. Keto recipes that use almond flour or coconut flour are naturally gluten-free and are keto friendly too.
Can I swap almond flour for coconut flour?
Yes, you can swap 2 cups of almond flour for half a cup of coconut flour but you'll have to add 12 eggs and more heavy cream. Almond flour and coconut flour are completely different flours and coconut flour is more absorbent so needs more liquids. Use a 1:4 ratio of coconut flour instead of almond flour. 1/2 cup coconut flour needs 3 eggs and 1/2 cup liquid.

But it's easier to use a coconut flour cupcake recipe instead that has been developed using coconut flour. (see below)

How many calories are in keto cupcakes?
There are 187 calories in these chocolate keto cupcakes, and low in carbs so perfect for the low-carb keto diet, diabetic diet, gluten-free diet and wholefood diet. They are packed with chocolate flavor but without added sugar or flour. The recipe notes show the full nutrition serving facts.
More keto cupcake recipes
These are one of my favorite healthy recipes because they have a really rich chocolatey flavor and minimal amounts of carbs.
They are the perfect way to portion control your low-carb dessert.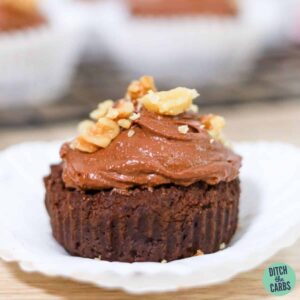 The BEST Keto Chocolate Cupcakes Recipe
The BEST keto chocolate cupcakes recipe (almond flour cupcakes). This easy one-bowl recipe is only 3g net carbs with a sugar-free keto chocolate frosting
Print
Pin
Rate
Want to lose weight and get healthy for life—without dieting, drugs, or making yourself miserable?
We can help! Tell me how!
Equipment
Measuring cups and spoons

Mixing bowls

Cupcake tray
Ingredients
Keto chocolate cupcakes
110

g

butter

melted

6

tbsp

granulated sweetener of choice

or more, to your taste

2

tsp

vanilla extract

3

eggs – medium

50

g

cocoa powder (unsweetened)

unsweetened

200

g

almond meal/flour

1

tsp

baking powder

2

tbsp

heavy whipping cream

if necessary
Keto chocolate frosting
1

keto buttercream

optional (see recipe notes below)
Instructions
Mix the melted butter, sugar-free sweetener, and vanilla extract together until pale and fluffy.

Add the eggs one at a time and mix.

Fold in all the dry ingredients (cocoa powder, almond flour, and baking powder).

If your cupcake batter is too dry, you may need to add 1 or 2 tablespoons of heavy cream to the cupcake batter.

Divide the cupcake batter between 12 cupcake cases and tap gently on the countertop to remove any air bubbles.

Bake at 180C/350F for 10-12 minutes.

Allow the cupcakes to cool completely on a wire rack then decoarate with whipped cream, keto chocolate frosting, or sprinkle with powdered sugar-free sweetener.
Nutrition
Serving:
1
cupcake
Calories:
187.4
kcal
Carbohydrates:
6.3
g
Protein:
5.8
g
Fat:
17.3
g
Sodium:
75.8
mg
Potassium:
115.9
mg
Fiber:
3.3
g
Sugar:
0.8
g
Vitamin A:
288.5
IU
Calcium:
63.4
mg
Iron:
1.4
mg
More keto desserts
If you want a healthy family dessert recipe instead, these keto cake recipes and desserts are ones the whole family will love.
Get our FREE guide to finally fix your metabolism!
Losing weight & getting healthy is never easy, but lately you might feel like it's suddenly become impossible.
Our Flip the Switch guide will help you clearly understand what's been going on, as well as exactly what you can do to get your metabolism working again so that you can look and feel your best—it's easier and more simple than you think!