It's delicious healthy comfort food that tastes just like a cheeseburger, just without the hamburger bun and the french fries.
This easy keto cheeseburger casserole recipe is quick to make with plenty of shredded cheddar cheese, bacon, cream cheese, and ground beef.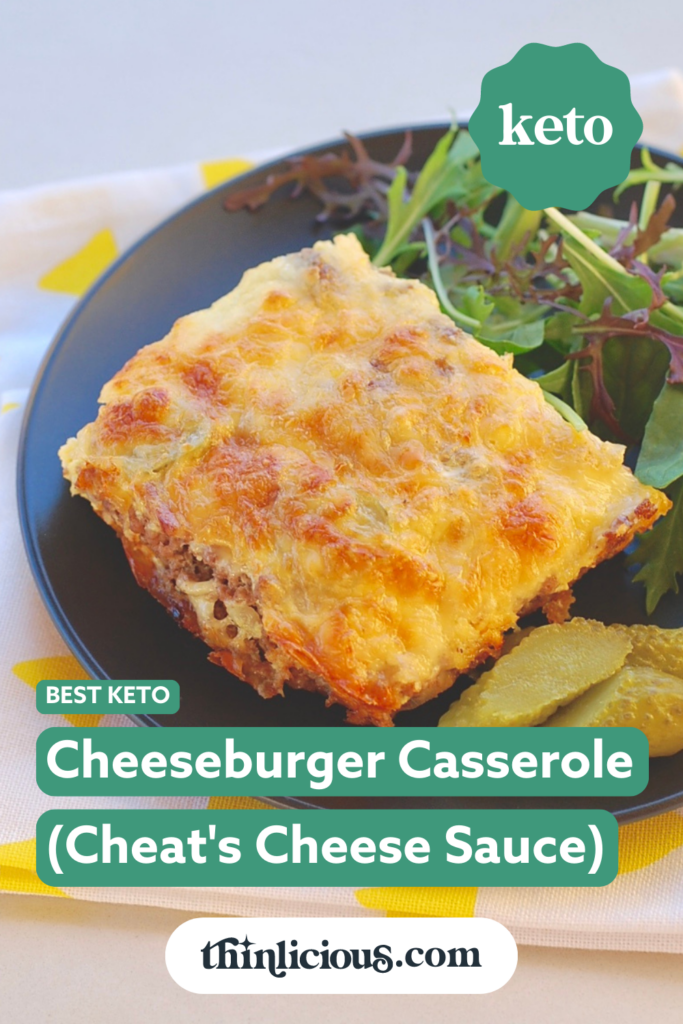 Every bite has flavored meat, fried bacon pieces, garlic, and a creamy cheese sauce that you can't get enough of.
Top tip: This recipe also inspired me to make a cheat's Big Mac salad too. So if you are craving your regular take out or fast food, save your time and save your money and make a homemade burger salad instead.
Are you ready to create the ultimate 12-month blueprint for reaching your health & weight loss goals this coming year?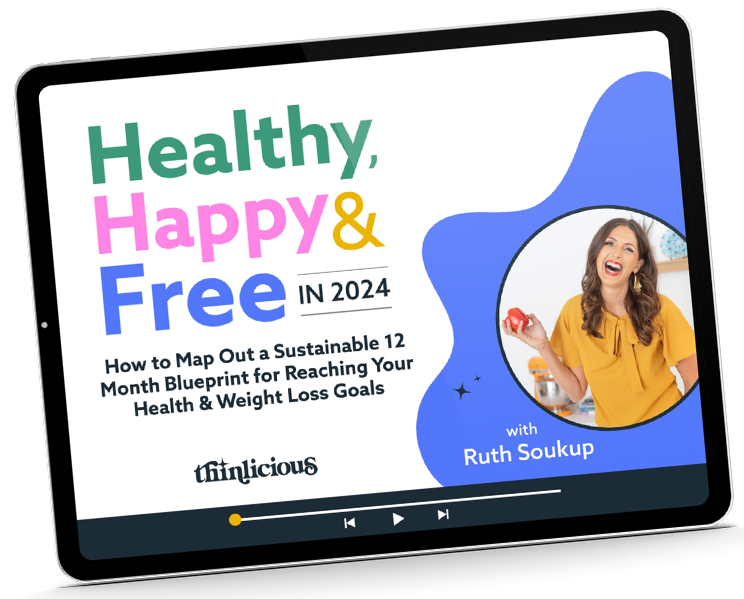 Our free on-demand video training will walk you through how to make 2024 THE year you set health goals…and keep them.
What is a cheeseburger casserole?
A keto cheeseburger casserole has all your favorite flavors of a regular cheeseburger but without the traditional carbs, hamburger buns, and fries.
So you can enjoy the traditional cheeseburger taste but stay within your macros and stay on track with your low-carb diet or keto diet.
It is a family-friendly dinner that is also keto-friendly and perfect for meal prep. It can be frozen and can be made ahead.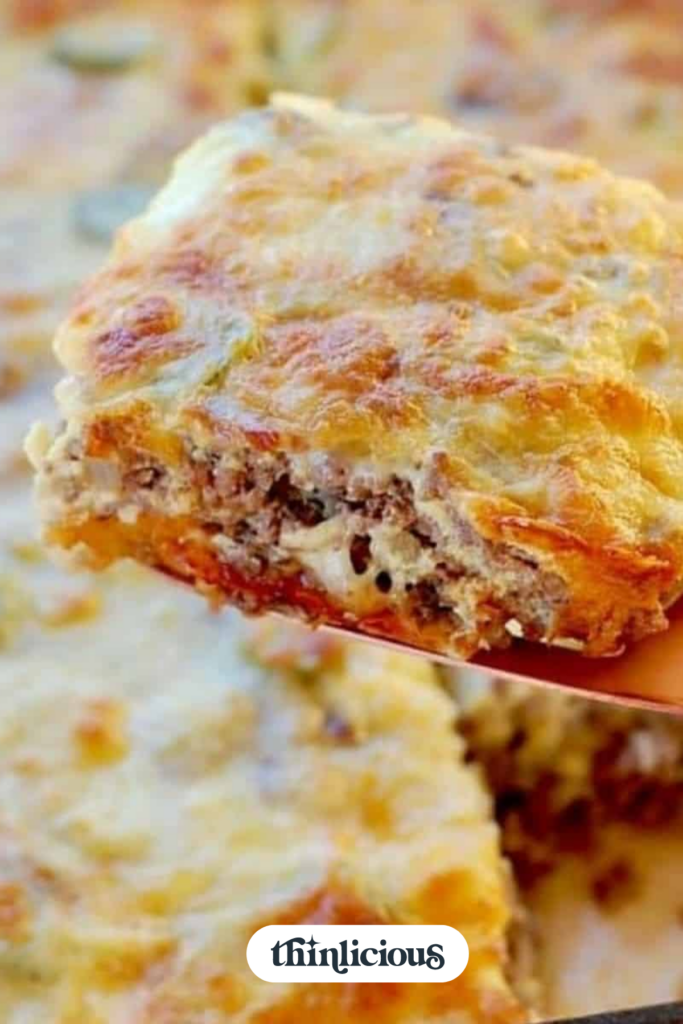 What are the layers in a keto hamburger casserole?
There are only two simple layers to your low-carb burger casserole and they can both be made in under 10 minutes and then baked in a casserole dish.
The first is a layer of ground beef, onion, garlic, and cream cheese.
The second layer is my secret cheat's cheese sauce poured over the top.
You can add regular cheeseburger toppings such as yellow mustard, gherkins, and pickles, all topped off with a shredded cheese crust.
What is a cheat's cheese sauce?
This is known as the cheat's version of the cheeseburger casserole because there is no complicated cheese sauce to make.
In fact, my secret cheat's cheese sauce is such a simple recipe, you throw everything together in a small mixing bowl and pour it over the cooked ground beef. It couldn't get any easier.
What I love about cheesy keto bacon cheeseburger casserole, is that you can prepare the quick and easy family dinner while you are waiting for your oven to heat to the required temperature.
Sprinkle with shredded cheese, then pop the delicious family casserole in the preheated oven.
Ingredients
You only need a few simple ingredients to make the keto cheeseburger casserole recipe. Everything can be found in most local grocery stores.
All quantities, ingredients, and detailed instructions are in the recipe card below.
Ground Beef Layer
Onion – quartered and sliced. You can use onion powder or dried onion flakes also.
Crushed garlic – minced garlic, or even garlic powder will do.
Ground beef – or another meat (see below). Lower fat ground beef (lean beef) is best.
Cream cheese
Bacon – chopped bacon, sliced, cubed, crumbled bacon,or cooked bacon
Salt and pepper – add seasoning to taste
Cheat's Cheese Sauce
Eggs – medium-size is best but you can use the egg conversion charts if you have different sized eggs on hand
Heavy cream – heavy whipping cream, pouring cream
Cheese – use any variety of cheese below
Mustard – choose mustard without any added sugars. Dijon mustard is nice in a low-carb cheeseburger casserole.
G

herkins or chopped pickles – sliced

, cubed, chopped.
Salt and pepper – add seasoning to taste
Extra cheese – to sprinkle over and make a crunchy cheese topping.
How to make keto cheeseburger casserole
There are two easy layers to the easy cheeseburger casserole recipe. In between each layer is where you can go crazy adding all the favorite fillings you like to eat in a regular cheeseburger. Gherkins? Bacon? More cheese?
STEP 1: The ground beef layer
Fry the bacon pieces in your frying pan or cast iron skillet with a little olive oil until cooked then remove and set aside.
With the bacon grease left in the frying pan, fry (saute) the chopped onion, crushed garlic, and ground beef until thoroughly cooked. Add salt and pepper to taste, and stir through the cream cheese.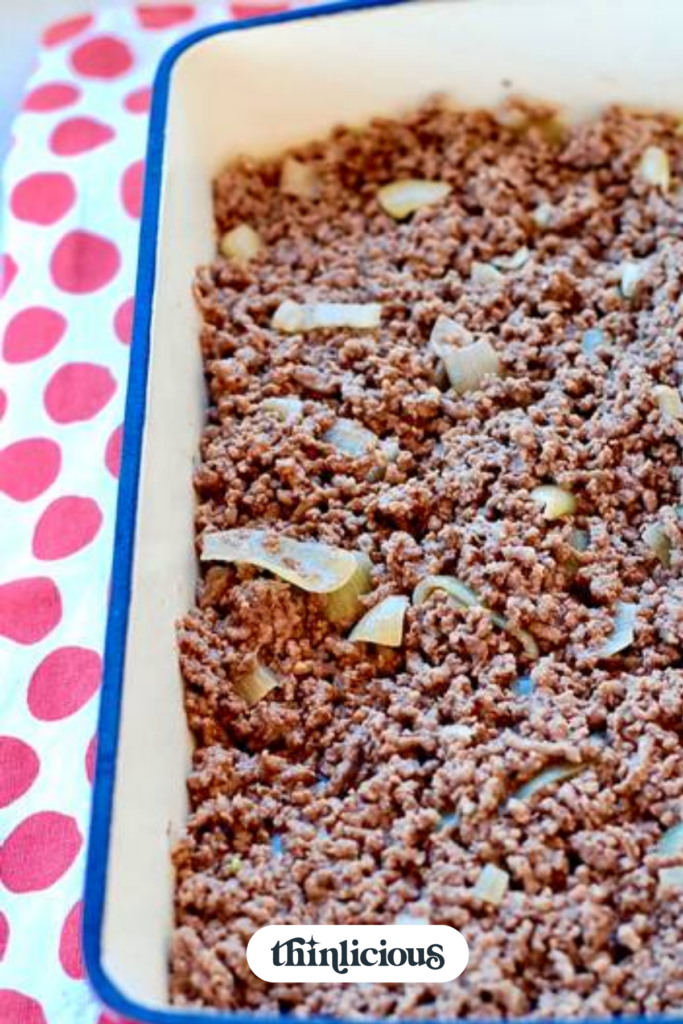 Pour the cooked ground beef layer into the prepared baking dish. Sprinkle the cooked bacon pieces over.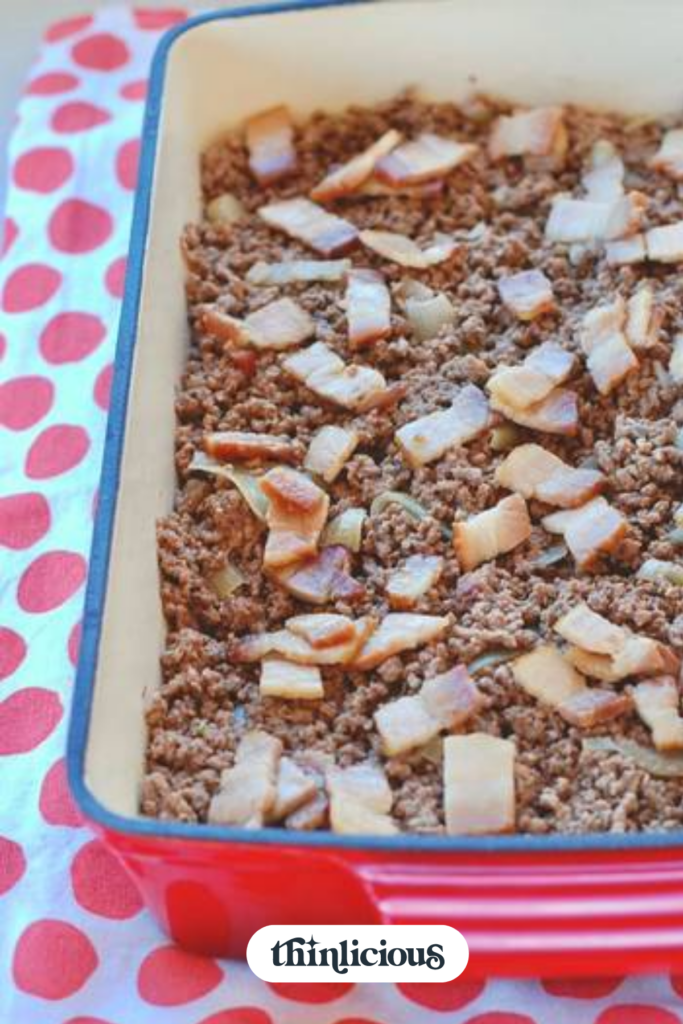 Add some sliced pickles/gherkins (pickled in vinegar, check for added sugars). You can omit these if you are a gherkin hater, or only place them on half the low-carb bacon cheeseburger casserole if your children don't like pickles/gherkins.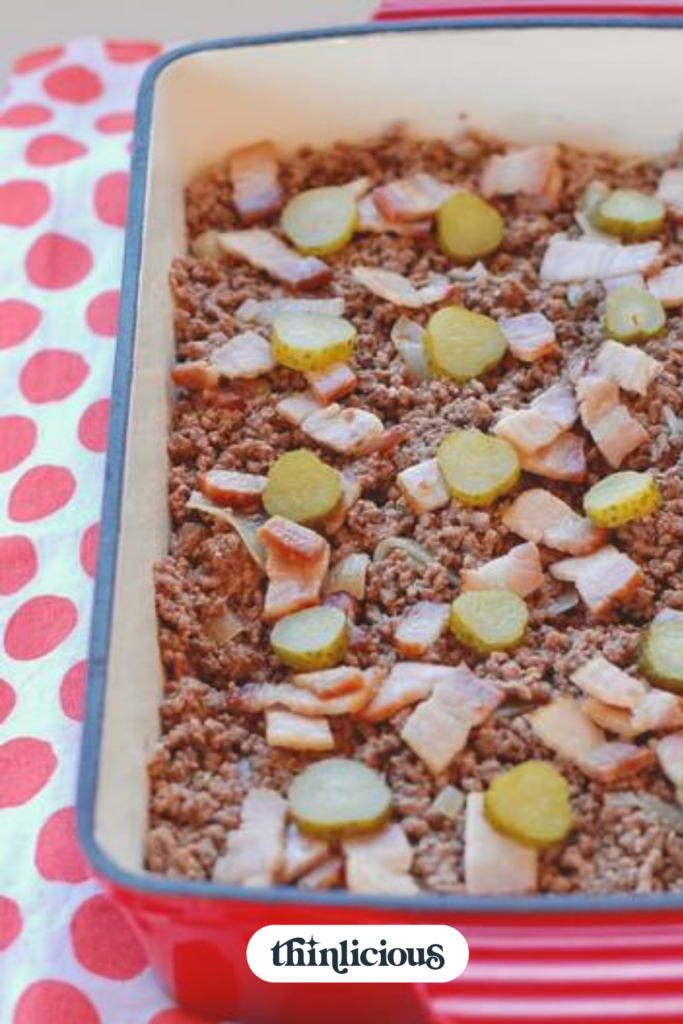 STEP 2: The cheese sauce layer
Now it's time to make the easy cheese sauce. Mix together the fresh eggs, heavy cream, shredded cheese, and spices together in a medium bowl.
Pour the cheat's cheese sauce over the hearty beef layer, then add plenty of grated/shredded cheese to make a super cheesy crust. This is what makes the low-carb cheeseburger casserole taste so amazing.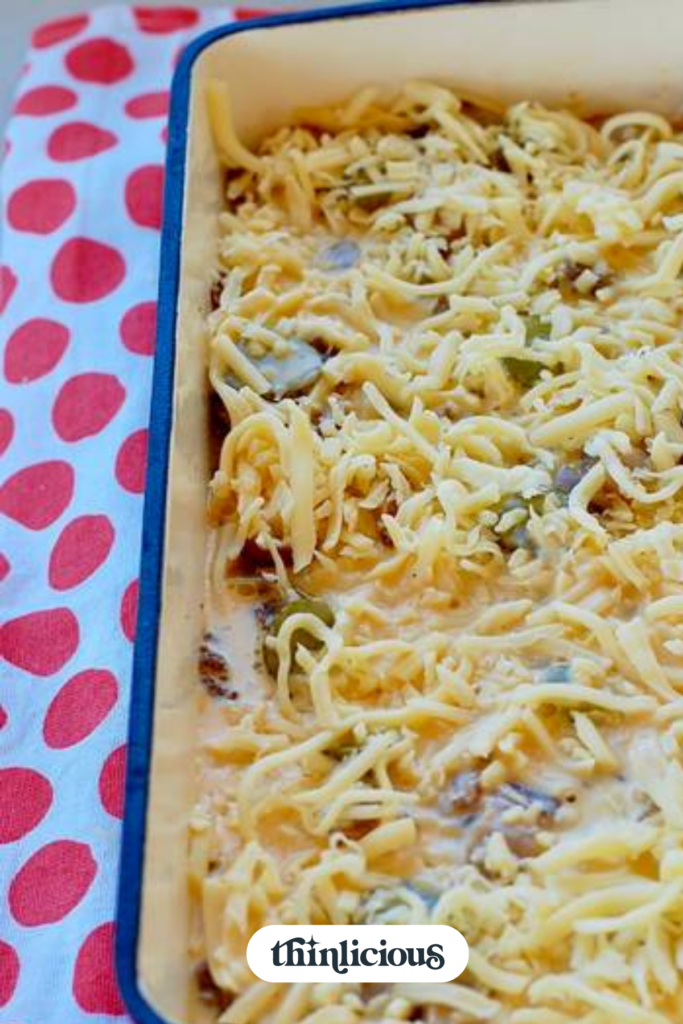 STEP 3: Bake
Place the cheeseburger casserole into the preheated oven at 180C/350F on the middle shelf (wire rack).
Bake for 15 minutes until the shredded cheese is golden, crunchy, and crispy.
How to store cheeseburger casserole
This is the perfect keto dinner for meal prep. You can make a double batch and freeze it in individual portions for a quick and easy keto freezer meal.
Once cooked, remove the casserole dish from the oven and place it on a wire rack to cool down.
Using a sharp knife, cut the keto hamburger casserole into squares then place each individual portion into a meal prep container (airtight container). Label with the date.
To store the whole casserole, wrap the baking dish in plastic wrap, then wrap it in aluminum foil, before storing it in the freezer.
Place the airtight food storage container (or plastic food storage bag) in the refrigerator for up to three days, or in the freezer for up to 3 months.
How to defrost
Remove the keto cheeseburger casserole from the freezer and leave it covered on the kitchen bench for 2-4 hours, or microwave using the defrost setting.
To reheat, place in the oven for 20 minutes, or in the microwave using the reheat function.
Make sure there are no cold spots and it is thoroughly heated.
Substitutions
There are quite a few different ingredients you can substitute in this keto cheeseburger casserole if you need to.
You can use ground turkey or ground chicken instead of beef in the ground beef mixture. I'm a huge fan of bacon, but you can leave it out or use turkey bacon instead.
For the sauce, you can add a dash or two of Worcestershire sauce or chili sauce (such as tobacco) for a little more flavor. It's safe to enjoy these sauces on the keto diet.
How to make low-fat cheeseburger
Use 90% lean ground beef.
Drain any excess fat from the ground beef mixture before pouring it into the casserole dish to bake.
Use low-fat cream cheese.
You can add some cauliflower rice to one of the layers of this lean ground beef casserole. Cauliflower rice is a low-carb vegetable that will bulk up your dinner but without any added carbs.
Expert recipe tips
This recipe is so simple, it has to be seen to be believed.
You make the two easy layers and throw them into your baking dish then bake in the oven.
But if you're running out of time, you can simply throw the keto cheeseburger casserole recipe all together and omit the first step of browning and cooking the beef.
Yes, that's right. I sometimes mix the raw ground beef, diced onion, crushed garlic, and cream cheese together in a large mixing bowl.
Place it all into the prepared casserole dish, add your favourite burger fillings then cover the ground meat layer with my cheat's cheese sauce and extra cheddar cheese.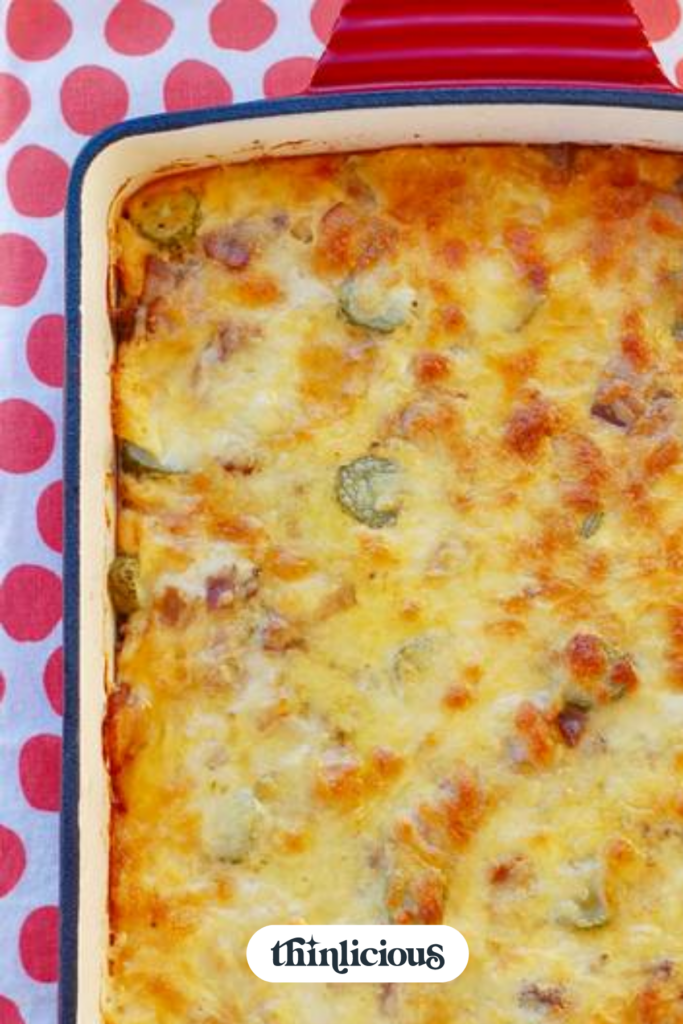 If you do have time to cook the beef first, the bacon cheeseburger casserole only requires 15 minutes of cooking time for the sauce and cheese to bake and create a crunchy cheesy topping.
If you are using raw beef, cook for 40 minutes to ensure all the meat is thoroughly cooked through the centre of the casserole dish.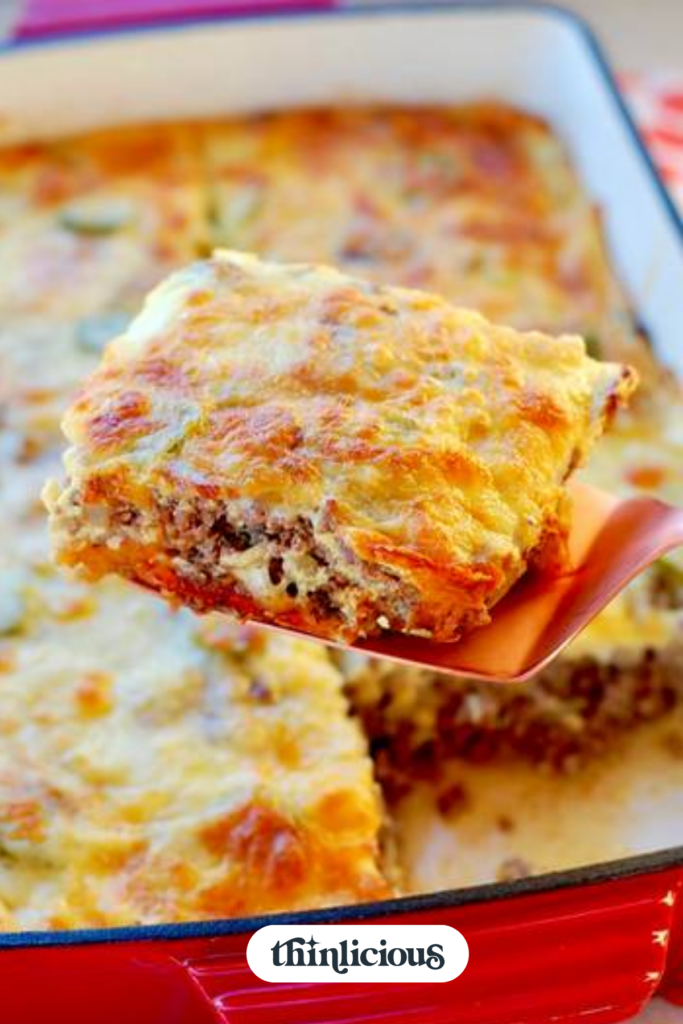 Keto beef recipe FAQs
If you don't see your question in this list, please leave it in the comments.
How many carbs are in keto hamburger casserole?
There are only 3.4 grams net carbs in each serving of this easy keto cheeseburger casserole.
Is a cheeseburger keto friendly?
A typical cheeseburger with a bun is not keto-friendly because of the bread. Bunless cheeseburgers can be both gluten-free recipes and low-carb.

Missing the bun? Simply make this delicious keto hamburger bun (it won't fall apart on you!)
Are pickles keto?
This depends on the type of pickles you are talking about. Always read the ingredients and do not eat pickles that have sugar listed. Dill pickles are usually keto-friendly, but sweet ones or bread and butter ones are not.
Can keto hamburger casserole be made with different meat?
Yes, you can use ground chicken, ground pork, ground turkey, and even ground lamb, depending on which meat you prefer, instead of ground beef.
Why is there cream in the cheese sauce?
The heavy cream makes the sauce creamy and easy to pour.
Which cheese is best for a keto cheeseburger casserole recipe?
The best cheese for a cheeseburger is cheddar cheese, American cheese, Swiss cheese, Jack cheese, Monterrey Jack, and even vegan cheese can be used (as long as the cheese melts).
What is the best way to cook crispy bacon pieces?
You can cook bacon in the air fryer or on a large skillet on medium-high heat with a little olive oil until crispy. Drain on kitchen paper to stop soggy bacon.
Best keto side dishes to serve with beef
Forget French fries with your keto cheeseburger casserole, try these low-carb and keto side dishes instead. Spaghetti squash is a light and buttery side dish the whole family will love alongside any keto casserole.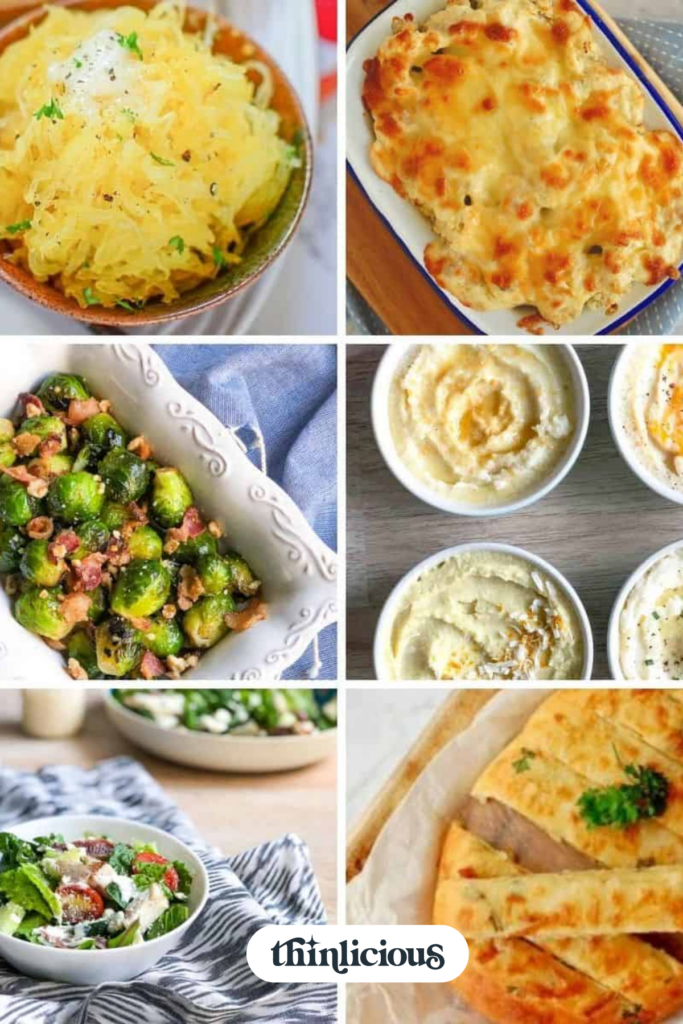 There are so many delicious low-carb and keto side dishes to serve with keto ground beef recipes. Beef is a family-friendly dinner and so you need to choose easy healthy side dishes that the whole family will love.
Here are some of my favorite keto beef side dishes.
In addition to the side dishes above, I love to serve this dish with a huge side salad and homemade 1-minute mayo or the Big Mac salad dressing.
More keto ground beef recipes
For more healthy recipes the whole family will love, these keto recipes are a few ideas for tonight.
Each recipe is gluten-free and perfect for a low-carb diet or keto diet.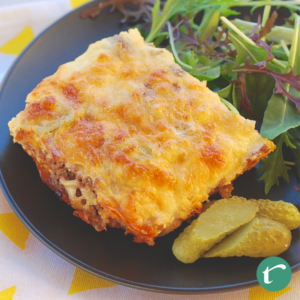 Keto Bacon Cheeseburger Casserole Recipe
A family-friendly easy recipe for low carb bacon cheeseburger casserole. Yes, you read that right. Your kids will guarantee to love this, the only thing missing is the bun and the soda – perfect!
Print
Pin
Rate
Want to lose weight and get healthy for life—without dieting, drugs, or making yourself miserable?
We can help! Tell me how!
Ingredients
Ground Beef Layer
1

onion

quartered and sliced

1

clove

garlic minced

crushed

750

g

ground/minced beef

60

g

cream cheese

full fat

3

slices

bacon

diced

+/- salt and pepper

to taste
Cheats Cheese Sauce
3

eggs – medium

125

ml

heavy whipping cream

100

g

shredded/grated cheese

2

tbsp

mustard

2

dill gherkin pickles

sliced

+/- salt and pepper

to taste

50

g

shredded/grated cheese

to sprinkle over
Instructions
Ground Beef Layer
Fry the bacon pieces until cooked then remove and set aside.

Fry the onion, garlic and beef until thoroughly cooked. Add salt and pepper to taste, stir through the cream cheese.

Pour the beef layer into the baking dish. Sprinkle the bacon pieces over.
Cheats Cheese Sauce
Mix the eggs, cream, shredded/grated cheese, mustard, salt and pepper together. Pour the cheese sauce over the beef and bacon.

Place slices of gherkins/pickles all over the top then cover with the remaining shredded/grated cheese.

Bake at 180C/350F for 15 minutes until the cheese is golden and crispy. Serve with salad and 1-minute mayonnaise.
Nutrition
Serving:
1
serve ( serves 6)
Calories:
613.2
kcal
Carbohydrates:
3.4
g
Protein:
33.3
g
Fat:
51.1
g
Sodium:
833.1
mg
Potassium:
479.5
mg
Fiber:
0.5
g
Sugar:
1.4
g
Vitamin A:
818.6
IU
Vitamin C:
1.7
mg
Calcium:
247.3
mg
Iron:
3.2
mg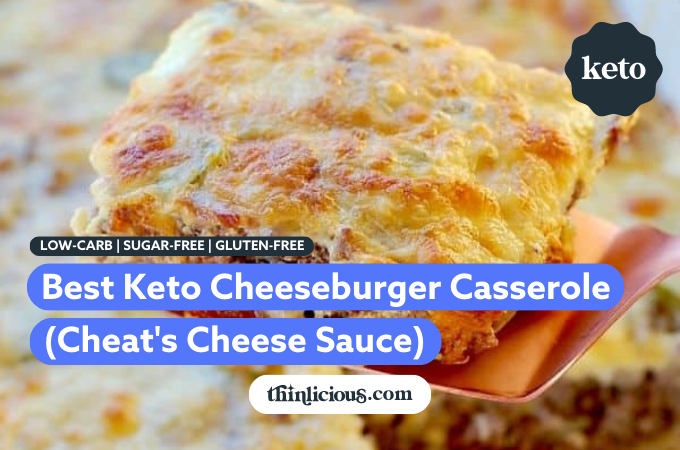 People also ask
Can you have tomato ketchup on the keto diet?
Regular ketchup (tomato sauce) has too much sugar for the ketogenic diet. Instead you can buy (or make) sugar-free ketchup which is fewer grams of net carbs.
What is keto taco casserole?
A taco casserole has layers of tortilla chips, refried beans, ground beef, and plenty of cheese. It's a great meal prep recipe the entire family loves (and even picky eaters eat).
The best thing about a juicy bacon cheeseburger casserole is that with a few simple swaps, you can make a keto taco casserole. Add some tomato paste, chili powder, taco seasoning, and cover with the remaining cheese.
What are the best low-carb casseroles for a busy weeknight?
When you want to enjoy delicious recipes but don't have time to cook mid-week, a frozen low-carb casserole is perfect for meal planning. You can freeze a whole casserole or individual portions.
Easy chili keto casserole (chili dog casserole), zucchini and bacon casserole, and keto breakfast casserole with bacon are a great way to get a delicious meal on the table when life gets busy.
Get our FREE guide to finally fix your metabolism!
Losing weight & getting healthy is never easy, but lately you might feel like it's suddenly become impossible.
Our Flip the Switch guide will help you clearly understand what's been going on, as well as exactly what you can do to get your metabolism working again so that you can look and feel your best—it's easier and more simple than you think!