This super simple recipe for coconut flour low-carb zucchini bread is naturally grain-free and gluten-free. It's also dairy-free – so it's Paleo too!
Who knew zucchini bread was a sweet recipe? Not me until a reader sent me a request to develop a low-carb version of their favourite zucchini bread recipe.
While your garden is bountiful with zucchini/courgettes, fill up the freezer with coconut flour low-carb zucchini bread. It is perfect for low-carb lunches and portion-controlled sweet treats.
Is zucchini keto?
Yes, zucchini is keto as long as you don't eat too much, too often. There is actually no such food that "is keto" or "isn't keto". whether you choose to add a certain food into your weekly meal plan, will be determined by how much and how often you eat that food.
Ready to lose weight and get healthy for life without dieting, drugs or making yourself miserable?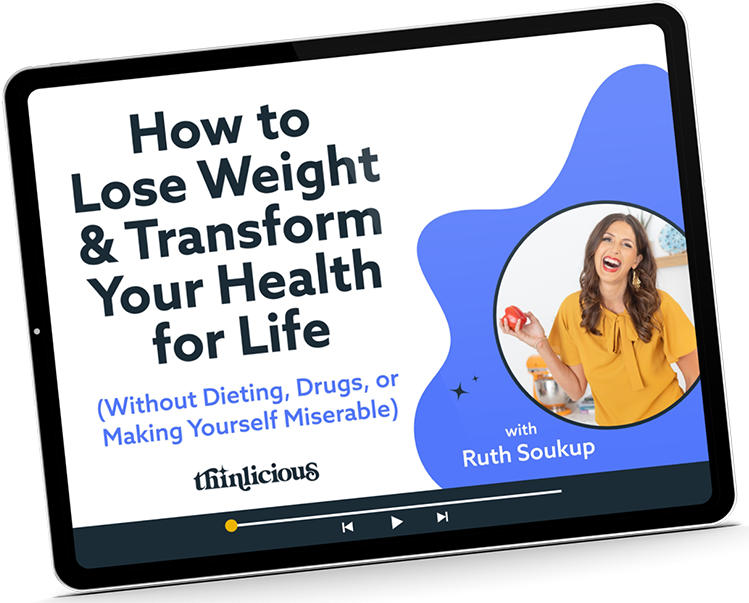 Our free on demand video training will help you understand why it's been so hard and what do to about it.
You may also wonder if milk is keto? Is couscous keto? And are carrots keto? Here I discuss Is That Keto – the top 10 foods you ask me.
Zucchini nutritional value per 100g/3.5oz is 3.1 g total carbs – 1 g fiber = 2.1 g net carbohydrates. You use a mere 17 calories, 1.2 g of protein, and a whopping 29% of your daily vitamin C needs. Not bad for a medium zucchini!
Nutritional values from cronometer.com
There are so many delicious keto recipes to use zucchini (that kids will actually eat). Fresh zucchini is a versatile vegetable that can be used in sweet recipes or savory recipes.
Zucchini bread, chocolate cake, baked bacon egg zucchini casserole (keto egg casserole), baked zucchini chips (4 ways), zucchini baked taco boats (with ground beef), and of course, low-carb spaghetti bolognese with zoodles.
All are delicious ways to use up excess zucchini when it is in season.
What Is Zucchini Bread

?

I was asked to develop a low-carb zucchini bread recipe, but using coconut flour because their child has an almond flour allergy – game on! I love a challenge.

Zucchini bread is a sweet bread recipe, similar to banana bread. Best served warm or toasted, with butter and I personally like to sprinkle cinnamon and little sweetener on top for a real treat when I have a sweet craving.

Luckily at only 1.3g net carbs per slice, we can happily call this a keto zucchini bread too.
Coconut Flour Bread
If you have been here for a while you will know I am developing more recipes using coconut flour rather than almond flour.
Why? There are various reasons, but primarily because almond flour has a high ratio of inflammatory omega 6, almond flour is expensive, and many children are either allergic to almonds or they attend a school with a nut-free policy.
Take a look at my recipe finder for coconut flour recipes.
How to make muffins
Now if you are needing a faster recipe that is also portion controlled, why not bake the mixture into low-carb zucchini muffins? The recipe will easily make 8 large zucchini bread muffins, or 15 mini zucchini cupcakes.
The coconut flour low-carb zucchini bread muffins/cupcakes will bake so much faster. Each oven will vary and so will the size of the muffin/cupcake tins you chose to use – but they generally take 10 – 15 minutes to bake.
Always test the centre to ensure a fork pressed inside, comes out clean.
How to make chocolate bread
Now if you are loving zucchini bread, or if your garden is growing with zucchini/courgettes, why not make a low-carb zucchini chocolate bread too?
Simply add 1/4 cup unsweetened cocoa powder, an extra egg and extra sweetener (to your taste), and mix through.
I also have a chocolate zucchini cake you might like (your children will never know there are hidden vegetables inside).
Love low-carb bread recipes? You'll love these too.
Get our FREE guide to finally fix your metabolism!
Losing weight & getting healthy is never easy, but lately you might feel like it's suddenly become impossible.
Our Flip the Switch guide will help you clearly understand what's been going on, as well as exactly what you can do to get your metabolism working again so that you can look and feel your best—it's easier and more simple than you think!