The perfect keto meal or snack that's only 1.6g net carbs.
Discover the simple recipe that can be made as low-carb dumplings, empanadas, or patties.
My kids LOVE these and always ask me to make double so they can have them in their school lunch box.
If you are an absolute beginner with Fat Head dough, you may want to see the supreme guide to making fat head dough even without a microwave. Can be made with almond flour or coconut flour EVEN WITHOUT a microwave PLUS 16 keto recipes to use it.
Are you ready to create the ultimate 12-month blueprint for reaching your health & weight loss goals this coming year?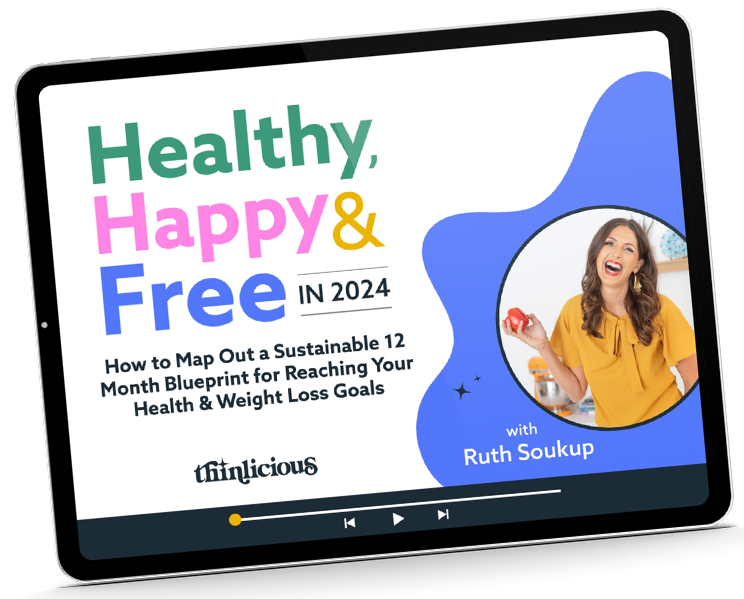 Our free on-demand video training will walk you through how to make 2024 THE year you set health goals…and keep them.
Keto Italian pastry
If you miss Italian pastries, then using Fat Head dough is the perfect solution and I have a cheats way to make the beef filling.
Next time you make my low-carb spaghetti bolognese with zoodles, reserve a little leftover ground/minced beef for filling the calzones. This recipe doesn't require much at all, so it's an easy way to repurpose and stretch a meal.
What is a calzone?
It's an Italian folded pastry with savory fillings you would often find in a pizza or other Italian dishes. They are made in 2 easy steps.
1: Simply make your Fat Head dough (scroll below for the recipe and quick video) as shown in these pictures.
2: You can make them by hand, folding and pinching the Fat Head dough, or you can buy an inexpensive little calzone press that makes keto calzones a breeze in a few seconds.
You simply cut out a circle of Fat Head dough using a glass tumbler. Place the Fat Head dough in the press, or the palm of your hand. Add 1 or 2 teaspoons of filling, some cheese, then fold over the press, or fold the edges together using your fingers to crimp it shut.
How to make keto dumplings or empanadas
Who else loves empanada, dumplings, and savory patties? Cornish pasties even?
You can make them all using the method to make these keto calzones, all you need to do is vary the filling.
Fat Head Dough Empanadas – fill with any leftover low-carb nacho beef mix. Add extra mozzarella and serve with salsa.
Fat Head Dough Dumplings – fill with leftover keto crackslaw and bake until golden. Dumplings are usually steamed, but the Fat Head dough can't withstand steaming.
Fat Head Dough Savoury Patties – fill with ground beef mixture used to make mini meatloaves.
Ways to use fat head dough
Once you discover Fat Head dough, there is no going back. It is naturally gluten-free and grain-free, just amazing mozzarella, cream cheese, and egg.
This is the ultimate Fat Head pizza recipe. For anyone who doesn't know, Fat Head pizza was created by Tom Naughton's oldest brother's oldest son. Ever since it has been named in honor of his Fat Head Movie.
These are my top 5 Fat Head dough recipes:
Low-carb lunch ideas
Fat Head dough calzones are perfect for low-carb lunch boxes too. If you are looking for low-carb lunch box recipes and ideas, these may help you.
My Low-Carb Lunch book has 34 easy recipes, a 5 step program to reduce the carbs and junk food from your kid's daily meals and there's even a FAQ written just for children.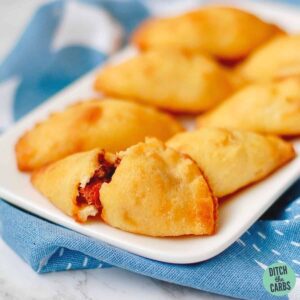 Fat Head Dough Keto Calzones Recipe
Incredible keto Fat Head dough calzones that are healthy and gluten free. Perfect for low-carb healthy lunch boxes .

Print
Pin
Rate
Want to lose weight and get healthy for life—without dieting, drugs, or making yourself miserable?
We can help! Tell me how!
Ingredients
Fat Head Dough
170

g

shredded/grated cheese

mozzarella is the best or Edam/mild cheese

85

g

almond meal/flour

2

tbsp

cream cheese

1

eggs – medium

1

pinch

salt

to taste

1/2

tsp

dried rosemary/ garlic or other flavourings

optional
Calzone Filling
150

g

spaghetti bolognese

(leftovers)

50

g

shredded/grated cheese

mozzarella is the best
Instructions
Fat head Dough
Mix the shredded/grated cheese and almond flour/meal in a microwaveable bowl. Add the cream cheese. Microwave on HIGH for 1 minute.

Stir then microwave on HIGH for another 30 seconds.

Add the egg, salt, rosemary and any other flavourings, mix gently.

Place the dough in between 2 pieces of baking parchment/paper and roll out as shown in the pictures above.
Calzones
Remove the top piece of paper. Cut the Fat Head dough into circle shapes using a glass tumbler or mug.

Place the circle of dough into the calzone press. Place 1 or 2 teaspoons of spaghetti bolognese into the centre, add some grated/shredded cheese, then close the calzone press gently. After the first calzone, you will know whether to add more or less to the calzones. Each calzone press is slightly different.

Place each meat and cheese filled calzone on a lined baking dish, bake at 180C/350F for 20 minutes, or until golden brown and crispy.
Notes
Fat Head pastry can also be made by replacing the almond meal/flour with 1/4 cup (4 tbsp) coconut flour.
If the mixture hardens and becomes difficult to work with, pop it back in the microwave for 10-20 seconds to soften again but not too long or you will cook the egg.
If you do not have a microwave, you can gently melt the cheeses together in a saucepan.
Nutrition
Serving:
1
calzone (makes 12)
Calories:
97
kcal
Carbohydrates:
2.5
g
Protein:
7.1
g
Fat:
9.4
g
Fiber:
0.9
g
Sugar:
0.7
g
Top 10 Fat Head dough recipes
If you love these keto mozzarella calzones, I have a Fat Head dough recipe roundup for you with 10 easy keto fathead dough recipes.
So I think you'll agree, once you master mozzarella dough, you can make almost anything.
Get our FREE guide to finally fix your metabolism!
Losing weight & getting healthy is never easy, but lately you might feel like it's suddenly become impossible.
Our Flip the Switch guide will help you clearly understand what's been going on, as well as exactly what you can do to get your metabolism working again so that you can look and feel your best—it's easier and more simple than you think!