Make the crazy keto reverse omelette with a crispy cheesy crust that is rich, filling, delicious, and high in protein. You'll never make a regular omelette the same way again!
Crunchy on the outside and soft and fluffy in the centre. Filled with ham, cheese and baby spinach makes the perfect breakfast, filling lunch, or quick and easy dinner.
Keto reverse omelettes are the perfect quick breakfast that you can enjoy at home or eat on the go. Discover how to take this omelette on the road with you!
What is a keto reverse omelette?
A reverse omelette is like a traditional omelette but the cheese is on the outside instead of inside the omelette. The cheese cooks on the outside of the omelette and turns into a delicious crispy cheese crust.
Are you ready to create the ultimate 12-month blueprint for reaching your health & weight loss goals this coming year?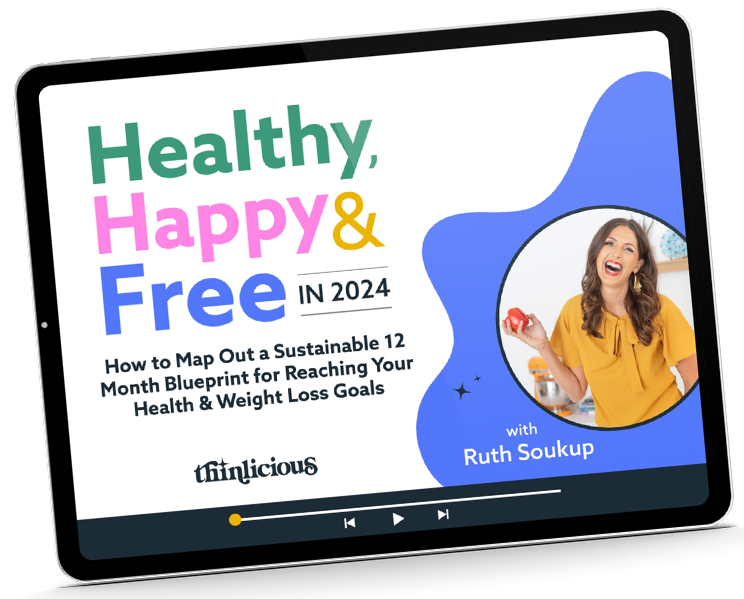 Our free on-demand video training will walk you through how to make 2024 THE year you set health goals…and keep them.
The keto reverse omelette can be eaten hot or cold.
If you are looking to mix up your low carb breakfasts then a keto reverse omelette is exactly what you are looking for. This cheesy omelette only takes a few minutes to make and is customizable to your tastes.
How many carbs in an omelette?
An omelette is traditionally made with whisked eggs and some cheese. How many carbs are in an omelette depends on which fillings or sauce is used.
Egg (medium) = 0.5g net carbs, 5.5g protein, 68 calories.
Mozzarella cheese (1/4 cup, 30g) = 1g net carbs, 8g protein, 90 calories.
Nutritional values from cronometer.com
This high-protein breakfast is the perfect substitute for regular sugary granola, no more jelly/jam on toast, and no more desserts as breakfasts. This reverse omelette is a wonderful keto breakfast that will keep you full until lunch.
How to make a reverse omelette
A reverse omelette is an easy recipe with grated/pre-shredded cheese sprinkled onto the bottom of a frying pan, with whisked eggs poured on top. Place any yummy filling inside then when it is cooked, fold the omelette in half to create a crispy cheese crust.
The combination of crispy cheese and tasty keto fillings gives this breakfast amazing flavour. With a keto reverse omelette, you will have the fuel you need for an excellent morning.
Instructions
1: Pre-heat frying pan – To make a reverse omelette you will first want to heat the pan over medium-high heat on the stove while you beat your eggs in a bowl and prep any fillings you want to add to your omelette. I like to keep my fillings simple with a slice of ham and a handful of baby spinach.
2: Add pre-shredded cheese – Once you have whisked your eggs sprinkle plenty of grated cheese on the bottom of a medium skillet or non-stick fryng pan. You can use shredded cheese or sliced cheese.
Continue to cook until the cheese starts to bubble and turn brown around the edges.
3: Add eggs – Next, pour your eggs into the frying pan and add any herbs or spices that you like. Tilt your pan from side to side to make sure the eggs cover the entire bottom of the pan then cover the omelette with a lid.
Covering your pan with a lid will allow the whisked eggs to cook evenly and will prevent the cheese from burning.
4: Add fillings – When your eggs are almost cooked all the way through (just slightly runny) you can remove the lid, add your choice of fillings, and then cover with a lid again to finish cooking for another minute.
5: Fold in half – When the eggs are done cooking remove the lid and run a silicone spatula around the edges of the omelette and fold in half. Slide the spatula under the omelette to fold it in half or to slide the omelette off the plate.
Your reverse omelette can be served folded in half, openfaced, or wrapped to be eaten on the go. Garnish and enjoy!
How to flip an omelette (without it breaking)
Before any of the following methods, you need to run run a silicone spatula around the edges of the omelette to ensure it will lift easily from your hot skillet/frying pan.
How do I know when to flip omelette?
Once the top of the whisked eggs Is no longer wet and you can no longer see any wet raw eggs. Little holes or bubbles may appear over the surface too.
How do you invert an omelette?
Grab a plate that is the same size as your frying pan. Place on top of the pan and with one quick action, one quick flip of your wrist, flip the pan and plate together so the omelette falls onto the clean plate.
How to stop the omelette from falling apart?
Allow the eggs to cook completely through, this will prevent the omelette from breaking. Don't add too much milk, cream, or other liquids to your egg mixture, this dilutes the eggs that hold everything together.
Do you flip an omelette like a pancake?
Yes you can, but you don't need to flip an omelette at all. The eggs will cook through to the top and as long as you can't see any liquid raw eggs, they can be served without flipping at all.
How do you fold an omelette in half?
Slide the spatula under the omelette to fold one half on top of the other then slide it off the plate.
Why can't I flip my omeltte?
There are a number of reasons, but the most common are:
– not oiling your pan
– adding too much liquid to your eggs
– not cooking your eggs enough
– using a spatula that is too small
– using an old spatula that has ragged edges
– adding too many fillings
How to make a fluffy omelette?
Mix/whisk your eggs just before adding them to the hot frying pan. As soon as you pour into the pan, whisk as you would do for scrambled eggs but only for a few seconds until you start to see cooked lumps of eggs and there is still plenty of runny raw eggs. Now leave alone and allow the remaining raw eggs to cook like an omelette.
Should you add milk to omelette?
No. Adding milk, cream or any other liquid just makes the eggs tough and a little slimy.
Serving
Your reverse omelette can be served folded in half, openfaced, or wrapped to be eaten on the go. Garnish and enjoy!
My family absolutely loves making crispy keto reverse omelettes, and I love that my kids can join in to make this healthy breakfast in the morning.
Note: You must cook your omelette on medium heat. Cooking your omelette on high won't make it cook faster, it will just burn the cheese.
Fillings
You can use any combination of meat or vegetables in your omelette. Just keep in mind that your net carb count will change based on the fillings you use. You only need a little to fill your omelette.
Once you master how to cook the perfect omelette, there is almost an infinite number of fillings you can use.
What are the best keto reverse omelette fillings?
If you choose a filling that has a longer cooking time I recommend you either cook it in advance (like bacon) or add it to the omelette right after adding the eggs to the pan (like diced onions/peppers).
Below are some keto-friendly omelette fillings you may like.
bacon – always ensure it is cooked befroe adding to the raw eggs
turkey – cooked
cooked ground meat – cooked
leftover grilled chicken
peppers – diced or sliced
onions – finely diced or pre-cooked
capsicum/bell peppers – diced or finely sliced
courgette/zucchini – squeeze out any water if using raw zucchini
kale – chopped
fresh herbs
Which ham to use in an omelette?
Try to choose the best quality ham you can find. Choose one with the least amount of preservatives, additives, and sugar you can find. I prefer to choose ham that has been sliced off the bone, and I avoid processed ham that has been shaped into squares, circles, or a dinosaur.
Alternatively, you can make your own keto glazed ham at home.
What cheese is best in omelettes?
It depends on whether you prefer a tasty cheese or a mild cheese. Pre-shredded cheeses such as cheddar, mozzarella, and edam all melt perfectly inside an omelet.
Some cheeses won't melt, like paneer, feta, or halloumi, but can be added cubed or sliced. Shaved or grated parmesan adds a lovely tangy sharp tasty and can be added into the egg mixture or sprinkled on top.
How to eat your reverse omelette at home (or on the go)
After your reverse omelette is done cooking it is easy to slide onto a plate to enjoy. However, if you are short on time you may need to eat your omelette on the go.
Since the outside of the omelette is crispy and not soft you can easily eat this meal on the go like a taco. Simply wrap a folded omelette in a paper towel, foil, or parchment paper and take it with you.
Reheating
How to reheat an omelette? – A reverse omelette can be reheated in a skillet, microwave, or toaster oven.
If you are reheating it in a skillet be sure to use low heat and cover the omelette so that it heats evenly. Your omelette will only take 30-45 seconds to reheat in the microwave, and 1-2 minutes in a toaster oven.
Be sure to share your keto favorite omelette fillings and let us know which cheese is your favorite when making a reverse omelette. Enjoy!
More egg breakfast recipes
If you love eggs, you'll love the short 3-day egg fast. Get the printable meal plan, and 41 recipes PLUS the 5 simple rules to follow.
What is the keto egg fast diet?
It is a short-term diet often used when weight loss has stopped. The egg diet consists of eggs as your main source or protein with some healthy fat.
The egg fast diet menu is not just boiled eggs or scrambled eggs, but a wide variety of sweet breakfast recipes and savory recipes that are all perfect alongside your keto diet.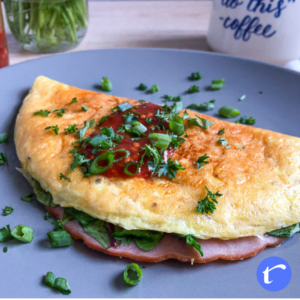 Easy Keto Reverse Omelette Recipe
Keto reverse omelette is an easy to make breakfast with crispy cheese on the outside.
Print
Pin
Rate
Want to lose weight and get healthy for life—without dieting, drugs, or making yourself miserable?
We can help! Tell me how!
Ingredients
2

eggs – medium

salt and pepper

to taste

⅓

cup

pre-shredded/grated mozzarella

or cheese of choice

1

cup

spinach

or veggies of choice

1

oz

ham

or cooked meat of choice

½

tbsp

garlic chili sauce

garnish, optional

½

tsp

fresh parsley

garnish, optional
Instructions
Heat your skillet on medium heat on the stove. While the skillet is heating crack and beat your eggs in a bowl. Add salt and pepper to your eggs if desired.

Once your skillet is hot sprinkle the bottom of the skillet with your cheese, or lay down your slice of cheese. Pour the eggs into the skillet on top of the cheese. Tilt your pan as needed to spread the eggs out. Cover your skillet with a lid and allow the eggs to cook until the eggs are slightly runny (about 2-3 minutes).

Remove the lid and add your fillings to one half of the omelette. Place the lid back on the skillet and allow the eggs to finish cooking (about 1-2 minutes).

When the eggs are done cooking remove the lid and run a spatula around the edges of the omelette. Slide the spatula under the omelette to fold it in half or to slide the omelette off the plate. Your reverse omelette can be served folded in half, openfaced, or wraped to be eaten on the go. Garnish and enjoy!
Notes
Garlic chili sauce is optional and is an additional 1g-2g NET carbs per tbsp of sauce, depending on the brand chosen.
Nutrition
Serving:
1
g
Calories:
313.6
kcal
Carbohydrates:
2.5
g
Protein:
26.3
g
Fat:
21.6
g
Sodium:
719.3
mg
Potassium:
369.9
mg
Fiber:
0.7
g
Sugar:
0.8
g
Vitamin A:
3540.7
IU
Vitamin C:
8.4
mg
Calcium:
267.5
mg
Iron:
2.6
mg
Get our FREE guide to finally fix your metabolism!
Losing weight & getting healthy is never easy, but lately you might feel like it's suddenly become impossible.
Our Flip the Switch guide will help you clearly understand what's been going on, as well as exactly what you can do to get your metabolism working again so that you can look and feel your best—it's easier and more simple than you think!