This helpful guide will give you almost an entire month's worth of keto breakfast ideas that are high-protein and low-carbs for a keto diet- just for you!
Let me show you 23 easy low-carb breakfast ideas. Most of these recipes can be made in advance or in large batches and frozen for a quick and easy morning meal prep.
Some may take a little more time to prepare than others, so I would say keep those recipes for the weekend, and really enjoy slow food with the family.
One of the most frequently asked questions is "what can I have for breakfast when keto?" When you need something quick and easy for breakfast, these low-carb breakfast recipes and keto breakfast recipes will keep you full until lunch.
Low-carb keto breakfast FAQ
We're about to jump into all the yummy recipes, but first, let me answer a few questions you might have about what to eat for breakfast when on a low-carb diet or keto diet.
Easy low-carb breakfast meal-prep recipes
Alright, let's get into some simple keto breakfast ideas! Find one you like and double or triple the recipe so you can always have a healthy way to start the day.
This is the MOST popular granola recipe for children. They love the crunchy granola and it's chocolate too. It's easy to breakfast meal prep with this easy sheet pan granola recipe.
This is without a doubt, my go-to breakfast for my children and husband. I make a huge batch of this every 2 weeks and they serve it with unsweetened yoghurt, berries, and coconut cream.
Top Tip: When you join the 4-week QUICKSTART, you'll make a big batch of grain-free granola that will keep your breakfast organised for the first 2 weeks
Nutty granola (gluten-free and sugar-free)
If you're not a fan of coconut in your gluten-free granola, the nutty granola is for you.
The famous 2-step almond flour bread is the most popular bread on the site and in my Ditch The Carbs PRO 4-week QUICKSTART.
Throw this all together then you have your fast keto breakfast sorted for the entire week!
Meatloaf cupcakes (high-protein breakfast)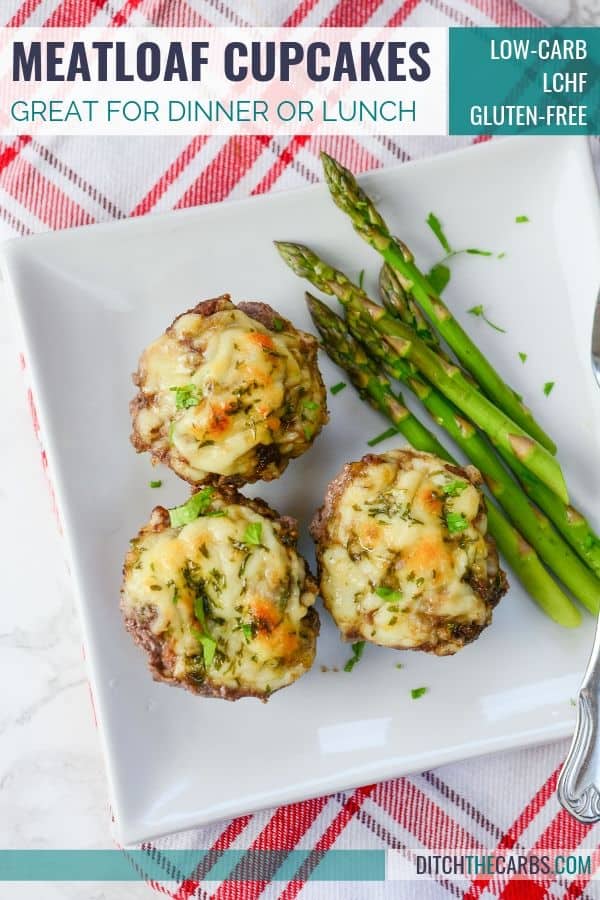 Mini meatloaf cupcakes are great for breakfast, lunch, and dinner. So make a double or triple batch and store them in your freezer then defrost or microwave one as you need them.
What could be easier?
A great alternative to nut flours is coconut flour. This keto bread is perfect for your morning toast.
Learn how to boil a dozen eggs in just a few minutes then enjoy perfect boiled eggs for breakfast or a high protein snack.
Easy low-carb breakfast (in under 5 minutes)
Keto breakfast chaffles are an absolute game-changer.
Made with only 2 ingredients and they take only 3 minutes PLUS they keep you full until lunch so you can stop your mid-morning snacks.
This is a quick and dirty easy breakfast (or lunch or snack) idea. I have an egg cooker that I pop on as I head into the shower, by the time I return, the eggs are cooked.
Chop cheese into sticks (soldiers), and you have breakfast ready for a crowd.
This recipe has quickly become a family favourite, now that's an encouraging sign. There are 5 flavour options to start you off. I am sure you will love at least one of them.
If you love omelettes, you'll love the reverse omelette that has a crunchy cheese exterior.
A fast keto breakfast and you can add your choice of yummy fillings. Ham, chives, bacon, avocado, and even mayonnaise!
If you like your breakfast to be a bit spicy, let's pimp that omelette and make a keto breakfast burrito instead.
You only need 2 minutes each morning, and if you don't, you can get your children to make it. It's high-protein, easy, keto, and it's delicious, healthy, and filling.
Creamy hollandaise sauce is the epitome of a keto breakfast. Pour over these poached eggs and a 1-minute muffin with a splash of spinach and bacon.
Egg wraps are even great for the lunchbox! They can be flavored any way you like.
Easy low-carb breakfast (without eggs)
These delicious keto breakfast ideas without eggs are perfect for the whole family.
A delicious cold refreshing keto berry smoothie that's keto, dairy-free, sugar-free, gluten-free, vegetarian, and vegan smoothie
The most popular filling and FAST keto breakfast recipe, is the simple keto green smoothie.
This one has a special hidden ingredient that will even make your kids love it – mint! Yes, that's right. Tell them this is a mint milkshake and they will quickly swap their processed sugary granola for a glass or two of keto green smoothie.
Coffee is life! I ALWAYS start my morning with a good strong creamy coffee.
I want to help you stop the takeout and the expensive drive-throughs so now you can make these keto Starbucks recipes at home.
Another easy breakfast idea the whole family will love. Throw it all in the blender and your keto breakfast is ready!
The perfect dairy-free coffee to kick start your day and the full-fat coconut crema will keep you full and buzzing all morning.
Low-carb keto pancakes and waffles
These won me the "Keto waffle goddess"award. See why they are so easy and can win over the most ardent carb lover. They are the mOST popular keto breakfast recipe for the entire site.
If you don't have time to flip pancakes each morning … am I right? So make these keto sheet pan pancakes instead.
Why not make double and pack some for lunch?
An easy keto breakfast meal prep recipe. Make a few of these and keep them in the freezer then pop one in the toaster when you need a quick and easy way to start your day.
Almond flour pancakes
Almond flour pancakes are the perfect low-carb option for a tasty breakfast the whole family will enjoy.
These fluffy BLENDER low-carb pancakes in only a few minutes.
And only 3.3g net carbs too!
Best toppings for keto pancakes
I like to place a scoop of sweetened whipped cream on the top of my pancakes and sprinkle them with sugar-free dark chocolate chips and roasted macadamia nuts. But there are so many other toppings for keto pancakes.
Depending on your carb limit, you may be able to add a few low-sugar berries on top too.
More low-carb keto breakfast recipes
If you still need more low-carb breakfast recipes or more keto breakfast ideas (that aren't eggs) then you can use the low-carb and keto breakfast recipe finder.
What is the best keto breakfast that keeps you full? What is your quick and easy healthy breakfast? How did you get sugary granola out of your morning routine? Please leave me a comment below, I love discovering new keto recieps and new low-carb ideas.
Get our FREE guide to finally fix your metabolism!
Losing weight & getting healthy is never easy, but lately you might feel like it's suddenly become impossible.
Our Flip the Switch guide will help you clearly understand what's been going on, as well as exactly what you can do to get your metabolism working again so that you can look and feel your best—it's easier and more simple than you think!