I have compiled my 10 Best Kitchen Tools For Healthy Eating that will help you address the 2 most common pain points of healthy eating – time and money.
Which is your favourite? (spoiler alert, mine is number 3).
Best cooking gadgets
Let's start with the big kitchen appliances? The Instant Pot and slow cooker are by far the best kitchen appliances when you are short on time.
1: Instant Pot
The Instant Pot is an absolute staple in my healthy eating kitchen.
Are you ready to create the ultimate 12-month blueprint for reaching your health & weight loss goals this coming year?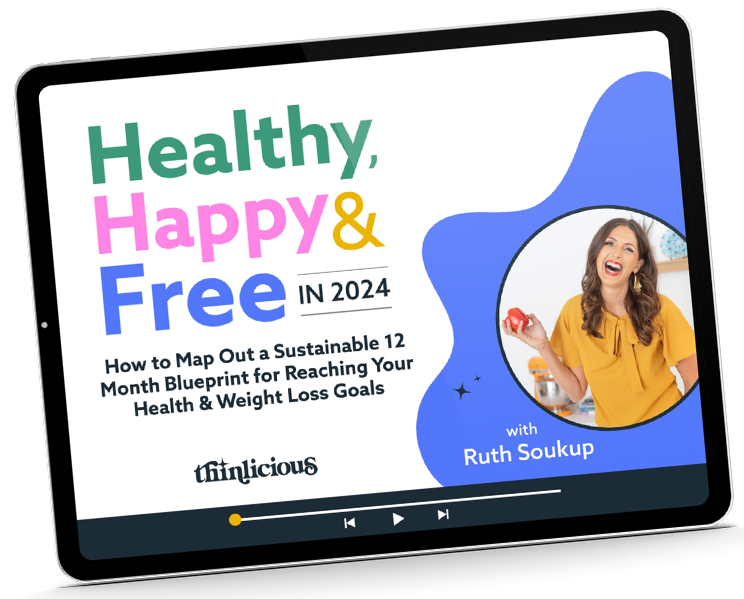 Our free on-demand video training will walk you through how to make 2024 THE year you set health goals…and keep them.
It is a pressure cooker and slow cooker PLUS it can saute, all in the one appliance.
A regualr meal that may take 6-10 hours to cook in the slow cooker, may only take 20-30minutes in the pressure cooker. Now who doesn't love a healthy family dinner on the table FAST?
Still trying to figure out which size to buy? Make sure to read Which Instant Pot is Best for Me. My guide will help you determine which one will work for your family.
If you already have one, what are your favorite instant pot accessories?
Our favorite may be the trivet or the mini mitts. It really is hard to pick.
2: Slow Cooker
Slow-cookers make life easy, don't they? Just set up your meal in the morning, the night before, or even program them to start at a certain time, and dinner is ready when you walk in the door.
I have to admit, there's nothing like walking in the doorway and smelling a perfect whole chicken, YUM!
Prepping your meals over the weekend can make a huge difference during the crazy weeknights. By batching steps like chopping veggies and seasoning meats, you can prepare the whole week's menu.
So when Wednesday rolls around, you can dump all the pre-cut and seasoned ingredients into the instant pot or slow cooker. Keep it simple!

Best baking tools
3: Stick Blenders
Making homemade soups and sauces couldn't get any easier with this handy kitchen gadget! You can use a stick blender right in your pot as it's designed with the blades protected.
The best thing is clean up! Just dip into a cup of lightly soapy water and blend.
Just take a look at my creamy cauliflower soup and my sugar-free nutty spread. Both recipes use my stick blender to make them smooth and extra creamy.
4: Food Processor
Remember when we were talking about healthy meal prepping? Yes, you'll definitely want to have a food processor on hand.
You'll not only want it for chopping but shredding and slicing too!
Do you love pesto or salsa? Yes? Food processor, enough said.
5: Zoodle Makers
Okay it's technically not just a zoodle maker. Using a spiralizer makes life so much easier especially when you want to create different size ribbons.
Save time veggie prepping with this wonderful kitchen tool!
New here? Want to learn how to make zoodles?
Best kitchen storage
6: Healthy Meal Prep Containers
Airtight food storage containers are a necessity for low-carb meal prepping. You don't want to put all the work in and end up with spoiled meals. The goal is to save money!
Always choose meal prep containers that can be washed and reused time and time again.
Save your wallet and save the planet!
7: Healthy Lunch Box Containers
Planning healthier lunches for the whole family doesn't have to be overwhelming. We've put together a couple of articles that'll definitely make it simpler.
Lunch box containers can help with serving size and creating well-balanced options.
Top Tip: Get your kiddos involved in making their own healthy school lunches. They have a much better chance of eating everything.
Best small appliances
8: Waffle Makers (Mini and Large for Chaffles)
Mini or large waffle makers will work for making low-carb chaffles.
Chaffles are so versatile that you can create variations that work for breakfast, lunch, dinner, and even dessert!
And if you would like a FREE chaffle cookbook, DOWNLOAD NOW.
9: Egg Cooker
Save some time and batch cook your eggs! You don't have to worry about that pot of boiling water.
Pop the egg cooker on as you head for your morning shower, then as you walk past the kitchen, cooked eggs will be awaiting you.
Egg cookers are amazing when you have to prep eggs for multiple dishes. They have settings for poaching along with hard and soft boiling.
10: Stuffed Hamburger Maker
Crank out hamburger patties stuffed with some of your favorite fillings.
Making bunless burgers don't get much easier than this! This is definitely on my favorite kitchen tool for healthy eating kids!
Which Kitchen Tools For Healthy Eating Do You LOVE?
Ultimately, you need to find out what works best for your family. What are their favorite go-to recipes? That'll help determine which time-saving techniques and gadgets are the most important.
What do you find yourself prepping the most often?
What takes up the majority of your prep time?
How much storage space do you have?
How far in advance will you be planning?
Get our FREE guide to finally fix your metabolism!
Losing weight & getting healthy is never easy, but lately you might feel like it's suddenly become impossible.
Our Flip the Switch guide will help you clearly understand what's been going on, as well as exactly what you can do to get your metabolism working again so that you can look and feel your best—it's easier and more simple than you think!