Watch what happens when you boil soda and fruit juice. Amaze all your school friends.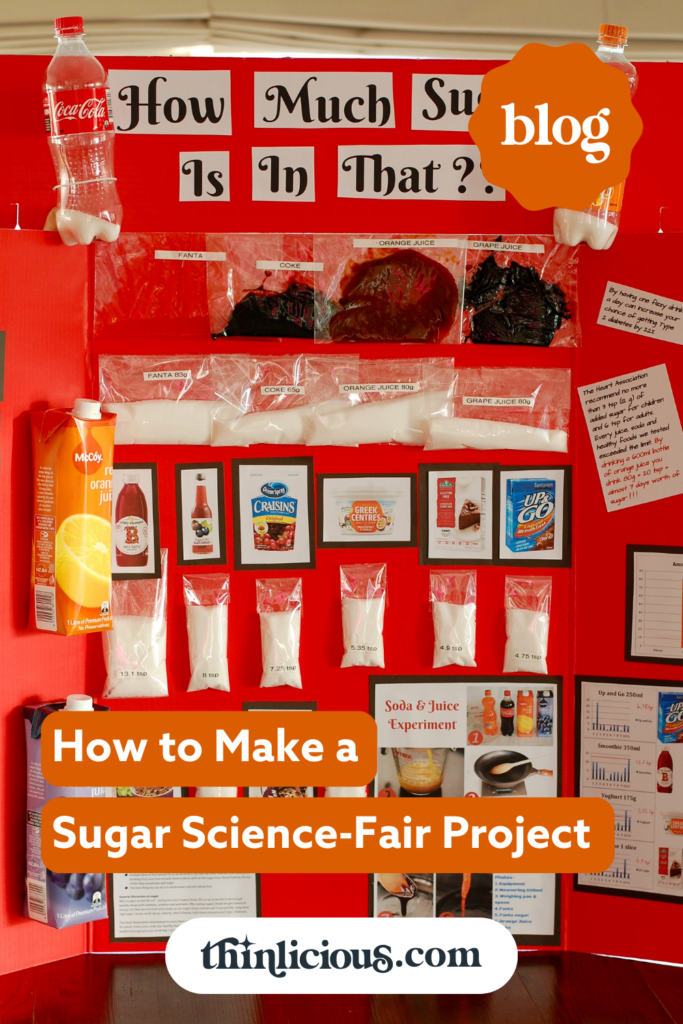 Sugar Science Fair Project
My son recently competed in his school science fair, I thought it would be interesting to share his results here, and it might give some tips for anyone wanting to conduct a similar science fair project on sugar.
Science fair projects are increasingly popular as people are becoming aware of just how much sugar is in everyday foods and drinks. It is fun to do and children love the shock tactics of hidden sugar.
I was amazed this year how many science fair projects were related to sugar in some way. It's a hot topic and that is fabulous that kids want to get on board. And seriously, if you want your children off soda and juice, DO get them to try this at home (with adult supervision of course).
Are you ready to create the ultimate 12-month blueprint for reaching your health & weight loss goals this coming year?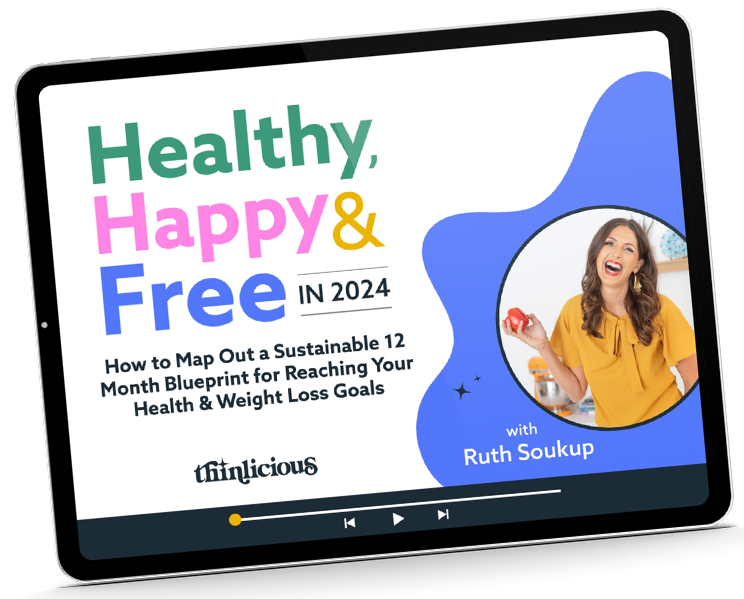 Our free on-demand video training will walk you through how to make 2024 THE year you set health goals…and keep them.
---
Method
600ml (20 fl oz) of each soda and juice were measured. This is a common bottle size, but nowhere close to the 2.5-litre bottles some people drink. Each soda and juice was boiled down leaving the sugar remaining. My son wanted to see just how much sugar is in soda and in fruit juice, and if fruit juice is any healthier.
Ask if adults could guess how much sugar is in foods that many people consider to be 'healthy'
Results
Watch this video I put together of him boiling soda and juice, but there is a warning, you may never drink soda or juice after watching this. It really brings the message home that these drinks are nothing but liquid sugar in a bottle.
That sticky horrid mess left over at the end, he popped into sealed bags for everyone to see. His sugar science fair project is now on permanent display in the science block.
You may notice the gloopy sticky mess that soda and juice become once the water has evaporated. This alone should put you off them. The sugar found by his experiment is pretty close to what the nutrition labels state. It shows the incredible sugar contents of these drinks.
Most have 20 TEASPOONS of sugar. Now I don't know about you, but I sure won't be giving my children 20 sachets of sugar when they are thirsty!
And don't think juice is a healthy option. Sure it may contain some vitamins, but there is no fibre and most are heat treated or made from concentrate. Drinking a glass of juice isn't the same as drinking the goodness of 6 oranges, it's the same as drinking the sugar of 6 oranges. Eating whole fruit with it's fibre is self limiting, juice is not.
Coke 65g (16.25 tsp) – Fanta 83g (20.75tsp) – Orange Juice 80g (20 tsp) – Grape Juice 80g (20 tsp)
By drinking one 600ml bottle of juice or soda, children are drinking almost an entire weeks worth of their recommended daily intake which is 3 tsp/day.
How to display
As you can see by these graphs, not many adults managed to guess how much sugar was in these 'foods'. The majority of adults underestimated their sugar content by a considerable amount. Remember – read the back (nutrition) of the packet not the front (advertising fluff and wonder).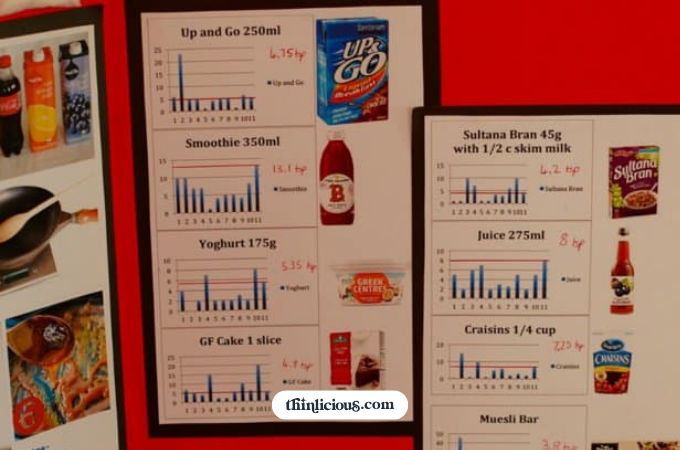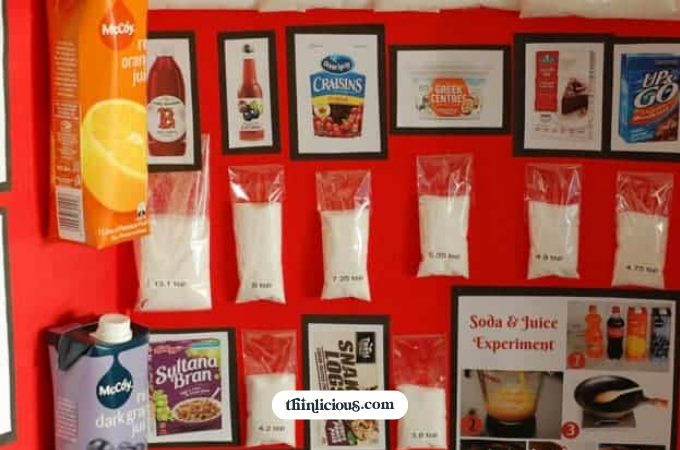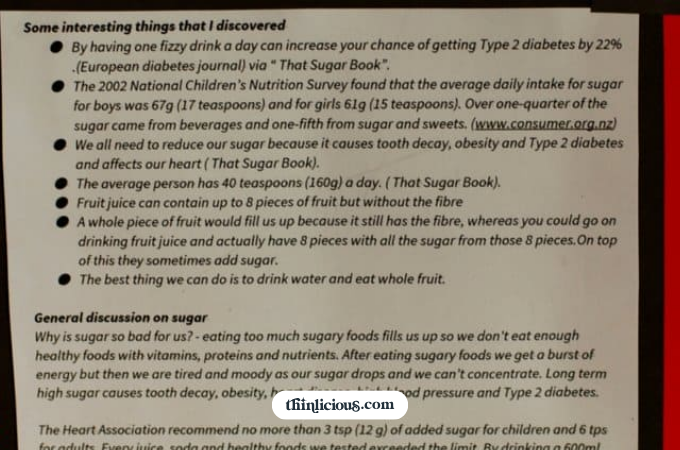 Discussion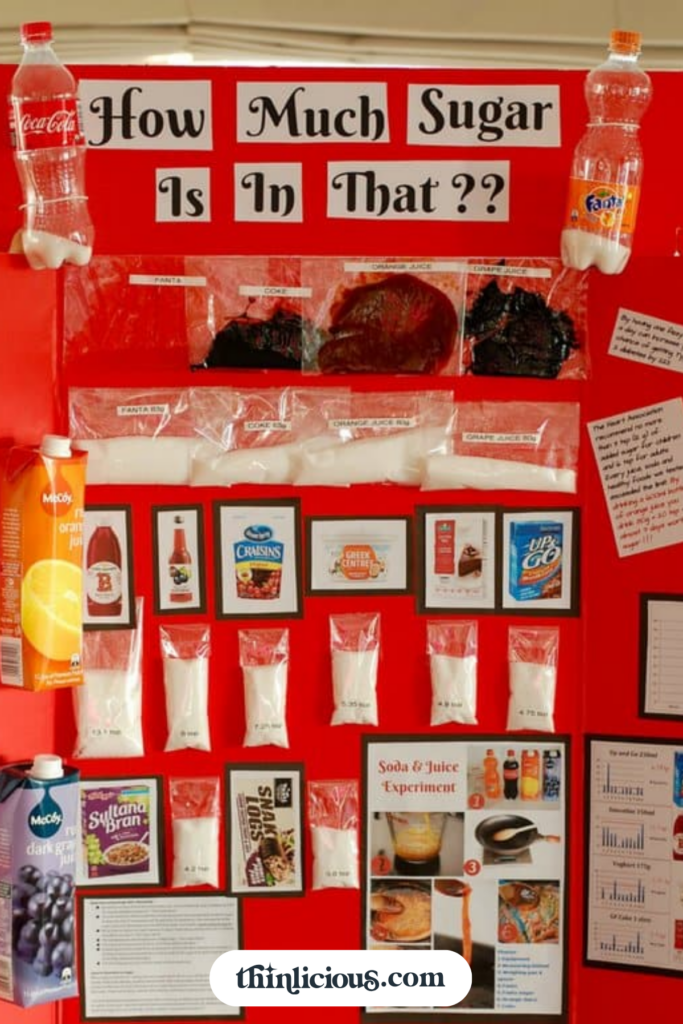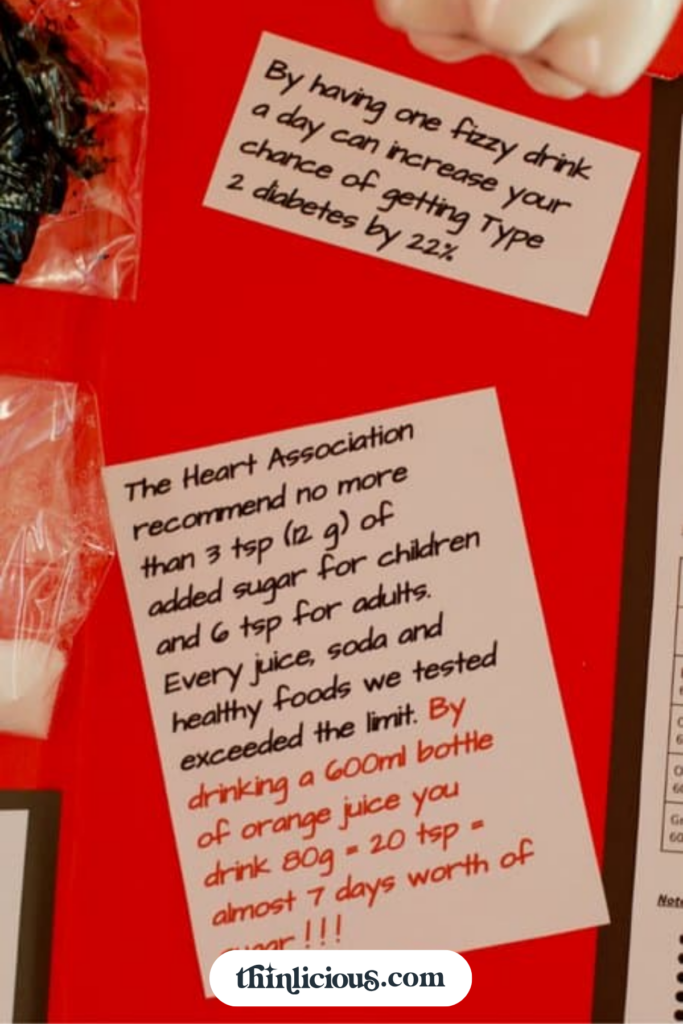 Get our FREE guide to finally fix your metabolism!
Losing weight & getting healthy is never easy, but lately you might feel like it's suddenly become impossible.
Our Flip the Switch guide will help you clearly understand what's been going on, as well as exactly what you can do to get your metabolism working again so that you can look and feel your best—it's easier and more simple than you think!