Which of these sounds like you?
You rock it all day at your job, then come home and stare at your cabinets and refrigerator, not sure what to make for yourself that won't throw you out of the ketosis that you've worked so hard to get to.
Or maybe… you're laser-focused on your health goals, but no one else in your house eats this way. All the recipes you find online could feed an entire family, but you just need to feed yourself.
Are you ready to create the ultimate 12-month blueprint for reaching your health & weight loss goals this coming year?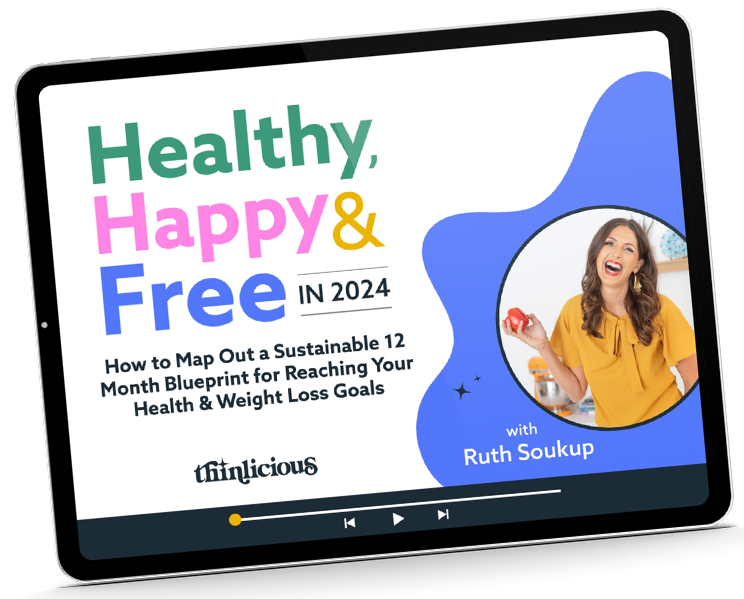 Our free on-demand video training will walk you through how to make 2024 THE year you set health goals…and keep them.
Or perhaps…you love to cook but hate seeing food go to waste. Since it's just you eating low-carb, you really want to find recipes that support your health but also make so much that you throw half of it away, uneaten.
Maybe you're all three.
Sometimes, the smallest struggles—like cooking single-serving meals—become a huge speed bump that trips us up. Here at Thinlicious, we're all about helping destroy those speed bumps so that low-carb living is smooth sailing.
With a little planning and these delicious low-carb recipes, you can make healthy, filling meals that will leave you feeling satisfied.
Before we get to the recipes, there are a few cooking tricks that will make cooking for just one person a lot easier.
How To Cook For Just Yourself
Cooking for one doesn't have to be boring or bland—with the recipes we have here at Thinlicious, you can create delicious, healthy, flavorful meals in no time.
And here are the little tricks that will make it so much easier.
First, make food that tastes good as leftovers. Some recipes are really difficult to scale down to just one serving, so you might as well enjoy it reheated, right? And the truth is, some recipes taste better than others when they're reheated.
For example, low-carb pot roast tastes amazing when you reheat it, no matter what appliance you use. But parmesan-crusted pork chops need to be reheated in the oven or air fryer because the microwave makes the crispy coating too soft.
Another trick to making recipes for one person? Adjust the servings amount on our Thinlicious recipe cards.
When you change the servings to 1 or 2, the ingredients will automatically adjust so you don't have to do any math—it's a lifesaver!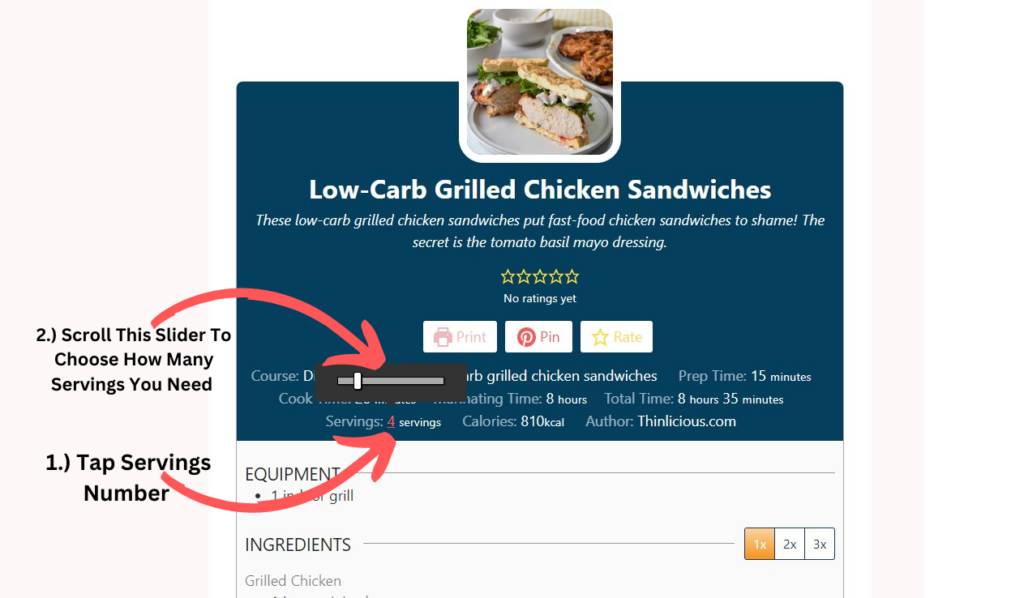 Quick note: The macros at the bottom of the recipe card will not change. These macros stay the same because they highlight how many nutrients are in one serving.
Finally, reuse some of the leftovers in new ways. If you have leftover coconut lime chicken, mix things up a little by shredding the chicken breast, placing it on a big piece of lettuce, and topping it with some sour cream and cilantro. Now you have tasty lettuce wraps for lunch!
Or chop up the chicken and mix it up with some cream cheese and make a chicken salad (this is perfect for busy weeknights when you don't have time to cook a healthy dinner).
And if you really want to get ahead, get some individual serving-size meal-prep containers that you can use in the freezer, fridge, and microwave! It sure makes storing extra meals super-easy—and helps plan ahead for a quick keto lunch during your busy week!
Best Meal Prep Containers When Cooking For One
These are our top pics for the cutest, most usable meal prep containers you can buy. Grab them all and you'll always have a place to store your leftovers (no more food waste!).
See? cooking for one person doesn't have to feel overwhelming. You just need a few tricks.
And, let's be honest, the right recipes don't hurt, either.
5 Easy Low-Carb Recipes For One
Even though most of the recipes in the Thinlicious recipe index make four or more servings, we have a few that really stand out as the easiest ones to pare down to just one. Remember, just use simple ingredients when you are making low carb meals for yourself on the keto diet.
Are you ready?
Let's get cooking!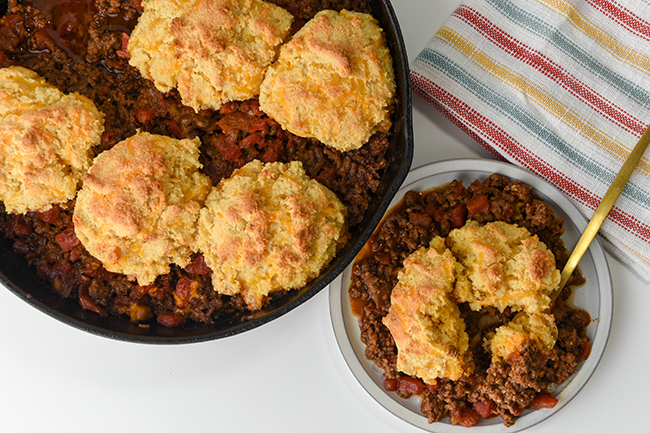 1. Low-Carb Upside-Down Chili Pie
Do you love a good chili but want to be healthier? Look no further than low-carb upside-down chili pie! A delicious, low-carb dish that's sure to please your tastebuds and your waistline. This hearty pie is loaded with nutritious ingredients like lean ground beef and low-sodium canned tomatoes, plus flavorful spices like chili powder and cumin.
It's packed with protein. Each serving has 37 grams of protein and 5 grams of carbs. It normally makes six servings, but with a smaller pan and fewer ingredients, you can have a single-serving chili pie in no time.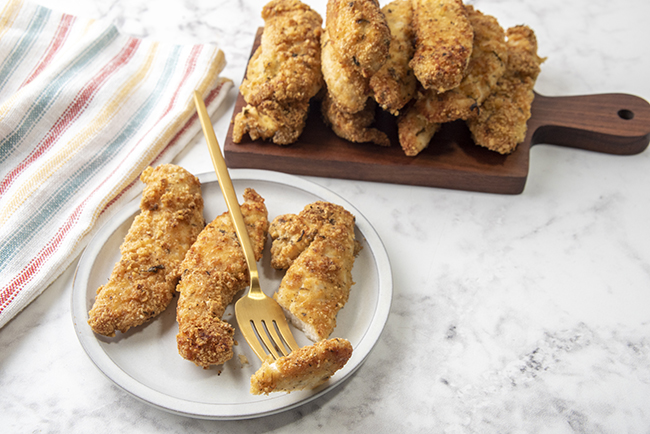 2. Low-Carb Air Fryer Chicken Tenders
These air fryer chicken tenders are the easiest recipe of all to make for just one person. All you have to do is bread and fry up just a few tenders. It doesn't get much easier than that! You'll use 1/3 a pound of chicken breasts to make a single serving.
There are 43.8 grams of protein and 2.8 grams of carbs in these tasty chicken tenders.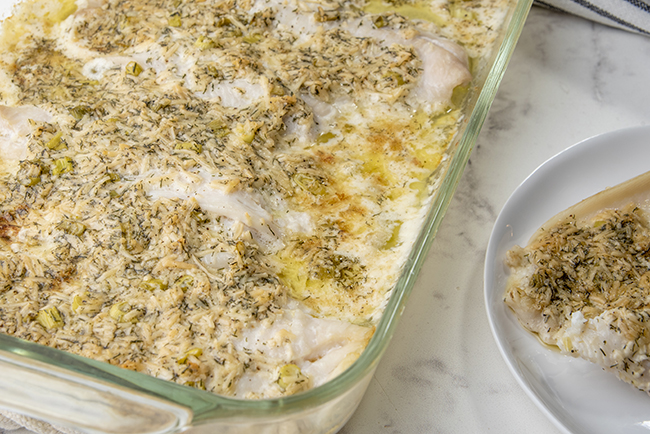 3. Hell Yeah Halibut
Go ahead and treat yourself to a fancy dinner with a flaky, zesty fish. When you bake 1/2 a pound of Halibut with some butter, parmesan cheese, and Tabasco sauce, and a few other ingredients, you get Hell Yeah Halibut!
It really is that good, too!
Each serving has just 2.3 grams of carbs and 3 grams of protein, but a whopping 35 grams of fat. Those healthy fats will help you feel full after this delicious meal.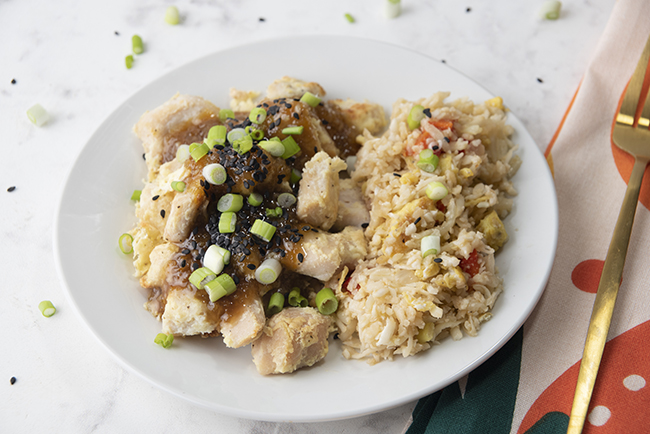 4. Low-Carb Orange Chicken and Cauliflower Rice
Skip takeout and make yourself a serving of low-carb orange chicken and cauliflower rice instead. You can enjoy the sweet and tangy orange flavor packed in this dish without all the guilt that comes with fried options. And using cauliflower instead of traditional white rice means you get tons of fiber and antioxidants while still having a creamy side dish. What's not to love?
Each serving (without the cauliflower rice) has 3 grams of carbs and 42 grams of protein.
Each time you add keto vegetables (like cauliflower rice, green beans, or bell peppers) you'll have to recalculate the net carbs. Use a food tracker app to make this process easier.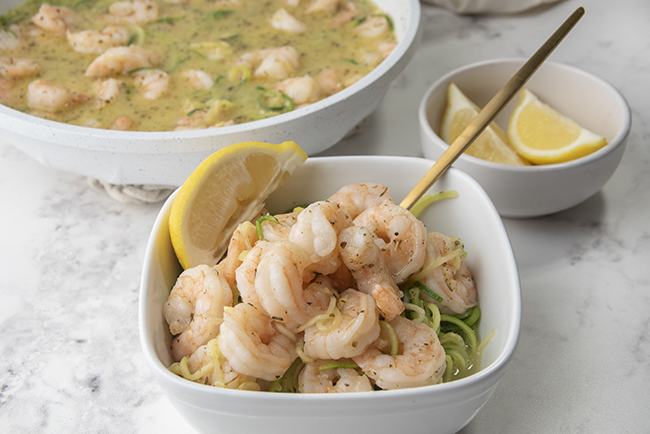 5. Garlic Butter Shrimp With Zoodles
Finally, garlic butter shrimp with zoodles is another seafood treat that tastes like takeout. Not only is shrimp packed with essential proteins, but zucchini noodles are a lighter alternative to regular pasta which means your dish is low-carb without compromising on taste.
There are 6.6 grams of carbs and 32.6 grams of protein in each serving. If you need more fats, drizzle some olive oil on top. And a splash of fresh lemon juice and some Italian seasoning will add incredible flavors.
You've Got This!
Remember, you can still make larger-portioned recipes, even if you're just cooking for yourself. Just freeze the extras in single-serving containers. Now you'll have DIY microwave dinners for those really busy days when you definitely don't feel like cooking.
It's not always easy to find the motivation to cook a healthy meal, but we hope this list of delicious and nutritious recipes inspires you in the kitchen. And remember — cooking for yourself is one of the best things you can do for your health. It's an opportunity to slow down, connect with your food, and show yourself some love. So get in there and get cooking!
And if you need a little more support, join our Thinlicious Facebook Community where we share recipes, tips, and tricks for living (and eating!) thin on a budget.
Keep Going
Cooking for yourself is the first step to taking control of your health. As you cook more high-protein and low-carb meals, you'll notice more energy and weight loss.
And if you're ready to lose weight and get healthy for life without dieting, drugs or making yourself miserable, our brand new (and totally free!) on demand video training will help you understand why it's been so hard and what do to about it.
PIN FOR LATER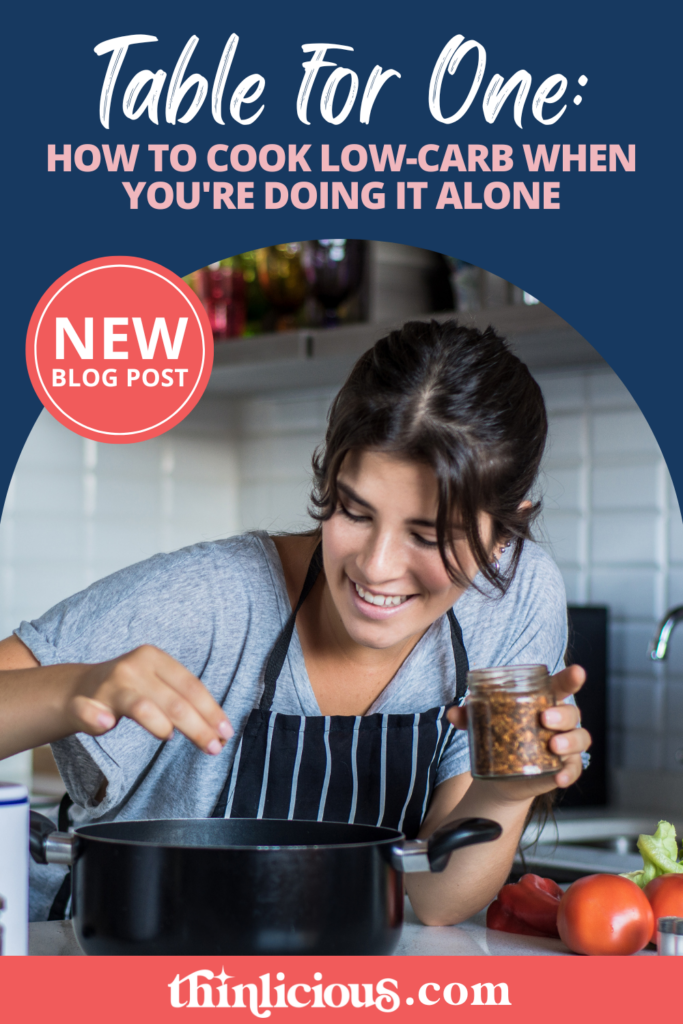 Get our FREE guide to finally fix your metabolism!
Losing weight & getting healthy is never easy, but lately you might feel like it's suddenly become impossible.
Our Flip the Switch guide will help you clearly understand what's been going on, as well as exactly what you can do to get your metabolism working again so that you can look and feel your best—it's easier and more simple than you think!