How to do easy healthy lunchbox prepping without taking any extra time!
Healthy meal prep – even for lunchboxes, is the perfect way to streamline your mornings and make them stress-free.
Scroll below to see my video – learn easy FUN lunchbox prepping ideas! (and read the top 10 myths about low-carb kids!)
The importance of whole food nutrition in children's health and development cannot be stressed enough. All children will benefit from lowering their sugar and carbohydrate intake, especially from processed and junk foods.
Are you ready to create the ultimate 12-month blueprint for reaching your health & weight loss goals this coming year?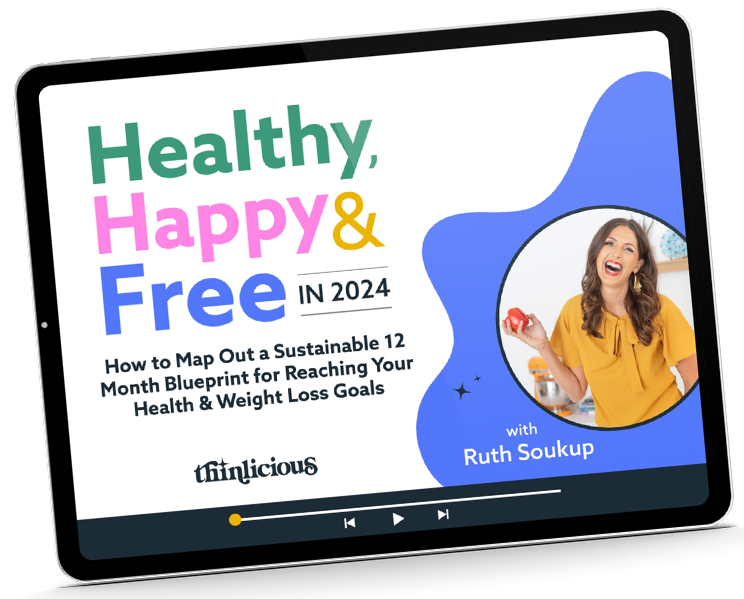 Our free on-demand video training will walk you through how to make 2024 THE year you set health goals…and keep them.
For Low-Carb Kids, the emphasis should be on feeding them tasty nutrient-dense meals. Children shouldn't be relying on sugars, grains and high carb snacks. Low-carb is all about going back to basics — meat, vegetables, low sugar fruit, seeds, nuts and healthy fats. Real food is simple food.
If you are new here you may wish to read:
Healthy Lunchbox Prepping
My children love to pack their own lunchbox for school.
The only problem is making sure they fill their lunchbox up with balanced nutritious items AND it doesn't take any extra time. Prepping healthy lunch options at the beginning of the week is an easy solution to this problem.
In about 30 minutes you can prep easy and healthy lunch and snack options in bulk so that you have enough food to last the week. Since no one wants to eat the exact same food all week, I am going to show you how to pack several options so that your kids can mix it up throughout the week.
The best part is they also make excellent snacks for you as well.
Read more: Low-Carb Lunches – 1-month of ideas.
Healthy Lunchbox Prepping – The Main Course
Instead of packing a sandwich full of processed bread, I like to make easy low-carb options that are full of protein, healthy fats and low-starch veggies.
Small items and snacks can be stored in a zipped bag or in reusable storage mini containers. Use whichever works best for you.
The key to starting health lunchbox prepping is to have the correct lunchboxes and gadgets – you can see my top 19 gadgets here.
The first is a simple lettuce wrap. I like to add a slice of cheese and some meat of choice to a large leaf of lettuce before rolling up and securing it with a toothpick. You can fill the lettuce with ham, chicken, turkey, etc.
Another idea is to cut sausages into one-inch pieces and stick a toothpick in each piece. Place 3-4 sausage pieces in a bag, you can add more or less depending on how old your children are.
A meatball and cherry tomato on toothpicks are another delicious option. I can usually fit 3-4 in a bag, and the kids love it. If I need more main course options I will add some of these lunchbox kebabs into my prepping plan.
Fruits and Vegetables Healthy Lunchbox Prepping
Often people ask if I restrict my kids to fruit intake – yes and no.
I allow my kiddos (who are low-carb, not no-carb) fruit BUT it has to be lower sugar fruits such as berries, mandarins, small apples or small pears.
Too many people see fruit and vegetables as equals, and they are not. Whole fruit is wonderful and packed with an array of fibre, vitamins, minerals and micronutrients, but make no mistake, they are still a source of rapidly absorbed sugars.
I have found that the key to keeping kids interest in plain vegetables and fruit is to mix up how they are cut and presented. Somethings as simple as drawing faces, notes, or sayings on a mandarin orange will completely change their excitement level for lunch.
I like to add a few cut strawberries and blueberries into little containers. I typically only cut up 1-2 strawberries per container and add 4-5 blueberries on top. They are easy to grab and won't get squished like they would in a zip bag.
An easy way to prep vegetables for lunch is to use leftover fresh veggies from dinner. Sometimes I may have some extra broccoli, celery, or carrots from dinner that I will toss into a couple of bags for lunch. My kids enjoy the smaller pieces of vegetables and have fun eating them.
Of course, the other way I pack fresh vegetables for the kids is to slice them or cut them into sticks. I like to add a few carrot sticks, bell peppers, cucumber slices, and cherry tomatoes to bags for the kids to grab. This method is simple and the variety adds a good nutritional balance.
Healthy Lunchbox Prepping – Snacks, Breakfast, or Lunch
There are two items I like to prep that can be used for any meal. The kids sometimes add them to their lunch, grab them for a snack, or if we are low on time eat them for an easy breakfast.
These staples are hardboiled eggs and plain Greek yoghurt with frozen berries. I toss 4-6 hard-boiled eggs into an airtight container. You can peel the eggs before you put them in the container or keep the shell on. I find that my refrigerator stays fresher when I leave the shell on the eggs.
To make the yoghurt cups I purchase a big container of plain natural unsweetened yoghurt at the store and a bag of frozen berries. Add some yoghurt to a container with a lid, then press 4-5 FROZEN berries into the yoghurt.
As the berries defrost the juice from the berries will help sweeten and flavour the yoghurt naturally.
Prepping Dips for Your Healthy Lunchbox
Sometimes low-carb food is just better with a dip. The dips do not have to be complicated or difficult to make.
And we all know healthy fats …
make food taste better
encourage kids to eat their veggies
it helps keep tummies fuller for longer
healthy fats provide (and help us absorb) the fat-soluble vitamins A, D, E and K.
For this round of prepping I used a simple dip like mayonnaise and mustard mixed together, yoghurt with chopped mint, and salsa.
You can find more dip ideas in this post, or you can find recipes for easily flavoured mayonnaise.
Organizing Your Refrigerator
Since I typically make at least 4 of each thing I meal prep, it is important to keep everything grouped together and labelled.
I have found the best way to do that is to use large plastic boxes that are not too deep. You should still be able to see everything that is in the box.
I used three different types of boxes so that you can get an idea of what you can use. I used a magazine holder for the drinks, a cheap dollar plastic container without the lid for the eggs and yoghurt, and clear acrylic trays for everything else.
They all worked wonderfully so use what you have, just make sure they are cardboard or wooden boxes that will get destroyed in the refrigerator.
To make it easy on my kids I added labels to each box with instructions of how many items they can choose from each box.
One the fruits and vegetable boxes I specified that they needed to select one fruit and one vegetable. It doesn't matter what they choose as long as it's from each category.
Healthy Lunchbox Prepping
Children love taking on the responsibility to pack their own lunch. When it is prepped for them they learn how to balance the nutrition in a meal within the guidelines you are setting.
This method is perfect for primary/elementary-aged kids that are just getting started making their own lunch, but also busy teens who may not put a lot of thought into their lunch.
When prepping items for lunchboxes be sure to make 3-5 of each food you prep. I typically make 4 of each, whatever isn't eaten for lunch is typically eaten as a snack. If you decide to start prepping a healthy lunchbox feel free to share your tips and tricks in the comments below.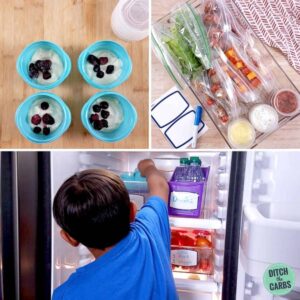 Healthy Lunchbox Prepping
Prepping these healthy lunches makes my morning so much easier!
Print
Pin
Rate
Want to lose weight and get healthy for life—without dieting, drugs, or making yourself miserable?
We can help! Tell me how!
Equipment
Insulated Lunch Box

Toothpicks

Ziplock bags

Small reusable containers (with lids)
Ingredients
2

links

sausage

cut into 1-inch pieces

12-16

meatballs

cooked

2

cups

cherry tomatoes

¼

cup

broccoli

cut into bite sized pieces

3

carrots

1 carrot peeled and chopped the other 2 cut into sticks

1

rib

celery

chopped

4-5

strawberries

cut into 4 pieces

blueberries fresh or frozen

2

cups

natural unsweetened yoghurt

purchase a large container

frozen berries

4

hard boiled eggs

4

lettuce leaves

I used romain

4

slices

cheese

4

pieces

unprocessed ham, turkey, chicken, etc

I usually use 2 types of meat

mandarin oranges

1

yellow capsicum/bell pepper

sliced

½

cucumber

sliced
Instructions
Yoghurt with Frozen Berries
Lay out 4 containers with their lid. Scoop about 1/2 cup yoghurt into each container, then press 4-5 frozen berries into the yoghurt. Screw on the lid tightly and store in the fridge.
Hard Boiled Eggs
Boil 4 eggs on the stove for 10-12 minutes OR cook in the Instant Pot for 4 minutes with a quick release. Place the eggs in an ice bath for several minutes before draining and storing the eggs in the fridge. I store the eggs in an air-tight container with the shell still on.
Sausages
Cut the sausage links into 1-inch pieces. Press a toothpick into each piece. Place 3-4 pieces into each ziplock bag. Store in the refrigerator.
Meatballs with Cherry Tomatoes
Bake your meatballs so that they are fully cooked. Place a toothpick through each meatball and then place a cherry tomato at the end of the toothpick. Place 3-4 meatballs into each zip bag. Store in the refrigerator.
Lettuce Wraps
Place a large leaf of lettuce flat. Place a slice of cheese and some meat in the center. Tuck in the short side of the lettuce and roll up the lettuce wrap. Secure with a toothpick and place in a zip bag. Make about 4 lettuce wraps.
Mandarin Oranges
Use a permanent marker to draw a silly face, note, or quote on the peel of the orange. It is easiest to write on the oranges before they are stored in the refrigerator.
Strawberry and Blueberry Medley
Cut the strawberries into quarters and then place them in small containers. Add 4-5 blueberries into each container. Place the lid on each container and store it in the refrigerator.
Leftover Veggies
Save leftover raw chopped veggies from dinner. This could include pieces of broccoli, chopped celery, or chopped carrots. Place a bit of each into a small zip back and store in the refrigerator. If you do not have leftover veggies you can quickly chop a few and place them in bags.
Sliced Vegetable Medley
Slice a bell pepper and cucumber. Cut a few carrots into carrot sticks. Place 2-3 pieces of each cut vegetables into a bag and toss in a few cherry tomatoes. Make about 4 bags.
Nutrition
Serving:
1
hardboiled egg
Calories:
77.5
kcal
Carbohydrates:
0.6
g
Protein:
6.3
g
Fat:
5.3
g
Sodium:
62
mg
Potassium:
63
mg
Sugar:
0.6
g
Vitamin A:
260
IU
Calcium:
25
mg
Iron:
0.6
mg
Recipes to help you prep healthy lunches:
Get our FREE guide to finally fix your metabolism!
Losing weight & getting healthy is never easy, but lately you might feel like it's suddenly become impossible.
Our Flip the Switch guide will help you clearly understand what's been going on, as well as exactly what you can do to get your metabolism working again so that you can look and feel your best—it's easier and more simple than you think!