When you want a quick easy snack on the run or breakfast in the car, sugar-free chocolate bars are delicious, crunchy, and filling.
They are made from a few simple ingredients and made in a blender. So easy and perfect for meal prep for the week ahead. Keep some in the freezer.
So many readers are asking for nut-free recipes. Both for those who have nut allergies and for those (like me) whose children attend a nut-free school. It's tricky when so much low-carb baking uses a variety of nuts or nut flours.
Sugar-free chocolate bars
There is too much added sugar in regular granola bats and muesli bars. Then there is the dried fruit (sugar), maple syrup (sugar), honey (sugar), and chocolate coating (sugar). They are more like candy bars than a health bars.
Are you ready to create the ultimate 12-month blueprint for reaching your health & weight loss goals this coming year?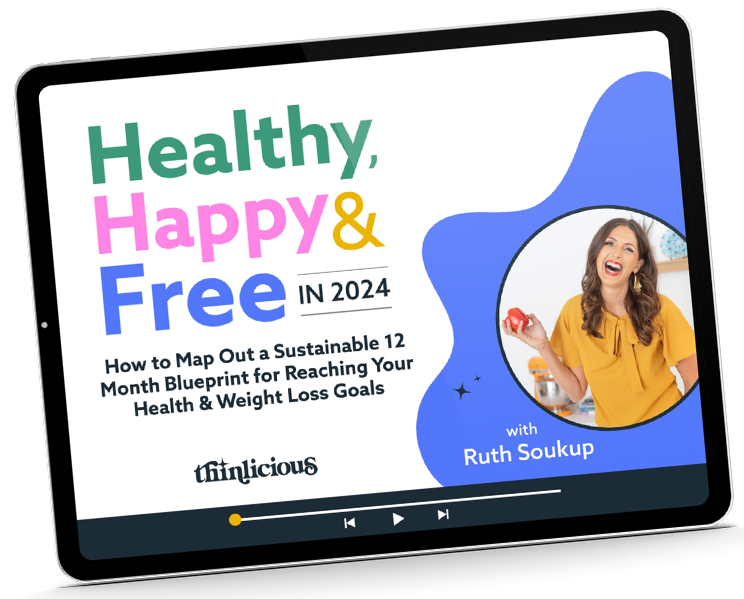 Our free on-demand video training will walk you through how to make 2024 THE year you set health goals…and keep them.
The good news is it is super quick and easy to make homemade granola bars that are also sugar-free, gluten-free, dairy-free, and nut-free.
I have had many requests from my previous grain-free granola bars to make a nut-free version. They are so incredibly filling, even half a chocolate seed bar would probably be enough for a quick snack.
Sugar-free chocolate bars are easily adapted to whatever seed that you like or can tolerate. They can be dressed up with a drizzle of melted sugar-free chocolate too, for those kids who need a little more encouragement to give up their favorite high sugar muesli bar.
Why grain free?
If you are new here and are wondering why we avoid all grains (and aren't whole grains supposed to be healthy). Modern grains are not what our ancestors ate, and were never found in almost every single product, meal, and snack.
All grains will raise your blood sugar and so for those who are on the low-carb diet, keto diet or those with diabetes who want to maintain normal blood sugars, giving up starchy grains are a must.
By giving up grains, you immediately avoid the majority of processed junk food. You become low-carb almost by default.
Grains are used to fatten animals before slaughter and produce fatty liver disease in duck and geese, to make foie gras. No wonder all those whole grains are making us fatter and sicker. And as for the added sugar and processed oils … You may also want to read my FAQ where all of these are discussed.
Top tips
Anyway, back to the sugar-free chocolate granola bars. My top tips for successful granola bars (that won't fall apart):
Blitz them long enough in the blender until you can see it all clumping together.
Press the seed bar mixture firmly into abaking dish lined with baking parchment paper. This helps to produce solid and sturdy granola bars. No one likes crumbly granola bars (muesli bars) that fall apart in the lunch box.
As the chocolate granola bars cook, sometimes the oil appears to float to the surface, but don't worry, it soaks right back in as the seed bars cool.
Recipe FAQ
How much sugar is there in a granola bar?
Too much. Period. Most regular traditional muesli bars/granola bars have added sugar, honey, maple syrup, dried fruit, and other creative ways to market and rename sugar.
Are granola bars healthy?
Regular granola bars (muesli bars) are often packed with added sugars, preservatives, dried fruit, wheat, gluten, and chemical flavors.
Are keto bars healthy?
Store-bought ones MAY be healthy BUT you HAVE to check your nutrition label for added maltitol. It is a sweetener (sugar replacement) that raises blood glucose. It's best to make homemade granola bars.
Can I swap the seeds? I have an allergy.
Yes, you can use any variety of seeds that you can tolerate.
How do I get my homemade granola bar to stick together?
The trick is to grind the seeds and other ingredients together and the fine powder that it creates will help stick with the coconut oil. Press the granola bar mix firmly into your prepared baking tray that has been lined with baking parchment paper.
Granola recipes
If you're in a rush and want a quick breakfast, make a big batch of homemade sugar-free granola for easy meal prep for the weeks ahead. Or make gluten-free granola bars of peanut butter granola bars (depending on what you can tolerate).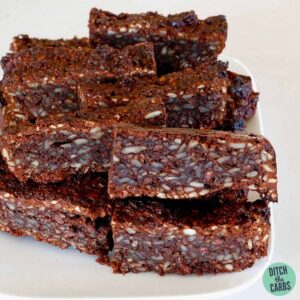 Sugar-free chocolate bars recipe (dairy-free nut-free)
Sugar-free chocolate bars are an incredibly nutritious snack for school, work or when you are out and about. Vary the seeds to whatever you prefer. Remember to pack the mixture firmly before baking to make sure they are sturdy.
Print
Pin
Rate
Want to lose weight and get healthy for life—without dieting, drugs, or making yourself miserable?
We can help! Tell me how!
Equipment
Measuring cups and spoons

Mixing bowls

Baking sheets – non stick
Ingredients
300

g

seeds of choice

50

g

ground flaxseed/linseed

3

eggs – medium

50

g

coconut oil

2

tsp

vanilla extract

2

tsp

ground cinnamon

4

tbsp

granulated sweetener of choice

or more, to your taste

40

g

cacao nibs

100

g

desiccated/shredded coconut

30

g

cocoa powder (unsweetened)

unsweetened
Instructions
Place the seeds, linseed, and eggs in the food processor with the blade attachment. Pulse until the seeds are roughly chopped and mixed with the eggs.

Place all the other ingredients in the food processor bowl and pulse until thoroughly mixed and starting to clump together.

Pour the seed bar mix into a baking dish lined with baking parchment paper (mine was 17cmx25cm, 7inchx10inch internal measurements). Press firmly into the baking dish to ensure the seed bars are solid and not crumbly when they are cooked.

Bake at 180C/350F for 15-20 minutes until baked and slightly crisp.

Allow to cool. I managed to cut 22 seed bars.
Notes
For the mixed seeds I used pumpkin and sunflower seeds. You may use any combination you like and can tolerate.
Nutrition
Serving:
1
seed bar (makes 22)
Calories:
134.3
kcal
Carbohydrates:
4.9
g
Protein:
3.1
g
Fat:
12.3
g
Sodium:
17.6
mg
Potassium:
115.6
mg
Fiber:
3.4
g
Sugar:
0.8
g
Vitamin A:
51.8
IU
Vitamin C:
0.1
mg
Calcium:
22
mg
Iron:
0.9
mg
Get our FREE guide to finally fix your metabolism!
Losing weight & getting healthy is never easy, but lately you might feel like it's suddenly become impossible.
Our Flip the Switch guide will help you clearly understand what's been going on, as well as exactly what you can do to get your metabolism working again so that you can look and feel your best—it's easier and more simple than you think!