This is a legendary side dish in our house. Baked broccoli and cauliflower with a cheat's cheese sauce PLUS there's hidden bacon and mustard.
It's the perfect recipe that's also low-carb and keto friendly if you're watching your carbs.
It can be confusing to decide which are the best keto vegetable side dishes to make. This delicious keto side dish is quick and easy too.
You may also want to see the best keto side dishes for pork, best keto side dishes for chicken, easy keto side dishes for salmon, and quick keto side dishes for beef.
Ready to lose weight and get healthy for life without dieting, drugs or making yourself miserable?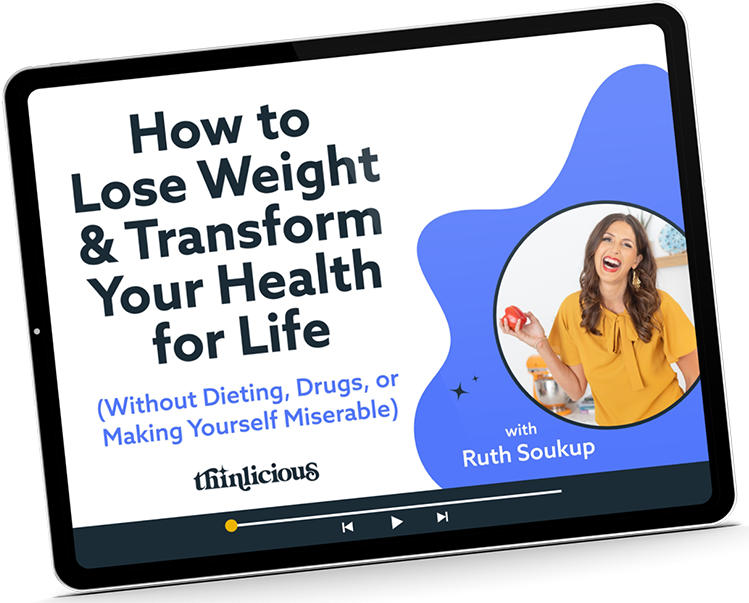 Our free on demand video training will help you understand why it's been so hard and what do to about it.
Are there carbs in broccoli and cauliflower?
Yes, there are carbs in broccoli and cauliflower but they are also high in fiber and nutrients. They are low in net carbs so perfect for those following a low-carb diet or keto diet.
Broccoli and cauliflower are so versatile lower carb vegetables and can be served baked, roasted, mashed, riced and even raw in a salad.
Nutrition per 100g:
Broccoli (raw): 4g net carbs, 2.8 g protein, 0.4 g fat, 34 calories.
Cauliflower (raw): 2.9 g net carbs, 1.9 g protein, 0/3 g fat, 23 calories
Nutritional values from cronometer.com
Cheat's cheese sauce
The roasted broccoli and cauliflower are covered in an easy cheat's cheese sauce recipe and flavored with a small amount of bacon and mustard for an extra tangy flavor.
The cheats béchamel sauce is wheat free and gluten free. There is no need to make a traditional cheese sauce in a saucepan, my cheat's version is made with natural yogurt and egg yolk then poured onto the vegetable bake.
Ingredients
You can vary the vegetables you use, and vary the flavor you add to the sauce, depending on your tastes.
Broccoli – cut into small pieces so they cook quickly and evenly
Cauliflower – cut into cauliflower florets the same size (or smaller) than the broccoli so they cook evenly.
Yoghurt – always use the natural unsweetened yoghurt.
Egg yolks – the egg yolks make the cheese sauce thick and adds to the yellow/orange colour.
Shredded cheese – choose your favorite cheese to use. I liek touse mozzarella or mild cheddar cheese. But stronger cheese such as grated parmesan cheese works brilliantly too.
Bacon – use diced bacon. It does not need cookign before adding to this recipe. It will cook in the oven with the vegetables.
Mustard – I like to use mustard powder (to keep the carbs low). Remember to always read the nutrition label to spot any hidden sugars, starches or wheat.
How to roast broccoli and cauliflower
You need to discover new and exciting ways to flavor your vegetables, especially for children. The roasted broccoli and cauliflower recipe is an easy mid-week side dish.
You simply throw everything together in a large baking dish and cook until soft and tender.
Broccoli and cauliflower are best cooked with some kind of moisture so they don't end up burned, charred, or dry. Roast vegetables are best drizzled in olive oil, covered in a cheese sauce, or covered with foil so they retain their moisture.
Because the vegetables are oven-roasted, you can cook it alongside another oven dish such as roast lamb, roast turkey, or roast chicken
How to roast frozen broccoli and cauliflower
Frozen vegetables release a lot of water as they defrost so make sure to defrost and drain before cooking. Frozen vegetables might be softer, and less crunchy than fresh crisp vegetables.
Oven
1: Place the broccoli and cauliflower pieces into a baking dish.
2: Place all the cheese sauce ingredients into a measuring jug and whisk together with a fork.
3: Pour over the vegetables and sprinkle some more grated/shredded cheese over the sauce. I like to add shredded parmesan cheese sometimes too.
4: Bake at 180C/350F for 30 minutes, or until the sauce has thickened and the vegetables are cooked through.
Air fryer
To cook bake broccoli and cauliflower in the air fryer you will cook it at a slightly lower temperature to keep the vegetables slowly cooking and ensures the cheesy sauce doesn't dry out.
Before you begin, make sure your heatproof baking dish or pie dish is small enough to fit inside your air fryer. There must be at least 1 inch on all sides to allow the heat to circulate evenly.
You may need to halve this recipe to fit into a smaller dish, or make 2 smaller dishes and cook one at a time.
Preheat to 160C/325F.
Gently lower your baking dish onto the wire rack. Ensure there at least 1 inch space between the pie dish and the side of the basket.
Cook for 15-20 minutes, depending on the size of your air fryer and the size of your baking dish.
If you love using your air fryer, I have 101 keto air fryer recipes for you to choose from (chicken, pork, ground beef, salmon, vegetables, and even desserts). Discover how to use your air fryer plus FREE printable air fryer cooking cheat sheets.
Storage
You can prepare the recipe the day before and leave it in the fridge, covered, overnight, then cook the next day. The prepared, but the uncooked recipe cannot be frozen. The raw egg yolks need cooking in the dish first.
Store your cooked broccoli and cauliflower recipe in an airtight container in the fridge for up to 3 days. The baked recipe can be frozen for up to 2 months in an airtight container.
To reheat, place your ovenproof dish in the oven for 10 minutes to crisp the cheesy sauce and shredded cheese. Alternatively, you can microwave on the defrost and reheat setting as per your microwave instructions.
Variations
Any of the following ingredients would be delicious variations on the baked cauliflower and broccoli recipe.
If you don't want to use the cheese sauce, you can spread the broccoli and cauliflower florets onto a baking sheet or sheet pan. Drizzle with a few tablespoons of olive oil, season with any of these flavors and place into your preheated oven.
Vegetables – frozen vegetables (but defrost first and drain any excess water), fresh vegetables, capsiucm, peppers, zucchini, courgette,
Herbs and spices – mustard, fresh garlic, garlic powder, onion flakes, chili flakes, taco seasoning, or even a tangy BBQ sauce. Lemon zest and lemon juice are also nice to add to the vegetabels BEFORE pouring the cheese sauce on top.
Seasoning – I traditionally use salt and pepper, however new salt flavors are also popular such as lemon pepper, and chicken salt. Check labels for added sugar or wheat.
More broccoli and cauliflower recipes
Broccoli and cauliflower are so versatile and perfect for anyone who wants to reduce their carbs.
I love mashed cauliflower (instead of mashed potato), cauliflower rice (instead of white rice), broccoli and cauliflower bacon salad, and even curried cauliflower rice.
SaveSave
SaveSave
Get our FREE guide to finally fix your metabolism!
Losing weight & getting healthy is never easy, but lately you might feel like it's suddenly become impossible.
Our Flip the Switch guide will help you clearly understand what's been going on, as well as exactly what you can do to get your metabolism working again so that you can look and feel your best—it's easier and more simple than you think!