In just 1 minute, you will learn how to cut avocados – the easy way.
I'll also show you how to freeze avocados too.
How To Cut Avocados – is this how you do it?
I never realised that I cut avocados completely differently to everyone else.
Everyone else cuts avocados down the centre lengthwise, they hit the stone-hard with their sharp knife, then twist and turn the knife to remove the stone.
Are you ready to create the ultimate 12-month blueprint for reaching your health & weight loss goals this coming year?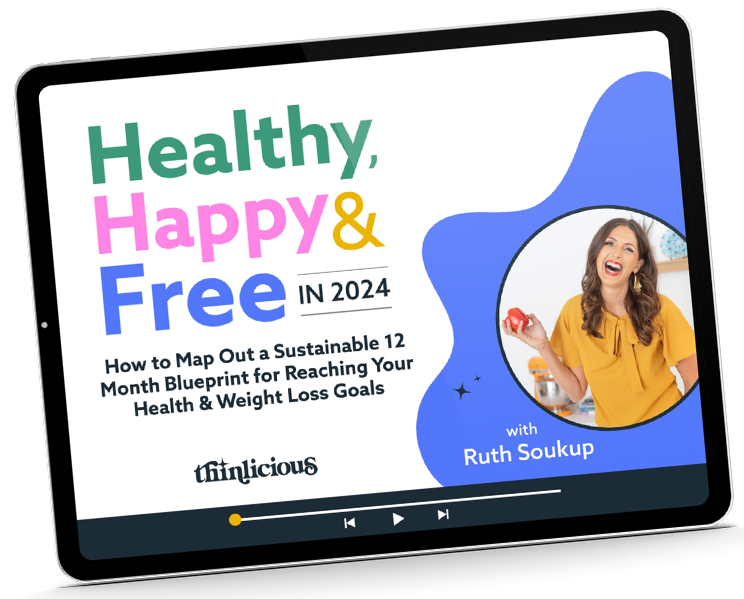 Our free on-demand video training will walk you through how to make 2024 THE year you set health goals…and keep them.
Their hands are messy, most of the time the avocado stone never comes out in one piece and it's all a bit too much like hard work.
How To Cut Avocados – GENIUS kitchen tip
I'm not sure when I discovered how to cut avocados – the easy way, but once you do, there is no going back.
No more messy hands, no more stones to pull out, no more digging your knife into the stone (or your hands) and no more wasting of any avocado left on the skin.
Simply scoop the avocado flesh out with a spoon and voila!
How To Freeze Avocados
Why would you want to learn how to freeze avocados?
Because if you have ever bought reduced price avocados in bulk, or like me, have an avocado tree that is laden with avocados, you need to learn how to freeze avocados or find a variety of avocado recipes. And fast!
Read more: How To Freeze Avocados – and recipes to use them
GENIUS kitchen tips
What is the next kitchen trick you would like to master?
Is there some cooking technique you are struggling with? Coma and join our Low-Carb And Keto For Beginners Group.
Anything to make life easier or less messy (yes, I am a neat freak and proud).
My other favourite kitchen tip is to show you how to make my easy 1-minute mayonnaise. The video is still going viral, months after I published it.
You can flavour it so many ways – ranch dressing, dill dressing, thousand island dressing … it's all in the recipe link above.
GENIUS kitchen tips from our giveaway
Update: The eBook bundle giveaway from my Low-Carb Shop has closed, but look at these amazing kitchen tips that were entered. I'd love to hear more, so please continue to leave your GENIUS kitchen tips in the comments below.
Have fun cooking! And wear your glasses, lol…don't even ask – Pam, US (our lucky winner, congratulations).
If the lid is hard to get off a jar of new food, use the handle of a teaspoon. Slide it around until it goes slightly under the lid, lever out until you hear the pop (of the vacuum seal is broken). The lid will come off easily now – Chris
Cut a silicon sheet to fit your microwave glass tray and you will never have to clean the junk off the glass again. Just take out the silicone and wash, dry and put back in – Candida
Invest in some food-grade silicone lids to cover all your flat-topped bowls and dishes. You not only save money by not having to use cling film all the time, but you also retain your sanity from trying to get that piece of cling film to actually sit on the bowl rather than getting it stuck together on itself, which you eventually curse and throw in the bin in a tight ball – Sheree, Australia.
A dampened paper towel in the bag with lettuce helps stop it from getting slimy – Vicki, NZ.
To keep mould off your cheese, don't stick your hands in the package. You can also wrap blocked cheese in a paper towel soaked in vinegar and wrung out. Both these tips will help you keep your Shredded or blocked cheese much longer if not used quickly – Kathleen, US.
Use floss to cut goat cheese log into slices – Sally, US.
Crumble a stock cube up in the wrapper BEFORE opening it up and pouring it into your cooking. Saves mess and stock sticking to your hands as you try and crumble it over the steam of the cooking – Emma, Australia.
Don't put the alarm clock in the refrigerator when you have a migraine. You will never live it down! 🙂 – Linda
Keep a bowl near your "work station" for trash/peelings etc. also clean as you go – Cheryl.
International Giveaway – (now closed)
I really want to read your best/funniest kitchen tips and tricks so I am giving away 2 copies of my Low-Carb Bundle – the complete beginner's guide. Simply leave a comment with your best kitchen tip below.
Giveaway closes Friday 10th February 2017. I will notify the winner directly and announce on Facebook.
Get our FREE guide to finally fix your metabolism!
Losing weight & getting healthy is never easy, but lately you might feel like it's suddenly become impossible.
Our Flip the Switch guide will help you clearly understand what's been going on, as well as exactly what you can do to get your metabolism working again so that you can look and feel your best—it's easier and more simple than you think!