The best chunky keto guacamole recipe you'll ever make. You only need 5 ingredients and it takes less than 5 minutes.
Serve with low-carb tortilla chips, keto chips, keto Mexican burgers, and even pork rinds!
The best keto guacamole recipe that you can enjoy alongside any Mexican recipe. It's creamy and chunky at the same time.
Are avocados keto?
Avocados are low in net carbs, nutritious, and full of healthy fats so are perfect for your low-carb diet or keto diet. Avocados are one of the top 10 low-carb snacks.
Ready to lose weight and get healthy for life without dieting, drugs or making yourself miserable?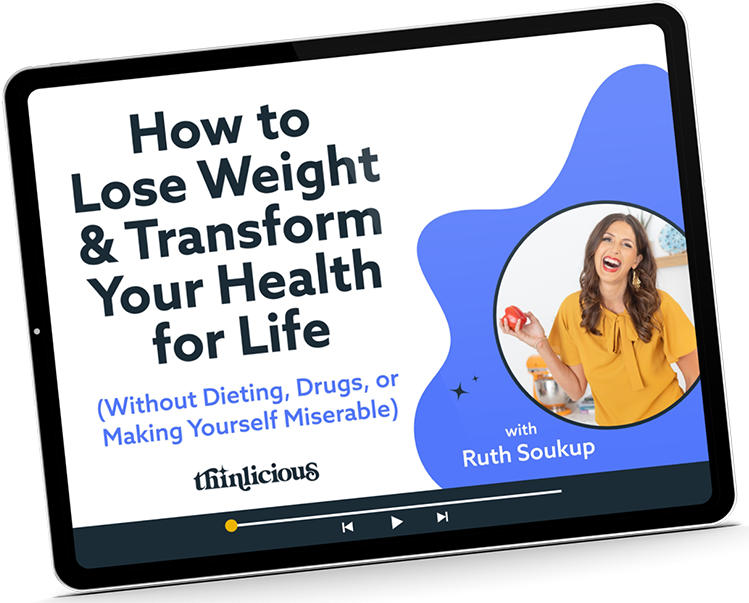 Our free on demand video training will help you understand why it's been so hard and what do to about it.
Avocados are a very versatile, healthy, and low-carb fruit. They can be eaten raw, sliced, mashed, or made into guacamole.
Avocados are full of folate, potassium, magnesium, and vitamin E and nearly 20 vitamins, minerals, and beneficial plant compounds. Avocado contains 16% saturated fatty acids, 71% monounsaturated fat, and 13% polyunsaturated fat. (Source)
Avocado nutrition facts (per 100g): 2 g net carbs, 2 g protein 15 g fat, 160 calories.
Nutritional values from cronometer.com
Is this guacamole recipe keto?
Yes, keto guacamole fits in perfectly with a keto diet and is one of my favorite keto recipes to eat when I want a salty snack.
This avocado salsa recipe is colorful, nutritious, and the perfect flavorful appetizer that's full of fresh ingredients.
Keto guacamole recipe nutrition (per serving): 3.4 g net carbs, 2.5 g protein 14.9 g fat, 174 calories.
Plus, they are great for the skin and an excellent tool for weight loss. As we know, increasing our good fats reduces hunger, increases satiety, and improves nutrition.
Ingredients to make keto guacamole
All quantities, ingredients, and instructions are in the guacamole recipe card below.
avocado – fresh avocados are always best but frozen avocados can be used.
lemon juice – fresh lemons are best, but bottled lemon juice will also work in this recipe. Lemon or lime juice helps prevent the guacamole from turning brown.
fresh chili pepper – finely diced fresh chilis, dried chili powder, or chili pepper flakes.
red onion – you can choose how chunky you like your guacamole or salsa. Chop, slice, or finely dice your onions.
tomatoes – to make the best guacamole recipe, fresh tomatoes work best. You cannot use tinned tomatoes. they are too soft and watery.
taco seasoning – optional. Homemade guacamole tastes even better with homemade taco seasoning.
How to make keto guacamole
This avocado salsa is more chunky than guacamole. Guacamole is generally smooth, or with only a few chunks.
Enjoy keto guacamole as a side dish, as part of a low-carb platter, as a dip for vegetable sticks, in lettuce wraps, on bunless burgers, or just on its own.
I often make a double batch then I can pack it for lunch. Avocado salsa travels well in small pots for lunch boxes (remember to put a spoon in the lunchbox).
There's so much to love about this keto guacamole, including how easy it is to make.
STEP 1: Skin and dice the avocados. Place the avocado in a large mixing bowl with all the other ingredients.
STEP 2: Squeeze the juice from your lemon (or use lime juice) onto the remaining ingredients.
STEP 3: Mix gently, so the chunks of avocado remain. Note: be sure to only use as much of the fresh chili as you'd like, according to your spice preference.
Mash the avocado as smooth or chunky as you prefer.
Serve immediately or cover and store in the fridge.
Substitutions
Cilantro (coriander) – some people like to garnish keto guacamole with fresh cilantro, but it is entirely optional. If you don't like fresh cilantro, either leave it out or replace it with some fresh parsley.
Lime juice – in place of the lemon in this avocado salsa recipe.
White or yellow onion – or even finely sliced spring onion, scallions.
Variations
There are a lot of different ways to make low-carb guacamole a spicier snack.
Chipotle guacamole: You can make chipotle guacamole by adding some chopped chipotle peppers or a few drops of chipotle tabasco sauce.
Jalapeno guacamole: You can also add diced jalapeno peppers to make it taste spicier. Use your favorite spices in this easy keto-friendly recipe.
Cayenne guacamole: Cayenne pepper or smoked paprika will taste incredible in the best guacamole ever. Sprinkle some sesame seeds on top are a fun addition too.
Guacamole tips
My recipe is chunky, but you can also mash the avocado up really smooth if you want using a stick blender or blender.
The best way to mix all the ingredients up is to use a fork in a mixing bowl or a potato masher.
Serve immediately with low-carb tortilla chips, sliced vegetables, or cheese slices.
How to store guacamole
The sooner you serve guacamole after making it, the better – it's the best way to prevent it from turning brown. Plus, chunky guacamole tastes best when it's served right after you make it.
Adding lime juice or lemon juice to avocados helps prevent them from going brown.
The best way to store guacamole is in an airtight food storage container with all the air removed. You can also freeze guacamole by storing it in a freezer-safe food storage bag. Remove as much air as possible and keep it in the freezer for up to six months.
Recipe FAQS
Here are some questions people often ask about this keto guacamole recipe. If you don't see your question in this list please leave it in the comments.
How many carbs are there in an avocado?
Half a medium avocado contains 9 g of total carbs, 7 g of fiber, 2 g of net carbs, 2 grams of protein, 15 g of fat, and 161 calories.
How many avocados can you eat on a low-carb diet?
It depends on how many carbs per day you eat and whether you are following a low-carb diet, keto diet, or high-protein low-carb diet.
Is guacamole the same as an avocado dip?
Yes, this low-carb guacamole is also called avocado dip or salsa. They are the same thing. Whatever you call it, this is probably the best keto snack you can make!
How do you keep guacamole from turning brown?
Add lime juice to the guacamole and place the avocado pit in the middle. You can also wrap plastic wrap tightly around the guacamole, keeping out as much air as possible. While it may still turn color, this should help slow down that process!
What can I dip in keto guacamole?
Use keto-friendly foods to dip into the guacamole. Try any of these gluten-free choices:

– Cheesy tortilla chips
– Cheese chips
– Keto chips
– Pork rinds
– Fresh veggies like celery sticks
– Cheese taco shells
Is guacamole OK on keto?
Yes, this easy recipe is a fantastic choice to eat when looking for low-carb recipes.

It is full of healthy fats and is low in carbs. In fact, homemade guacamole is one of the most nutritious and filling things you can eat on the keto diet.
How can I cut the carbs in keto guacamole?
If you want to cut the carbs in this recipe, I suggest leaving out the tomato. Either way, this is the best guacamole you will ever make.
How do you freeze avocados?
There are 3 ways to freeze avocados. You can freeze whole avocados, pureed avocados, or avocado pieces. The texture of defrosted avocado is best used in smoothies or homemade avocado. Read the full post for freezing instructions.
How to stop a cut avocado from going brown?
Brush with lemon or lime juice, cover with plastic wrap or keep cut side down in an airtight container.
How to use keto guacamole
You can enjoy guacamole in so many ways. It's a great recipe for the whole family.
Avocado salad – Add avocados to salads
Baked avocados – Crack an egg in the hole the stone leaves behind and then grill them
Keto nachos – serve with taco seasoning, ground beef, and full-fat sour cream.
Stuffed avocados – filled with bacon, egg, tuna, or shrimp cocktail.
Use avocado on toast instead of butter
Fill an avocado half with a can of tuna and some olive oil
Use as a dip with keto crackers
For even more unique uses of avocado, I have made a chocolate avocado mousse and chocolate (avocado) keto mint ice cream.
Keto recipes that use avocados
If you enjoy homemade guacamole, here are some more low-carb and gluten-free recipes that you will want next. They are just as delicious as this recipe for fresh guacamole.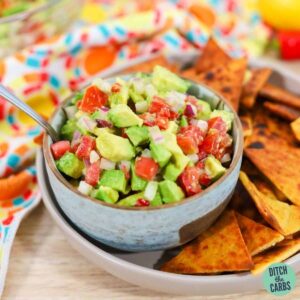 Keto Guacamole Recipe (Low-Carb Avocado Salsa)
The best chunky keto guacamole recipe you'll ever make. You only need 5 ingredients and it takes less than 5 minutes. Serve with low-carb tortilla chips, keto nachos, and even pork rinds.
Print
Pin
Rate
Want to lose weight and get healthy for life—without dieting, drugs, or making yourself miserable?
We can help! Tell me how!
Ingredients
1

red onion finely diced

2

tomatoes

4

avocado

1

lemon

1

fresh chilli diced finely
Instructions
Skin and dice the avocados.

Place in a mixing bowl with the finely diced red onion, diced tomato, juice of 1 lemon and as much fresh red chilli as you like.

Mix gently and serve immediately.
Nutrition
Serving:
1
serve ( serves 8)
Calories:
174.9
kcal
Carbohydrates:
10.8
g
Protein:
2.5
g
Fat:
14.9
g
Sodium:
9.7
mg
Potassium:
602.4
mg
Fiber:
7.4
g
Sugar:
2.4
g
Vitamin A:
456.9
IU
Vitamin C:
24.8
mg
Calcium:
19.3
mg
Iron:
0.7
mg
Get our FREE guide to finally fix your metabolism!
Losing weight & getting healthy is never easy, but lately you might feel like it's suddenly become impossible.
Our Flip the Switch guide will help you clearly understand what's been going on, as well as exactly what you can do to get your metabolism working again so that you can look and feel your best—it's easier and more simple than you think!