Super EASY sugar-free pavlova recipe (keto-friendly). The perfect sugar-free dessert for family summer barbecues and parties.
Only 1.9g net carbs per slice with whipped cream and strawberries. There's even some sugar-free lemon curd if you love a sharp taste.
Pavlova is the perfect high protein low-carb easy dessert recipe. It's a light dessert that will keep the whole family happy. It's also the perfect way to use up leftover egg whites.
What is pavlova (and what is a meringue)
A pavlova is a soft sweet dessert made from sugary whipped egg whites and baked then cooled slowly. It has a crunchy crust and a soft pillowy center.
Are you ready to create the ultimate 12-month blueprint for reaching your health & weight loss goals this coming year?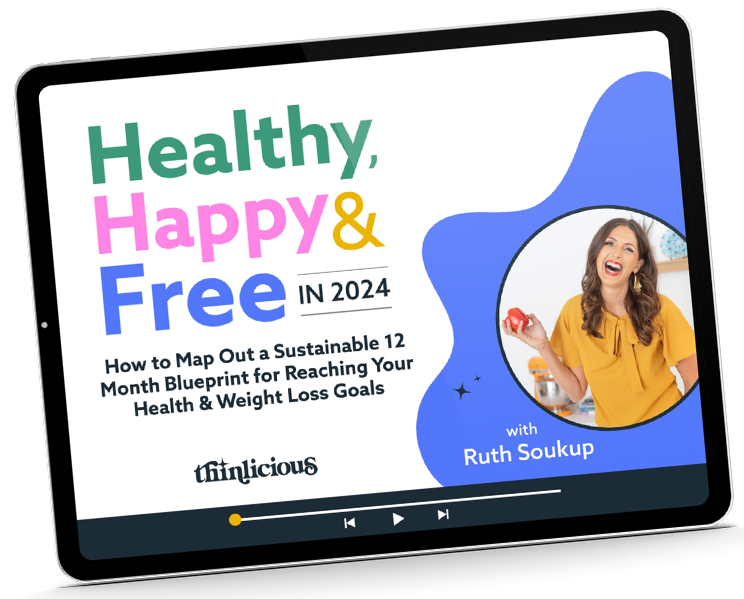 Our free on-demand video training will walk you through how to make 2024 THE year you set health goals…and keep them.
Meringues are single-serve desserts that are made from sugary whipped egg whites and baked slowly until hard and crunchy.
Both are traditionally served with whipped cream and berries. You can also drizzle with sugar-free lemon curd. It's an extremely easy summer dessert the whole family will love.
How to whisk egg whites
The secret to whisking egg whites is to start with an extremely clean mixing bowl. Clean your bowl with a paper kitchen towel and white vinegar to make sure there is no grease, oil, or water residue on the surface of your mixing bowl.
You can use a food processor (with whipping attachments), stick blender (with whisk attachment), hand whisk, or elective whisk.
As you begin to whisk egg whites they will slowly become creamy and frothy, then white and fluffy. Continue to whisk until stiff peaks form and the bowl or whisk can be held upside down and the whisked egg whites do not fall off.
When to add sugar replacer (sweetener)
As you are whisking egg whites in a bowl, slowly add your favorite sweetener such as powdered erythritol, monk fruit sweetener, or allulose powder. Add the sweetener 1 tablespoon at a time. Each addition will slowly dissolve as you continue to whisk.
Allulose is a new sweetener that has similar properties to table sugar so will create a crunchy caramelized meringue crust.
Ingredients
To make this delicious sugar-free keto pavlova recipe, you will need the following ingredients (all quantities and methods are in the printable recipe below).
TOP TIP: As with ALL recipes here, ALWAYS taste your batter BEFORE cooking to ensure you have added enough sweetener to suit YOUR tastebuds. Read the Ultimate Guide To Low-Carb Sweeteners.
Equipment
Food processor – stand mixer, stick blender, hand whisk, or electric whisk.
Baking sheet – a large baking tray lined with baking parchment paper/baking paper, or greaseproof paper.
Oven – or air fryer.
How to make sugar-free keto pavlova
This gorgeous sugar-free pavlova dessert looks incredible but is insanely easy to make. You don't even need any special kitchen gadgets or fancy baking equipment. You only need 6 ingredients.
Step 1 WHISK: Whisk egg whites until stiff peaks form. Add sweetener, cream of tartar, and vinegar (full details in the recipe card below).
Step 2 POUR: Carefully place the sweetened whipped egg whites into a nest shape onto your prepared baking tray lined with baking parchment.
Step 3 BAKE: Preheat oven or air fryer to 195C/385F and bake the pavlova for just 10 minutes, then turn the oven OFF and keep the pavlova in the warm oven for 1 hour. DO NOT OPEN THE OVEN DOOR. This will reduce the temperature AND it will make your keto pavlova deflate.
Step 3 COOL: For the perfect pavlova, allow it to cool completely then decorate with whipped cream and fresh berries.
Step 4 DECORATE: Decorate with whipped cream and fresh berries.
Oven or air fryer instructions
This delicious keto pavlova recipe can be baked in the oven and it's super easy to bake in your air fryer.
Oven instructions: Traditional pavlova is baked in the oven on a low setting for a long time, then the oven is turned off and the baked dessert will remain in the oven until the oven is completely cool. This allows the pavlova to be baked then dried out and gives it the traditional crispy crust.
Air fryer instructions: To bake pavlova in the air fryer, you do exactly the same method. Cook for 10 minutes, then turn your air fryer OFF and wait for it to have cooled completely before removing it from the air fryer basket.
Keto Pavlova Pro Tip: To prevent your pavlova from cracking, keep it in the oven once finished cooking to cool off. This also helps to give it a crispy crust which is one of the best parts to any pavlova!
Easy pavlova toppings
To make a gorgeous keto pavlova, whip heavy cream with sweetener until soft peaks form. Carefully spread the whipped cream all over the top of the low-carb pavlova and serve with fresh fruit such as fresh berries and give a light dusting of powdered confectioners sugar (sugar-free) all over.
Blackberries, blueberries, and raspberries are great low-sugar fruits to add to the vibrant look of this dessert.
How to store pavlova
This keto sugar-free pavlova is best enjoyed fresh, soon after baking and cooling. However, you can refrigerate the dessert for up to 2 days although it may soften in the fridge.
More easy sugar-free desserts
Looking for more low-carb desserts? Try some of my other mouth-watering and guilt-free recipes:
Low-carb lemon meringue pie (family-sized)
Low-carb lemon meringue pies (single-serve)
Recipe FAQ
Why is pavlova called pavlova?
This delicious dessert is inspired by the famous Russian ballerina, Anna Pavlova when she visited New Zealand and Australia in the 1920s and it was named in her honor. This dish grew in popularity in Australia and New Zealand before becoming a favorite also in the United Kingdom and the United States.
Was pavlova dessert invented in New Zealand or Australia?
This whipped egg meringue dessert covered in cream and berries was the first recorded pavlova recipe and appeared in New Zealand in 1927. Source: Oxford English Dictionary
Which sweetener is best to make a sugar-free pavlova?
Although most sugar-free confectionery sweeteners will do the job, I don't recommend xylitol sweetener because it has been found to leave the meringue soft and chewy instead of that desired crispy crust. Allulose is a new sweetener that behaves like sugar and will give the authentic crunchy caramel meringue crust.
What is xanthan gum used for?
Xanthan gum is used to stabilize the whisked egg whites. It replaces traditional cornstarch which is not keto-friendly. If you don't have xanthan gum, you may replace it with 1 teaspoon of cornstarch (which will only add. a few carbs to your pavlova).
How long does it take to bake a pavlova?
You only bake a pavlova for 10 minutes, then turn oven OFF and keep the pavlova in the warm oven for 1 hour. DO NOT OPEN THE OVEN DOOR. This will reduce the temperature AND it will make your keto pavlova deflate.
Is pavlova keto?
Traditional pavlova dessert is not keto because it is made with a high amount of table sugar. This sugar-free pavlova recipe is made with your favorite sweeteners such as monk fruit, powdered erythritol, or allulose powder.

This healthy light dessert is a high protein, zero carbs dessert. It is the toppings such as cream and berries that add carbs, fat, and calories.
Can you make pavlova ahead of time?
No, the whisked egg whites need to be baked immediately after whipping to form stiff peaks. It is so quick and easy to make, it will be ready to bake before your oven is heated up.
Can I use less sweetener in meringue?
Yes, add as much sweetener as you like and according to your sweet tooth. If this is day 1 of your sugar-free diet, you may require more sweetener than the recipe suggests. If you have been sugar-free for some time, you may want to reduce how much sweetener you add. Taste before baking (if you can tolerate raw egg whites).
How do you store pavlova?
The cooked pavlova without any toppings can be stored at room temperature for up to 2 days. Once it is decorated with fresh cream and fruit, always keep it covered in the fridge. Warning: This may make the pavlova go soft and lose the crunchy sweet crust.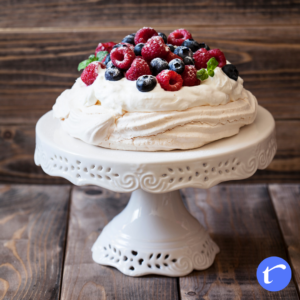 Easy Sugar-Free Keto Pavlova Recipe
Easy sugar-free pavlova recipe is the perfect healthy dessert for summer barbecues and parties. Only 1.9g net carbs with a sugar-free lemon curd.
Print
Pin
Rate
Want to lose weight and get healthy for life—without dieting, drugs, or making yourself miserable?
We can help! Tell me how!
Equipment
Mixing Bowls

Baking sheets – non stick

Electric Hand Mixer
Ingredients
Keto Sugar-Free Pavlova Recipe
6

egg whites

(keep the egg yolks – see notes)

40

g

granulated sweetener of choice

or more to your taste

1

tsp

apple cider vinegar

1

tsp

cream of tartar

⅓

tsp

xanthan gum

(optional)

2

tsp

vanilla extract
Keto Sugar-Free Pavlova Toppings
250

ml

heavy whipping cream

2

tbsp

granulated sweetener of choice

or more to your taste

1

tsp

vanilla extract

½

cup

strawberries

optional, sliced

sugar-free lemon curd/custard

optional
Instructions
Sugar-Free Pavlova
Pre-heat the oven to 195C/385F.

As soft peaks begin to form, slowly add the sweetener of choice until it has all dissolved and no granules remain.

Now slowly add the vinegar and vanilla. Whisk again. Add the cream of tartar and xanthan gum. Whisk for a further minute or two to ensure these final additions are fully incorporated.

Line your baking tray with a silicone baking sheet or baking parchment.

Scoop your keto pavlova whipped egg whites onto the lined tray and form a circular tall mound as shown.

Place in the hot oven and bake for 10 minutes, then turn the oven off and keep the pavlova in the warm oven for 1 hour. DO NOT OPEN THE OVEN DOOR. This will reduce the temperature AND it will make your keto pavlova deflate.

Remove the pavlova from the oven and allow to cool.
Sugar-Free Pavlova Toppings
Whip the cream, sweetener, and vanilla until medium/soft peaks form.

Gently place the whipped cream on top of the pavlova. Decorate with strawberry slices and drizzle with sugar-free lemon curd.
Notes
Keep the egg yolks, you can use them for making sugar-free lemon curd.
Lemon curd is an optional topping and will give additional 1.2g net carb per tablespoon.
Nutrition
Serving:
1
slice (serves 8)
Calories:
128.4
kcal
Carbohydrates:
2.3
g
Protein:
3.2
g
Fat:
11.6
g
Saturated Fat:
7.2
g
Cholesterol:
42.8
mg
Sodium:
53.3
mg
Potassium:
135.8
mg
Fiber:
0.4
g
Sugar:
0.8
g
Vitamin A:
459.4
IU
Vitamin C:
5.5
mg
Calcium:
23.3
mg
Iron:
0.1
mg
Get our FREE guide to finally fix your metabolism!
Losing weight & getting healthy is never easy, but lately you might feel like it's suddenly become impossible.
Our Flip the Switch guide will help you clearly understand what's been going on, as well as exactly what you can do to get your metabolism working again so that you can look and feel your best—it's easier and more simple than you think!