Keto fast food may seem like it's impossible to find, but you'll be surprised at just how many choices you have!
With so many fast food options readily available at the click of a button or a quick stop before heading home, it's no wonder that so many of those who are on a keto diet have started to ask whether certain fast foods are keto-friendly.
Discover the SECRET to ordering keto-friendly options at your favorite fast-food restaurants.
Despite what many think, the keto diet is not about deprivation or an endless list of taboo foods. Rather, the focus is on eating whole, unprocessed foods that are proven to achieve fantastic weight loss and health benefits.
Are you ready to create the ultimate 12-month blueprint for reaching your health & weight loss goals this coming year?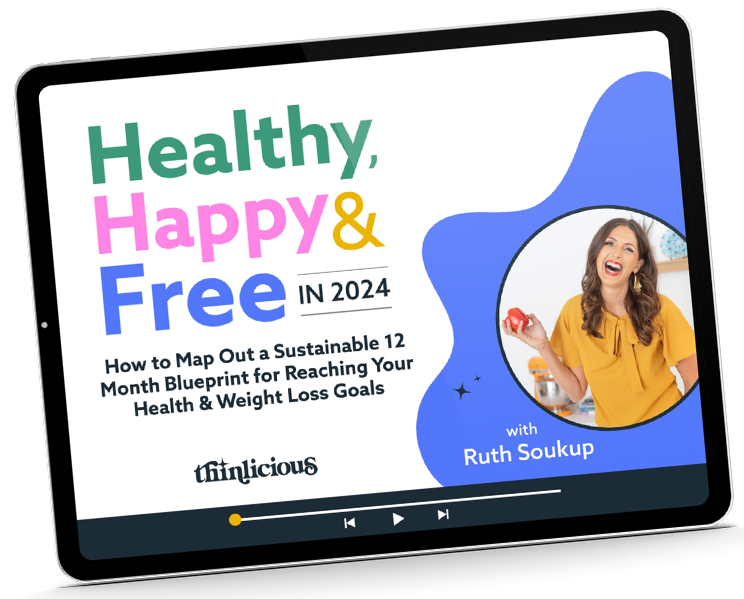 Our free on-demand video training will walk you through how to make 2024 THE year you set health goals…and keep them.
It's probable that while following the keto diet, you may find yourself in a situation where you have to choose fast food (perhaps due to a family event, other life circumstances or a desire at some point in time).
These are the BEST most valuable tips and information that will guide you to make better choices when eating fast food AND still achieve your health goals – whether that's to lose weight, maintain your goal weight or just to continue reaping the many health benefits that come from sustaining the keto lifestyle!
Can you eat any fast food on keto?
The simple answer to whether any type of fast food is acceptable when following a true keto diet is no.
The most obvious kinds of fast foods that stop your health and weight loss goals through the ketogenic diet include all those processed foods that are either high in carbs or sugar (or both) or have gone through an unhealthy cooking process with unhealthy oils such as deep-fried foods.
When we think about the typical fast foods that are "off-limits", we naturally visualize burger buns, sandwiches, bagels, muffins, fried chips, soft-serve ice cream and soda but there are many more hidden and not-so-obvious, making it more challenging to select the better, healthier options.
Fast foods you have to avoid
The total carb counts for the food items listed below have been sourced from the nutritional pages of various fast food franchises and are presented merely as a guide.
For complete and detailed nutritional facts, please consult the following websites (which may not be an exhaustive list of fast food chains near or available to you):
Here are some typical examples of the types of foods and food items offered at fast-food chains that are somewhat deceptive. They may appear to be "healthy" or "natural" but are actually non-keto and should therefore be avoided if you are going to remain in ketosis (the state in which your body burns fat instead of carbohydrates for fuel).
Greek yogurt parfait with granola – around 28g carbs per serving
Fruit cup – around 12g carbs per serving
Chicken soup – between 15g – 29g carbs per serving depending on whether you select the small or large portion
Vinaigrettes – anywhere between 8g – 16g carbs per serving
Ketchup – 16g carbs per serving
Perinaise sauce – 8g carbs per serving
BBQ sauce – around 10g carbs per serving
Fat free honey mustard – around 22g carbs per serving
Sweet and spicy sriracha sauce – around 10g carbs per serving
Chili salsa – around 21g carbs per serving
Cold brew iced coffee – between 26g – 33g carbs per serving depending on size selected. Note: you may be able to ask for this beverage unsweetened, thus removing the carbs.
Vanilla cold brew iced coffee – between 30g – 38g carbs per serving depending on size selected
The total carb count represented for the foods or food items above are averages. A good tip is to become familiarized with checking the exact nutritional information when you do plan to eat from a particular fast food chain store.
While you can't eat just any food off the menu of your favorite fast food outlet, rest assured that many do cater for healthier and lower-carb options. At the end of the day, planning ahead will play a key role in remaining in ketosis while still enjoying the occasional fast food treat.
How to order keto
Which fast food places can I eat when keto?
Most of us probably know that fried chicken nuggets, tortilla chips, and french fries are off the table if you want to stay low carb. However, there are more options than you might think available!
Stick to fast-food chain stores that offer easy-to-access and transparent nutritional information about their menu options.
It does require a bit of planning and research ahead of time but it's well worth the effort if it means that your keto diet efforts remain intact while you enjoy the fast food ordered.
Another key aspect of selecting a suitable fast food place is to go with those that have a broad menu selection rather than those that won't offer you many options other than highly processed and carb-dense foods.
Keto fast food menu meals
Here's a quick list of ideas to jump-start your creative thinking when it comes to eating keto at fast-food restaurants:
At burger joints, get a lettuce wrap burger, rather than a Big Mac with a bun. If that option isn't available, order a couple of bunless burgers and a side salad, and make your own burger bowl! Some restaurants, like In-N-Out make it extra easy to eat keto by simply ordering a burger protein style (lettuce wrapped!).
To enjoy Mexican fast food like Taco Bell, skip the tortillas and instead order a burrito bowl. This is a great opportunity to load up on healthy fat like sour cream, cheddar cheese, or guac too. Chipotle is a great option for keto dieters – here's how to stay keto at Chipotle.
At a sub shop like Jimmy Johns, Jersey Mike, or even Panera Bread, you can build your own keto bowl. Just order meat and cheese on a bed of romaine lettuce or leafy greens, rather than bread. Don't forget to load up on flavorful items like pickles, green peppers, cucumbers, or whatever other low-carb vegetables you like!
Coffee shops such as Starbucks have some good options too. Beverage-wise, enjoy coffee with cream but skip the sweetener. Egg bites or snack boxes with cheese, veggies, and almonds are good low-carb options if they are available.
Which take out food is keto friendly?
Every fast food corporation prepares and cooks its food slightly differently. This means that more often than not, you won't be able to compare the carb count on a burger between the different fast food outlets.
Yes, you can get an average carb count. But, it won't be exact, which is what you need if you are going to track your macronutrients accurately so that your health and weight-loss or maintenance goals can be achieved.
Some of these fast food kings have their own trademarked recipes too!
With this said, there are some standard principles that you can follow, such as:
Order and eat your salad without salad dressing. You can simply ask for it to be served on the side so that you have control over how much goes into the salad. Even better? Ask for olive oil and vinegar if that's an option!
Avoid ordering any food that has been deep-fried or is covered in breadcrumbs or batter.
Stay away from the well-known culprits that will shoot you out of ketosis. This includes anything made with refined flours (burger buns, muffins, bagels, sandwich bread). Plus, avoid potato-based items like hash browns and fries. Don't forget milky beverages (lattes, milkshakes, cappuccinos), and sugary beverages too (fruit juices or soda, and desserts).
Don't be heavy-handed with any condiments provided. These toppings are typically packed with sugar and carbs!
Stick to protein options that have been baked or grilled. Grilled chicken breast is available almost anywhere!
If in doubt, always consult the nutritional info listed online prior to ordering any fast food.
How to stay keto with grocery store meals
Just because you are pressed on time don't think that means you have to get a fast-food meal. Grocery stores and convenience stores both offer a good way to get healthy food fast.
In fact, next time you need a quick meal or snack, I challenge you to try one of these prepackaged meals from the grocery store. You'll be pleasantly surprised at just how many good choices there are! This is a convenient way to stay on a low-carb diet.
Will one cheat meal ruin my keto diet?
If you indulge in fast foods that are not keto-friendly from time to time, there is a likelihood that it may kick you out of ketosis at that specific point in time.
That doesn't mean that it's going to destroy your weight-loss goals though. Especially if it's something you do occasionally as opposed to regularly.
You can easily determine whether something has kicked you out of ketosis. Just measure your ketone levels post consuming some fast food.
While I think it's safe to say that one cheat meal will not ruin your diet forever, there is a greater chance that you will get kicked out of ketosis when consuming fast food compared to eating a nutrient-dense home-cooked meal. There are so many hidden ingredients, hidden carbs, and toxic oils.
Here at Ditch The Carbs, I'm a strong advocate for eating nutrient-dense foods instead of using your daily carb or calorie intake as an excuse to be able to eat processed foods.
For instance, knowing that you have only consumed 5g carbs during the day shouldn't justify eating fast food. By all means, enjoy the occasional fast food as a treat or for a particular occasion. Just make sure that it doesn't become a regular occurrence.
If eating fast foods becomes a habit for you, it will definitely stall weight loss (if not prevent it altogether), so be mindful of not allowing fast foods to creep back into your weekly routine.
What is dirty keto?
As already alluded to, here at Ditch The Carbs, I always promote consuming clean, nutrient-dense foods that not only meet the daily carb limit of someone following the keto diet, but that will promote and sustain physical and mental health.
The term "dirty keto" is very much in line with a focus on meeting daily macronutrients with less emphasis on consuming whole and unprocessed foods. While you may still be able to stay in ketosis eating this way, you'll never reach maximum health and weight-loss results and it can also easily lead to consuming other foods that will certainly kick you out of ketosis.
Consuming fast foods while maintaining your carb limit may seem like the easy thing to do but it essentially takes the place of macronutrients from foods that are better for your physical well-being and weight-loss sustainability.
Keto fast food: Final thoughts
It may come as a relief to know that it is still possible to enjoy certain fast foods while following the keto diet, particularly if you plan ahead to understand the nutritional information of the food you intend ordering.
With that said, eating fast food is definitely second to making your own healthy home cooked meals and should not start to substitute home cooked meals on a regular basis.
While some fast food chain stores advertise certain meals as being keto-friendly or low-carb, don't be deceived by clever marketing tactics. For instance, even some salads are way above the daily carb intake allowance due to salad dressings and sugar-rich seasoning.
At the end of the day, an occasional fast food order won't ruin your weight-loss or health goals but it's good to ensure that such indulgences don't become a habit. Instead, let your focus remain on eating whole foods to meet your macronutrient requirements!
Top fast food copycat recipes
The best option if you have the time, is to make a healthy homemade fast food recipe. These top copycat recipes are the most popular. The whole family will love these.
Copycat Low-Carb Taco Bell Supreme Burrito
Enjoy a tasty copycat low-carb Taco Bell supreme burrito with faux refried "beans" wrapped in a keto tortilla.
Check out this recipe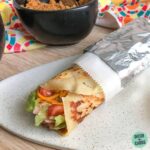 Copycat Keto Taco Bell Supreme Soft Tacos
Enjoy a tasty copycat keto Taco Bell supreme soft tacos in Libby's keto tortillas.
Check out this recipe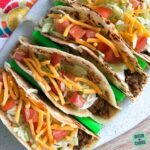 Keto Fried Chicken KFC (Copycat KFC Recipe)
Delicious and crispy homemade keto fried chicken recipe (copycat keto KFC recipe) with a few simple ingredients and my secret shaker bag method. Oven-baked or air fryer fried chicken.
Check out this recipe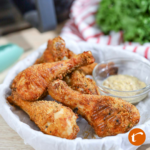 Keto Cheeseburger Pizza Recipe (keto pizza crust)
Get all the tasty goodness of a Big Mac in a healthy pizza form that is Keto friendly.
Check out this recipe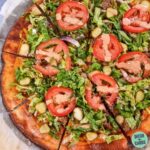 3 Keto Starbucks drinks to make at home
3 delicious copycat keto Starbucks recipes to make at home. Make your favorite keto Starbucksiced coffees at home with these 3 copycat frappuccino recipes.
Check out this recipe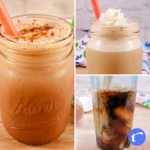 Get our FREE guide to finally fix your metabolism!
Losing weight & getting healthy is never easy, but lately you might feel like it's suddenly become impossible.
Our Flip the Switch guide will help you clearly understand what's been going on, as well as exactly what you can do to get your metabolism working again so that you can look and feel your best—it's easier and more simple than you think!