Discover the BEST keto options, the 4 worst items (you must avoid), and the 5 best homemade copycat recipes to try at home.
Good news, friends. It really is possible to eat at Chipotle and still stay within your macros. In fact, there are quite a few possibilities that will fill you up and still keep you in ketosis.
These are the best keto Chipotle foods to choose from when you eat out. Follow these tips to hack their menu and eat filling meals at Chipotle.
Is Chipotle keto?
Chipotle can be keto if you make the right choices and don't order the high-carb side dishes. But there are also a few dishes that are keto-friendly you can order straight from the menu. Once you learn how to order from the Chipotle Mexican grill menu, you can eat delicious takeouts and stay on your ketogenic diet.
Ready to lose weight and get healthy for life without dieting, drugs or making yourself miserable?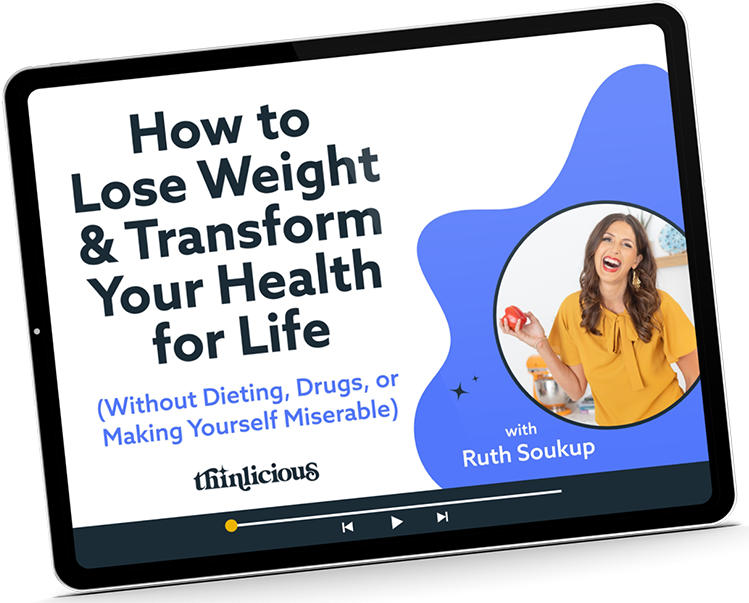 Our free on demand video training will help you understand why it's been so hard and what do to about it.
Their food is healthy, fresh, vibrant, and completely customizable. Mexican restaurants are always my go-to place to eat out because it's so easy to eat fresh and stay within your grams of carbs.
How to eat keto at Chipotle
When you are away from your house, Chipotle is one of the best fast food places you can eat at. They make all of their food fresh, so it doesn't have any preservatives.
Plus, every single option on the menu is customizable. You can absolutely fit it into your macros.
My favorite way to eat keto at Chipotle is to order a bowl with at least 3 types of food in it – quality protein, low-carb vegetables, and healthy fats. Once I have those three things, I know I'll have a filling lunch that fits into my lifestyle.
What is a Chipotle keto bowl?
Does chipotle have a keto bowl? As of 2023, it does! The easiest way to eat keto at Chipotle is to order this bowl.
In 2021, Chipotle introduced a line of lifestyle bowls. Ordering them makes it easy to know that you are getting something that fits within your eating plan.
As with everything at Chipotle, you can customize the bowls. The nice thing about them is that if you are in a rush and like everything it comes with, ordering is a breeze!
The Chipotle keto bowl is made with these low-carb ingredients:
Cilantro lime cauliflower rice
Chicken
Tomatillo-red chili salsa
Shredded cheese
Guacamole
You can also order this bowl as a super greens salad with steak or chicken.
If you order it as-is, the entire bowl has 590 calories, 43g of protein, and 20 grams of carbs.
The best protein, fat, and vegetable menu items
Have you ever wondered, "What are the best keto toppings at Chipotle?" Well, thankfully, there are quite a few!
There are tons of different ways you can order a keto bowl at Chipotle and all of them keep you within your macros. Of all of the keto fast-food options out there, Chipotle has one of the most options for low-carb foods.
It's a nice change as you won't feel like you are being boxed in or forced to choose between a side salad or a plain hamburger patty.
Check out all of these good options and make your own healthy chipotle keto salad bowl. Once you get to know what are the good options on the menu, you can even head into Chipotle's nutrition calculator and "build a meal".
You can see exactly how many additional carbs you add or subtract when you add or remove lime juice, salad dressing, extra cheese, guacamole, and chipotle aioli, and why you should avoid the tortilla chips.
Best protein choices at Chipotle
I love that all of the meat made at Chipotle is made fresh and without any added sugars or glazes. This keeps the net carb amounts nice and low.
My personal favorite to bulk up a meal is to add extra meat such as chicken breasts or ground beef which adds 0g carbs and plenty of quality protein. I call this a double protein bowl.
Meat is such a good option (especially for those who follow the carnivore diet). It keeps your carb count low and stable blood sugars.
These are the most keto-friendly protein choices and their nutrition facts:
Barbacoa | Fat: 7g, Protein: 24g, Carbs: 2g
Carnitas | Fat: 12g, Protein: 23g, Carbs: 0g
Chicken | Fat: 7g, Protein: 32g, Carbs: 0g
Steak | Fat: 6g, Protein: 21g, Carbs: 1g
All nutritional information and nutritional values: Chipotle
High-fat options at Chipotle
Fat is a very important part of the keto diet. When you eat healthy fats, you train your body to burn fat for energy instead of carbs. Check out this ultimate guide to healthy fat for more info!
These are the best high-fat options at Chipotle. If you want to add extra cheese, and extra fats, just remember that fat is a limit, not a goal in a keto food pyramid.
If your weight loss has stopped, you want to calculate your macros to see if your protein, carbs, and fat need adjusting. Add these to your keto bowl if they fit within your macros:
Guacamole | Fat: 22g, Protein: 2g, Carbs: 8g
Queso Blanco | Fat: 9g, Protein: 5g, Carbs: 4g
Monterey Jack Cheese | Fat: 8g, Protein: 6g, Carbs: 1g
Sour Cream | Fat: 9g, Protein: 2g, Carbs: 2g
Vegetables at Chipotle
Fill up your keto bowl with plenty of veggies too. They are a low-carb and high-fiber way to fill up. Almost all of the veggies at Chipotle will fit into your keto lifestyle. Make your own keto vegetarian bowl with a variety of these best options:
Super Greens | Fat: 0g, Protein: 1g, Carbs: 3g
Fajita Veggies | Fat: 0g, Protein: 1g, Carbs: 5g
Tomato Salsa | Fat: 0g, Protein: 0g, Carbs: 4g
Tomatillo Green Chili Salsa | Fat: 0g, Protein: 0g, Carbs: 4g
Tomatillo Red Chili Salsa | Fat: 0g, Protein: 0g, Carbs: 4g
Romaine Lettuce | Fat: 0g, Protein: 0g, Carbs: 1g
Is Chipotle cauliflower rice keto-friendly?
Yes, the cauliflower rice at Chipotle is keto-friendly. One 4-ounce serving has 40 calories, 4g net carbs, and 3g protein. It's a really healthy choice even if you aren't on the keto diet.
[convertkit form=2151210]
Vegetarian keto Chipotle options
If you are a vegetarian that still likes to eat humanely-produced dairy, then Chipotle is the perfect place to eat. Ask for the following real ingredients in a bowl:
Romaine Lettuce
Cheese
Sour Cream
Guacamole
All of those together have 5g net carbs, 39 grams of fat, and 10 grams of protein.
Chipotle does offer sofritas – which is marinated tofu. This isn't a good choice on the keto diet because each serving has 6g net carbs! If you want to order sofritas, cut out the guacamole to stay within your macros.
The 4 worst menu items
There are also quite a few things that you should just make it a habit to avoid when you are eating at Chipotle. These options are too high carb to keep you in ketosis. Keto dieters know to make better choices.
1: First, stay away from the rice. This goes for white rice or brown rice. Even though brown rice is really high in fiber it is also high in carbs. In fact, one 4-ounce serving of cilantro lime rice has 34g net carbs.
2: I also suggest avoiding all beans at Chipotle. There are 10g net carbs in one serving of black beans, and 13g net carbs in a serving of pinto beans.
3: Avoid all the tortillas too – this includes burritos. Since these are made with wheat flour, they are much too high in carbs. I also encourage you to steer clear of the corn-based tortilla shells and chips too.
4: Finally, don't get the roasted chili corn salsa either. One serving has a whopping 13g net carbs.
Is Chipotle Queso keto-friendly?
It has tapioca starch, but the exact nutritional facts can still fit in your macros. One serving only has 4g net carbs and it has 8g of fat. You'll have to figure this into your macros when you order it.
5 Best homemade copycat keto Chipotle recipes
I always advocate for cooking at home because you can control exactly how it tastes and how much of each ingredient you use. I compiled a few of my favorite low-carb copycat recipes for you below.
So when you can't visit your favorite keto restaurant, or there isn't a keto option near you, next time, make these at home. Stay on track with your low-carb eating plan with these delicious foods.
You can even make your own quick and easy homemade keto taco seasoning (so you know EXACTLY what goes into it).
Keto Chicken Burrito Bowls Recipe (Instant Pot)
Quick and easy delicous low-carb keto chicken burrito bowls are the perfect one-bowl meal. Can be cooked in the Instant Pot slow-cooker, or stove. ,
Check out this recipe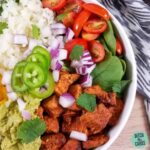 Copycat Low-Carb Taco Bell Supreme Burrito
Enjoy a tasty copycat low-carb Taco Bell supreme burrito with faux refried "beans" wrapped in a keto tortilla.
Check out this recipe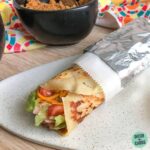 Copycat Keto Taco Bell Supreme Soft Tacos
Enjoy a tasty copycat keto Taco Bell supreme soft tacos in Libby's keto tortillas.
Check out this recipe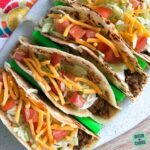 Get our FREE guide to finally fix your metabolism!
Losing weight & getting healthy is never easy, but lately you might feel like it's suddenly become impossible.
Our Flip the Switch guide will help you clearly understand what's been going on, as well as exactly what you can do to get your metabolism working again so that you can look and feel your best—it's easier and more simple than you think!