</p>
I'm not joking when I say these are the best keto chocolate cookies I've ever tried (and I've tried a lot…job perks!). These cookies are rich, moist, and oh-so-flavourful. Plus, they happen to be gluten free, low-carb, and grain free too!
These chocolate cookies have no added sugar and are only 2.7 grams of net carbs.
These really are the easiest little best low-carb chocolate cookies to make and are just the right size to help satisfy that sweet tooth craving we sometimes have.
Are you ready to create the ultimate 12-month blueprint for reaching your health & weight loss goals this coming year?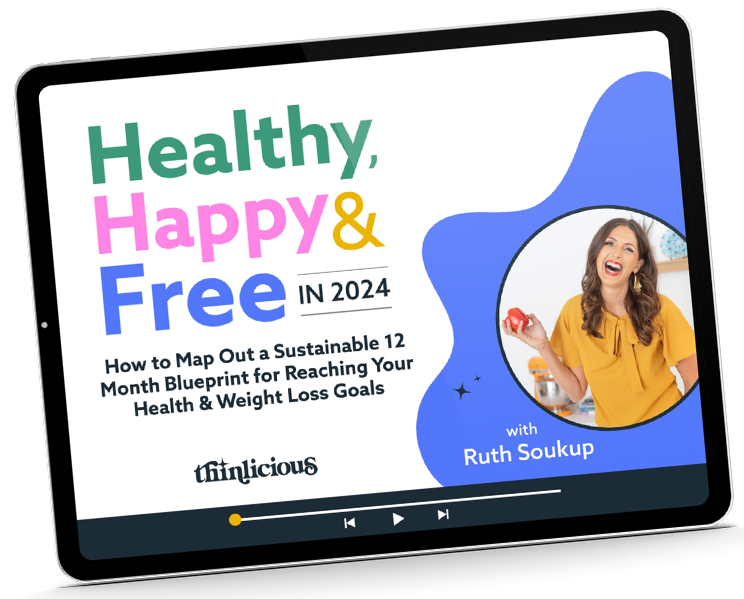 Our free on-demand video training will walk you through how to make 2024 THE year you set health goals…and keep them.
Can I Eat Chocolate on a Ketogenic Diet?
Yes, you can eat chocolate on a keto diet but you have to read the nutrition panel and understand which sugar replacements are keto friendly that will not raise your blood sugar.
You need to be discerning with your chocolate – look for something that is at least 70% cocoa. The higher the better! Of course, you'll want to watch your sugar intake too.
There are several bars available that are made with low carb approved sweeteners. But there are also plenty of sweeteners that are deceptive and need to be avoided.
Alternatively, you can indulge in recipes like these chocolate cookies that are made with pure cocoa and sweetener. No sugar, no wheat flour, just simple low carb cookies. And if you want keto desserts, I've got those for you too.
How To Portion Control Chocolate Cookies
My children love this keto cookie recipe so much that they named them the "best low carb chocolate cookies ever!" and hence the title.
The addition of some 90% dark chocolate really lifts them up and makes them look like a regular cookie but without the added sugar, unhealthy fats and horrendous carbs.
And with these little babies, you really can portion control yourself and stop at just 1. How many times did your cookie dough or an entire batch disappear before your eyes? It really is the perfect choice for enjoying a sweet treat but stay on track with your keto diet!
I think that is the real benefit of low carb baking and this way of eating. With carb-heavy baking, and high-sugar baking, you lose the stop signal and end up eating more and more. With low carb baking your blood sugars don't rise, your insulin demand doesn't rise and your appetite stays in control.
Ingredients (what to use and what to avoid)
For the best results, use almond

flour

in this recipe. This chocolate cookie tastes best with that lovely, silky texture rather than a grainy almond meal. I often use ground almonds or almond meal in my baking as it is cheaper than almond flour, but I highly recommend running these coarser blends through a powerful blender or coffee grinder to make the low carb flours finer.
Use erythritol or xylitol. They are both granulated sugar alcohols and keto friendly sweeteners and measures spoon for spoon. Monk fruit sweetener also works wonderfully. I always add a note in my low-carb and keto recipes to add sweetener to taste. Everyone is on a different part of their sugar-free journey. So what one person might taste as just right, another will taste as far too/not enough sweetness.
Unsweetened cocoa powder – do not make the mistake of buying drinking chocolate. Always check the nutritional information to make sure there are no added sugars.
Make sure you buy the unsweetened coconut. Desiccated unsweetened coconut is available as shredded, flaked, thread and fine. For making these keto chocolate cookies I use shredded or fine, and keep the thread and flaked coconut for my grain-free granola.
Get the highest percentage of chocolate you can. My favourite chocolate, without a doubt, is Lindt 90% Cocoa. If you can't find this in your local store, use the highest % of cacao you can find.
Use softened, not melted butter. Simply leave it at room temperature for several hours. I prefer to use salted butter. If you are dairy free, you may wish to use coconut oil. However, you may need to add extra vanilla extract or a pinch of salt to replace the buttery flavor.
How to make sugar free cookie dough
How to make the cookie dough is simple. In a small bowl, cream the butter with your chosen sweetener and unsweetened cocoa powder. This butter mixture is what makes the cookies so soft.
Next, add your dry ingredients and mix well. Roll small balls of dough between your hands and place them on your prepared baking sheet. Press down with a fork to make homemade traditional cookie marks.
To see all the ingredients and gadgets I use in all my recipes and cooking videos, check out my Low-Carb Keto Shop on Amazon.
Decorating Keto-Friendly Cookies
The best part about this keto chocolate cookies recipe is that you can decorate them any way you wish! You can even add sugar-free chocolate chips, or cacao nibs, to make these double chocolate chip cookies.
Immediately after baking, remove the cookies from the cookie sheet lined with baking parchment paper, and place your chocolate sugar-free cookies on a wire rack. Once they are cooled, you can begin decorating.
Here are few things to try:
Dip them in an easy chocolate ganache to turn them into double chocolate cookies.
Drizzle chocolate all over with a fork.
Press a walnut into the center of the cookie.
Enjoy them with a swipe of almond butter.
Sprinkle them with sea salt or keto chocolate chips.
Storage
These healthy cookies are best stored in an airtight container for up to 3 days. You can freeze them for up to 1 month. Place your cookies on the kitchen countertop for an hour to defrost.
What Cookies Can I Eat on Keto? More Cookie Recipes to Try!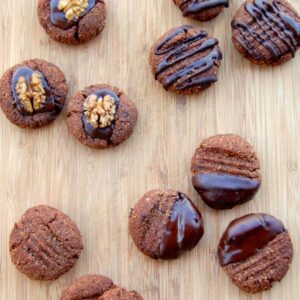 Best Low Carb Chocolate Cookies Recipe
These are the best low-carb chocolate cookies for beginners. They are easy to make and can be decorated three ways. Hey, why not ask your children to decorate them for you?
Print
Pin
Rate
Want to lose weight and get healthy for life—without dieting, drugs, or making yourself miserable?
We can help! Tell me how!
Ingredients
55

g

butter

softened

4

tbsp

cocoa powder (unsweetened)

unsweetened

2

tbsp

granulated sweetener of choice

or more, to your taste

100

g

desiccated/shredded coconut

unsweetened

2

eggs – medium

200

g

almond meal/flour

pinch

salt
Instructions
Mix the softened butter, sweetener and cocoa together until smooth.

Add all other ingredients and mix well.

Roll mixture into 14 small balls, then place on a baking tray lined with baking paper. Press down with a fork.

Bake at 180C/350F for 15-20 minutes.
Nutrition
Calories:
217
kcal
Carbohydrates:
6.7
g
Protein:
4.9
g
Fat:
20.3
g
Fiber:
4
g
Sugar:
1.8
g
Get our FREE guide to finally fix your metabolism!
Losing weight & getting healthy is never easy, but lately you might feel like it's suddenly become impossible.
Our Flip the Switch guide will help you clearly understand what's been going on, as well as exactly what you can do to get your metabolism working again so that you can look and feel your best—it's easier and more simple than you think!