This keto peanut butter ice cream ticks ALL the boxes! It's the most popular no churn ice cream I've ever made. Even better? This easy blender recipe only needs 3 simple pantry ingredients!
This dessert is everything ice cream should be. It's smooth, creamy, and rich. It's also vegan, egg free, dairy free, sugar free, and you can even make it nut free too!
So, when it's summer barbecue time, you can whip up a batch of this healthy ice cream for the whole family.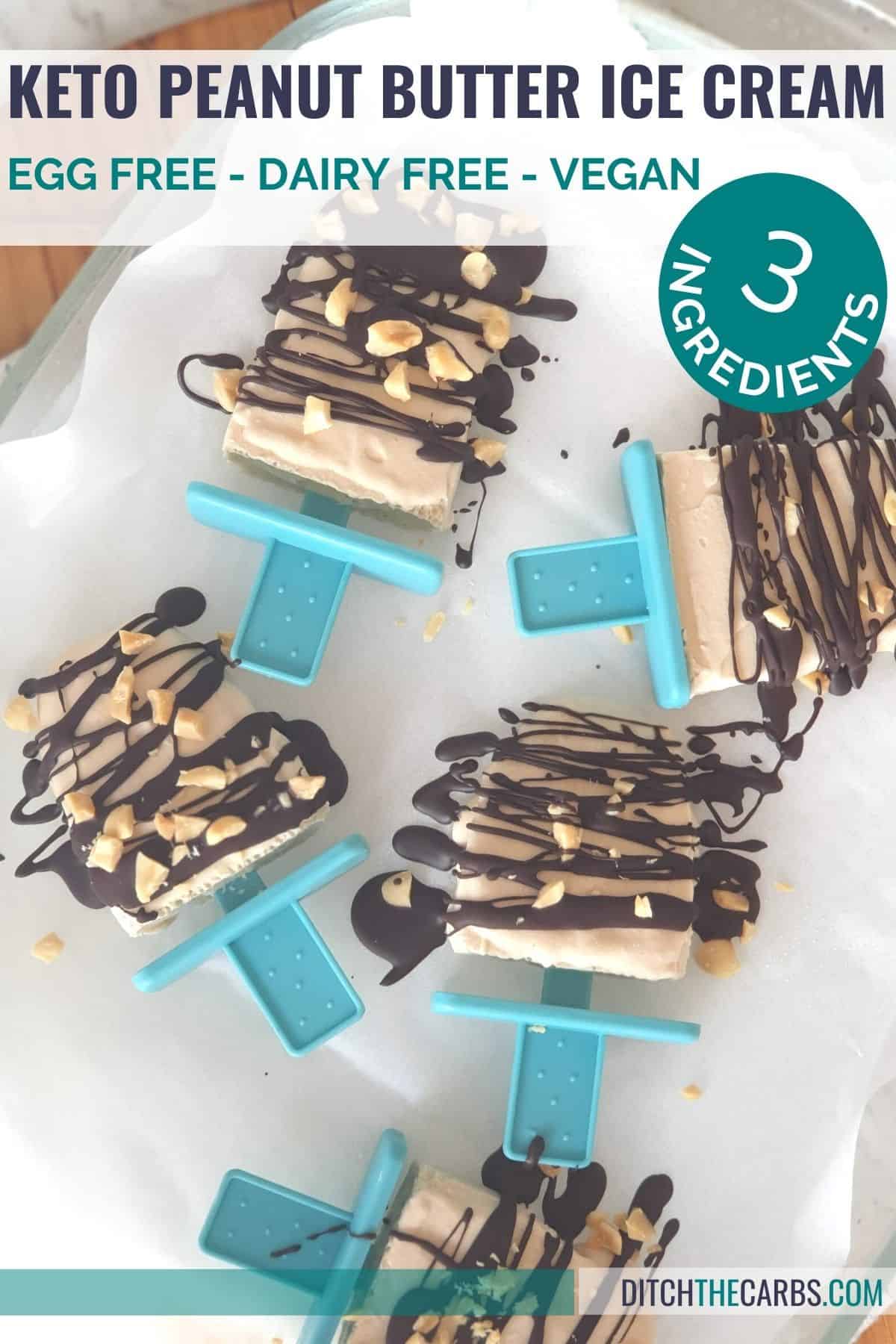 Is peanut butter keto?
Peanut butter can be keto, it just depends on how much and how often you eat it. if you decide to sit with a jar of peanut butter by your side and start eating it with a spoon, then the carbs will soon start to go over your daily diet carb allowance.
Are you ready to create the ultimate 12-month blueprint for reaching your health & weight loss goals this coming year?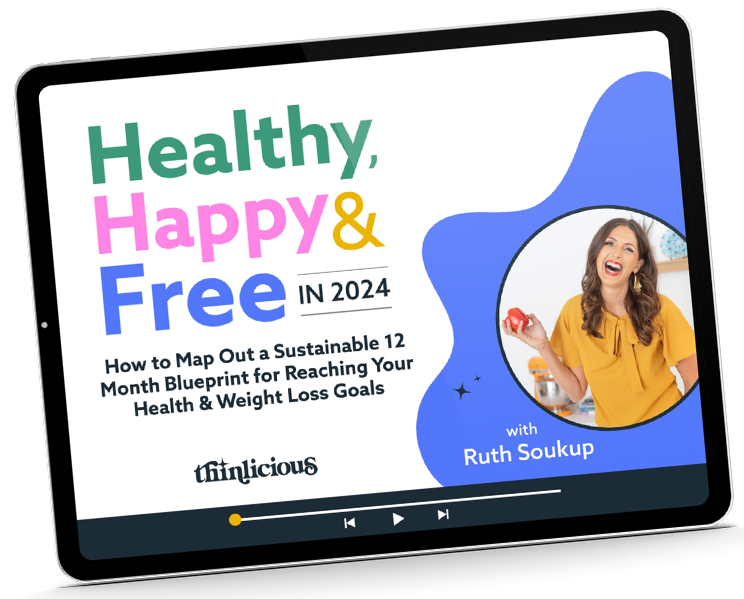 Our free on-demand video training will walk you through how to make 2024 THE year you set health goals…and keep them.
For comparison, let's look at the carbs in the most popular nut butters. Once you understand the carbs in seeds and nuts, you can make an informed choice on what to enjoy and what to avoid.
peanut butter (1 tablespoon) = 2.8g net carb, 3.6g protein, 8.3g fat, 96 calories
almond butter (1 tablespoon) = 1.3g net carb, 3.3g protein, 8.7g fat, 96calories
cashew butter (1 tablespoon) = 4.1g net carb, 2.8g protein, 7.9g fat, 94calories
Nutritional values from cronometer.com
Will keto ice cream kick you out of ketosis?
Keto ice cream will not knock you out of ketosis if you stay within your carb allowance of under 20 grams of carbohydrates per day. This is the most recognized carb limit for a ketogenic diet.
How many carbs you consume each day will be dictated by your health goals and carbohydrate tolerance.
Generally, a low-carb diet is considered to be:
<100g/day = moderate low-carb
<50g/day = low-carb
<20g/day = keto
Many readers like to begin by simply reducing their carbs to a level that is sustainable and weight loss still occurs.
To work out your carbs, protein, and fat limits to enjoy each day, use the FREE macro calculator.
Can I eat keto ice cream every day?
You can eat keto ice cream every day if you are doing a dirty keto diet. This is where people ONLY focus on their carb limit and not the source of their carbs. So they may be living off keto bars, fast food keto burgers and yes, keto ice cream.
In my opinion, you really need to be basing your daily meals on nutrient-rich meals. Keto ice cream is a discretionary treat to be enjoyed occasionally. One of the most common keto diet mistakes I see when readers join my 4-week QUICKSTART is to only count carbs and not focus on nutrients, protein, and fat.
How many carbs are in peanut butter ice cream?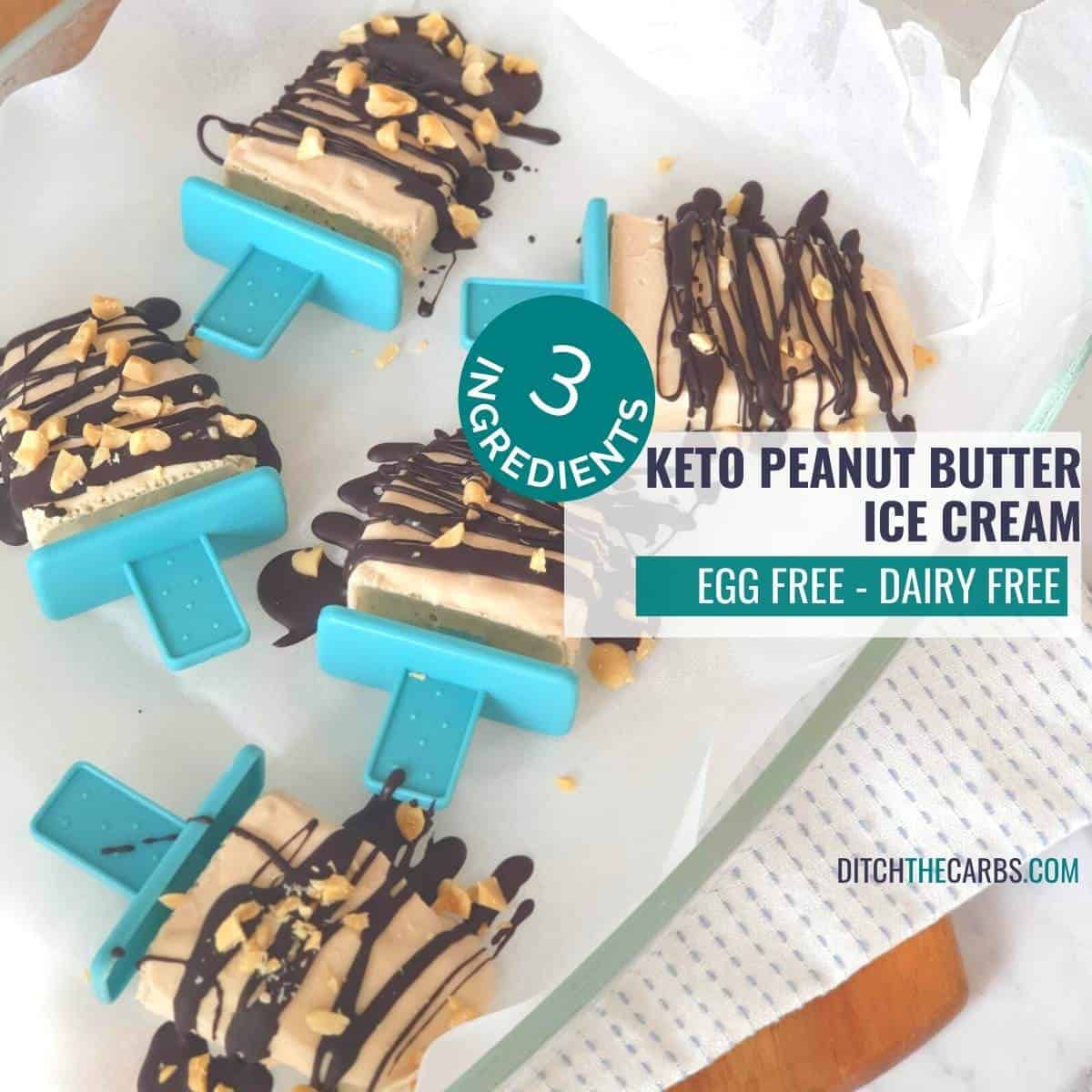 Each keto peanut butter ice cream popsicle is 5.8g net carbs. Now that might seem a little high compared to other keto ice creams, but often recipes only quote their nutritional values per scoop. And nobody stops at one small ice cream scoop.
These individual frozen desserts are approximately 1.5 scoops of ice cream and are the perfect way to portion control a healthy keto dessert. They will be enjoyed by even the fiercest sweet tooth.
Ingredients
There are only 3 ingredients in this sugar-free low carb ice cream recipe.
Peanut butter – use the best quality peanut butter you can find. Look at the nutrition label and it should only contain peanuts and salt. That's it. There should be no added sugar. If your peanut butter contains vegetable (oils such as sunflower oil and canola oil), additives, flavors and preservatives … walk away.
Coconut cream – always check the labels to ensure you are buying true full fat coconut cream. I like to make sure it has more than 20% fat and less than 4% carbs. Some brands call themselves coconut cream, but the fat content has been lowered so it is actually coconut milk. You need the fat in the coconut cream to make this delicious ice cream velvety smooth, rich, and freezes well.
Sweetener – you can use your favorite sweetener. I like to use powdered erythritol but I have also used granulated with great success. Powdered zero-carb sweeteners just blend in a little easier. You might also like to try stevia, monk fruit, or allulose.
Erythritol won't spike your blood glucose levels and tastes just like sugar (only 70% as sweet). It helps you make sugar-free sweet treats that are healthy and delicious. It is a sugar alcohol and is not absorbed so passes straight through. This is why it occasionally causes tummy upsets in those readers who are sensitive to sugar alcohols.
It is optional whether you add vanilla to the ice cream mixture. It makes the low-carb dessert recipe taste like a store-bought ice cream, whilst others may prefer the true honest taste and natural peanut butter flavor. What is your favorite flavor?
The best part of using only 3 ingredients, these yummy keto popsicles are:
Vegan
Keto
Sugar-free
Low-carb
Egg free
Dairy free
Paleo
How to cut the carbs
To make the carb count even lower, you can do any of the following, but make sure you do your own carb calculations for the nutritional values of what you have MADE and what brands you have USED.
Make smaller frozen ice blocks (serving size)
Use a different nut butter such as almond butter or tahini (sesame seed paste)
Don't decorate with drizzled chocolate
Substitutions
Should you buy salted or unsalted peanut butter?
It is a personal preference whether you buy salted or unsalted peanut butter. I personally prefer salted. It really brings out the nutty natural flavor.
Should you buy crunchy or smooth creamy peanut butter?
Both work well. Try them and see which you like best!
Should you buy coconut cream or coconut milk?
You need the high-fat content of the coconut oil to make sure the popsicles (ice lollies) are set and are not grainy with ice crystals.
How to make it peanut-free?
Use nut butter or seed butter that you can tolerate. You may wish to use tahini (sesame seed paste), sunflower butter, or pumpkin seed butter.
To make this a chocolate frozen dessert, you can use chocolate peanut butter instead for a real treat.
What is no-churn ice cream?
No churn ice cream does not require an ice cream maker. It is a simple blender easy recipe that is fast and easy to prepare. I like to use my food processor but you can use a stand mixer, high-speed blender, or even a stick blender and a large bowl.
Traditional homemade ice cream often requires heavy cream, double cream, egg yolks, sugar, and a lot of cooking at low heat to make a custard-like cream mixture. The cream mixture is then placed in an ice cream machine for up to half an hour, then chilled again in the freezer to set fully.
If you want to use your ice cream maker to make your own ice cream, it will take more time and more dirty dishes. You still have to freeze your mixture before placing it into the large bowl, churn, then freeze again.
How to make no-churn ice cream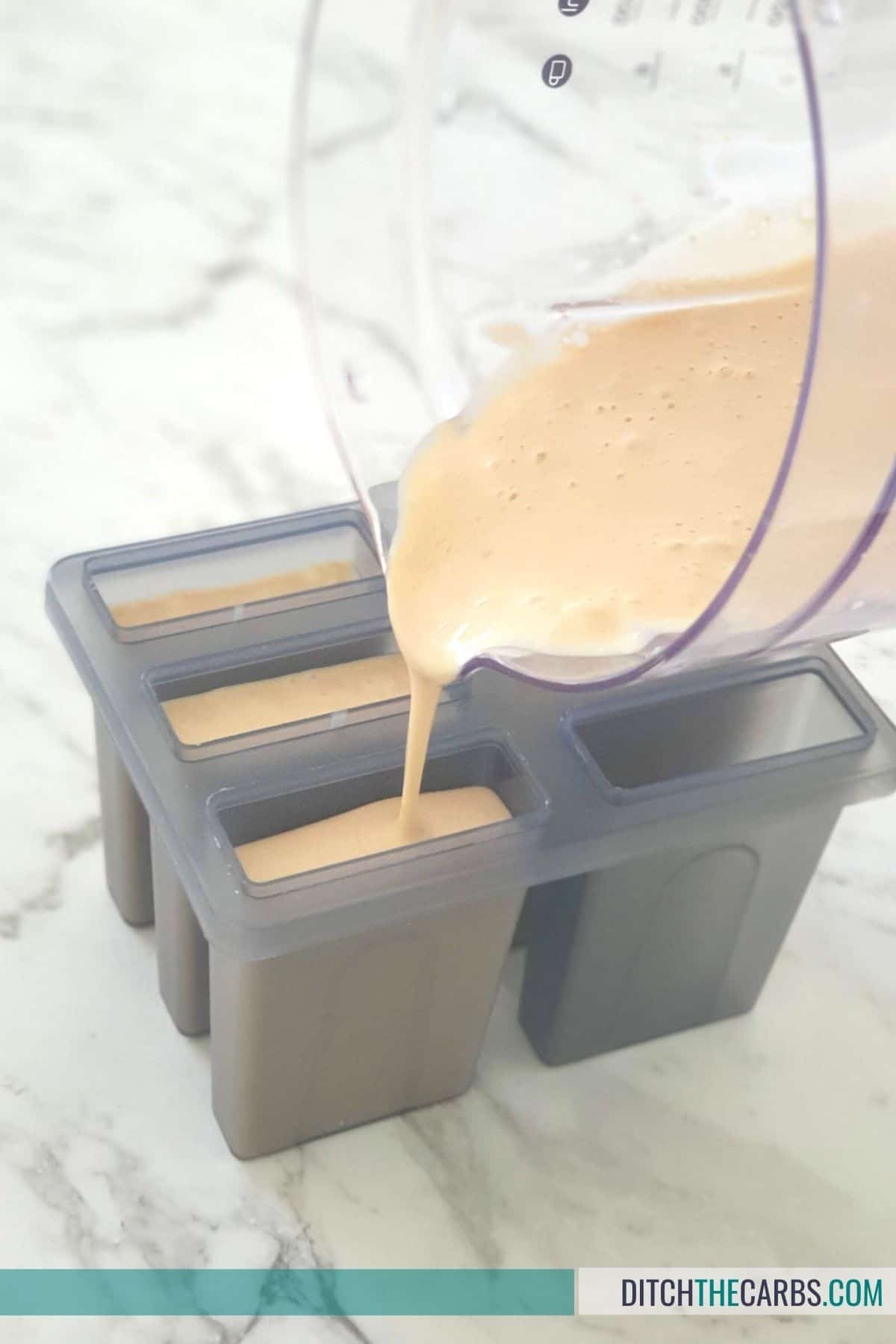 For a no-churn method, you simply put everything in the blender or food processor and mix until smooth and creamy. Pour the peanut butter and coconut cream mixture into popsicle molds, then freeze for a minimum of 3 hours.
The coconut cream and peanut mixture can be poured into icicle molds, popsicle molds, and even silicone freezer tubes.
I love making individual mini ice creams such as my low-carb chocolate chip ice cream bars. They are the perfect sugar-free summer dessert.
Serving ideas
Once they are completely set and frozen you may choose to decorate them with:
Melted sugar-free chocolate drizzled over
Dipped in dark chocolate
Sprinkled with chopped peanuts for that extra crunch
Sprinkle with sea salt to make salted peanut butter ice cream
You can also make a simple keto peanut butter sauce by mixing smooth peanut butter with my sugar-free chocolate magic shell.
ðŸŒ¡ï¸ Storage
Once you have poured the ice cream into your ice block (popsicle) moulds, they need to sit in the freezer for a minimum of 3 hours. If you try to remove them any earlier, they will break and snap off from their sticks (handles).
Your keto frozen mini desserts can be stored in the freezer for up to 2 months. Bring out each serving as you need them. If they sit at room temperature for more than 5 minutes, they will start to melt.
Other peanut butter recipes
Whilst I don't suggest making fat bombs often, my peanut butter cup recipe is one of the most popular recipes. They have the traditional flavor we all know and love, but without the added sugar.
They are an easy way to enjoy small amounts of peanut butter and give you an amazing flavor kick. You might also like:
More keto ice creams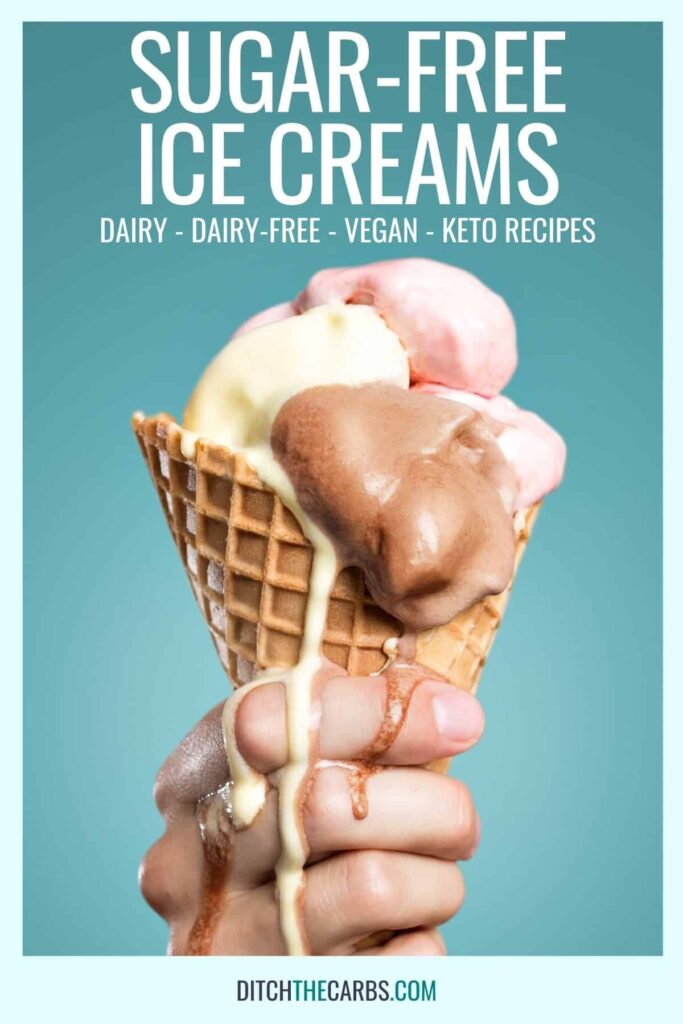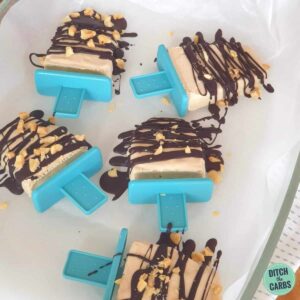 Vegan Keto Peanut Butter Ice Cream Recipe
Quick and easy blender recipe for vegan keto peanut butter ice cream. Sugar-free and a real crowd-pleaser. Children LOVE this sweet and healthy frozen dessrt.
Print
Pin
Rate
Want to lose weight and get healthy for life—without dieting, drugs, or making yourself miserable?
We can help! Tell me how!
Equipment
Food processor

Measuring cups and spoons
Ingredients
2

cups

coconut cream

full fat

⅓

cup

peanut butter

or nut butter

4

tbsp

granulated sweetener of choice

or more, to your taste
Optional
1

tsp

vanilla extract

pinch

salt

(add if peanut butter is unsalted)
Decorations (Optional)
sugar-free chocolate chips

peanuts

finely chopped
Instructions
Place all the ingredients in the blender or food processor. Blend until smooth.

Pour into popsicle moulds (or pour into a shallow dish to create traditional ice cream that can be scooped).

Place in the freezer for a minimum of four hours, longer if you are freezing in a large dish.

To serve the popsicles, drizzle with melted sugar-free chocolate or 95% cacao chocolate. Sprinkle with some diced nuts to decorate.
Nutrition
Serving:
1
popsicle
Calories:
368
kcal
Carbohydrates:
8.6
g
Protein:
6.9
g
Fat:
36.9
g
Sodium:
72.9
mg
Potassium:
373
mg
Fiber:
2.8
g
Sugar:
1.4
g
Vitamin C:
2.4
mg
Calcium:
15.8
mg
Iron:
2.2
mg
Get our FREE guide to finally fix your metabolism!
Losing weight & getting healthy is never easy, but lately you might feel like it's suddenly become impossible.
Our Flip the Switch guide will help you clearly understand what's been going on, as well as exactly what you can do to get your metabolism working again so that you can look and feel your best—it's easier and more simple than you think!