It's the Happiest Place on Earth.
Unless, that is, you're trying to stick to a low-carb or ketogenic diet.
That's when your dream Disney vacations can feel like real diet nightmare, torn between eating allllllll the things (and sabotaging all your hard fought progress) or becoming the Debbie Downer of your group. "I can't have that. I'm eating LOW-CARB." Womp. womp. womp.
Hold on. What? Why go to Disney parks to feel miserable?
Ready to lose weight and get healthy for life without dieting, drugs or making yourself miserable?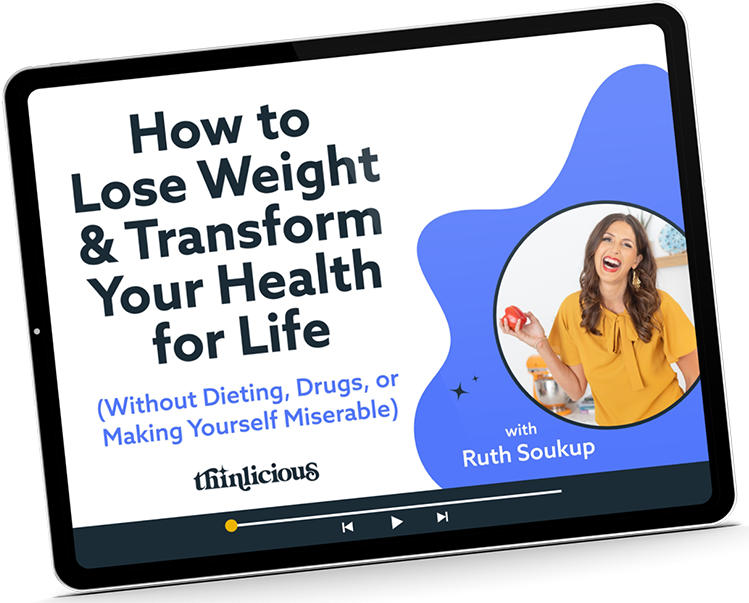 Our free on demand video training will help you understand why it's been so hard and what do to about it.
The good news is that you don't have to eat starchy carbs to soak up the magic!
That's why in this article, we will explore some tips and tricks for eating low-carb on a Disney vacation. We'll also take a look at some delicious menu items that fit within a low-carb lifestyle. So whether you're traveling to Disney World or Disneyland, read on for some helpful advice!
5 Easy Hacks For Eating Low-Carb At Disney Parks
It seems like there are endless amounts of sugary snacks and carb-laden dishes everywhere you turn. But it is possible to enjoy your vacation without sacrificing your health to do it.
In fact, with the right food choices, you'll have enough energy to park hop, ride the rides, and see the fireworks at the end of the day—without falling over!
Eating low-carb at Disney is super easy with these small hacks.
Bring Keto Snacks To Curb Cravings
You can always bring your own food to the parks. Most people don't think of this as an option because they think it'll be more expensive or difficult, but it doesn't have to be!
You can easily find low-carb items at your local grocery store that will travel well and won't break the bank.
For example, hard-boiled eggs, pre-cut veggies, beef jerky, and cheese are all great options that will fill you up without weighing you down. And if you're really short on time, there are even some keto-friendly snacks that you can buy online or at your local health food store.
Make Food Low-Carb
Friend, feel free to order food at quick-service locations or food carts. You can make almost anything low-carb just by choosing what you eat.
Let's take quiche. Order it, just eat the filling, and leave the crust on the plate. Pre-packaged salad has carrots and tomatoes? Eat around them.
Order bunless burgers. Get salad dressings on the side. There are a lot of pre-made and pre-packaged food items at Disney, so just order the food and modify at your table (or as you walk around).
Avoid the Sauces and Anything Glazed
Let's be real—the dips and sauces and marinades, they probably all have sugar in them. And that's ok.
Save yourself time when you're ordering and just look for grilled protein choices—not fried, breaded, or sauced up.
Replace Carb-Heavy Sides With Veggies
French fries and mashed potatoes are obviously a no-go. So, automatically look for low-carb veggies to eat on the side instead.
Most places will have something like broccoli, cauliflower, or chopped salad with cucumbers.
Plan Ahead
In the midst of planning for the resort, fast pass, and character meet and greets, don't forget about yourself.
Make yourself a priority. You deserve it! Spend a few minutes browsing the menus at each place you'll eat.
Even though Disney doesn't put nutrition information on the menus, there are some red flags you can spot. Avoid anything that says "sweet" or "glazed" or "marinated" on it. Look for options that are grilled or baked, without any breading.
Remember, you can always ask your server or the chef if something on the menu isn't clear. They will help you order food that fits within your macros.
Top Tasty Quick-Grab Disney Food
Disney has so many magically delicious foods; you don't have to miss out just because you're eating low-carb.
Whether you are craving a high-protein snack or you need something quick for lunch, we've got you covered.
Low-Carb Snacks At Disney
In the grand scheme of a Disney vacation, very few people dream about snacks. It's the character dining and rides that matter most. This is one area where you might save money (and stress) packing your own.
In a pinch, there are still plenty of snacky foods you'll find at places like resorts, snack carts, or Starbucks locations.
Look for things like this when you need a low-carb snack:
Hard-boiled eggs
Massive dill pickles
Mini Wheels of Babybel Cheese
Beef Jerky
Guacamole
Quick Grab and Go Lunch Ideas At Disney
You'll likely be so focused on soaking up the Disney magic to care much about lunch. There are rides to do and characters to meet!
When you need a low-carb lunch, order one of these delicious options:
Turkey Leg – There is so much meat on these legs that you'll probably end up sharing it with someone. It's just meat. No glaze, no sugar. It's fantastically low-carb! Plus, it's a lot of fun to eat.
Chicken Skewers – Tender chicken grilled on a stick that you can nibble on while you walk around…it's just sublime.
Bun-Free Hot Dog or Burgers – It's true hot dogs are full of processed meat, but it's low-carb and basically one of the most iconic foods to order at a theme park. Get your hot dog without a bun and top it with mustard, onion, and jalapenos. If you're up for it, add some sauerkraut to the dog too! You can find bun-less burgers at every Disney park too.
Buffalo Chicken Wings – You'll find this at Terra Treats in Disney's Animal Kingdom. A few spicy chicken wings and celery is a fiery little lunch that is almost exclusively made of protein.
Blaze Pizza Keto Crust – There is a Blaze Pizza in Disney Springs, and it offers keto crust. Be careful with the toppings and portions. Each crust slice only has 2 grams of total carbs, but it goes up. Use the Blaze Pizza nutrition calculator to easily pre-plan the toppings and sauce.
Salads – almost all the quick-service locations offer some sort of salad with grilled protein (mostly chicken or shrimp). Order them with dressing on the side.
Low-Carb Dining At Disney
This is where you might feel the struggle—and it's why we wrote this post! Disney doesn't have a nutrition guide you can look at or download (ugh, right?).
Even though you can ask your server or the chef to tell you which options have added sugar, it feels better to be prepared with a few ideas of what you'll order.
Bookmark or pin this post! To save you stress and worry, here are a few of the tastiest low-carb choices you can order from some of Disney's most popular fine dining establishments.
Be Our Guest Restaurant in Magic Kingdom
If you want to feel like royalty, dining in the Beast's Castle is a must. And luckily, there are plenty of low-carb options on the menu.
For starters, we recommend the French Onion Soup – it's hearty and satisfying without being too heavy. You can't go wrong with the Grilled Strip Steak or the Pan-Seared Scallops for your entree.
Ohana At the Polynesian Resort
Meat-lovers, this is the place to go! There are tons of exquisite meats on spits. Beef, pork, seafood, and chicken—have fun and order any of them.
Avoid the sauced chicken wings at Ohana. They have sugar in them.
Tony's Town Square Restaurant at Magic Kingdom
Low-carb at an Italian restaurant? Yup! Skip over all the pasta. When you do, you'll see a scrumptious tilapia. It's lower in fat, so more filling choices are the pork tenderloin, NY strip steak, and shrimp scampi (without noodles or rice).
Ask your server to replace the starchy sides with some steamed or roasted vegetables.
Coral Reef Restaurant in Epcot
The surf and turf choices here are indulgent and on-plan. Plus, you get to dine while sharks swim by your table – what's better than that?
Coral Reef Restaurant has protein galore! Seafood, beef, chicken, pork—it's all here, and most of them are grilled or baked. Ask first if you aren't sure.
Starchy sides are all over the place here too. Just ask them to replace the side with buttered green beans.
Avoid the lobster manicotti (or any pasta, really). The Tuna Tataki is drizzled with a sugary syrup, so it's a no-go. The octopus appetizer is mixed into a potato salad, and the Sriracha shrimp is breaded, so skip those too.
California Grill at Disney's Contemporary Resort
You'll find one of the best steaks at Disney here at the California Grill. The rib-eye tomahawk steak is enough to feed two people. It's grilled to perfection and comes with grilled Delta asparagus.
If you're in the mood for seafood, go with the Florida Black Grouper. The green-curry coconut nage is made with coconut milk and incredibly flavorful. Just omit the rice and chutney.
Cosmic Ray's Starlight Cafe in Magic Kingdom
The animatronic performer will entertain you while you chow down on some seriously delicious food.
Order the Bayou Burger without a bun! The Jalapeño Pimento Cheese will light you up.
Otherwise, order a bunless 1/3 pound Angus burger or bacon cheeseburger.
Yak and Yeti at Animal Kingdom
Enjoy the fun Asian atmosphere and exquisite food.
The best low-carb options here are the Chop Chop chicken or shrimp salads. Ask for grilled chicken without marinades and order it without tomatoes or carrots.
The Kobe beef burger is a green light! Indulge and enjoy this juicy burger (without the bun of course).
Hollywood Brown Derby at Hollywood Studios
This is the best place to eat in Hollywood Studios if you are following a low-carb lifestyle. The pan-seared sea scallops are a huge treat! As an appetizer, enjoy shrimp cocktail (without the sauce).
You can also order a fun charcuterie board (avoid the nuts) or the filet mignon (without the fries).
The cobb salad is high in fiber and protein – just ask for it without tomatoes.
Finally, the grilled pork is the best pork you'll ever eat. Ask for it without the gravy. The Brussels sprouts are delicious too—just remember there are 8 grams of total carbs in one cup.
How To Eat Low-Carb Desserts At Disney
This is the hard part, right? Disney really amps up the allure of the sugary treats, don't they?
Obviously, all those ice creams and Dole Whips are out. But that doesn't mean you have to be miserable. Quite the opposite!
Instead, fill up on so much protein and healthy fats from the incredible meals at the parks. You won't have any hunger left for desserts.
Since vacation is all about pleasure, there are still a few ways to enjoy something sweet. Sip on an iced coffee with cream and a packet of Stevia.
A few bites of fresh fruit can be refreshing—just watch those carbs. There are about 12.7 total grams of carbs in one cup of strawberries.
Browse sugar-free chocolates and other pre-packaged treats and choose the ones that fit your lifestyle. These are the best and worst sweeteners for your low-carb diet. Once you find something that fits, indulge in the treats that use good-for-you ingredients.
If you think your sweet cravings will get out of control, prepare for it. Make some Thinlicious™ Magic Bars and keep them wrapped in your bag. Eat them while everyone else is noshing on desserts. You'll still feel social and feel good, knowing you're feeding your body the fuel it needs to keep losing weight (and maintain that amazing energy!).
Your sweet tooth isn't the enemy. If you plan out your carbs for the day ahead of time, you can make room for a few indulgences here and there. It is your vacation, after all!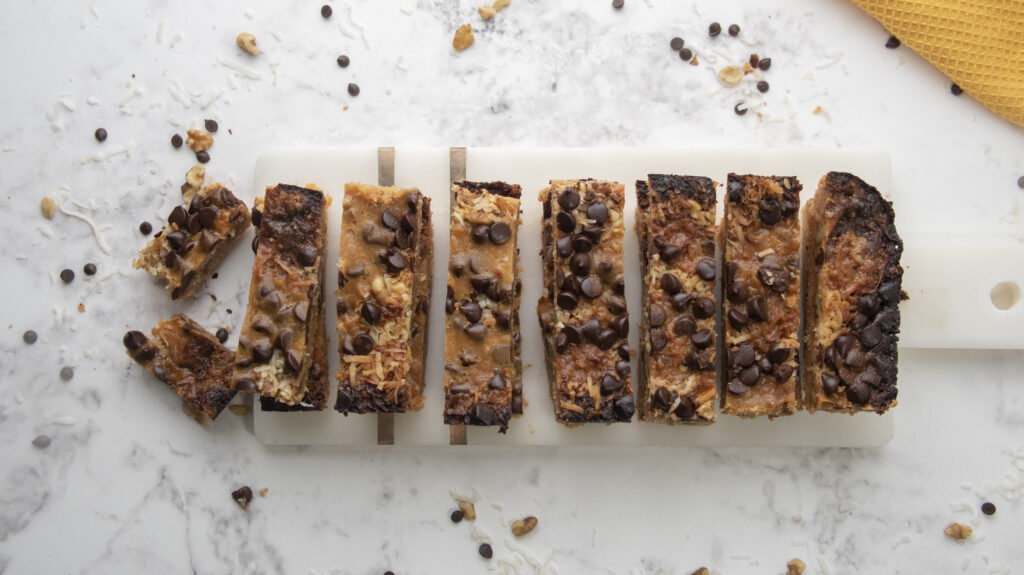 Enjoy Your Vacation Without The Carbs
There ya go! That's everything you need to know about eating low-carb on a Disney vacation. With a little planning and effort, you can enjoy all of the best parts of your vacation without sacrificing your diet. So what are you waiting for? Start packing your bags – your dream vacation is waiting!
If you want a little more guidance, so you thrive in your low-carb lifestyle, we recommend starting with our Thinlicious™ 28-Day Metabolism Reset. This program is designed to introduce you to the Thin-Adapted System and help you retrain the way your body burns fuel in just four weeks. Get it HERE.
PIN FOR LATER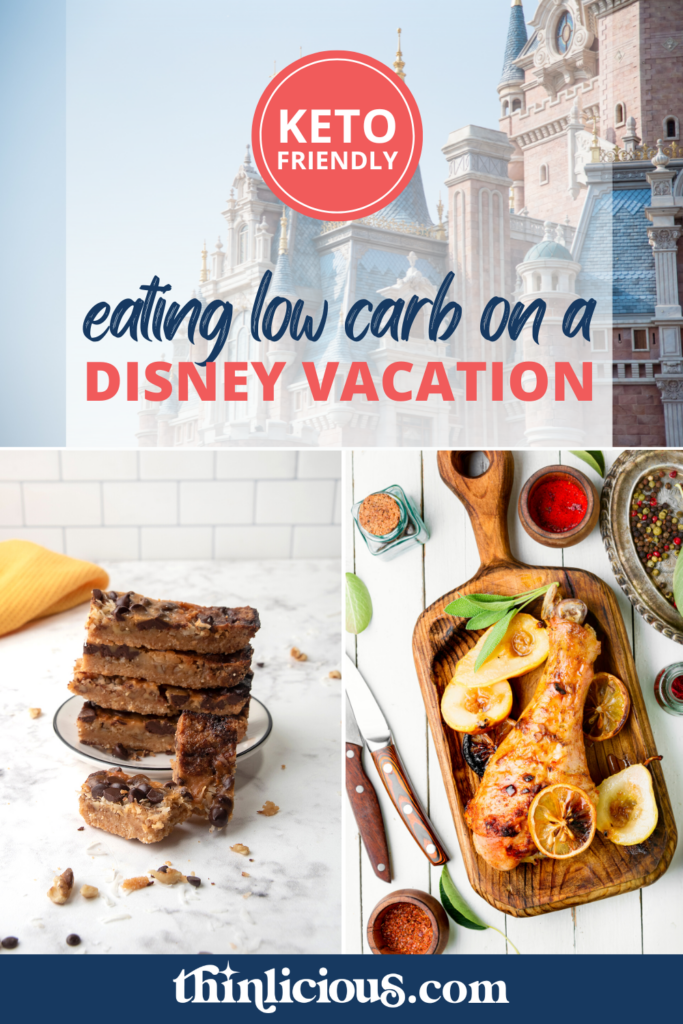 Get our FREE guide to finally fix your metabolism!
Losing weight & getting healthy is never easy, but lately you might feel like it's suddenly become impossible.
Our Flip the Switch guide will help you clearly understand what's been going on, as well as exactly what you can do to get your metabolism working again so that you can look and feel your best—it's easier and more simple than you think!