Nothing quite beats a delicious cold refreshing keto berry smoothie when you are looking for a quick and light breakfast or snack.
With only 4.7g net carbs this smoothie recipe is the perfect addition to your keto diet and keto meal plan.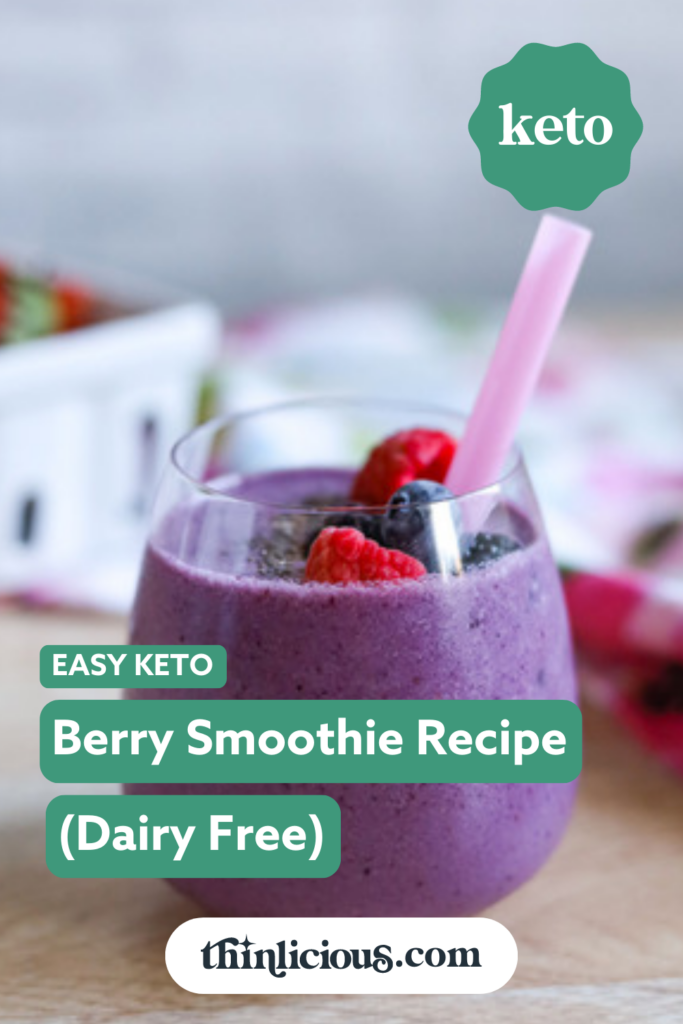 Keto berry smoothies are the perfect addition to your day any time of the year, but they are especially refreshing when it's hot outside or your kids need an afternoon snack before sport.
Ready to lose weight and get healthy for life without dieting, drugs or making yourself miserable?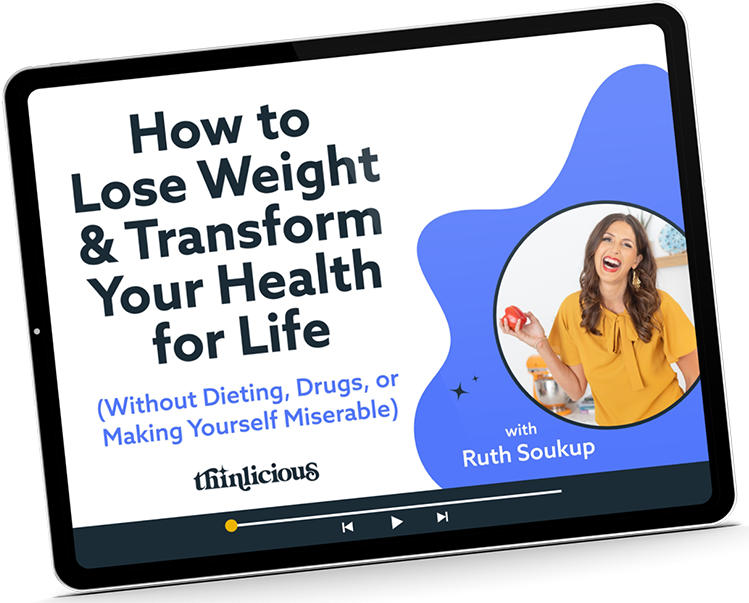 Our free on demand video training will help you understand why it's been so hard and what do to about it.
This was inspired by my berry coconut chia breakfast on this site. My keto green smoothie is a great alternative if you want to add more green veggies to your diet.
Ingredients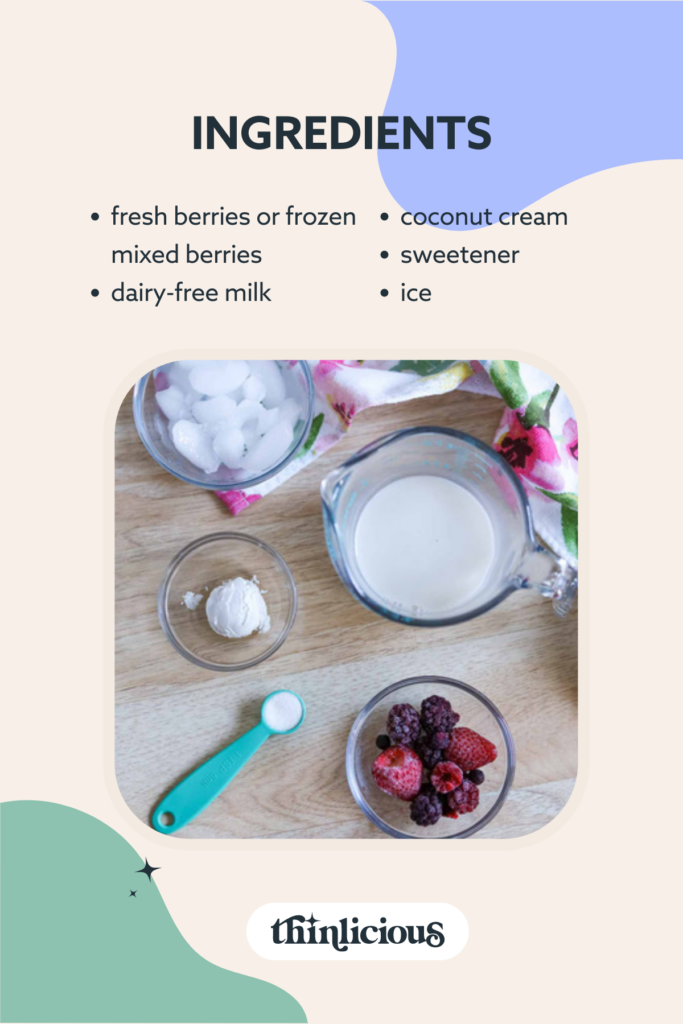 Only three ingredients are needed to make this simple and tasty keto berry smoothie recipe:
You'll add some ice and sweetener of your choice to sweeten it if your berries are a bit tart, but that is optional.
See the keto berry smoothie recipe card at the bottom of this post for exact quantities.
Instructions
Making your low-carb berry smoothie is easy. Simply place all the ingredients into a high-speed blender, close the lid, and let it blend for 15-30 seconds.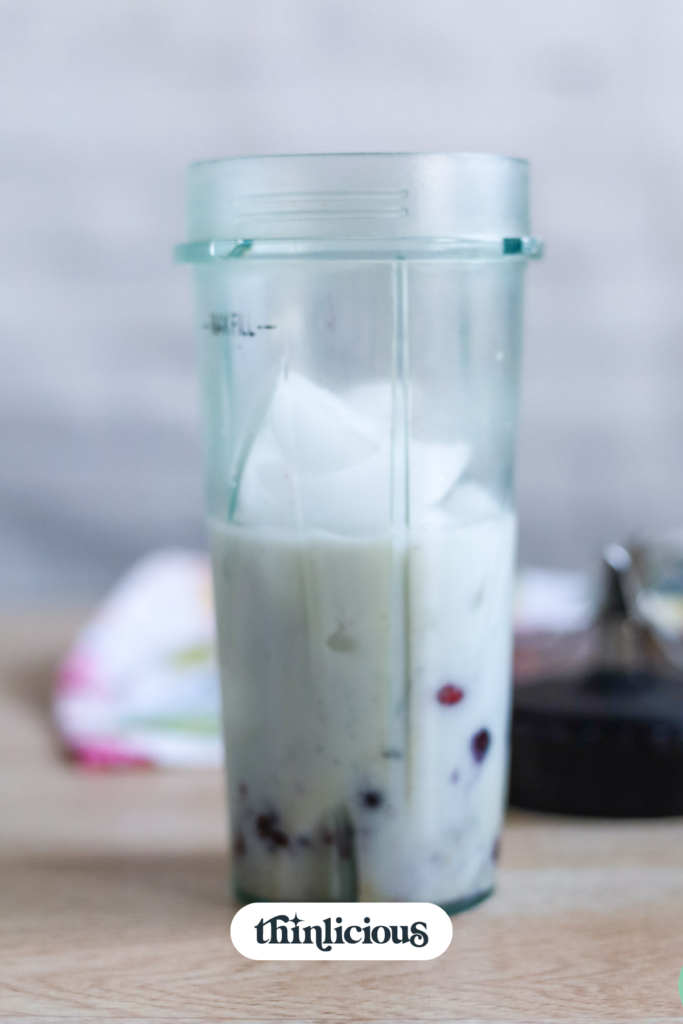 Then pour your smoothie into a cup or drink it directly from the blender if it's an individual blender cup. If you like your smoothie thicker, add more ice and blend again.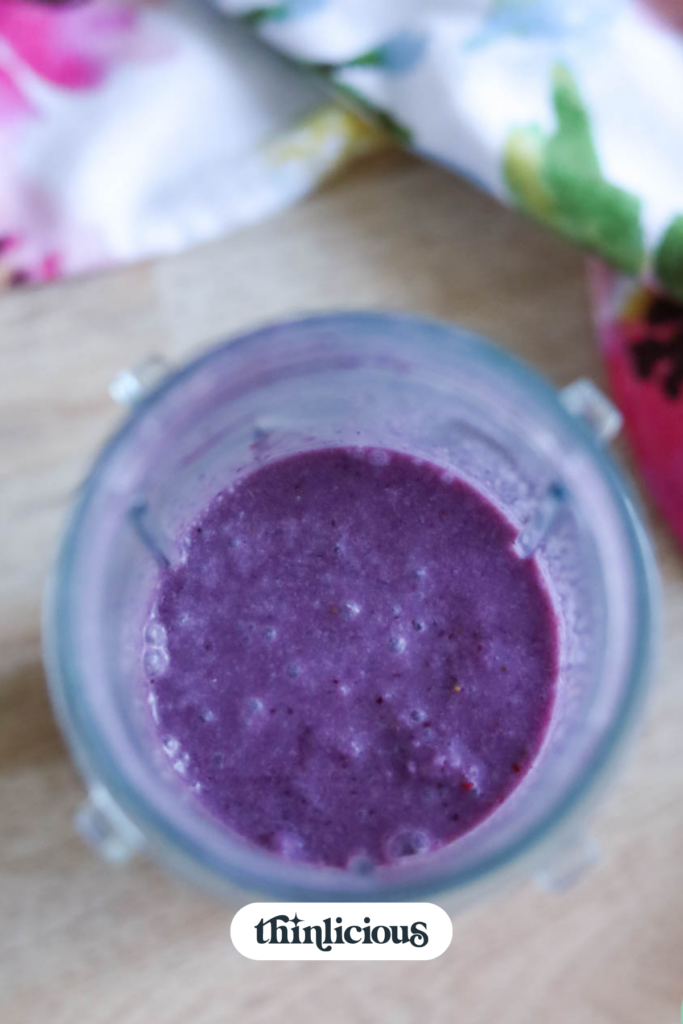 Hint: Add your ice to the blender last. Pouring liquid over the ice will make the ice melt faster.
Substitutions
Only a few ingredients are used to make this smoothie. If you have an allergy or something that doesn't fall within your dietary restrictions please see the list below of easy substitutions your can make.
Nut Allergy – instead of almond milk, use unsweetened coconut milk, flax milk, hemp milk, or even regular milk instead of unsweetened almond milk. Keep in mind this will change the nutritional values and may no longer be dairy-free.
Coconut Cream – replace the coconut cream with plain full-fat yogurt, Greek yogurt, or leave it out all together. Yoghurt will add extra protein for a quick keto protein shake.
Fresh berries instead of frozen? – Frozen berries are often cheaper than fresh berries and they make the smoothie ice cold. But if fresh berries are in season you can definetly substitute fresh berries instead of frozen.
The substitutions above can be extremely helpful if you also have family members or friends with dietary restrictions who would like to try this smoothie recipe.
Variations
Now that you have added this keto berry smoothie to your meal plan, you may decide it is time to mix it up. If you are looking for a new twist on this smoothie the variations below will make sure there is a flavor that the whole family will love.
Make it high protein keto smoothie – add a scoop or two of your favorite keto protein, keto protein powder, peanut butter, almond butter, or whey protein to drink as a meal replacement and keto protein shake after your exercise.
Chocolate berry keto smoothie – Add a teaspoon of unsweetened cocoa powder to the blender before mixing your smoothie.
Keto mint smoothie – Mix in a few leaves of mint for that fresh minty flavor.
Choose your favorite berry – in the mood for just one type of berry? Why not try a keto blueberry smoothie recipe! Frozen blueberries are a low-carb berry that is quite inexpensive.
Low-carb smoothies (extras) – why not add vanilla extract? Low-sugar syrup (or make your own keto maple syrup). And if you need to take MCT oil (for medical reasons) then this is the perfect keto-friendly recipe to use.
Looking for more keto smoothie recipes? Try these chocolate peanut butter smoothies and keto green smoothies on my website!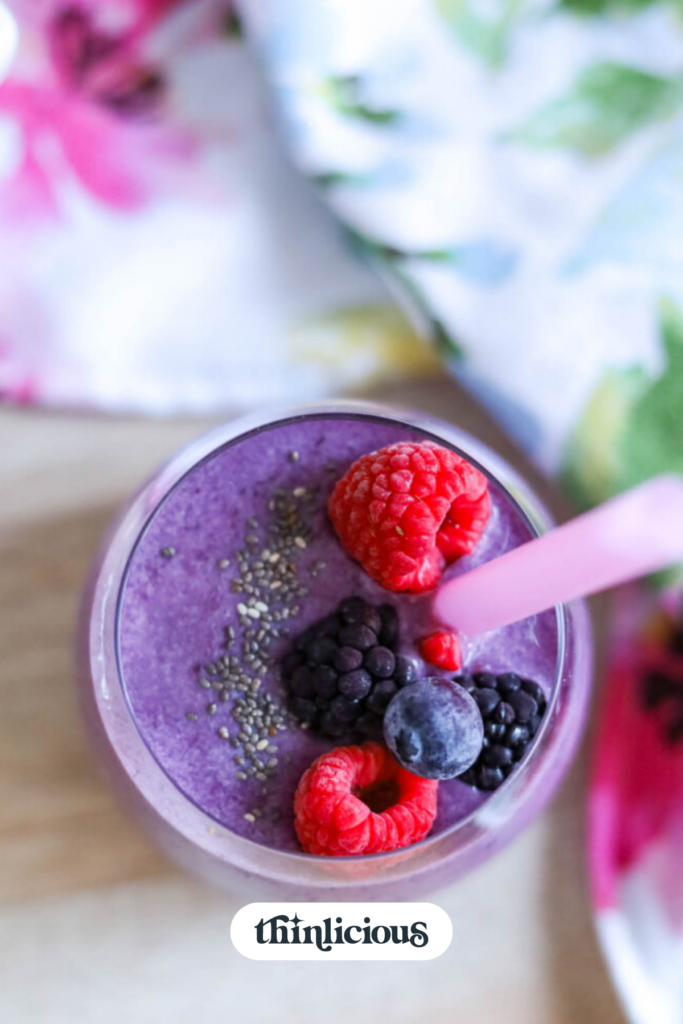 Equipment
A blender and measuring spoons/cups are all you need to make this smoothie. Any blender will do.
If you are using a stick blender, be sure to add your ingredients into a tall jar to make your smoothie. This will keep the contents in the jar rather than splashing around your kitchen!
Storage
Smoothies are best when you serve immediately. If for some reason you can't drink your smoothie right away, it should be stored in the refrigerator for no longer than a day.
The ice in the smoothie will melt, but the smoothie will still be incredibly refreshing and hydrating.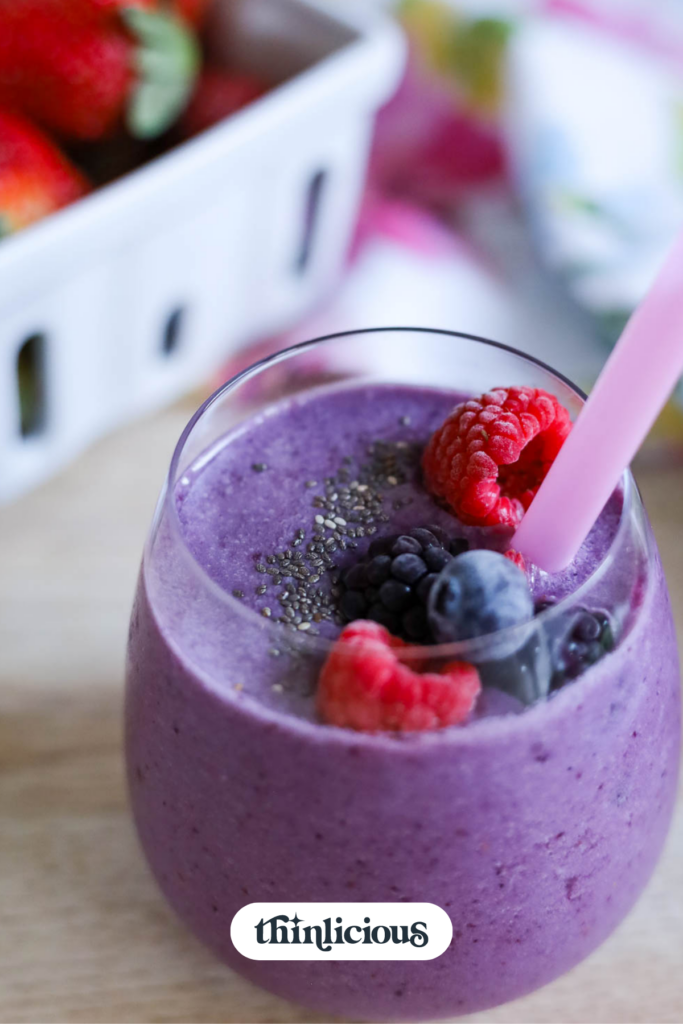 Top tip
If you are adding keto smoothies to part of a meal plan I recommend pre-measuring your ingredients (minus the almond milk) into individual storage containers or ziplock baggies and storing them in the freezer.
When you are ready to make your keto berry smoothie, simply dump the prepped ingredients, add the almond milk, and blend!
FAQs about keto berry smoothies
How can I make my smoothie sweeter?
Prefer a sweeter smoothie? No problem. Simply add your choice of keto sweetener to your drink until it's at the sweetness you prefer.
Are smoothies okay to have on the keto diet?
As long as the smoothie ingredients are within your net carbs for the day, smoothies can certainly be a part of a healthy keto diet. Just watch your carb count!

This keto berry smoothie, for example, is only 4.7 net carbs, which can easily fit into most people's macros.
How can I increase protein in a low-carb smoothie?
Using Greek yogurt instead of coconut cream in this recipe is a simple way to up your protein. You can also add a scoop of keto protein powder into this keto berry smoothie for added protein.

Just make sure to keep an eye on added carbs with these optional add-ins.
How can I make my smoothie thicker?
You can add more ice cubes, crushed ice, more protein powder, chia seeds, heavy cream, or even coconut oil to make a thicker smoothie.
Which berries are keto?
The best berries for a keto diet are low-sugar fruit such as raspberries, blackberries, and strawberries. You can easily make a keto strawberry smoothie or a keto blueberry smoothie for a quick and easy breakfast. They are absolutely delicious and are an easy way to get your vitamin C.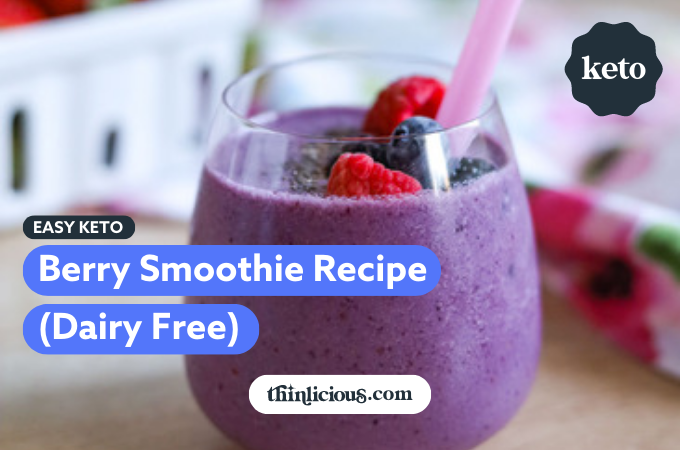 More keto breakfast recipes
These are some of the most popular recipes that are keto-friendly, gluten-free, sugar-free, and are low in net carbs, which is perfect for your ketogenic diet.
Start your day with some protein, healthy fats, low-carb keto recipes made with healthy ingredients such as: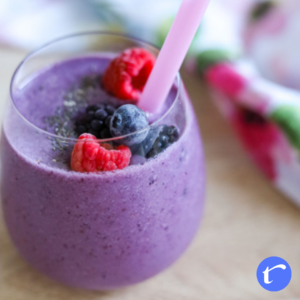 Easy Keto Berry Smoothie Recipe (Dairy Free)
Easy keto mixed berry smoothie is the perfect simple dairy-free smoothie to add to your meal plan for breakfast, a snack, or a keto meal replacement.
Print
Pin
Rate
Want to lose weight and get healthy for life—without dieting, drugs, or making yourself miserable?
We can help! Tell me how!
Ingredients
¼

cup

mixed berries

frozen

½

cup

almond milk unsweetened

½

cup

ice

1

tsp

granulated sweetener of choice

optional

1

tbsp

coconut cream

unsweetened, optional
Instructions
Add all the ingredients together in a blender and blend for 15-30 seconds. Pour into a cup and enjoy!
Nutrition
Serving:
1
serve
Calories:
88.1
kcal
Carbohydrates:
6.5
g
Protein:
1.4
g
Fat:
7
g
Sodium:
179
mg
Potassium:
70.2
mg
Fiber:
1.8
g
Sugar:
3.6
g
Vitamin A:
18.8
IU
Vitamin C:
1.4
mg
Calcium:
167.2
mg
Iron:
0.4
mg
More keto smoothie recipes
If you love smoothies for a quick breakfast on your low-carb diet, keto diet, or high-protein low-carb diet, I have more recipes for you to try. Search the breakfast keto recipes index and choose which recipes and net carbs fit in with your meal plan to lose weight.
Get our FREE guide to finally fix your metabolism!
Losing weight & getting healthy is never easy, but lately you might feel like it's suddenly become impossible.
Our Flip the Switch guide will help you clearly understand what's been going on, as well as exactly what you can do to get your metabolism working again so that you can look and feel your best—it's easier and more simple than you think!