At less than 1g net carb, this fudge recipe is perfect for satisfying your sweet tooth and holding off your urges to graze!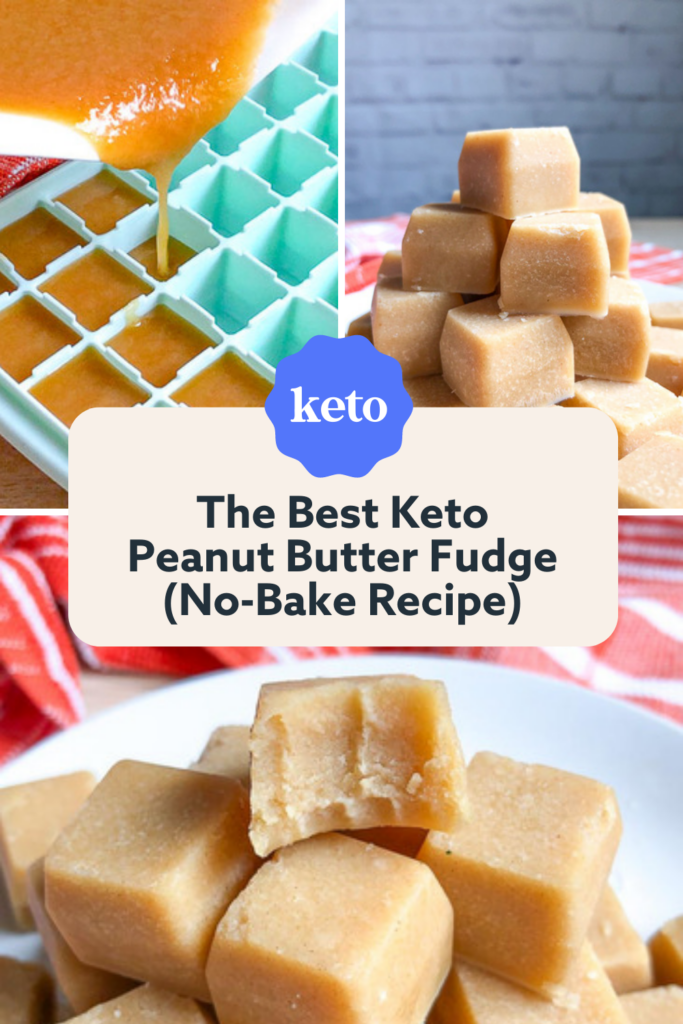 Ingredients you need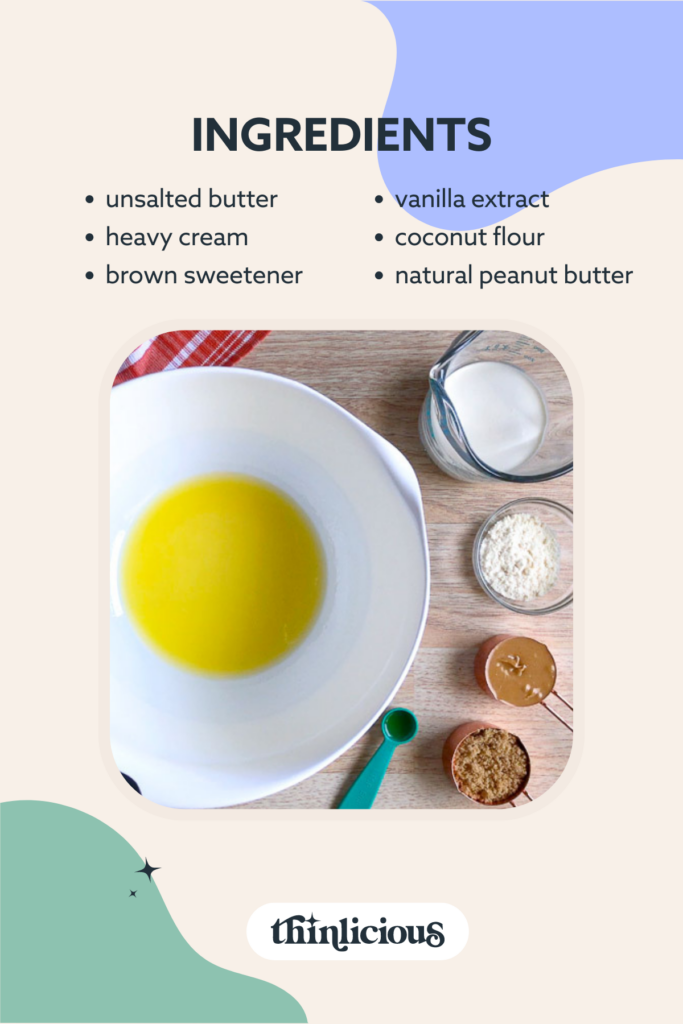 All the quantities and instructions are in the recipe card below.
How To Make Peanut Butter Fudge
With this no-bake keto peanut butter fudge recipe, you can easily whip together a tasty treat that will help you stay on track. This fudge is perfect for the holiday season, or to enjoy any other time of the year!
Are you ready to create the ultimate 12-month blueprint for reaching your health & weight loss goals this coming year?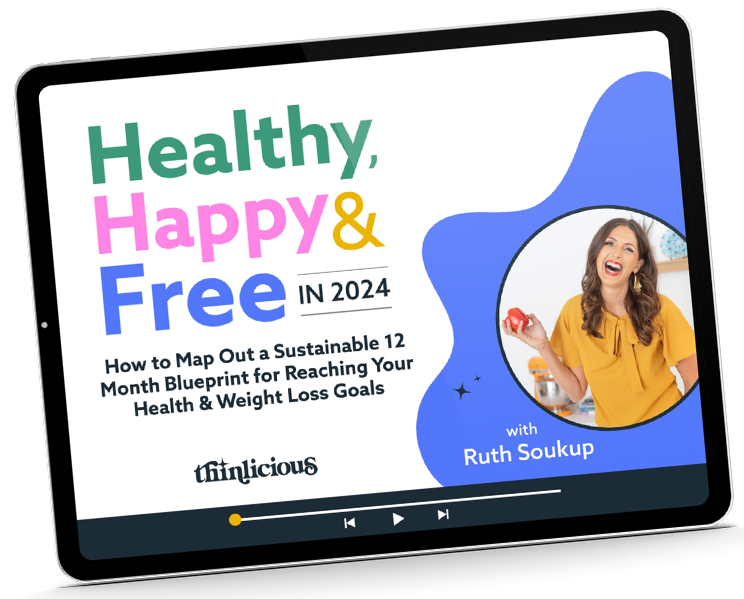 Our free on-demand video training will walk you through how to make 2024 THE year you set health goals…and keep them.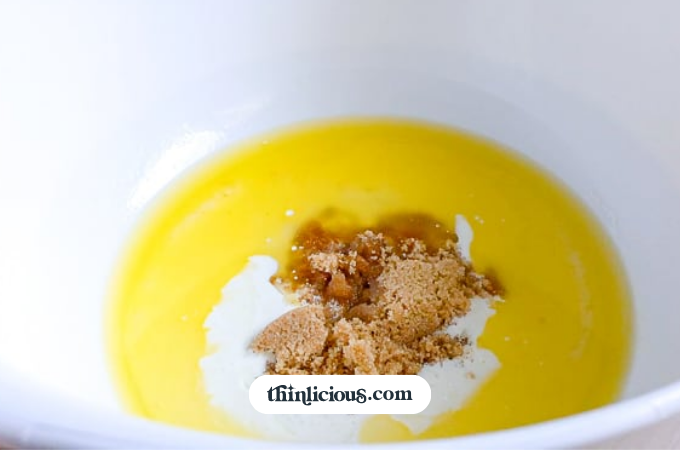 To make keto peanut butter fudge from scratch you will first want to melt your butter in the microwave. Once the butter is melted you can add the cream, vanilla, and brown/golden sweetener of your choice to the butter.
Mix it all together then place it back in the microwave for 3 minutes so that your cream, sweetener, and butter condenses.
When making this fudge in the microwave it is important to use a large microwave-safe bowl.
This is because the fudge mixture will bubble up quite a bit in the microwave. To keep your microwave clean (and as to not lose any fudge) it is best to use a large bowl.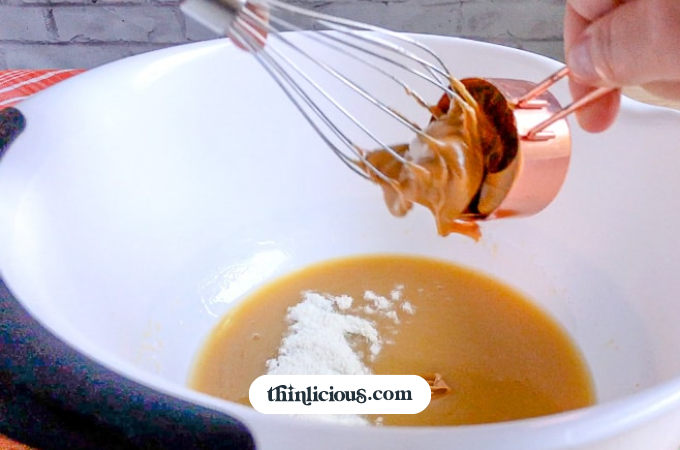 Next, mix the coconut flour and natural peanut butter into your bowl.
Once the peanut butter has melted and your fudge mixture is creamy you can then pour your fudge into a silicon mold or a bread pan lined with parchment paper to chill in the freezer until ready to serve.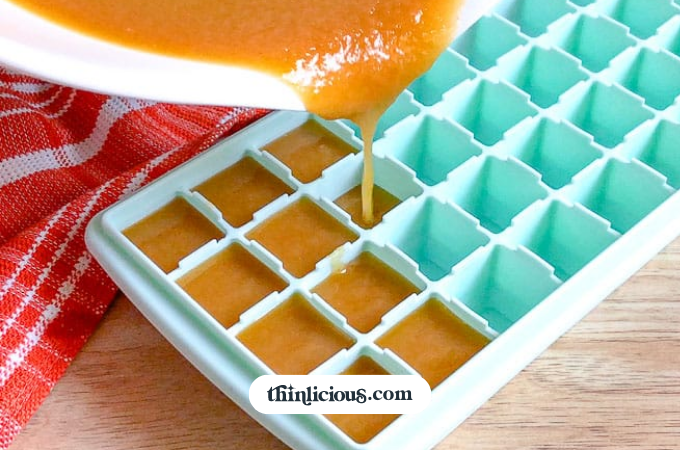 What Kind of Peanut Butter Should I Use?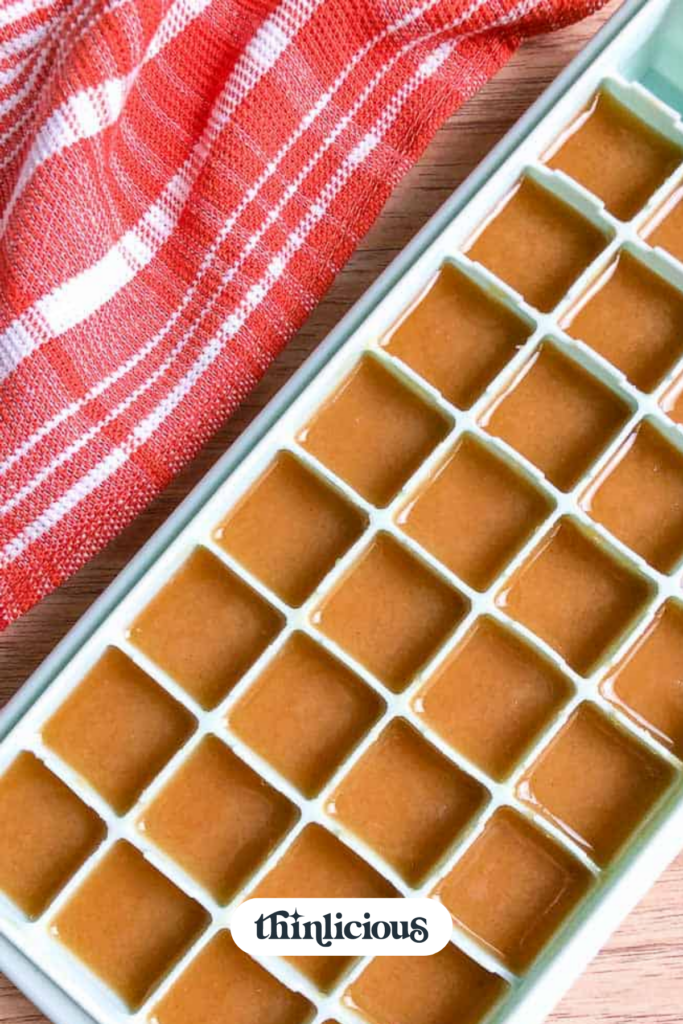 Natural creamy peanut butter with no sugar added is the best type to use with this fudge. When picking a peanut butter look at the label to make sure that your peanut butter only has peanuts, oil, and salt.
If you want bits of peanuts in your fudge you can use chunky peanut butter instead of creamy, or you can just add chopped peanuts to your fudge.
Just keep in mind that adding peanuts or using chunky peanut butter will change the net carbs of the recipe.
Can I Use Homemade Peanut Butter In My Fudge?
Definitely! Using homemade peanut butter will give you greater control of the ingredients you use.
So, if you make your own or want to start making your own feel free to use it in your fudge.
Can I Use Sun Butter Instead of Peanut Butter in Peanut Butter Fudge?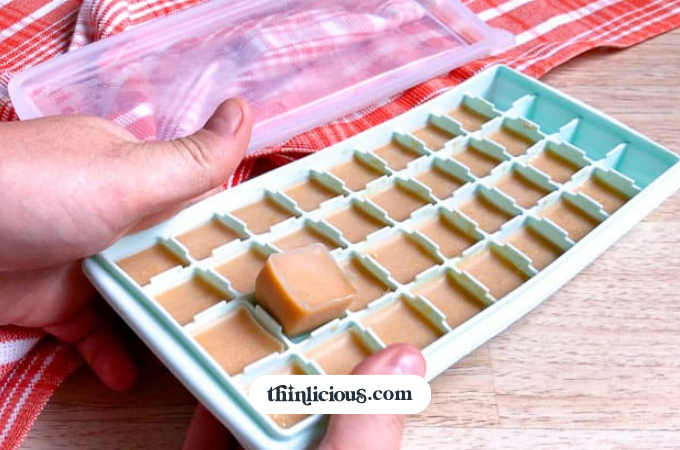 Yes! If you are allergic to nuts or plan on giving this fudge to someone with a nut allergy you can definitely use a nut butter alternative to make this fudge.
The measurements will stay the same no matter what type of nut alternative butter you use.
What Makes Peanut Butter Fudge Grainy?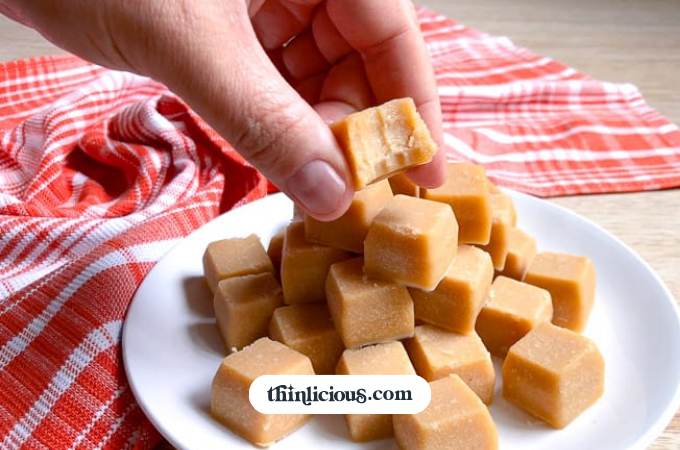 Since we are using coconut flour in the fudge the texture may be a little grainy at first while the coconut flour soaks up the moisture.
Letting the fudge sit on the counter in the icecube tray or bread for 10-15 minutes before placing it in the freezer should fix this.
If the fudge has already been frozen and is still grainy let the fudge defrost on the counter for 20-30 minutes then refreeze the fudge.
How Long Should My Fudge Cool Before Cutting?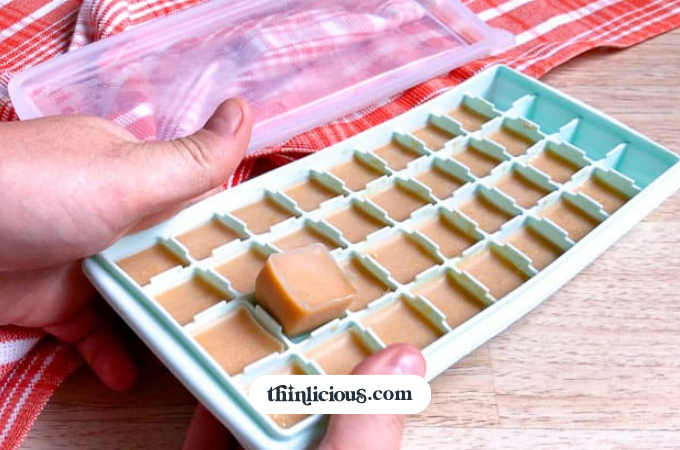 You will want to make sure your fudge has completely hardened before removing the fudge from the icecube tray or cutting it into pieces.
It usually takes 2-3 hours for the fudge to completely harden in the freezer.
Storage
Does Keto Peanut Butter Fudge Need To Be Refrigerated?
Yes. This fudge uses butter and heavy/double cream to harden and keep its shape instead of cups of sugar. So it's best to keep the fudge chilled in the refrigerator, freezer, or on ice.
The coconut flour allows the fudge to keep its shape at room temperature, but it will be too soft to pick up at a very warm room temperature.
I personally like to store the nut fudge in the freezer. I enjoy nibbling slowly at the sugar free fudge. It takes longer to eat the fudge when frozen, and gives you almost instant portion control. You can only eat 1 or 2 pieces of frozen fudge at a time.
TOP TIP: As with ALL recipes here, ALWAYS taste your batter BEFORE cooking to ensure you have added enough sweetener to suit YOUR tastebuds. Read the Ultimate Guide To Low-Carb Sweeteners.
How Do I Transport Keto Peanut Butter Fudge as a Gift?
It is best to transport the fudge in a chilly bin/ice chest to keep the fudge chilled (or frozen). When gifting this fudge be sure to gift the fudge in a tin, glass, or plastic container with instructions to store in the refrigerator.
If you are bringing the fudge to a potluck or party I recommend serving the fudge on a plate resting over a bowl of ice to keep it cool. If the potluck is outside then I would recommend storing and serving the fudge out of a small chilly bin.
How Do I Store Keto Peanut Butter Fudge?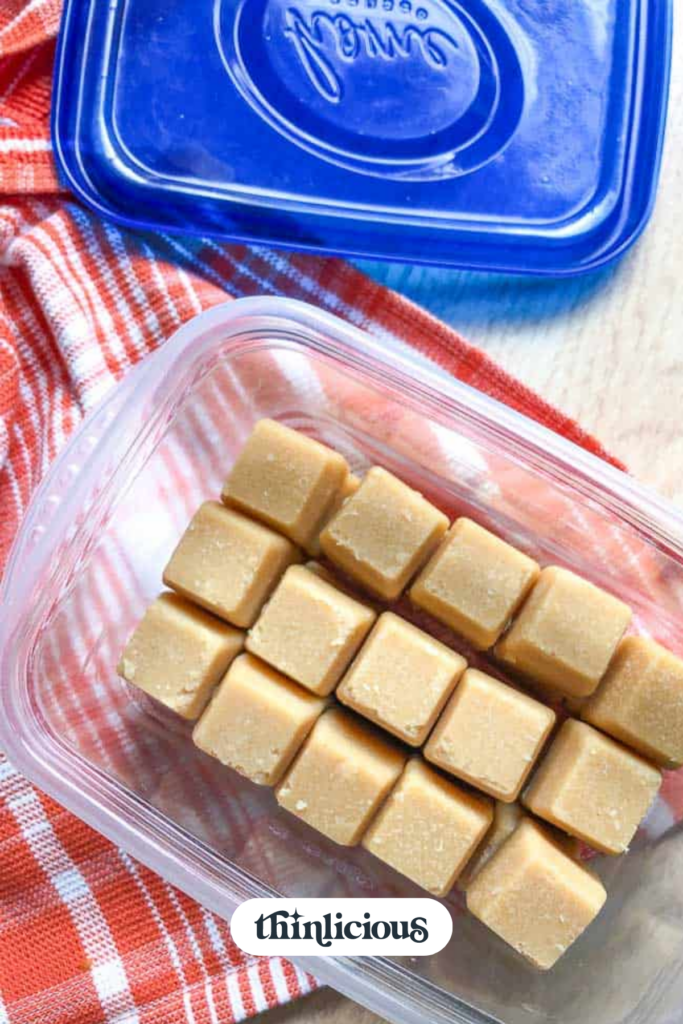 Your fudge should be stored in an airtight container or bag in the refrigerator or freezer. This will ensure that your fudge does not pick up flavors from other items in the freezer/refrigerator.
I like to use a glass jar when storing the fudge in the refrigerator because it looks pretty. When I store the fudge in the freezer, however, I usually put it in a plastic storage container.
Shelf Life
This fudge will stay good for 2 weeks in the refrigerator and 2-3 months in the freezer.
Since the fudge softens at room temperature it will not keep at room temperature or in the pantry.
How Do I Make No-Bake Keto Peanut Butter Fudge Without A Microwave?
Do you want to make this fudge, but don't have a microwave? No problem! You can make this fudge in a saucepan on the stove it is just going to take longer.
To make this fudge on the stove you will want to melt the butter on medium heat in the saucepan. Then add the cream, sweetener, and vanilla to the pan. Let the fudge come to simmer then reduce the heat to about medium-low.
Stir the fudge mixture continuously for about 15-20 minutes until the cream condenses and turns a pale golden color. Then remove the pan from the heat, mix in the peanut butter and coconut flour, and pour the fudge into your icecube tray or bread pan to chill.
Once you try this fudge you are going to absolutely love it. Keep a batch of this fudge in my freezer, especially around the holidays, to help satisfy your cravings or have a quick treat that you can toss in the chill bin to bring with you when needed.
One or two pieces works wonders to hold you over between meals when you are feeling peckish, and since each piece only nets 0.5g net carbs you don't have to worry about throwing off your carb count for the entire day!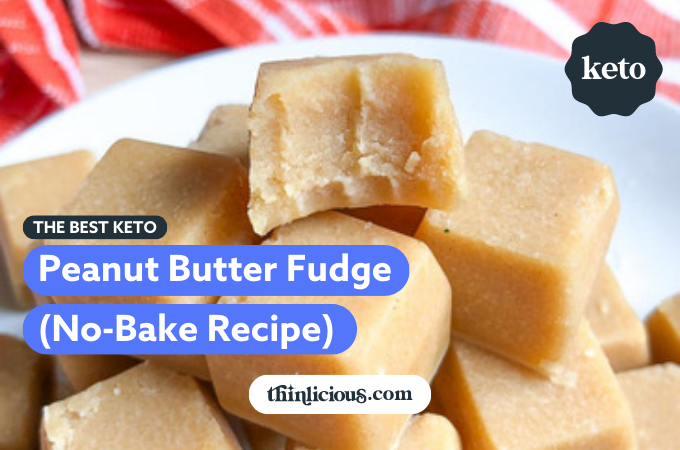 More Keto Peanut Butter Recipes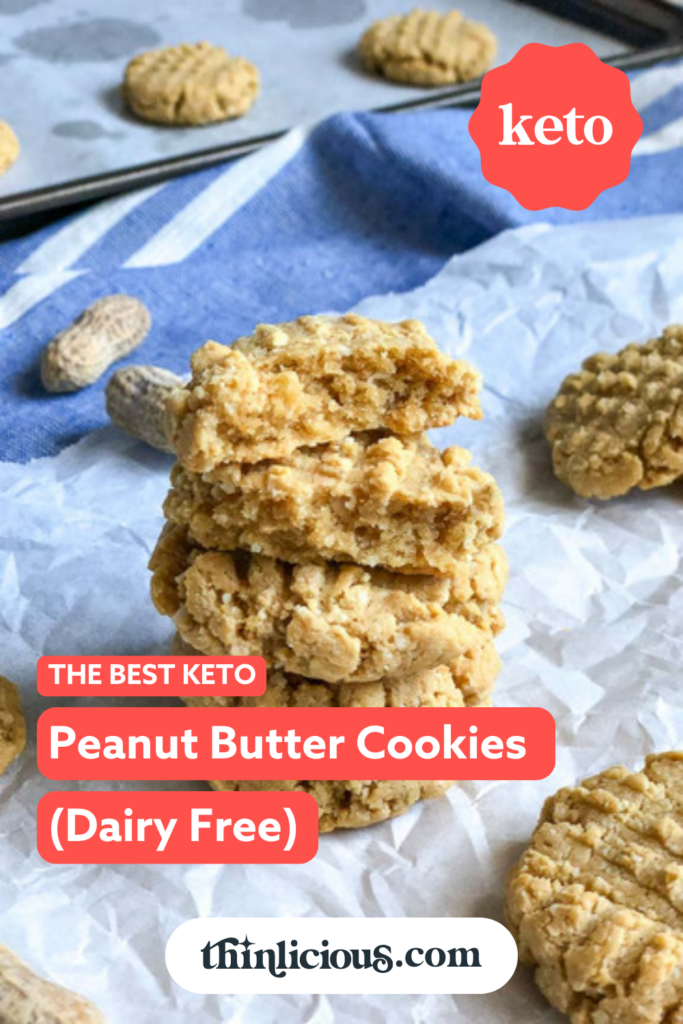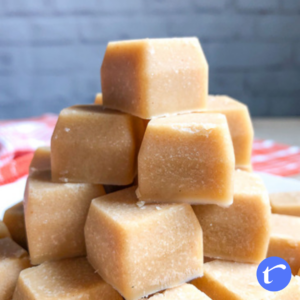 No-Bake Keto Peanut Butter Fudge Recipe
Keto peanut butter is a delicious creamy no-bake treat that will satisfy your cravings all year long!
Print
Pin
Rate
Want to lose weight and get healthy for life—without dieting, drugs, or making yourself miserable?
We can help! Tell me how!
Equipment
Measuring cups and spoons

Mixing Bowls
Ingredients
8

tbsp

butter

1 stick (113 g)

125

ml

heavy whipping cream

¼

cup

brown sweetener of choice

of choice

¼

cup

peanut butter

with no sugar added

1

tsp

vanilla extract

2

tbsp

coconut flour
Instructions
Melt your butter in the microwave for 30 seconds in a large microwave-safe mixing bowl.

Once the butter is melted, mix in the heavy cream, brown sweetener, and vanilla extract. Place the bowl back in the microwave for 3 minutes to condense the cream. The contents of the bowl will bubble up so be sure to use a large bowl to prevent it from bubbling over.

Next, mix the peanut butter and coconut flour into the fudge. Once it has been mixed in completely, pour the fudge into a small bread pan lined with parchment paper or into a silicone ice-cure tray.

Place the fudge in the freezer and allow it to harden completely (at least 2-3 hours) before serving. Fudge should be stored in the refrigerator or freezer in an air-tight container and kept chilled until it is ready to serve.
Nutrition
Serving:
1
piece
Calories:
52
kcal
Carbohydrates:
0.8
g
Protein:
0.7
g
Fat:
5.3
g
Sodium:
36.6
mg
Potassium:
15.9
mg
Fiber:
0.3
g
Sugar:
0.2
g
Vitamin A:
142.1
IU
Calcium:
4.1
mg
Iron:
0.1
mg
Get our FREE guide to finally fix your metabolism!
Losing weight & getting healthy is never easy, but lately you might feel like it's suddenly become impossible.
Our Flip the Switch guide will help you clearly understand what's been going on, as well as exactly what you can do to get your metabolism working again so that you can look and feel your best—it's easier and more simple than you think!