I'm letting you in on my easy-to-make CHEAT'S recipe for low-carb crockpot mulled wine. Just promise me you won't tell everyone our secret!
This recipe is the perfect lazy way to entertain guests this festive season.
Crockpot mulled wine is a beautiful blend of cozy winter warm spices with red wine and brandy.
This delicious red wine is made with mulling spices. Since it's put together in the crockpot, you don't have to do any of the heavy lifting!
Are you ready to create the ultimate 12-month blueprint for reaching your health & weight loss goals this coming year?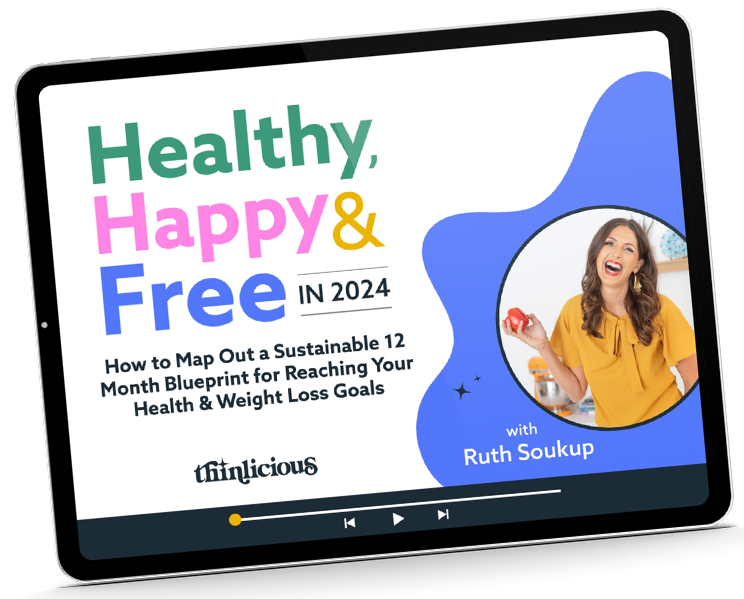 Our free on-demand video training will walk you through how to make 2024 THE year you set health goals…and keep them.
Serve with a few keto snowball cookies to be the perfect host!
If you need more ideas for the holidays, I have 70+ healthy keto Christmas recipes for you, 61+ best Thanksgiving recipes, and the best ways to use Christmas leftovers.
The next time you have guests visiting over the holiday season, you can easily whip up a batch of this crockpot mulled wine and impress them all!
As bonus points, this crockpot mulled wine will smell absolutely amazing as you are cooking it.
What is mulled wine?
Depending on where you live, mulled wine is also known as glühwein, spiced wine, smouldering wine, German mulled wine, vino caliente, glögg, vin brulé, and a hot toddy. It is often served at Thanksgiving and Christmas parties or a European Christmas market.
Mulled wine is a mixture of spices, warm red wine, and brandy or rum. It can be served hot or warm, and there are also non-alcoholic mulled win recipes too.
Why use the crockpot?
It's easy to make ahead of time.
It's easy to serve for guest throiughout the night.
It's easy to top up with more red wine.
By turning this low-carb recipe into a crockpot mulled wine, it keeps infusing the flavor throughout the wine for the entire party.
No more heating up saucepan after saucepan of mulled wine when it runs dry.
Simply warm your slow cooker low-carb mulled wine on LOW for 1 hour to allow the flavors to infuse the wine, then keep it on the WARM setting for the remainder of the party.
You can even top it up with more wine as the night progresses. You may just need to add a little more sweetener (if desired).
Mulled wine ingredients
This mulled wine recipe (spiced wine) just requires a few ingredients. Making mulled wine is as simple as putting together red wine, brandy, and mulling spices!
Traditional mulled wine might contain honey, orange juice, corn syrup, apple cider, and brown sugar. To make a keto version of mulled wine we avoid all of those. I love mulled wine and this is my favourite alcoholic beverage and favorite recipes.
red wine – the best wine to use is a fruity wine such as a cabernet sauvignon, shiraz, syrah, or pinot noir
brandy or rum – the extra alcoholic spirit is optional
orange – a fresh whole orange or orange slices plus additional orange zest.
cinnamon stick – sticks are best because ground cinnamon will sink to the bottom of your crockpot.
star anise pods – gives the wonderful warm spicy taste of traditional mulled spiced wine
ground nutmeg – another delicious Christmas spice
sweetener of choice – use your favourite sugar replacer. I like to use erythritol, xylitol, allulose, stevia, or monk fruit sweetener.
Instructions
Making this crockpot mulled wine recipe is so simple, with very little prep time.
1: First, add 1 bottle of red wine into the slow cooker.
2: Press whole cloves into an orange, cinnamon sticks, spices, sweetener (optional), and star anise. Add brandy or rum as desired.
3: Set the crockpot to the LOW setting for 1 hour to allow the mulled wine spices to infuse throughout the warm wine.
4: Serve in heatproof glass mugs.
How to keep mulled wine warm
It's so easy to make a huge batch of mulled wine for a party and keep it in the slow cooker. The mulled wine stays warm throughout the night and you can it's the perfect easy way to entertain guests during Thanksgiving or Christmas.
Everyone at the party can serve themselves from the slow cooker. When you make mulled wine this way, it will remain warm throughout the evening.
In fact, that's my favorite thing about slow cooker mulled wine! It truly is the best holiday drink.
I make this hot wine every year (even though it's a summer Christmas here).
Equipment
The only thing you really need is a slow cooker (crockpot). Other than that, it is definitely helpful to have a ladle for easy serving.
If you don't own a slow cooker and want to make mulled wine on the stove top, you certainly can do that as well. Just put the spiced wine recipe together in a dutch oven or a large pot and make sure it's served warm.
However, I definitely encourage you to splurge on a slow cooker! It has been invaluable to me for making low-carb meals and doing meal prep!
A few of my favorite crockpot recipes include slow cooker keto pulled pork, this beef rendang, and my yummy vegan pumpkin soup.
FAQs about crockpot mulled wine
How do you serve mulled wine?
Crockpot mulled wine should be served while it is still warm. The easiest way to do this is to use a soup ladle to add it to a glass.

The mulled wine can be served in a wine glass or even a mug. I personally think this homemade mulled wine does well in warm mugs with handles. The handles make it easier to drink!

One note – don't serve the cinnamon sticks or orange slices into the cups. They are there for flavor – you don't want people to actually drink those!
What are traditional mulling spices?
While this crockpot mulled wine is cooked in a non-traditional method, the actual recipe is quite traditional!

Mulling spices are what take this festive drink above and beyond. Cinnamon sticks, star anise, and whole cloves are standard additions to this holiday drink.

I highly suggest you use whole spices instead of ground spices for a smoother, more flavorful spiced wine.


How hot should mulled wine be?
Mulled wine should be hot, not boiling otherwise the alcohol will evaporate. Mulled wine should be just warm enough to drink, but never simmering or boiling.
Which wine is best for mulled wine?
Full-bodied fruity sweet red wines such as merlot, cabernet sauvignon, shiraz, or syrah. You can use a few bottles to make a big batch for a party. It will be a huge hit.
How to store, reheat, and freeze mulled wine?
Allow any leftover mulled wine to cool, then it can be stored in the fridge in an airtight container for up to 3 days. To reheat, place it back in the slow-cooker and heat on a LOW setting, microwave for 1 minute, or warm on medium heat in a saucepan.

If you want to freeze mulled wine, pour into an airtight container and freeze for up to 2 months. To defrost, keep the container at room temperature for a few hours then reheat gently in the slow cooker, in a saucepan, or microwave. Add a splash of fresh red wine or brandy to bring the mulled wine recipe back to life.
I hope you give this crockpot mulled wine a try this holiday season! Cheers!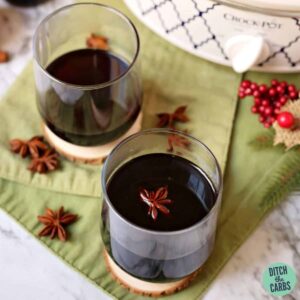 Slow-Cooker Mulled Wine Recipe
The perfect CHEAT'S recipe for low-carb crockpot mulled wine – the perfect lazy way to entertain guests.
Print
Pin
Rate
Want to lose weight and get healthy for life—without dieting, drugs, or making yourself miserable?
We can help! Tell me how!
Ingredients
1

bottle

red wine

1

orange

whole or quartered

10

whole

cloves

2

sticks

ground cinnamon

1

star anise

¼

tsp

ground nutmeg

2

tbsp

granulated sweetener, of choice

optional, and to taste

60

ml

brandy
Instructions
Pour 1 bottle of red wine into the slow cooker.

Take the whole orange and push 10 cloves (or more) into the skin. Place the orange in the slow cooker with the cinnamon sticks, star anise, nutmeg, and brandy.

Stir through and add sweetener to taste (optional). Only add a small amount at a time. You can always add more if required, but you don't want to risk making it too sweet, or if using stevia, too bitter. No one wants a wasted bottle of wine.

Turn your slow cooker on to LOW and warm through for 1 hour, stirring occasionally so all the spices infuse.

Turn the slow cooker onto the WARM setting, and serve into glasses, or allow guests to serve themselves.

As the evening progresses, you may top up the low-carb mulled wine with extra bottle of red wine. The flavours will still infuse for the orange, cinnamon, and star anise. You may just require some additional sweetener.
Nutrition
Serving:
147
ml
Calories:
155.2
kcal
Carbohydrates:
3.9
g
Protein:
0.1
g
Sodium:
6.1
mg
Potassium:
190.7
mg
Sugar:
0.9
g
Vitamin A:
3
IU
Calcium:
12
mg
Iron:
0.7
mg
More keto Christmas recipes
Get our FREE guide to finally fix your metabolism!
Losing weight & getting healthy is never easy, but lately you might feel like it's suddenly become impossible.
Our Flip the Switch guide will help you clearly understand what's been going on, as well as exactly what you can do to get your metabolism working again so that you can look and feel your best—it's easier and more simple than you think!