Two layers of sweet sugar-free chocolate cake with a creamy fudge buttercream filling.
Only 5.5g net carbs it's the perfect sugar-free cake for diabetics or anyone following a sugar-free diet or keto diet.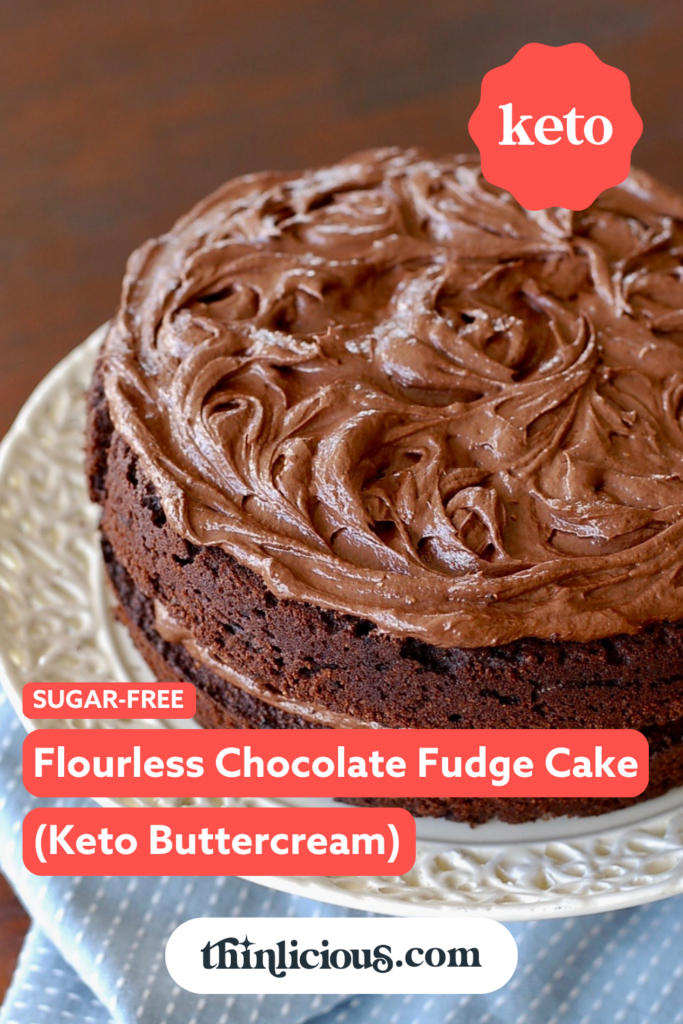 The Best Sugar-Free Chocolate Fudge Cake
There is a misconception that you can't enjoy your favorite baked treats on the keto diet and for many, the thought of giving up chocolate cake is too much of a personal sacrifice!
Sure, traditionally baked cakes are very high in carbs and sugar which is why this Sugar-Free Chocolate Fudge Cake recipe swaps out whole wheat flour for almond and coconut flour, as well as refined sugar for healthier sweeteners.
Ready to lose weight and get healthy for life without dieting, drugs or making yourself miserable?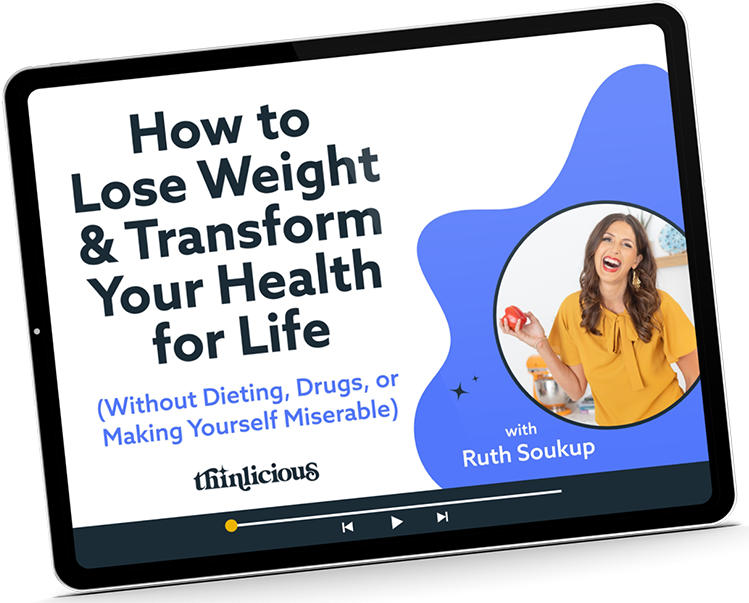 Our free on demand video training will help you understand why it's been so hard and what do to about it.
It's low-carb, sugar-free, and gluten-free!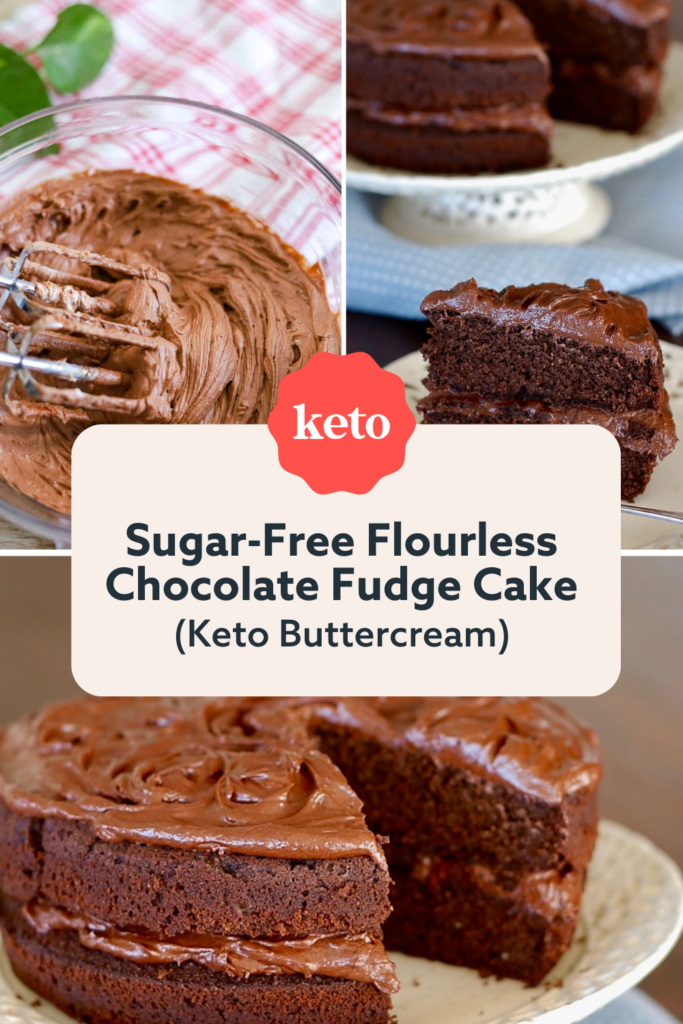 How To Make A Double-Layer Sugar-Free Chocolate Cake
Once I've combined all my cake mixture ingredients together following the recipe below, I pour the sugar-free chocolate fudge cake into 2 sponge tins and sandwich them together with my chocolate fudge cream cheese frosting or vanilla cream cheese frosting.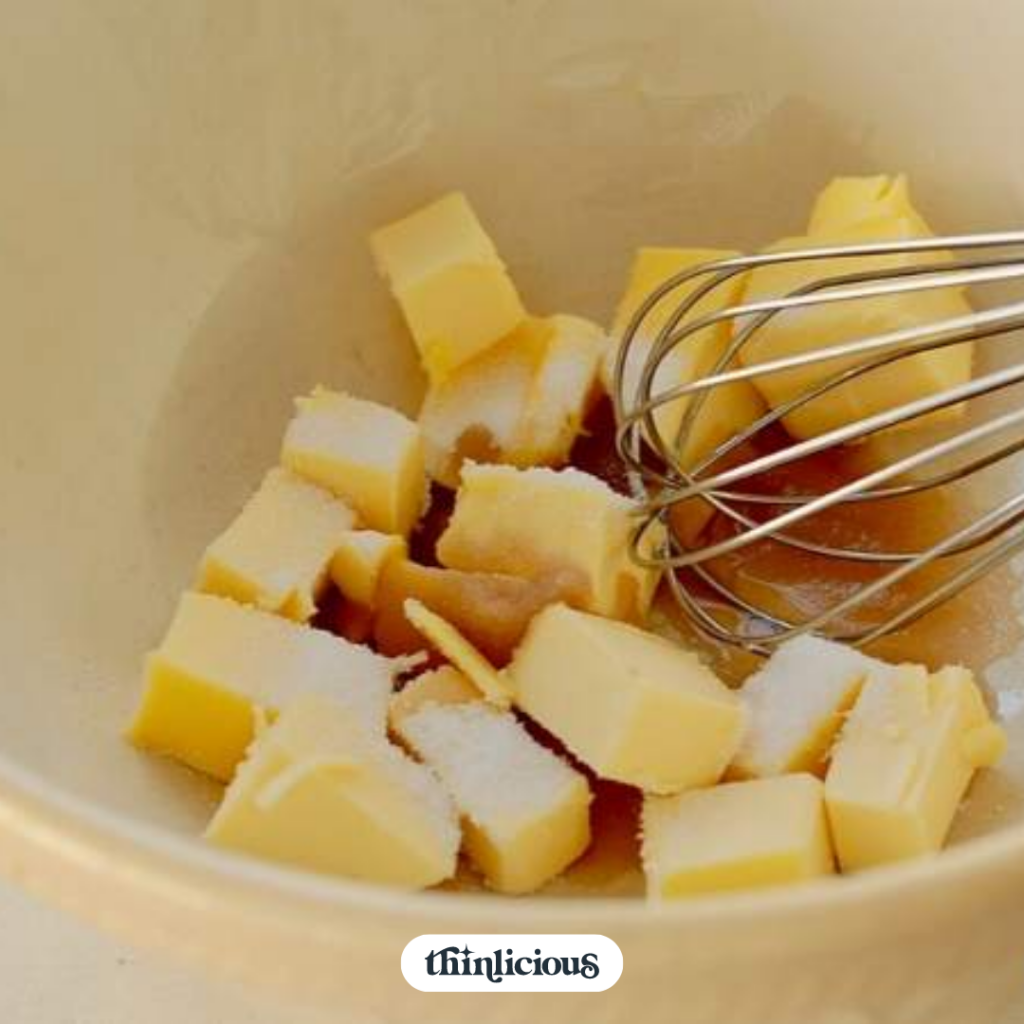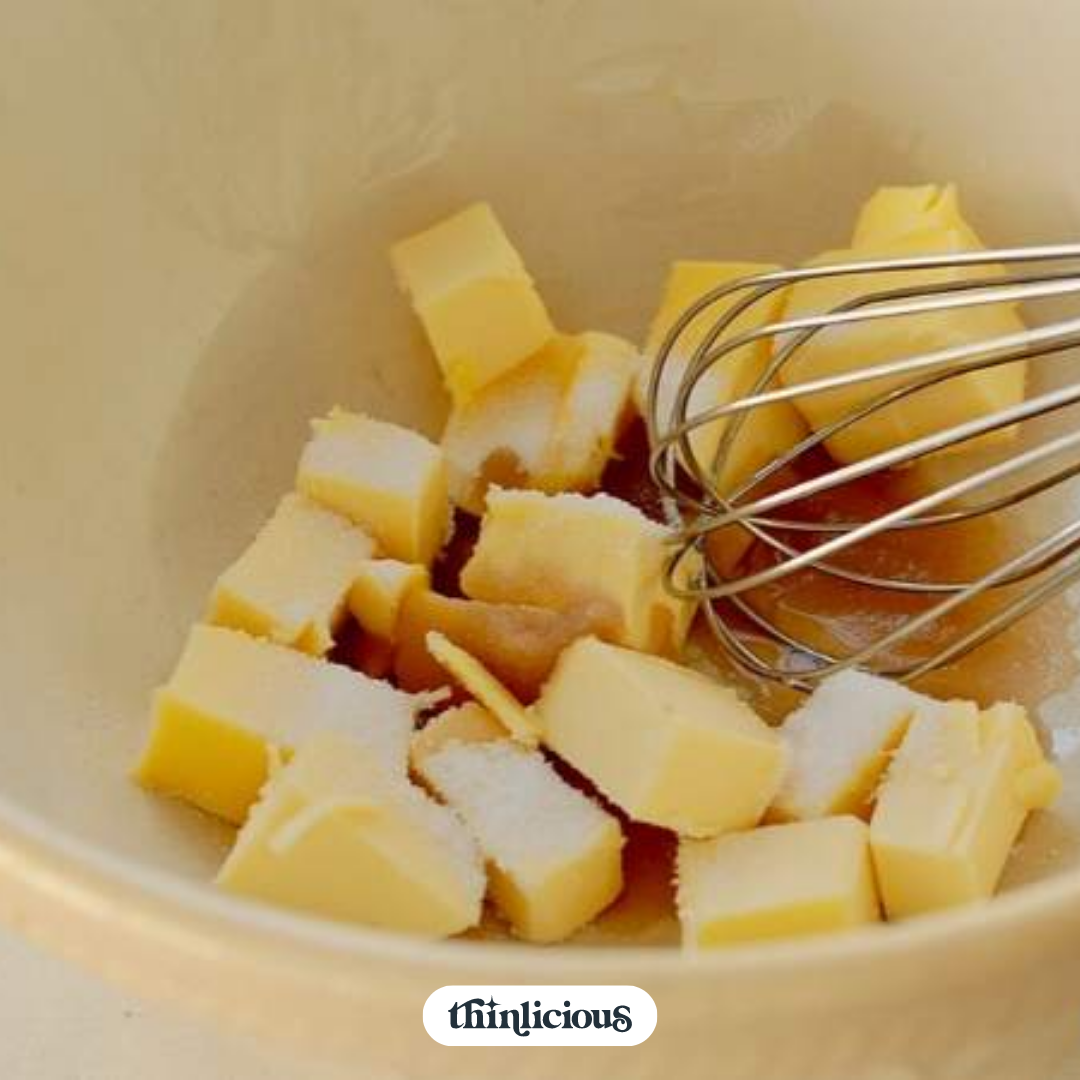 How To Reduce The Carbs?
The easy healthy cake recipe makes a substantial size celebration cake so if you want to cut down further on your carbs, then I suggest treating the two layers as separate cakes rather than a double-layer cake.
You can even get creative and use this cake mixture to bake keto chocolate cupcakes or a square cake that can then be frosted and sliced.
If you don't want the frosting, simply serve it with whipped cream and a few berries.
How To Make Sugar-Free Chocolate Frosting?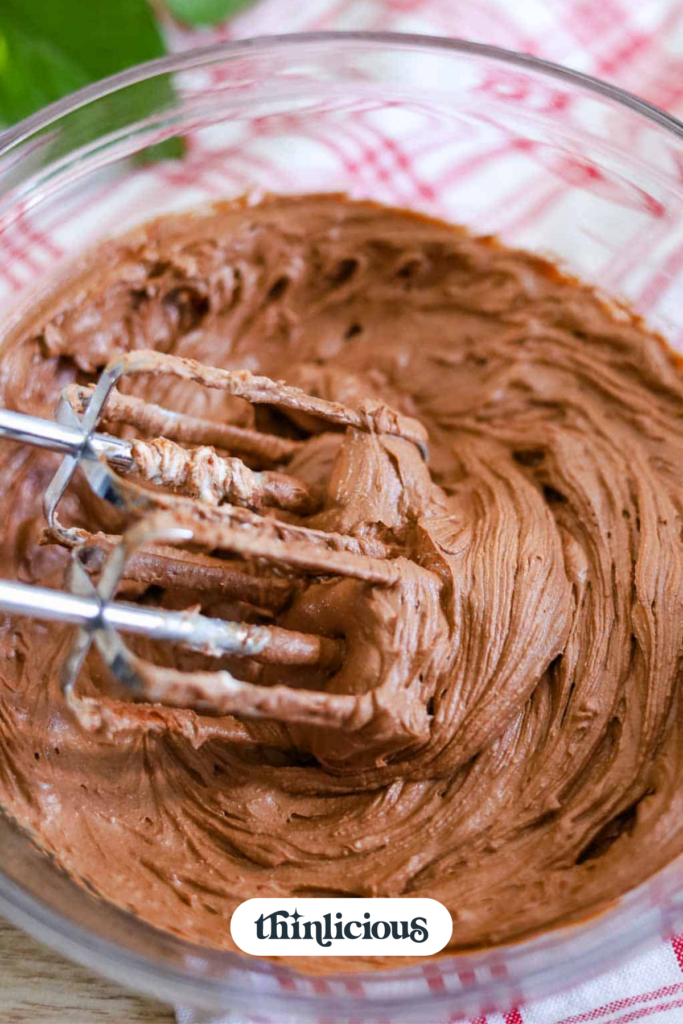 If you can't enjoy chocolate cake without frosting, I've got you covered. You can make a quick and easy sugar-free chocolate frosting (keto chocolate buttercream) with only a few ingredients and it takes less than 5 minutes.
Alternatively, you can make a vanilla sugar-free frosting too.
This cake requires a creamy decadent frosting/icing, but not as sweet as you may be used to, and that's for good reason. To live sugar-free, you need to slowly adapt your tastebuds to less sweet foods.
The cream cheese provides some sharpness to the overall flavor which I quite enjoy since I have finally lost my sweet tooth.
How Much Sweetener Do You Need?
You can also play around with the sweetener quantity, either adding more or less depending on your current sweet tooth. Just beware that adding more sweetener can sometimes add to a bitter aftertaste when using a sweetener such as stevia.
If this is day 1 of sugar-free living for you, you may require twice the amount of sugar as someone who has been living sugar-free for years. So don't be afraid to add more sweeteners. The longer you live sugar-free, the less sweetener in time you will require.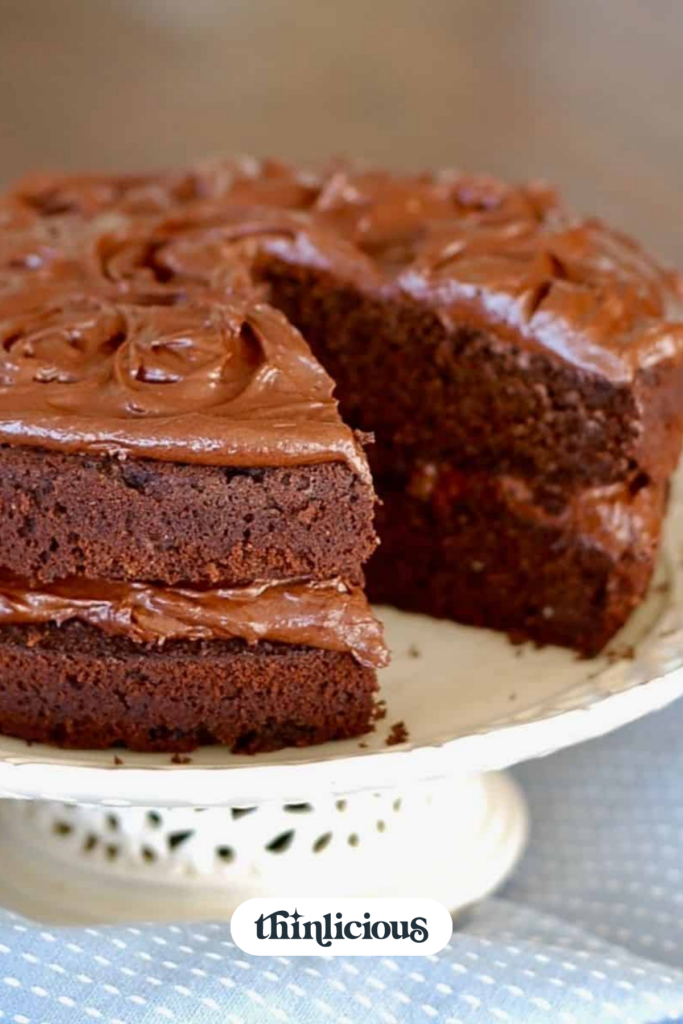 Lastly, add some double cream which will not only give the frosting the thickness of chocolate fudge but also helps to make the cream cheese a spreadable consistency.
I have used coconut cream in another Chocolate Cream Cheese Frosting recipe of mine that you can use here too but avoid it if you don't want the subtle coconut flavour.
With the cake mixture baked and the frosting added, you won't believe that a double-layer single slice of this Sugar-Free Chocolate Fudge Cake is only 5.5g net carbs!

Can You Eat Cake And Stay Low-Carb?

Whether you are celebrating a birthday or just have a love for cake, this Sugar-Free Chocolate Fudge Cake is a lifesaver for all those chocoholics following the Keto diet.
It's disappointing when store-bought desserts that are labeled as keto don't live up to the taste test, but this recipe is definitely one to bookmark for your next special occasion or guilt-free treat.
It's not only drool-worthy, but is low-carb, sugar-free, AND gluten-free!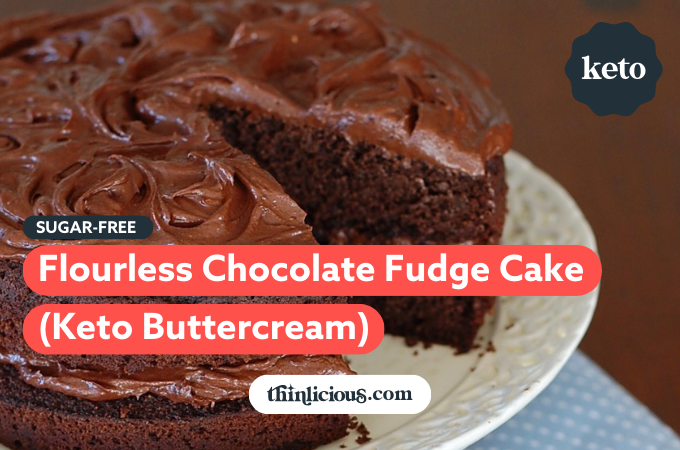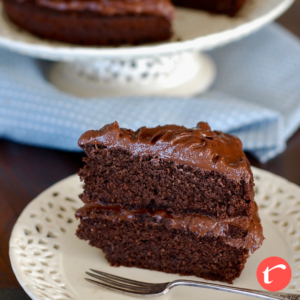 Sugar-Free Flourless Chocolate Fudge Cake Recipe
Finally … an easy HEALTHY Sugar-Free Flourless Chocolate Fudge Cake Recipe the whole family will love.
Print
Pin
Rate
Want to lose weight and get healthy for life—without dieting, drugs, or making yourself miserable?
We can help! Tell me how!
Equipment
Measuring cups and spoons

Mixing Bowls

Cake sandwich tins
Ingredients
Sugar-Free Flourless Chocolate Fudge Cake
110

g

butter

softened and cubed

25

g

granulated sweetener of choice

or more to your taste

2

tsp

vanilla extract

extract

¼

tsp

salt

80

ml

strong coffee

hot

70

g

cocoa powder (unsweetened)

250

ml

heavy whipping cream

150

g

almond meal/flour

60

g

coconut flour

2

tsp

baking powder

4

eggs – medium
Sugar-Free Chocolate Fudge Frosting
225

g

cream cheese

softened at room temperature

55

g

butter

melted

25

g

powdered sweetener

or more to YOUR taste

45

g

cocoa powder (unsweetened)

pinch

salt

1

tsp

vanilla extract

2-4

tbsp

heavy whipping cream
Instructions
Sugar-Free Flourless Chocolate Fudge Cake
In a large mixing bowl add the softened and cubed butter, sweetener, vanilla, salt, hot coffee, and mix until dissolved.

Add cocoa powder. Mix until smooth and lump-free.

Add heavy/double cream and almond flour/meal. Mix until smooth.

Add coconut flour and baking powder. Mix until smooth.

Add 1 egg at a time, mixing after each addition.

Divide the Sugar-Free Flourless Chocolate Fudge Cake into 2 greased and lined cake tins.

Bake at 180C/350F for 25 minutes. Please adjust the time according to your oven and whether you are using fan bake, fan forced, regular convection etc.
Sugar-Free Chocolate Fudge Frosting
Place the softened cream cheese into a mixing bowl, pour the melted butter on top. Mix until smooth.

Add the powdered sweetener, cocoa, vanilla and salt. Mix until smooth.

Add double/heavy cream, 1 tablespoon at a time until you reach the thickness of chocolate fudge frosting that you desire.
Notes
The coffee is not enough to make this a mocha cake, it is there to enhance and amplify the chocolate fudge flavour.
For the coffee, you can use a good espresso or use 2 tbsp instant coffee dissolved in 1/3 cup of hot water.
If you overheat your cream cheese when making the fudge frosting, it will become very sloppy and runny. Simply pop it into the fridge to solidify for 1-3 minutes.
The nutrition is for 1 double layer

sugar-free flourless chocolate fudge cake with frosting. To reduce the carb value, you can reduce how much frosting you require or enjoy just one layer at a time.
Nutrition
Serving:
1
slice (makes 12)
Calories:
373.2
kcal
Carbohydrates:
12.8
g
Protein:
8.7
g
Fat:
34.9
g
Saturated Fat:
17.9
g
Cholesterol:
133.3
mg
Sodium:
250.1
mg
Potassium:
413.1
mg
Fiber:
7.3
g
Sugar:
1.7
g
Vitamin A:
980.9
IU
Vitamin C:
0.1
mg
Calcium:
168.6
mg
Iron:
2.4
mg
If you are interested in trying out some other delicious low-carb cakes, be sure to have a look at some of my favourite recipes which I have tried and tested: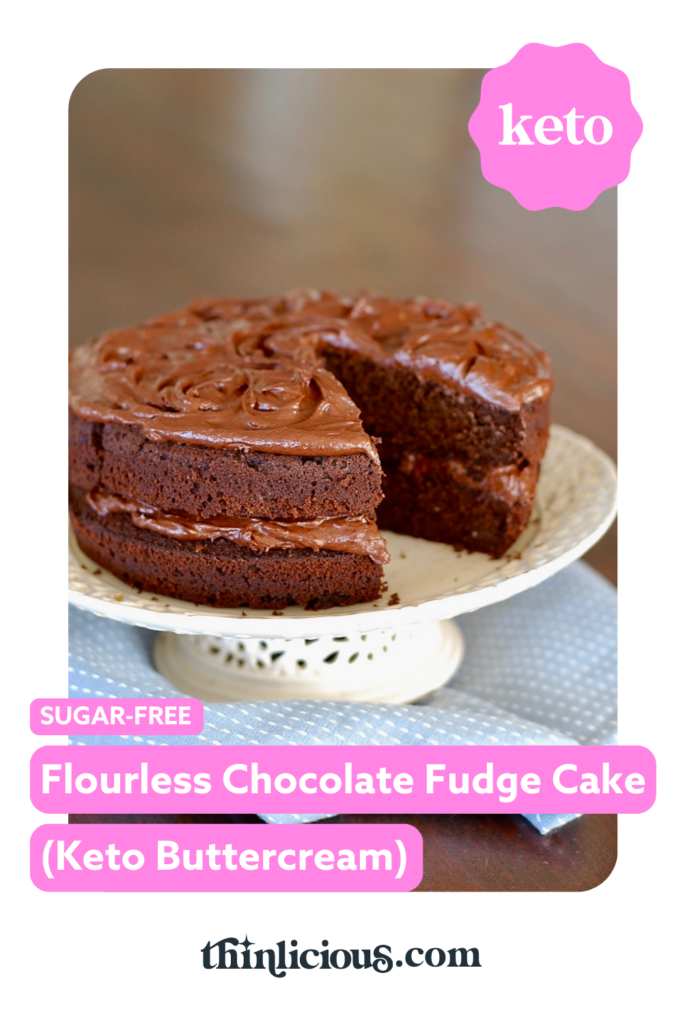 More sugar-free chocolate recipes
If you are having a cake emergency and want to stay on track, why not make my chocolate almond flour keto donuts or my 1-minute low-carb mug cakes, with directions and recipes for 4 flavors.
You might love chocolate, vanilla, cinnamon swirl, or even lemon curd (my favorite).
Or why not try them all?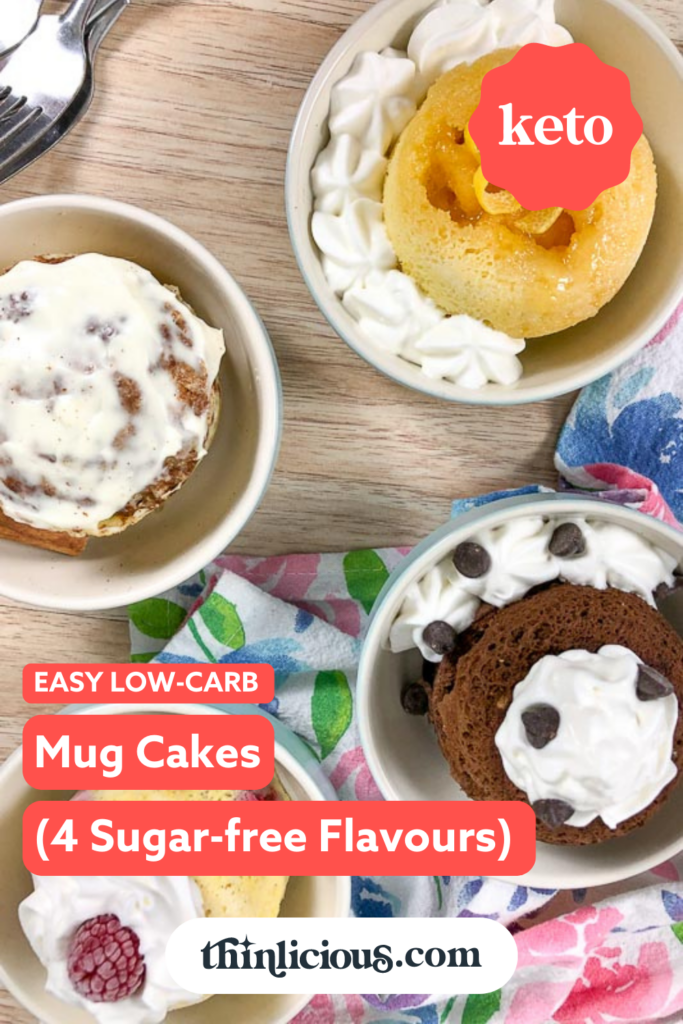 Get our FREE guide to finally fix your metabolism!
Losing weight & getting healthy is never easy, but lately you might feel like it's suddenly become impossible.
Our Flip the Switch guide will help you clearly understand what's been going on, as well as exactly what you can do to get your metabolism working again so that you can look and feel your best—it's easier and more simple than you think!