</p>
If you're craving Mexican food, these simple keto fajitas will leave you satisfied every single time!
It's the one-pan meal (ready in under 20 minutes) the whole family will love.
In fact, this healthy fajita recipe is so quick and easy to put together in one sheet pan. I'll even show you how to create a quick and easy fajita seasoning that's both low carb and keto.
Are you ready to create the ultimate 12-month blueprint for reaching your health & weight loss goals this coming year?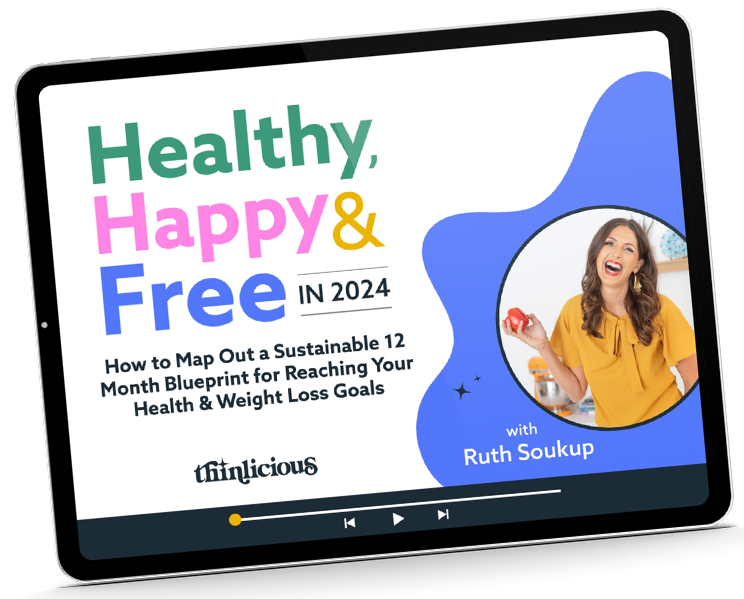 Our free on-demand video training will walk you through how to make 2024 THE year you set health goals…and keep them.
You can enjoy this delicious Mexican meal in my favorite keto tortillas, or with cauliflower rice (grab my easy no-mess cauliflower rice recipe here!). You'll enjoy it with Mexican coleslaw salad with lime dressing.
Don't forget all the toppings – sour cream, cheese, and avocado with a squeeze of lime juice are my favorites!
What are keto fajitas?
The fajita is a Tex-Mex dish filled with little strips of meat cut from the beef skirt. As time went by, people have become creative in making signature fajitas that they're now made with different fillings not limited to the cuts of beef skirt.
Originally, back in the 1930s, the beef skirt would be given to Mexican ranch workers (vaqueros) along with the hide, head, and entrails as part of their wage for the day. They made hearty dishes with what they were given which gave rise to the evolution of fajitas as we know them today.
The term 'fajita' now describes anything cooked and wrapped up in soft tortillas, or served on a hot skillet. In this recipe, you'll find out how I make it with steak and a sheet pan!
Keto fajitas take everything you know and love about the classic Mexican staple, but strip out much of the carbs so you can enjoy them guilt-free.
This is one of my favorite keto recipes!
Ingredients
Making these keto fajitas is simple. All you need are a few basic ingredients:
Steak – flank steak or skirt steak work well. You can also use sirloin steak if you'd like. You'll want the steak strips to be evenly cut. Sliced steak should be about 1/4″ thick.
Bell peppers – bell pepper has a moderate amount of carbs so you don't want to overboard here. Thankfully a little goes a long way! I used yellow and red bell peppers in this recipe, but you can choose your favorite variety.
Onions – again, peppers and onions are both moderate in carbs, so we are going to make a little go a long way. I used a thinly sliced red onion for this recipe, but yellow works very well too.
Lime and lemon – we will use both lime juice and zest, as well as lemon juice and zest.
Homemade fajita seasoning – this low carb fajita seasoning is easy to put together. All you need is crushed fresh garlic (or garlic powder), chili powder, ground cumin, salt, and pepper.
See the keto fajitas recipe card at the bottom of this post for exact quantities.
Instructions
Since this is a sheet pan recipe, it's incredibly easy to make this one-pan meal. Mix. Bake. Serve.
First, if you like you can cover your sheet pan with aluminum foil to make clean-up a breeze. I personally like to scrape off all the caramelized pieces and add them to the beef fajitas.
Step 1: Mix
Simply mix together all the keto fajita ingredients on the sheet pan. Mix well so everything is evenly coated, then spread out the fajita mixture evenly on the pan. You want the bell peppers as spread out as possible for that classic flavour.
Step 2: Bake
Next, bake the low carb steak fajitas in a pre-heated oven for 15 minutes. Stir it when you are halfway through cooking.
Step 3: Serve
Place the cooked beef on a heat-proof chopping board and slice it into thin strips.
Serve hot with your favorite keto friendly toppings like sour cream, shredded cheese, and sliced avocados. Don't forget the low-carb tortillas…enjoy!
How to serve low-carb fajitas
There are so many ways to enjoy sheet pan fajitas.
One bowl meal: Serve the sheet pan fajitas into a colourful Mexican-themed bowl and pile sour cream, guacamole, and cheese on top.
Keto burrito: You can roll them up in a keto tortilla wrap, with extra shredded lettuce, fresh salad, shredded cheese, sour cream and avocado.
Keto taco: You can also serve them open in a tortilla as a keto Taco Bell copycat taco.
Cheese taco shells: Place keto beef fajitas, shredded lettuce, guacamole, sour cream, and salsa inside a crispy cheesy keto taco shell for the supreme crunch.
Variations
Want to change up these low-carb fajitas? Here are a few ideas:
chicken fajitas – swap out the flank steak for chicken breasts or boneless skinless chicken thighs.
spicy fajitas – pump up the spice in this recipe with extra chili powder. Add in a sliced jalapeno for extra heat!
smokey fajitas – use smoked paprika instead of regular for a hit of smokey flavour in your taco seasoning.
pork fajitas – use some leftover pulled pork or pork chops into the fajita mix with fresh low-carb vegetables, and make a delicious low-carb Mexican meal.
Storage
Keto steak fajitas should be stored in an airtight container. It will keep in the fridge for 2-3 days.
Alternatively, you can freeze the fajitas for up to 3 months.
FAQs About Keto Fajitas
Which cut of beef is best for fajitas?
It's best to use skirt, flank steak, flap steak, rump steak, or beef schnitzel strips.
Can I turn this recipe into chicken fajitas?
Craving keto chicken fajitas? No problem! It's easy to swap out some boneless skinless chicken thighs (or chicken breasts if you prefer) for the flank steak in this recipe.

Just keep an eye on it as it cooks and make sure the meat is thoroughly cooked.
How should I serve these keto fajitas?
There are a million ways to enjoy this versatile keto diet staple! Eat it in lettuce wraps, with cauliflower rice, or on low carb tortillas.

Why not make a bed of greens and turn this into a low carb and keto fajita salad?

And don't forget the toppings! Sour cream, fresh cilantro (chopped cilantro is my preference), sliced avocados, bell peppers, shredded cheese…yum.

However you serve them, these keto fajitas are absolutely delicious and one of my favorite keto diet staples.
What can I serve with fajitas?
The best side dishes for beef have to be fresh lettuce, avocado, lime wedges, cheese, sour cream, and of course, avocado. With so much flavour, you can see why this fajitas recipe is a popular family dinner.
Can I cook this on a cast iron skillet?
If you prefer to make this on the stove top, a cast iron skillet will work well. You can even put the cast iron skillet right in the oven too! Make sure your beef steak or chicken breast is thinly sliced. Everything gets cooked in the same skillet. Cook on a medium high heat.
How can I reduce the carbs?
To reduce the carbs further, cut back on the peppers and onions which are slightly higher carb than other ingredients in the fajitas. You can use onion powder instead and serve in lettuce wraps.
Are refried beans keto?
No, refried beans are legumes that are high in carbs. But you can use my keto "refried beans" copycat recipe. It is a versatile addition to any low-carb keto Mexican dish to make you feel like you are in an authentic Mexican restaurant.
What oil should I use?
Olive oil, avocado oil, chili-infused oil, or even coconut oil.
Can I have fajitas on keto?
Regular fajitas are high carb with flour tortillas, refried beans, and often rice. This recipe is low-carb keto-friendly with homemade taco seasoning.
Are fajitas without the tortilla keto?
As long as the ingredients are just beef, chicken, and low-carb vegetables, then it may be keto. You have to ask what other ingredients have been added and avoid all necessary carbs such as flour, tortillas, nachos, and sweet sauces.
Can you have fajita veggies on keto?
Onions and bell peppers are higher in carbs so it pays to reduce how much you eat so you can stay on track with your ketogenic diet.
Is this a good meal prep option?
Yes! This is one of my favourite keto recipes to prep. I simply divvy out the fajita mixture into a meal prep container and enjoy.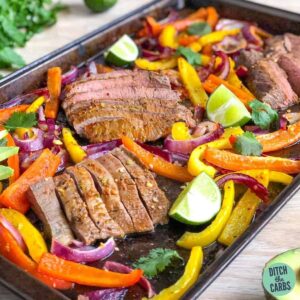 Keto Sheet Pan Steak Fajitas Recipe
Simple keto fajitas (ready in less than 20 minutes) are the perfect quick and easy sheet-pan healthy family dinner. PLUS a quick homemade fajita seasoning that's gluten-free, low carb, and keto.
Print
Pin
Rate
Want to lose weight and get healthy for life—without dieting, drugs, or making yourself miserable?
We can help! Tell me how!
Equipment
Baking sheets – non stick
Ingredients
2

cloves

garlic minced

crushed

1

onion

sliced thin

½

tsp

chilli powder

or more to taste

1

tbsp

ground cumin

powder

+/- salt and pepper

to taste

60

ml

coconut oil

or olive oil

1

lime

juice and zest

1

lemon

juice and zest

750

g

steak

1

red pepper/capsicum

sliced

1

yellow capsicum/bell pepper

sliced
Instructions
Mix all the ingredients together in the sheet pan/baking tray.

Bake at 180C/350F for 15 minutes. Stir halfway through cooking so the fajitas are cooked and mixed thoroughly.

Serve on Mexican coleslaw with lime dressing, inside a keto tortilla, or on a simple green salad with lime juice and olive oil drizzled over.
Notes
To reduce the carbs further, cut back on the onion and peppers which are slightly higher carb than other ingredients in the fajitas. You can use onion powder instead.
Turn once during cooking to ensure the beef steak marinates and cooks in all the delicious homemade taco seasoning.
Nutrition
Serving:
1
serve (serves 5)
Calories:
445
kcal
Carbohydrates:
5.8
g
Protein:
31.2
g
Fat:
33.7
g
Sodium:
85.9
mg
Potassium:
565.3
mg
Fiber:
1.8
g
Sugar:
2
g
Vitamin A:
891.4
IU
Vitamin C:
76.2
mg
Calcium:
34
mg
Iron:
3.7
mg
More keto Mexican recipes
Are you hungry yet? Once these keto steak fajitas start cooking in your oven (or even on the BBQ), your kitchen will be filled with the most amazing aromas.
Give these vibrant, healthy and colourful fresh keto Mexican delicious recipes a try!
Get our FREE guide to finally fix your metabolism!
Losing weight & getting healthy is never easy, but lately you might feel like it's suddenly become impossible.
Our Flip the Switch guide will help you clearly understand what's been going on, as well as exactly what you can do to get your metabolism working again so that you can look and feel your best—it's easier and more simple than you think!