Discover how to make pork rinds (pork chicharrones) the EASY way in the oven or air fryer. Pork crackling is the perfect crunchy salty zero-carb high-protein keto snack.
If you have ever wondered how to make homemade pork crackling, discover my secret method.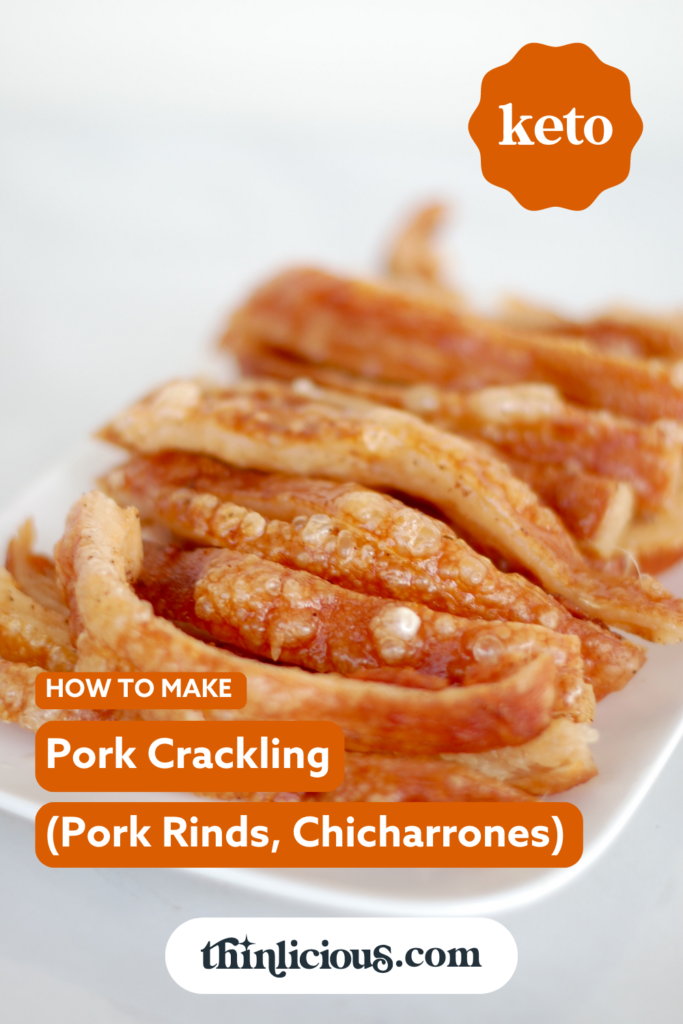 Homemade keto pork crackling is one of the most popular keto pork recipes.
You will also love keto pork chops (with garlic butter sauce), keto pulled pork, almond crusted pork schnitzel, and the best low-carb keto pork side dishes.
Ready to lose weight and get healthy for life without dieting, drugs or making yourself miserable?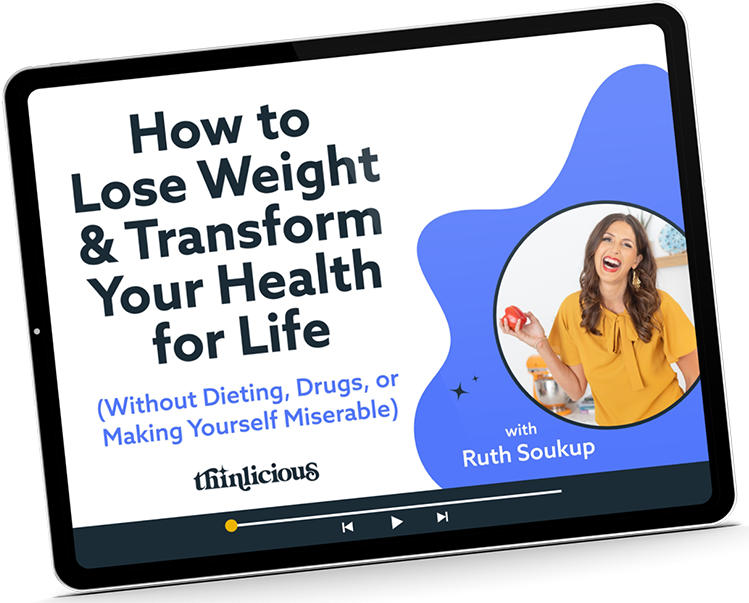 Our free on demand video training will help you understand why it's been so hard and what do to about it.
What is pork rinds/pork crackling?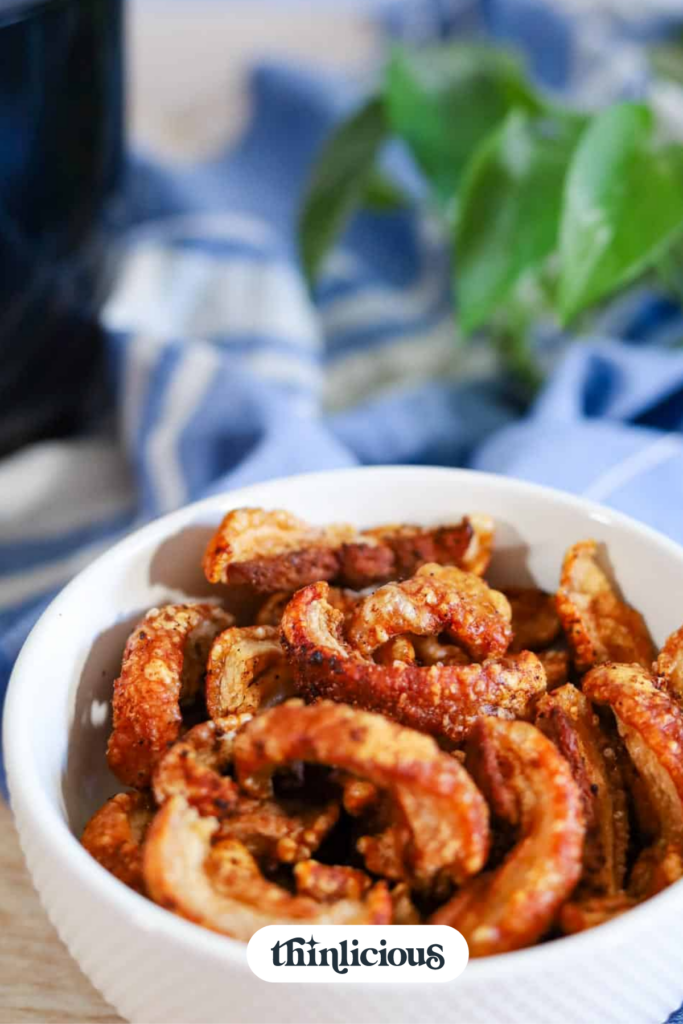 Pork rinds, chicharrones, and pork crackling are crunchy fried pork skins or pork belly eaten as savory snacks. Pork rinds are zero carb high-protein.
Pork crackling (UK) is the pork skin that is cooked on a pork roast. Roast pork crackling is often scored and salted to make a crunchy roast pork crackle.
Pork scratchings are a British pub snack that is fried and salted and often ordered when ordering a pint of beer.
Crush them up to add some crunch to other dishes too, like the Cheesy Keto Chicken Casserole.
Pork crackling nutrition
Fried pork rinds contain zero carbohydrates, and less fat than potato crisps but 14 times the protein so are the perfect salty crunchy snack whether you are on a keto diet, low-carb diet, or high-protein low-carb diet.
The protein and fat of your crispy pork crackling will depend on which cut of pork skin or which roast pork recipe you use. Pork belly and pork roast recipe will contain more meat, and so be higher in protein, however, crispy skin that has been cooked and drained on paper towels, may have lower fat.
| Per 100g/3.5oz | Net carbs | Protein | Fat | Calories |
| --- | --- | --- | --- | --- |
| Potato chips | 48.3g | 4.6g | 34g | 531 |
| Pork rinds | 0g | 67.3g | 29.4g | 521 |
Nutritional values from cronometer.com
Which cut of pork do you need?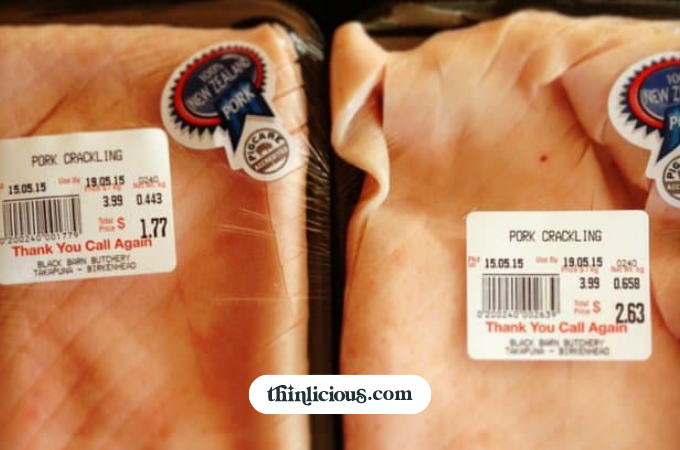 Pork crackling is made from pork skin (or pork rinds).
If you can't see pork crackling or pork skin for sale, ask your butcher or supermarket as they may not even be aware there is a demand for it.
My local butcher sells pork crackling (pork skin) already scored and at a bargain price. Some local supermarkets also sell pork skin, especially specialty Asian supermarkets.
You can also buy pork belly which has an extra layer of fat and meat but is usually baked or roasted as slices of pork steak.
Ingredients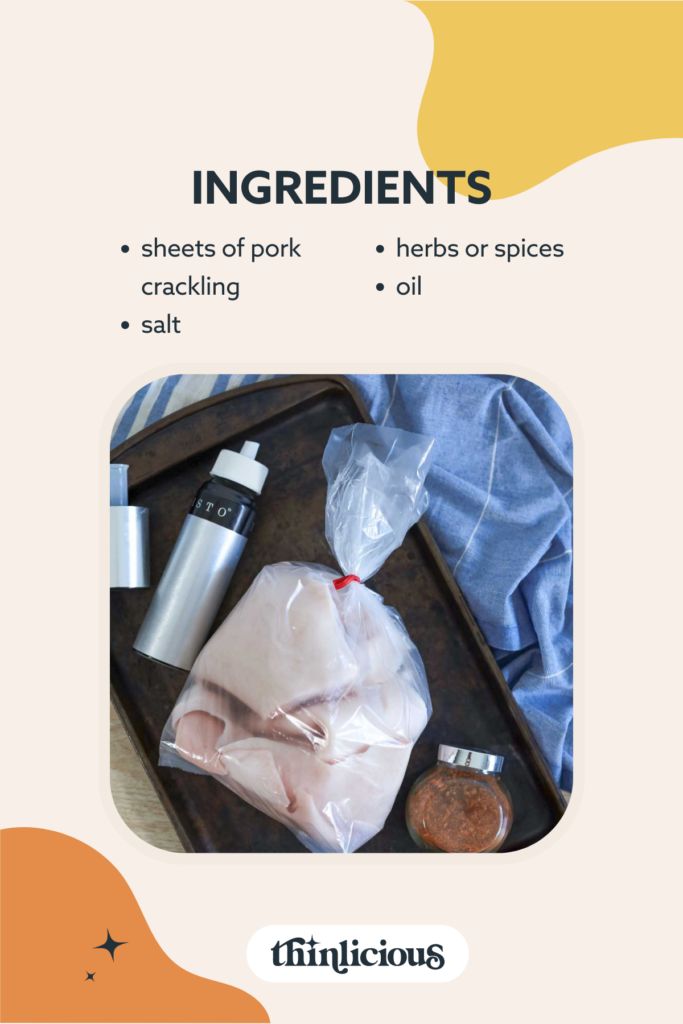 sheets of pork crackling (pork skin)
salt
herbs or spices
You only need 3 simple ingredients to make crispy crackling. You can vary the spices and herbs to your preferences, or just use plain regular table salt.
How to make pork rinds in the oven
If you have made crackling before, you will probably have tried to score the skin with a sharp knife, such as a craft knife or Stanley knife.
I will show you how to make crackling with no knives at all, yes zero, nix, zilch, nada, nothing. No more cut hands or uncut thick pieces of crackling.
Your crackling may or may not come already scored. That doesn't matter. I will show you how to make crackling without any knives or score lines.
Step 1: Heat the pork skin
Lightly oil a baking tray that has a 1-inch lip/side. The oil is just to stop the crackling from sticking initially. As the crackling cooks, the pork fat will drain away and the pork crackling will cook in its own fat, hence the need for a baking tray with a 1-inch lip/side to contain the pork fat.
Place the crackling on the baking sheet. Rub in whatever herbs and spices you may like. I flavored one sheet with lots of salt and another sheet with salt and Chinese five-spice.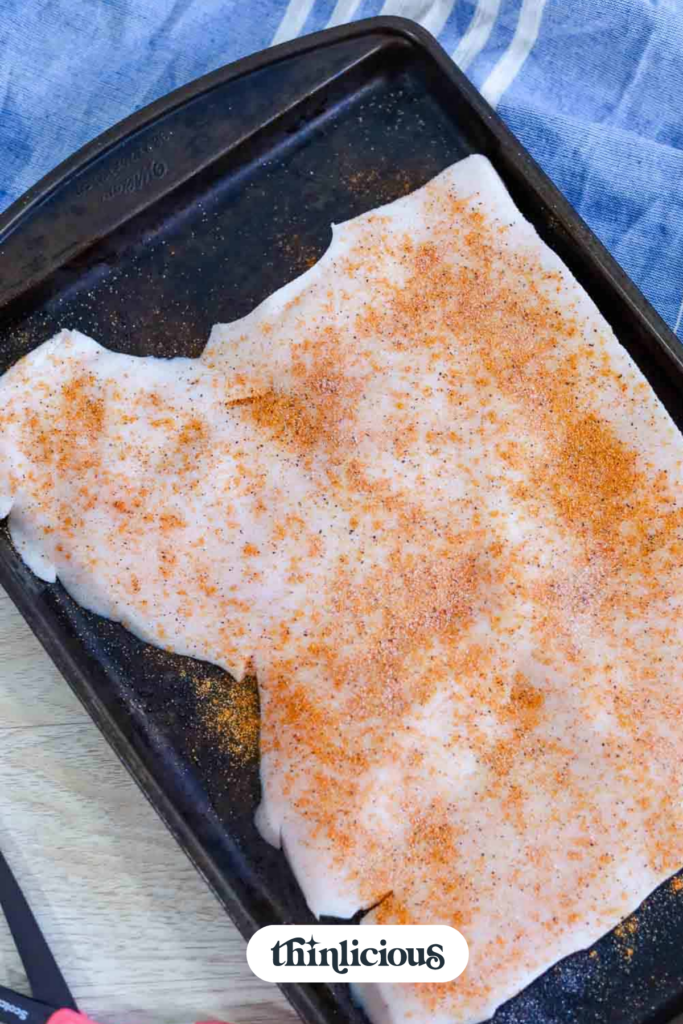 Place the baking sheets with crackling into the oven at 180C/350F for 10 minutes. This is the genius part. Once they have heated, but have not begun to cook, the crackling is extremely soft and pliable.
How to make pork rinds without knives
Now I said I will show you how to make crackling without knives – get your kitchen scissors out! Remove the baking tray and cut the crackling into strips or bite-size pieces as easy as anything.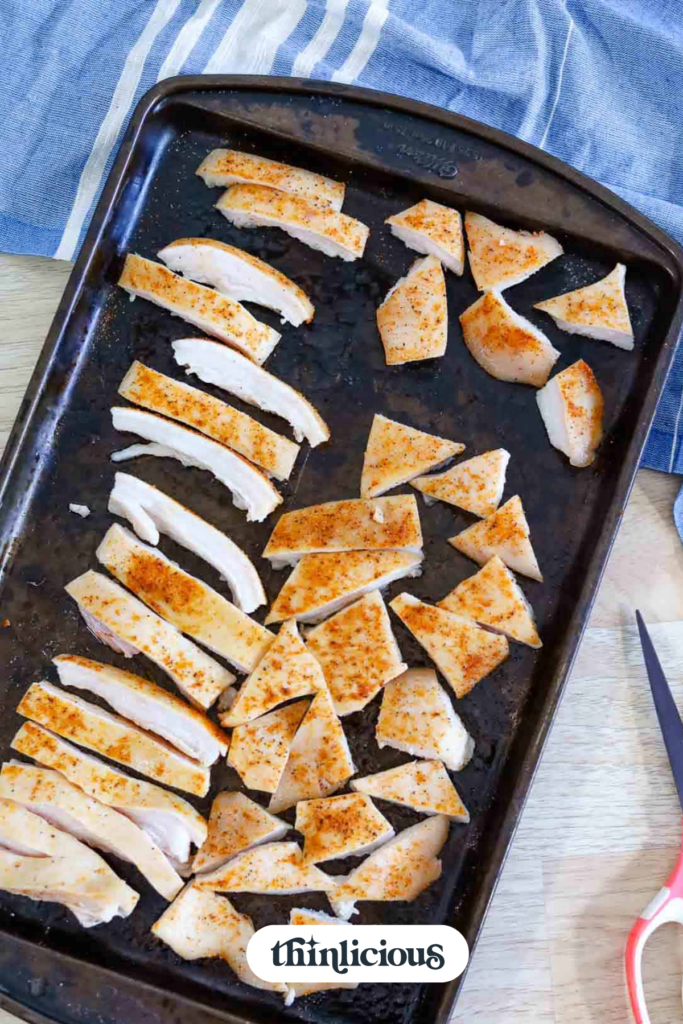 Step 2: Cut the pork skin
Hold the crackling with some kitchen tongs whilst cutting with your kitchen scissors. Using the scissor method, you can get crackling strips as thin as you like or any shape you like. You might want to try triangle shapes, or squares to use instead of crackers?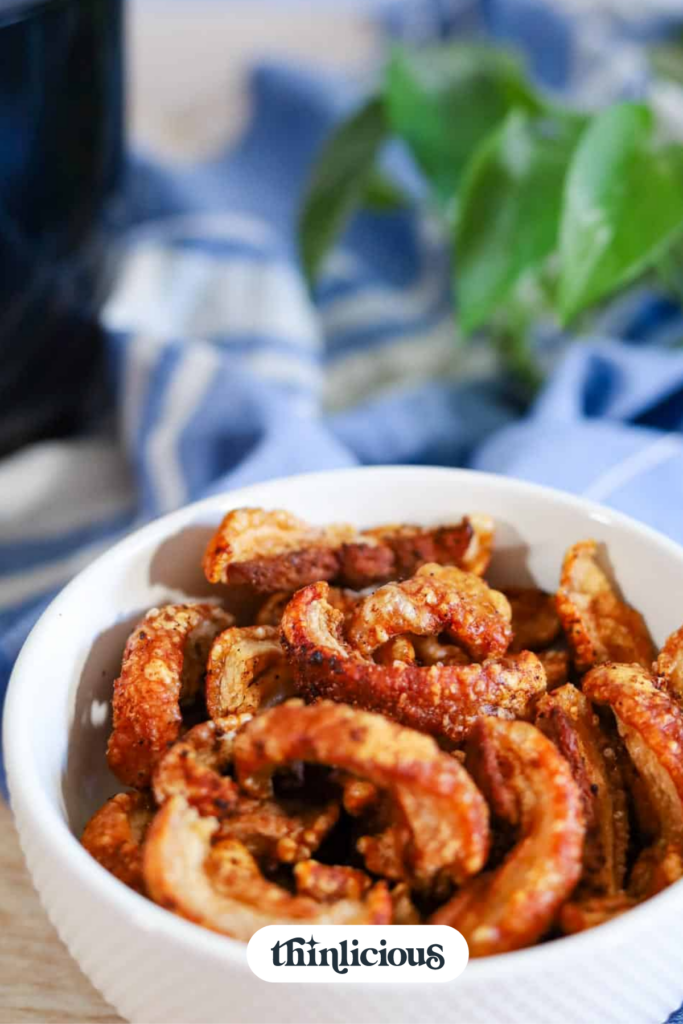 Step 3: Cook the pork skin
Place the cut crackling pieces back into the oven on the baking sheet. As they cook, more pork fat will drain out of the crackling which will in effect fry the crackling pieces to be crispy and delicious.
Cooking time depends on how crispy you like your crackling and how thick or thin you have cut each piece. My crackling took about half an hour in total as a guide.
How to make pork rinds with an air fryer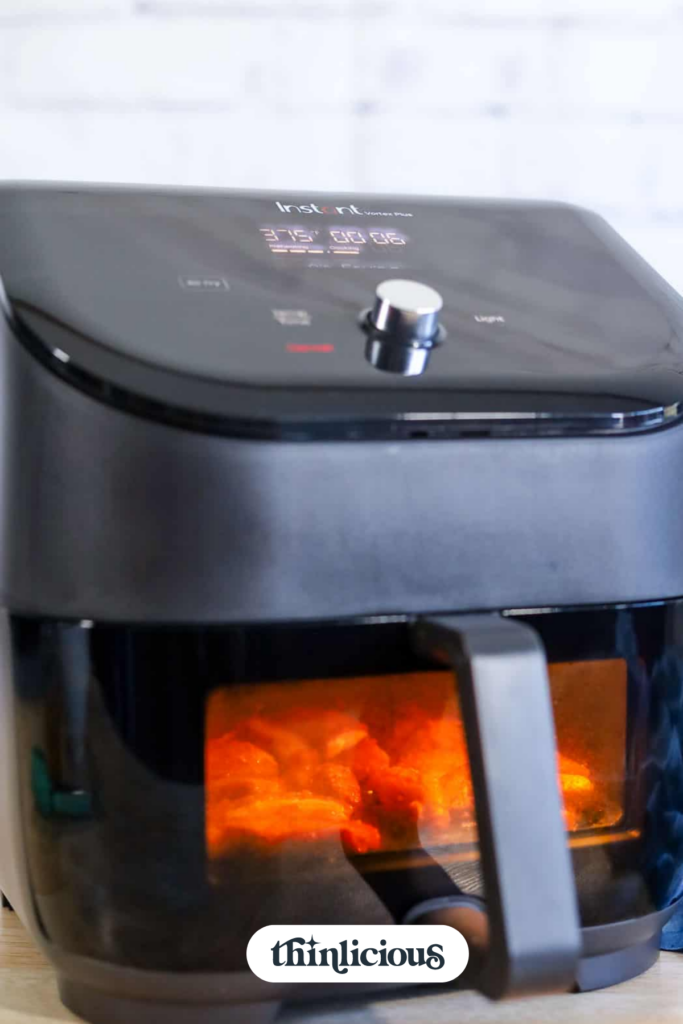 Using an air fryer to cook pork rinds is quick and easy. It stops oil from splattering all over your oven and your shirt.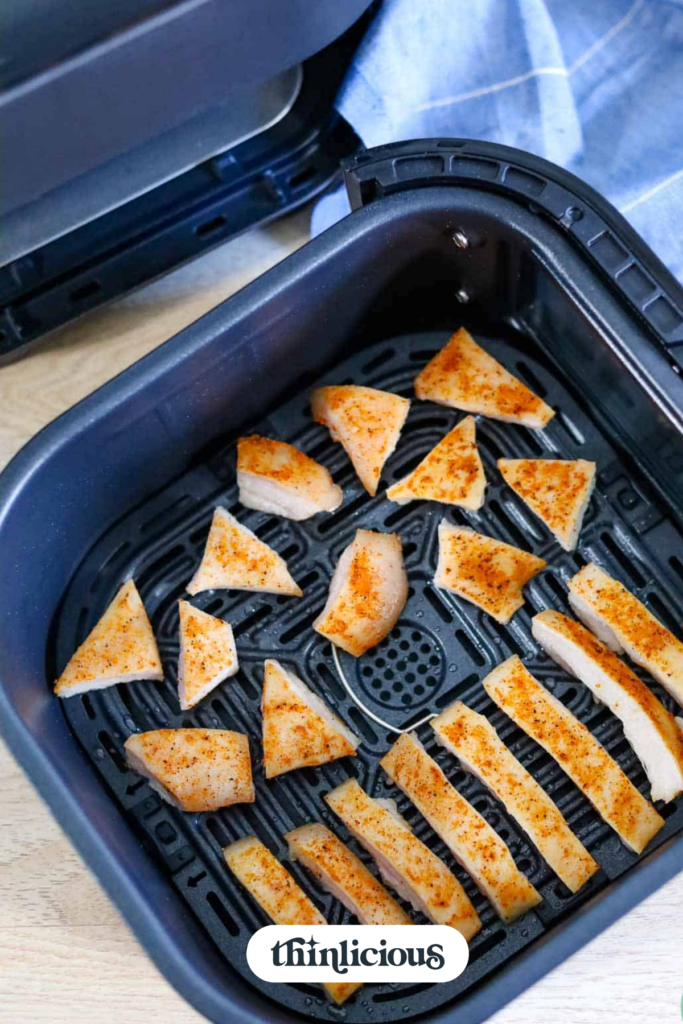 Preheat to 190C/375F.
Spray the wire basket with cooking oil.
Gently place the sliced pieces of pork rind into the oiled basket. Ensure there is plenty of space between them.
Cook for 15 minutes, open the drawer and turn each piece.
Cook for a further 5 minutes, depending on the size of the pieces being cooked. The pork crackle (pork rinds) needs to be light and crispy.
A lot of fat will have rendered (melted) out, so when you remove the pork rinds, allow the oil in your air fryer basket to cool then pour the cold pork fat into a storage jar and use it for tasty cooking oil.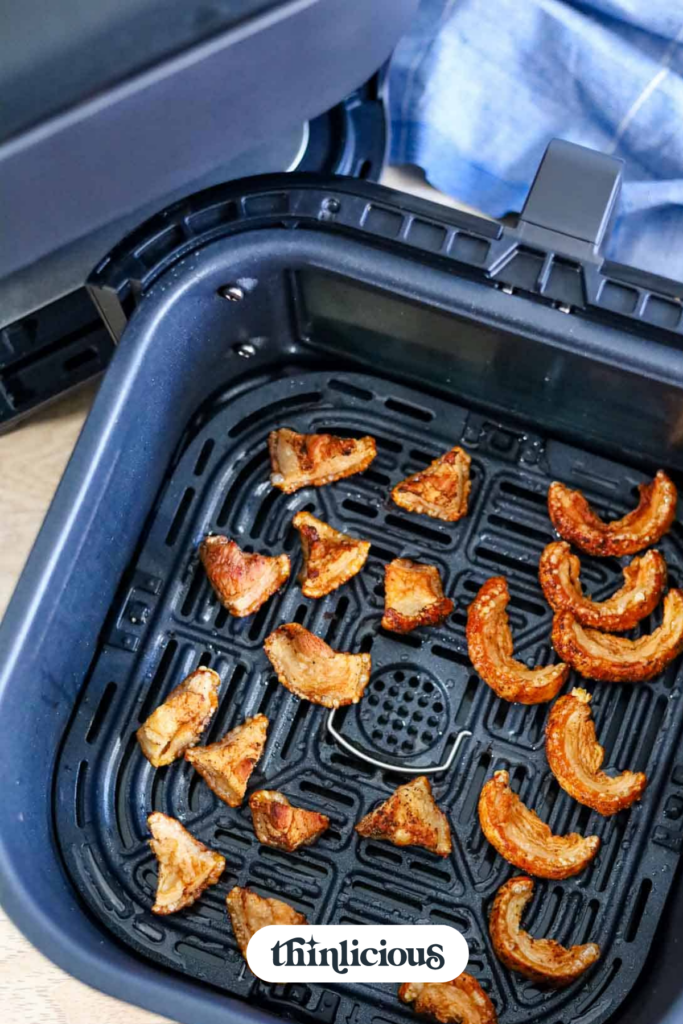 If you love using your air fryer, I have 101 keto air fryer recipes for you to choose from (chicken, pork, ground beef, salmon, vegetables, and even desserts). Discover how to use your air fryer plus FREE printable air fryer cooking cheat sheets.
How to make perfect pork roast crackling
For the perfect roast pork, I prefer to use a boneless pork shoulder that has a large amount of skin. Score the skin across the pork shoulder and dry with a paper towel. Do not oil the skin with olive oil, but sprinkle a generous amount of salt all over the dry skin.
Place your roast pork into a roasting pan and place it in a preheated hot oven. Cook at high heat 220C/428F for the first 20 minutes, then lower the temperature to 180C/350F and cook for 30 minutes per kg/2lb.
Remove from the oven and allow the pork roast to rest for 10 minutes before carving. This allows the meat to be fall-apart tender and the fat render to drain into the pan juices.
Top tip: For really crispy skin, you can remove it from the pork roast and place the crispy skin back in the oven for 10 minutes while the pork roast is resting.
How to store pork fat (lard)
Pork fat (lard) is a delicious fat that can be saved and stored for cooking. Lard has a long shelf life and has been used for centuries before refrigeration was invented.
You can drain the rendered fat (melted fat) from your sheet pan or air fryer into a heat-proof jar. Skim off any pork pieces that float to the top.
Once cooled, pour into a glass storage jar then keep in a cool place for up to one year. Lard can be frozen for 2 years.
Do not keep lard in direct sunlight, near your oven, near your toaster, or in any other warm area of your kitchen.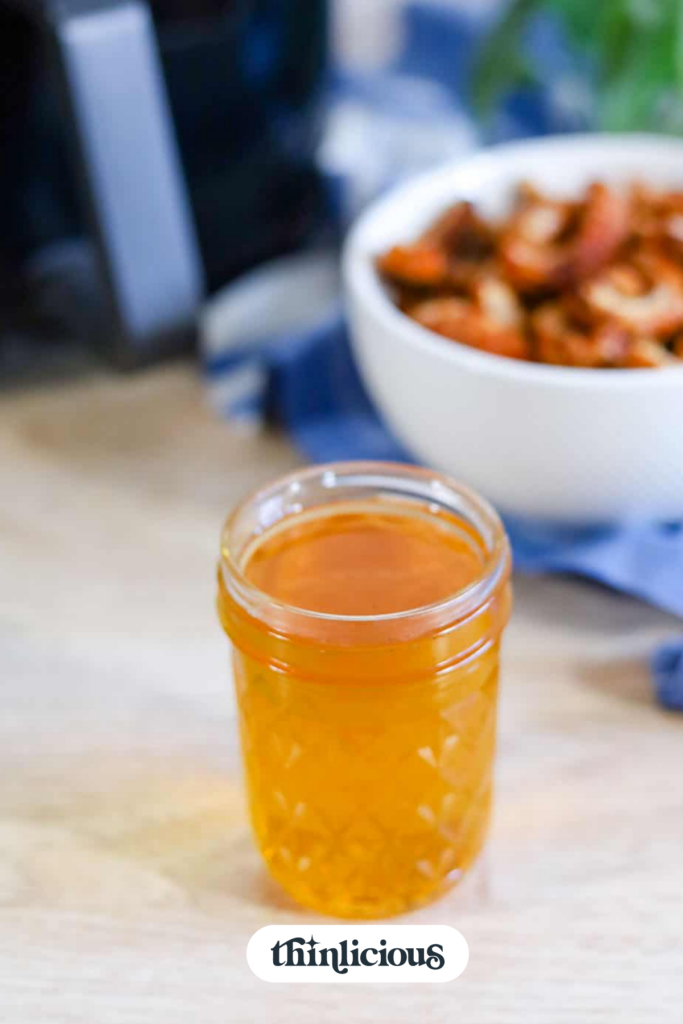 How to store pork rinds (chicharrones)
Once you have learned how to make crackling you will want to store it to remain crunchy. If you store crackling in the fridge it tends to lose its crispiness and go chewy and rubbery. If you store it in the cupboard it doesn't stay fresh for long because it doesn't contain any preservatives (other than salt).
I have discovered to keep your crackling fresh and crispy you need to line an airtight container with kitchen paper, place your crackling inside, then place another folded piece of kitchen paper on top before closing and sealing the airtight lid.
How long can you store homemade pork rinds?
This way it will stay fresh for up to a week at a cool to moderate temperature. It is autumn here now so room temperature is quite cool. If I were to make this in the summer, I would probably reduce the expiry date to 5 days.
Again, this is incredibly individual due to factors such as humidity, how crisp your crackling is, to begin with, how airtight your container is, room temperature fluctuations, the amount of salt you used etc so you will have to check your crackling is still fresh and edible (don't eat if the fat smells oxidised and rancid).
Leave a comment on what herbs or spices you have tried and any other tips on how to make crackling. I love reading your tips and ideas.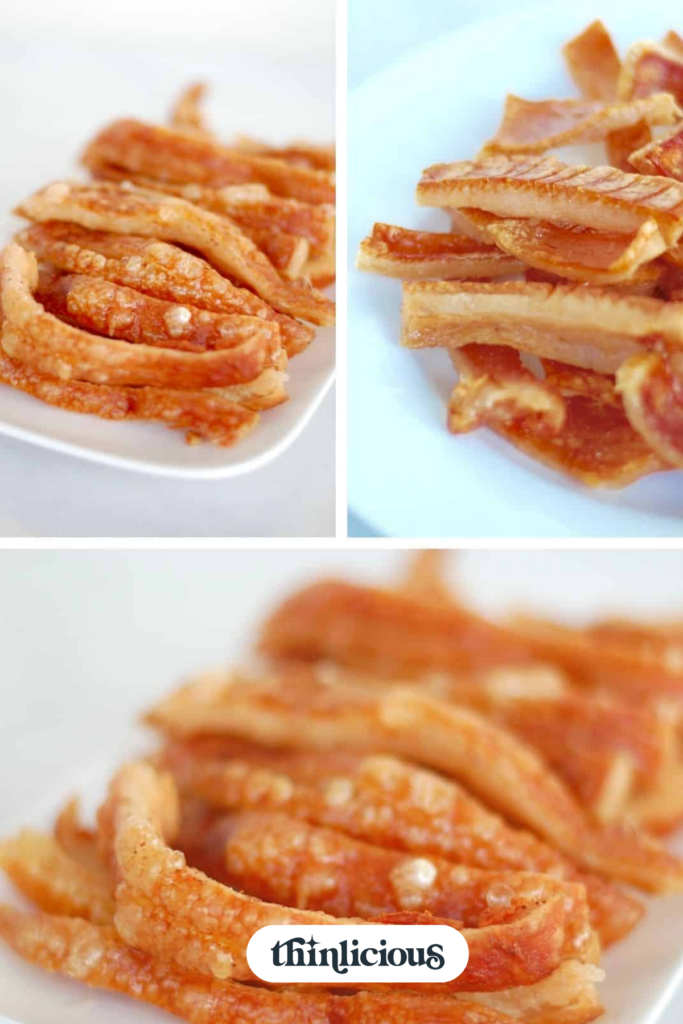 Recipe FAQ
What are pork rinds made of?
Pork rinds are the cooked, baked, or fried pork skin.
What's the difference between pork rinds, pork crackling, and pork crackles
They are the same. Those in the US tend to call cooked pork skin, pork rinds. Those in the UK tend to call it pork crackle.
What is the difference between pork rinds and chicharrones?
Pork rinds are made from the skin and fat from a big, whereas chicharrones are made from the pork belly and will have skin, fat, and meat.
Are pork rinds high in protein?
Yes, pork rind has up to 67g protein per 100g, zero carbs, and is often lower in fat than potato crisps.

Nutrition information will vary if you use pork skin, pork belly, or pork roast.
Are pork rinds healthier than potato chips?
Yes, pork rinds are zero carbs, have higher protein, and are not deep-fried. When made at home, pork rinds are cooked in their own pork fat (lard) so do not contain ultra-processed seeds oils which may cause inflammation.
What are the purple marks on bought pork rinds?
The purple lines on store-bought pork rinds are the USDA/official food markings. The dye is edible and not dangerous.
Which is the best cut of pork for a pork roast?
For the perfect pork roast, I prefer to use a boneless pork shoulder. Cook your piece of pork at high heat to bring the roast meat to temperature and to quickly render fat from the skin. This creates the best crispy crackling.
Should I rub olive oil into the skin?
No, for the best crackling score the skin with a sharp knife, pat the skin dry with paper towels and rub salt into the dry skin (rind)
Can I slow roast pork?
Yes, but you will not get crispy pork crackling because the piece of pork that has been slow-cooked will stay moist and tender. You can slow cook pulled pork at low temperature, skin side up, to get tender pull apart meat.
How to reheat pork crackling?
The best way to reheat crispy pork crackling is to pop it back into the oven. If you use a microwave, any moisture will soften the crispy pork rinds and turn chewy.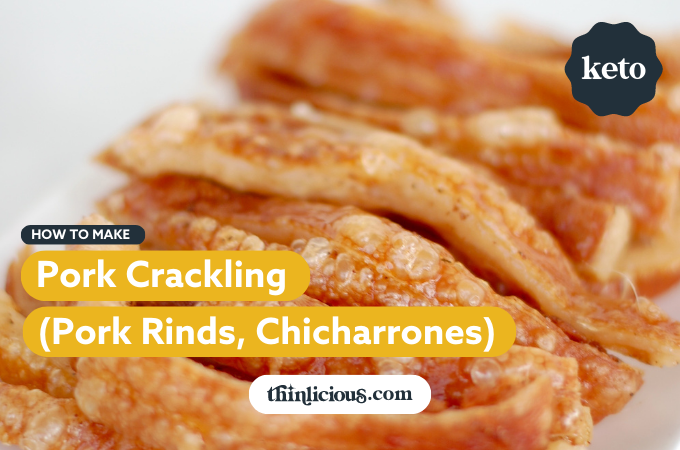 More keto snack ideas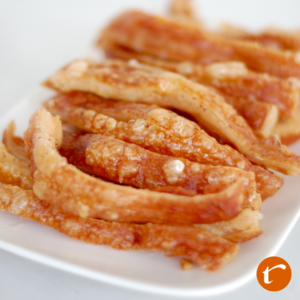 How To Make Pork Crackling (Pork Rinds)
How to make pork crackling (pork rinds) in the oven OR the air fryer. The perfect keto snack that is zero carbs and naturally gluten-free.
Print
Pin
Rate
Want to lose weight and get healthy for life—without dieting, drugs, or making yourself miserable?
We can help! Tell me how!
Ingredients
sheets of pork crackling

salt

herbs or spices

oil of choice
Instructions
Place the pork crackling (pork rinds or pork belly) on a lightly oiled baking tray with a 1 inch lip/side. Season with salt and/or herbs and spices.

Cook at 180C/350F for 10 minutes until soft.

Remove from the oven and using kitchen tongs and kitchen scissors, cut into strips or shapes.

Cook until golden and crispy.

Drain the crackling and pour the rendered pork fat into a heatproof jug.

Cool the rendered fat and use it as a delicious cooking fat (pork lard). Store the lard in the fridge.
Nutrition
Serving:
100
g
Calories:
521
kcal
Protein:
67.3
g
Fat:
29.4
g
Sodium:
1818
mg
Potassium:
127
mg
Vitamin A:
40
IU
Vitamin C:
0.5
mg
Calcium:
30
mg
Iron:
0.9
mg
People also ask
How do you get the perfect crackling on roast pork?
If you follow these few easy steps, the end results will give you perfect crackling.
Make sure you place the pork joint in the oven on the middle wire rack with the fat side (fat layer) facing up. Make deep score lines using a sharp knife all over the pork skin, remove any excess moisture with kitchen paper towels then rub in salt for extra crunchy crackling.
Why is my pork crackling not crispy?
Some modern ovens are very well sealed to retain a lot of moisture to give tender dinners. However, when cooking pork with crackling, you want the skin to dry out and go crunchy. If you know your oven is well sealed, open the oven door every hour to let excess steam escape. Make sure you have dried the skin with paper towels and rubbed in enough salt.
Should I oil pork with crackling?
You can rub a little olive oil into the score lines to help the salt stick.
Should I pour boiling water over pork?
Some people like to make score marks into their pork rind at 1cm intervals and then pour boiling water all over to shrink the skin. The hot water helps the salt and oil penetrate a little deeper.
Do you cover pork when roasting?
No, if you cover the pork joint with aluminum foil the skin will stay soft. You can, however, cover pork while cooking at a lower temperature (slow heat) for soft pulled pork.
What is the best temperature to cook a pork roast?
Pre-heat your oven to 320F (160C) and cook your chosen pork roast in a baking dish or roasting dish on the middle wire rack uncovered for 25 minutes per 1 lb (450g). Using a meat thermometer, make sure the internal temperature reaches 145F (63C). USDA
Cooking times will vary on the efficiency and accuracy of your oven.
Why does vinegar make pork skin crispy?
Some people like to brush white vinegar onto the pork belly which can make the pork belly much crispier.
How do you fix soft crackling on pork?
You can place the pork crackling under the grill for a few minutes at high temperature or if you are in a hurry to carve and serve your roast pork, cut and remove the soft crackling and fry in a frying pan with a little oil or place under the girl until it puffs up and turns crispy.
Can you cook pork crackling under the grill?
You can place pork in a baking dish under the direct heat of the grill to sear the meat at the beginning, or to make extra crunchy crackling at high temperatures for the final 10 minutes remaining cooking time.
What is the temperature for pork?
You should cook pork meat, pork roasts, pork cuts, and pork chops to an internal temperature of 145 ºF (measured using a meat thermometer).
What is the best cut of pork to roast?
The most popular joint of pork to roast is pork shoulder roast or pork legs. These have the largest amount of meat (compared to pork belly) and the skin of the pork will produce golden crackling.
But any cut of pork from your local grocery store will taste delicious now you know how to make perfect pork crackling.
Get our FREE guide to finally fix your metabolism!
Losing weight & getting healthy is never easy, but lately you might feel like it's suddenly become impossible.
Our Flip the Switch guide will help you clearly understand what's been going on, as well as exactly what you can do to get your metabolism working again so that you can look and feel your best—it's easier and more simple than you think!