</p>
This easy and simple dish is an easy blender recipe and requires ZERO cooking. It is perfect for a healthy lunch to take to work or school, or a fun date-night meal. Low-carb sushi is also a nutritious snack.
P.S. I hate to be the one to tell you, but regular sushi isn't the health food it's cracked up to be…read on and just look at the shocking image further down the page.
If you're a sushi lover, I have an easy healthy sushi homemade recipe for you.
Are you ready to create the ultimate 12-month blueprint for reaching your health & weight loss goals this coming year?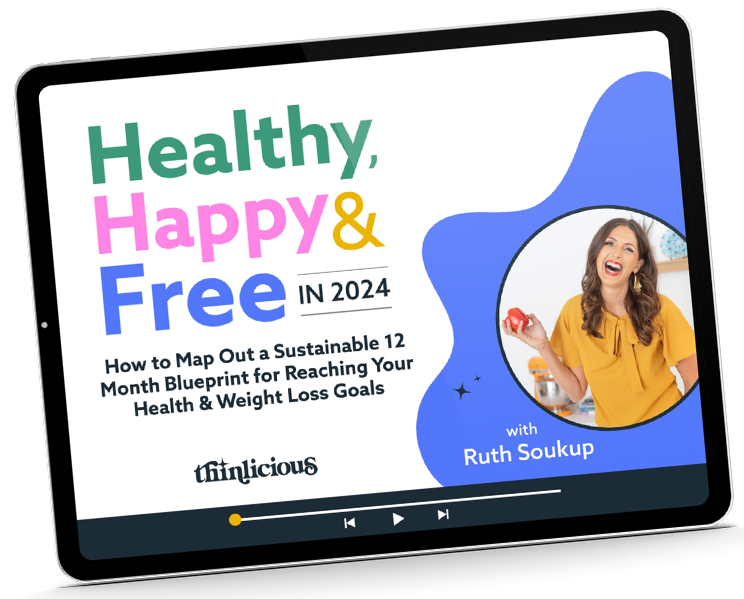 Our free on-demand video training will walk you through how to make 2024 THE year you set health goals…and keep them.
Is sushi keto?
Sushi is a high-carb dish with rice, sugar, and occasionally flour. Sushi has very little nutrition with only a small amount of salmon or avocado. Rice vinegar can have sugar, the pink pickled ginger can have sugar and the sticky chicken in some sushi rolls will also have sugar.
So many people choose sushi as a regular lunch option because it is the "healthy option"? Well take a look at the image below, and you'll never touch it again.
When you look at sushi closely, you will easily see the Japanese dish is high carb and has as many carbs as regular processed white bread.
Share this image with friends. It makes such an immediate impact.
Low-carb sushi
So cauliflower and sushi isn't exactly a well-known combo, but it will be after you try this recipe! Cauliflower is the new black and I am a cauliflower ninja.
So why cauliflower? It is such a versatile and nutrient-dense low-carb vegetable! I use it whenever I can and when in season, because the price skyrockets at certain times of the year.
Many people don't like cauliflower because of the smell, but if you learn a few tricks on how to remove and cope with it, you have such a useful weapon in your low-carb arsenal.
See how I use cauliflower in so many ways at the end of this page. But first, let's talk sushi!
How many carbs are there in sushi rolls?
Sushi is packed with high-carb rice, and then there are the sticky high-sugar sauces.
100g sushi nori roll = 39g =net carbs.
Nutritional values from cronometer.com
The high starch rice variety is chosen because it is sticky and holds well together. And to make it worse, there is often sugar and flour added to the rice to make a firm sushi roll.
As you sit down to eat a regular California roll sushi pack, it is the equivalent of eating 4 slices of bread, with imitation crab (packed with starches, colors, and preservatives) a small piece of cucumber, avocado, or other vegetables to give it that "healthy halo".
But do not fear, you can make better choices at a Japanese restaurant. Why not choose sashimi, which is raw tuna or salmon without the rice. Another healthy option is a naruto roll – which is simply thin slices of cucumber rolled over salmon and avocado for example.
A small bowl of miso soup is a lovely dish, but only if you are not avoiding soy products.
Is the Asian diet healthy?
Yes, the Japanese have been eating sushi for centuries, but it is only a small part of their incredibly diverse diet.
They rely heavily on fresh food and eat a variety of small dishes, bone broth, soups, meats, steamed vegetables. They also eat smaller portions than us. It's not part of Japanese culture to snack or live in the gym, but their daily activity is higher than ours.
Many residents don't have cars so they walk or catch the train everywhere. They enjoy slow meals with family. They don't sip on sugary soda or juices continuously. When they do indulge in carbs it's typically rice, which is much less toxic than wheat. Their wheat consumption is low.
But the Asian diet is changing. As modern, western junk food is becoming part of their society, obesity, and rates of type two diabetes are increasing at an alarming rate.
To read more:
Mark Sisson: The Asian paradox. Why Asians can eat so much rice and not gain weight.
China Study: Wheat flour, rice, and cardiovascular disease. Rice intake displaces wheat and wheat intake displaces rice. "The higher the consumption of wheat flour in a country, the higher seems to be the mortality from all cardiovascular diseases." "Rice seems to be protective, as long as intake is not too high".
And therein lies our problem. Sushi, per se, is not an issue when eaten in small quantities and with real fresh fish inside. But when you add it to a diet already high in wheat, carbs toxic oils, soda, sweets, ice cream coupled with plenty of stress from work, hours at the gym, and eating on the go…well things look a bit different.
I personally choose to avoid it.
That is unless I make this yummy low-carb cauliflower sushi recipe!
How to make low-carb sushi
The easiest method to make the low-carb sushi recipe is in the food processor. It will only take a few minutes and a few simple ingredients.
Yes, no more steaming or cooking the cauliflower, then squeezing out all the liquid, making your kitchen a disaster zone covered in cauliflower crumbs and your house stinking like a teenage boys' room.
Cauliflower sushi rice
To make sushi without rice, you need to make cauliflower rice. With only 5.3g net carbs per cup, it is a delicious keto rice substitute.
Cauliflower rice is such a wonderful and versatile low carb side dish. You can make garlic cauliflower rice, curried cauliflower rice, and even buttery garlic rice. And now you can make homemade low carb sushi.
Cauliflower 1 cup serving: 5.3g carbs, 2.5g fibre, 2.4g sugar, Vit A 0.3%, Vit B6 10%, Vit c 77%, calcium 2.2%, iron 2.4%, magnesium 4%
White rice 1 cup cooked : 53.2g carbs, 0.6g fibre, 0.7g sugar, Vit A 0%, Vit B6 15%, Vit C 0%, calcium 0.6%, iron 15%, magnesium 21%
Brown rice 1 cup cooked : 44.8g carbs, 3.5g fibre, 0.7g sugar, Vit A 0%, Vit B6 15%, Vit C 0%, calcium 2%, iron 4.5%, magnesium 21% (% of your daily requirement)
Is imitation crab low carb?
No, it is not low carb. In fact, 3 ounces of imitation crab has 12.7 g net carbs when that same 3 ounces of king crab has 0 grams net carbs.
If you want to use crab in your sushi, only use the real thing.
Is soy sauce low carb?
Most soy sauce is low in carbs and can be used on the keto diet. But of you are clean keto and avoid soy products, I suggest using coconut aminos as your dipping sauce. It is a less-processed version, without soy, and has the same delicious yummy soy sauce flavors.
How to make cauliflower sushi rice
It's so simple to make this keto sushi! Here are the quick directions for the cauliflower sushi rice.
Place small florets of cauliflower into the bowl of the food processor, then blitz until it resembles grains of rice. You'll want to avoid blitzing the cauliflower sushi rice too far, you'll end up with cauliflower puree.
Next, add cream cheese, white vinegar (or apple cider vinegar), and seasonings, blitz again.
Place 1 nori sheet on a bamboo mat. Dampen this edge with a bit of water.
Gently spread the cream cheese cauliflower rice mixture on the nori sheet. Leave one edge of the nori sheet empty.
Place your chosen sliced vegetables, avocado, smoked salmon, and other fillings along the center.
Using the bamboo mat, roll the keto sushi up tight into one large sushi roll. The dampened edge of the nori sheet will seal the sushi roll together.
Cut the sushi rolls with a sharp knife.
How to make a sushi roll with a bamboo mat
Make your cauliflower sushi rice, spread it over your nori sheet as shown. Place your choice of fillings (see ideas below) down the centre, then roll up tightly. Remember to dampen the final edge of the nori sheet so it will stick tight.
I like to use a bamboo mat, or sushi mat, to roll cauliflower sushi tightly. If you don't have a bamboo kit, you can use plastic wrap instead. Remember to remove the plastic wrap before cutting and serving.
What fillings can I use to make keto sushi rolls?
When you are filling your keto sushi rolls, use low-carb high protein, and/or high-fat ingredients. My favorite sushi fillings are:
Cucumber
Avocado
Smoked salmon
Shrimp
Tuna
Real crab
Raw fish
How to store homemade cauliflower sushi
Because the cauliflower rice has cream cheese (ooh it tastes delicious), you'll need to store your rice free sushi in the fridge. I store my sushi in an airtight container in the fridge for up to 3 days.
I don't like to freeze it because it tastes best fresh. However, if you wish to freeze sushi, it would stay fresh for up to 1 month.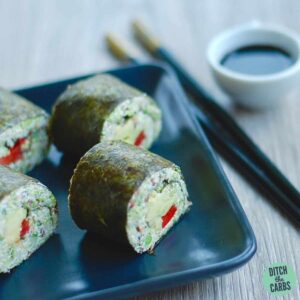 Low-Carb Cauliflower Sushi Recipe
An easy and simple blender recipe for healthy low-carb cauliflower sushi. It is perfect for a healthy lunch for work or school. Low-carb sushi is an amazing nutritious snack.
Print
Pin
Rate
Want to lose weight and get healthy for life—without dieting, drugs, or making yourself miserable?
We can help! Tell me how!
Ingredients
500

g

raw cauliflower including the stalk

cut into chunks

100

g

cream cheese

full fat

1

spring onion/scallion

thinly sliced

1

tbsp

white vinegar

salt and pepper

to taste

vegetables of choice

(see recipe notes)

fish of choice

(see recipe notes)

4

large nori sheets
Instructions
Place the raw cauliflower chunks into your food processor with the blade attachment.

Blitz with the blade until small pieces of cauliflower rice appear.

Add the cream cheese, spring onion, vinegar, salt and pepper to the food processor. Blitz until thoroughly mixed. You don't want any visible chunks of cream cheese or cauliflower, but you don't want a puree either.

Taste the cauliflower rice and adjust the seasonings to your preference. Some like it with more salt or more vinegar than others.

Spread the cream cheese cauliflower rice mixture along the nori sheet, leaving 2 inches of the nori sheet bare.

Place your selection of vegetables, avocado and fish along the centre. Dampen the bare edge of the nori sheet then roll up tightly.

Repeat with the remaining nori sheets and fillings. Slice with a sharp wet knife.

Serve with wasabi, soy sauce or coconut aminos.
Notes
The nutrition values have been given for the low-carb cauliflower sushi only. You will have to add the carb values from your choice of vegetables, avocado and fish because these options will vary considerably.
The nutrition value is for one serve (serves 4) which is 1 whole nori roll cut into as many slices as you wish. It is up to you how small or large you want to slice each piece.
Sliced Vegetable Options
Avocado
Cucumber
Peppers
Asparagus
Fish Options
Fresh raw salmon
Smoked salmon
Fresh raw tuna
Canned tuna
Tuna with mayonnaise
Cooked crab meat
Cooked shrimps
Cooked prawns
Nutrition
Serving:
1
serving (1 whole nori sheet roll)
Calories:
119
kcal
Carbohydrates:
7
g
Protein:
4
g
Fat:
8
g
Fiber:
2
g
Sugar:
3
g
Vitamin A:
495
IU
Vitamin C:
61.8
mg
More keto cauliflower recipes
There are so many delicious recipes that use cauliflower – cauliflower bread, cauliflower pizza, and even cauliflower sushi!
Get our FREE guide to finally fix your metabolism!
Losing weight & getting healthy is never easy, but lately you might feel like it's suddenly become impossible.
Our Flip the Switch guide will help you clearly understand what's been going on, as well as exactly what you can do to get your metabolism working again so that you can look and feel your best—it's easier and more simple than you think!